The 2014-15 season was a good one for Bradley Beal. Forget the regular season, one during which the 22-year-old (!) guard helped carry the Wizards to 46 wins by averaging 15.3 points per game and shooting 41 percent from downtown. In the playoffs, Beal absolutely exploded. In 10 games he averaged 23.4 points, 5.5 rebounds and 4.6 assists. The Wizards ended up falling to the No. 1-seeded Hawks in the second round, but they have now made it that far two consecutive years. Five years ago, fans would have laughed at the idea of the Wizards being a perennial playoff team.
All-Star PG John Wall gets most of the credit for Washington's resurgence—and rightfully so. But the continued improvement of Beal has also played a major role. The St. Louis native is spent last week in his hometown running a basketball camp but he carved out time to talk to SLAM about what his plans are for the offseason, drawing and the work he's doing with Gatorade.
SLAM: What's something we'd be surprised to learn about you?
Bradley Beal: I draw. I drew all my tattoos. That's kind of unique, I guess. Otherwise I'm a pretty basic, boring guy.
SLAM: How often do you draw? Do you carry a notebook with you? 
BB: You know what? I do it every blue moon—that's what's so weird about it. I'm decent at it but I just never really pursued it the way I probably should have.
SLAM: When did you start drawing? 
BB: When I was younger. I always enjoyed coloring, I always enjoyed drawing and things like that but I never got into it in-depth.
SLAM: So which tattoo are you most proud of?
BB: Probably the one with my brothers on my right bicep. My brothers are my guys. I have four brothers and four letters in my last name. I have four stars and each star represents one of my brothers, so that's definitely my favorite.
SLAM: Speaking of your brothers—all of them played college football, and two were offensive lineman. So what are you, half their size?
BB: Shoot, man, more like a third.
SLAM: So how does that happen?
BB: You know, I have no idea, because I eat probably more than any of them. I just have a huge metabolism I guess, because those dudes are huge.
SLAM: Growing up, were you guys like, fighting over food that was on the dinner table?
BB: Oh, yeah, all the time. My mom had to break up fights all the time. One time me and one of my little brothers got into a food fight, it got out of hand.
SLAM: Why? What happened?
BB: I don't know, it was over something dumb, like probably something like who wanted the last piece of chicken.
SLAM: So instead of eating it you guys just threw it at each other?
BB: Yeah, we got personal.
SLAM: What was the one food that your mom would bring home and it would just get absolutely devoured. 
BB: You see the size of them? Anything she brought into the house.
SLAM: Was the household a physical one with all you guys there? 
BB: Yeah, it was always—we were real competitive, no matter what we did. Sports, video games, school, we always competed in everything we did. That's what I attribute a lot of my success to. Those guys pushed me a lot in life.
SLAM: What are you working on with your game this summer?
BB: Staying healthy, that's my number one goal. Just making sure I'm taking care of my body properly, eating healthy, lifting, hydrating.
SLAM: How do you work on health, though?
BB: You just gotta get with a program. You got to figure out a program that's good for you. I'm getting together with some of our trainers soon to do do that. We're going to talk about what kind of things I need to eat, what I should stop eating and what I need to do to stay injury-free.
SLAM: Are you going to be doing anything differently than you have in the past?
BB: I don't know yet, because I haven't talked to them about it yet. Next couple of weeks.
SLAM: You love shooting the midrange jumper, even though that's an unpopular shot in today's NBA. Is that something you're going to keep doing? 
BB: That's definitely a shot that, even though a lot of people in the NBA don't like, I'm going to continue to work on it. It's an open shot and I think you're probably more open shooting that shot than a lot of other shots. It's just about being able to get the mechanics down and the rhythm down and being able to knock it down.
SLAM: Has the team ever told you to stop taking them? 
BB: Not really, nah. They just let me play my game. Coach Wittman loves those shots. He wants you to shoot everything possible whenever you have the opportunity to.
SLAM: Specific skill-wise, what are you going to be working on this offseason? 
BB: Putting the ball on the floor a little more, being able to create more to help John out a little bit, to create for my teammates a little bit better and for myself as well. Defense is also a big one.
SLAM: How do you work on that?
BB: Just working on my moves, just doing whatever it takes. Just making sure I'm doing the right thing. Just basic stuff, it's really more confidence than anything. Just making sure you have good belief in yourself when you handle the ball that you're not going to turn it over and that you're going to make the right decision. That's something that needs to get better.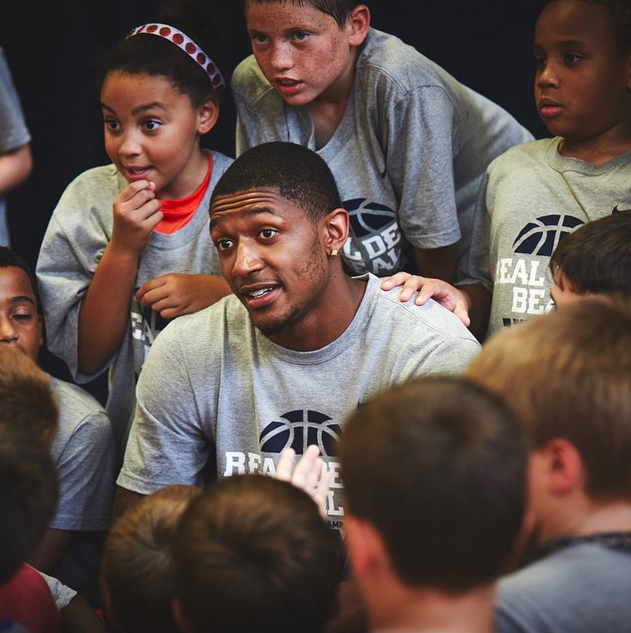 SLAM: So tell us about your camp and what you're doing with Gatorade. 
BB: Gatorade is supporting my camp. I hold a camp for St. Louis kids every year, ages 6 to 16, and it's basically us just trying to teach kids the importance of hydration. Not even just for kids, but for all athletes. A lot of injuries are caused as a result of people not being hydrated. We want people to know how important it is to stay hydrated and get those electrolytes back in your system—to "Beat the Heat."
SLAM: You grew up near Ferguson and talked about your relationship with the town and Michael Brown when the riots were going on. Is this your first time time back in St. Louis since then?
BB: Yeah, it is, it's the first time I've been back since that. Everything's been kind of calm, though, so it's good.
SLAM: Anything seem different?
BB: Not really. I think things have finally calmed down. I think we're starting to realize what's important and what the big picture is.
Yaron Weitzman is an Editorial Assistant for SLAM. Follow him on Twitter @YaronWeitzman. Images via Getty, @bradbeal3.