It's the day before Buddy Hield's Pro Day—when the Landmark Sports client will work out in front of NBA teams figuring out how high he should be picked—and the reigning Naismith POY is warming up in the gym at the Saddleback Valley Sports Center in Lake Forest, CA. Hield's about to do a dry run of the workout he'll go through tomorrow, though "dry" is perhaps not the best word. With a loud mix of dancehall music blasting ("That's my man Tiko T from The Bahamas. I listen to him live every Thursday," Buddy says later with a smile) and the warmup getting progressively, well, warmer, his "Buddy Buckets" tee is soon soaked through with sweat.
At the other end of the gym, I sit at a table alongside some copies of SLAM Presents KOBE. Sitting across from me is Miguel Bennett, President of Basketball Operations for Open Gym Premier, the outfit that's been working out the Bahamian superstar the last few weeks. As Bennett thumbs through the KOBE issue, I tell him I've heard Buddy does some super-intense late-night shooting workouts, usually with his local music blasting. "This guy is just a beast," he says. "He's been doing three workouts a day and keeping a very strict regimen. Sometimes he'll come back to the gym and shoot even more, after he's done three full workouts." A former standout at DIII Chapman University who has been working out high-level players in the OC for a decade, Bennett pauses. "Really, the only guy I can compare his work ethic to is this guy," he says, holding the KOBE issue up. "I've never seen anyone work harder than Kobe. But Buddy's close."
Suddenly, it starts to make sense how a kid who grew up in the modest village of Eight Mile Rock could be less than a month away from shaking the NBA commissioner's hand and cashing NBA checks. After all, a long shot like Hield needed more than just the ability to make long shots.
After his workout ends and he cools off, the 6-4 shooting guard who just graduated from Oklahoma sits down to explain how he got here. "My friends and my family didn't love basketball, but I just fell in love with it," recalls Hield. "I used to wake my friends up in the morning, knock on their windows, let's go to the court. They'd say, 'Buddy, go home. It's too early for this.' We'd all play but they never took it serious like I did."
Without friends or family members ("Everyone in my family ran track," he says) to push his game, nor many role models in his entire country (the most famous Bahamian player before Buddy was NBA Champ Mychal Thompson, who has lived in the States far longer than Buddy's been alive), Hield really had just two sources to learn the game: TV and his incredible imagination. "I would watch guys like Kobe and Allen Iverson on TV, and then try and mimic their moves," he remembers. "And when we'd play three-on-three or full-court, I would try those moves and try to perfect them each and every day.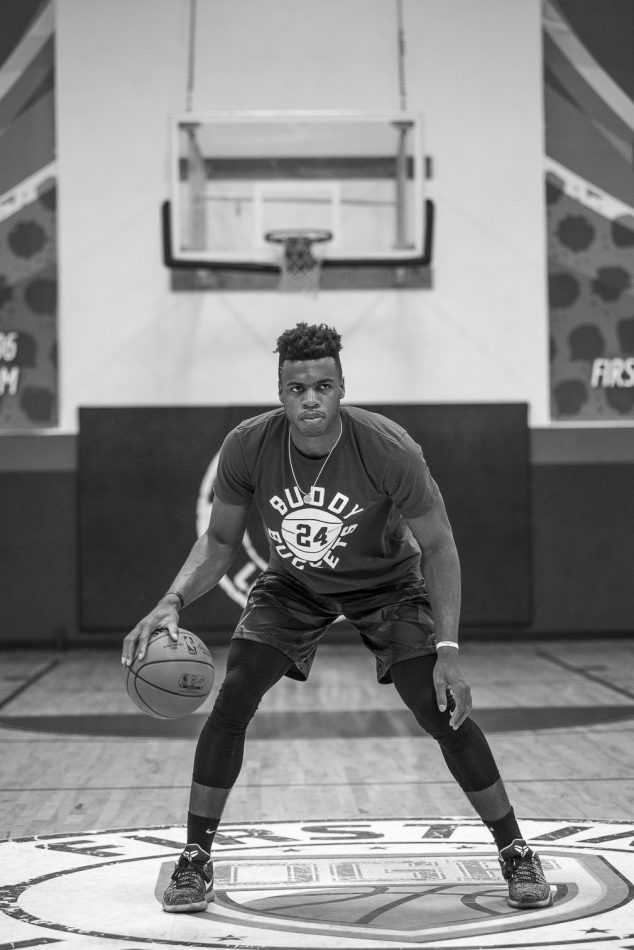 "Even when I wasn't tall yet, I had a lot of heart. Whatever I put my mind to, I accomplished. To be honest, I used to be so stubborn. I thought I could have made it to the NBA when I was just coming out of high school when they had that rule. I thought I was that good. My friends would laugh at me. But I always had that mindset that I was good enough to play in the NBA. I just had to get my chance to do it and prove it."
The proving began on a wider scale at Wichita (KS) Sunrise Christian, where Hield played after being discovered at a showcase in The Bahamas. It continued in Norman, where he was named the Sooners' Most Inspirational Player as a freshman and won Big 12 POY as a junior. Still, there was one more bout of doubt. "Last summer, between my junior year and senior year, is when I really exploded to the player I want to be," Hield says. "You're the Big 12 Player of the Year but not on everybody's first-round Draft board, so you kind of feel embarrassed. That made me work so hard to become the player I wanted to become. When I came back last season, I had the mindset that I'm going to kill everybody from tip until the end."
That's an accurate description of what Hield did in a season that saw him sweep national individual honors while averaging 25 ppg and leading OU to the Final Four. And in the unlikely event he loses the hunger that's gotten him this far, words from his mom will straighten him out. "Sometimes you just want to give up when you're working out hard each and every day," Hield says. "But my mom always reminds me, 'Remember the kid back in the park who didn't have nothing.' So I remember what got me here and I never lose my edge and I never forget where I came from."
—
Ben Osborne is the Editor-in-Chief of SLAM Magazine.
Portrait by Atiba Jefferson
Video by Shoot to Kill