Update (April 10): After going back and forth all weekend about their high school playing days, it appears a one-on-one game between Cam'ron and Stephon Marbury is brewing.
Cam'ron has officially challenged Marbury to a one-on-one game at Madison Square Garden on July 4:
Marbury responded on Twitter, saying that Cam "wouldn't make that mistake" of challenging him and that he would spot him five points in a game to ten:
He didn't do that. He wouldn't make that mistake. He might of had the heart back in the day maybe but not now for sure. 100,000 if he likes. https://t.co/R1sJr4L42R

— I AM PEACE STAR (@StarburyMarbury) April 9, 2017
Game 10 and I'll spot him 5 and he can have the ball. https://t.co/WOE7QJWAkW

— I AM PEACE STAR (@StarburyMarbury) April 10, 2017
Haha! This is fun in games. I'm a pro he's a high school basketball player. Trust this is all talk! https://t.co/0KX1MXbr5P

— I AM PEACE STAR (@StarburyMarbury) April 10, 2017
After I talk with @Mr_Camron the record will either get straight or he's gonna have to accept the challenge. https://t.co/HVuROSzINk

— I AM PEACE STAR (@StarburyMarbury) April 10, 2017
It might be a game if he keeps talking. Live in Harlem at the Rucker. https://t.co/iJkj0LXTOZ

— I AM PEACE STAR (@StarburyMarbury) April 10, 2017
Original Story: Before Cam'ron became a platinum-selling rapper, he starred on the Manhattan (NY) Center basketball team that went all the way to the 1992 New York public school championship game.
And this is confirmed: Cam'ron defeated Stephon Marbury's Lincoln squad to get there.
A 6-1 scoring point guard, Cam played on the AAU circuit with both Riverside Church and The Gauchos and competed with and against all of the city's best talent—including Marbury, Rafer "Skip To My Lou" Alston, Kareem Reid and God Shammgod.
So when Cam posted a photo of Marbury, Skip, Reid and Sham with the caption, "Every nigga I gave the business to in HS.. Except #Shamgod lol..🏀🏀🏀🏀 ask'm"—he was being serious.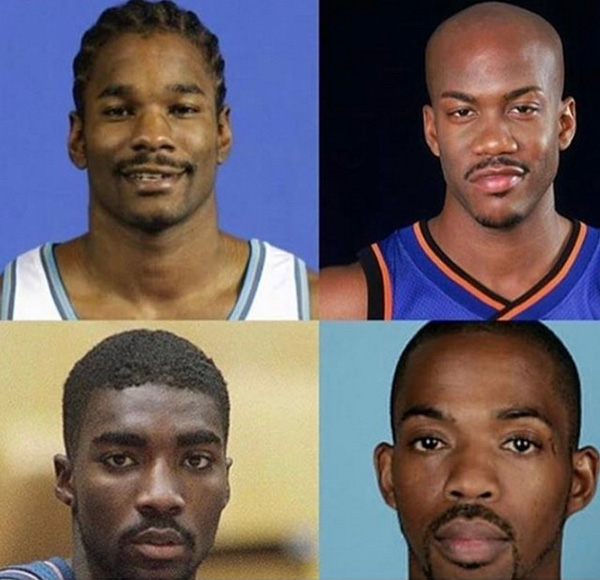 Still Marbury and Reid, another well-known New York PG who went on to play at Arkansas, clapped back (with some grammar and spelling errors cleaned up):
God Shammgod: Lol You silly but facts.

Stephon Marbury: You never gave me the business. Wake up!

Kareem Reid: This nigga flee @mr_camron on Instagram bugging. Who he beat on this list, cause it sure wasn't me. I think I made a lot a nigga out there become drug dealers and rappers!!!!

Cam'ron: 😂😂 Come on Reem. Niggas don't wanna give me my credit? 😡😡 Lol I'ma have to go to to the coaches and get the proof. I played Rucker and all da unlimited tournaments b4 y'all man.. 😁 Don't be mad bruh."

Kareem Reid: NA FLEE THE RESPECT IS ALWAYS THERE. I HEARD ABOUT U AND MAYBE CAME ACROSS UR NAME A COUPLE TIMES IN THE PAPER LOL LOL. I WAS JUST DIFFERENT FLEE!

Cam'ron: So I ain't give 50 in Forrest? Lol And u older then but we was in the same grade #Ringer 😜

Kareem Reid: Lol lol Oh yeah flee. I remember that game. The same game I had 50 something and me and (R.I.P HUDDY 6) beat ur with 3 people lol lol. and didn't u duck me this summer lol niggas lose everyday u tough rite (CAMRON VOICE) U BE OK LOL LOL
Camron then made a separate post to respond specifically to Marbury and Reid:
So my former opponents are denying me my high school legacy.😂😂 Marbury, we knocked u out the playoffs in the semi-finals to go to the chip in '92 (I'm lying?). I had 27, u had about 12 and da L. And the countless times in LaGuardia House I scrapped u.

Kareem, I gave u 50 points in Forrest. U always talking bout u had 50 something. U had about 40. And u was ringing! Skip (rafer) was on my team in LaGuardia House (tournament) and was a lil salty when I got MVP.. Over him..

Y'all all went pro.. Let me live 😂😂.. Thx Shammgod 😂😂 #YallWasThere lol
Despite the back and forth, it's clear Cam'ron had the respect of New York's finest ballers at a time when the city's hoops scene was poppin'.
Be sure to check out SLAM editor-in-chief Adam Figman's detailed feature for a comprehensive look at Cam'ron's early hoops career.