A disagreeing Carmelo Anthony excitedly hopped into the comments section of an Instagram post claiming that, at this stage in their careers, Kyle Korver is a better basketball player.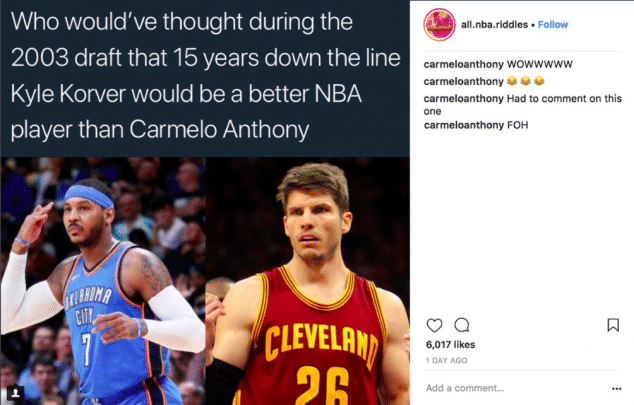 Anthony, 33, is coming off a frustrating season in OKC, during which he averaged a career-low 16.2 points on 40 percent shooting as a catch-and-shoot option for the Thunder.
The 37-year-old Korver remains a valuable contributor in the Cleveland Cavaliers' postseason run, though he only logged 19 minutes Wednesday night in a 96-83 Game 5 loss to the Boston Celtics.
Per ESPN:
Cleveland Cavaliers coach Tyronn Lue said Boston Celtics coach Brad Stevens' choice to not play Semi Ojeleye in the Celtics' 96-83 Game 5 win over the Cavs in the Eastern Conference finals foiled his planned rotation for Kyle Korver.

"Well, initially, he's been putting Ojeleye in," Lue said of Stevens after the game Wednesday.

"So that's been kind of Kyle's matchup when he comes in the game. He didn't play him tonight, so it kind of threw us for a loop."
9,126