Looking back, it's hard to believe they didn't split the vote.
There was a precedent for that sort of thing, of course. Twice in the previous decade, the NBA's Rookie of the Year award had been shared by two players: Grant Hill and Jason Kidd in 1995, and Elton Brand and Steve Francis five years later. The award is decided by a media vote, so it's not as if the League itself could just choose to split the award. But if ever there was a year it would've have made sense, 2003-04 was it.
Instead, the 2004 NBA Rookie of the Year award went to that kid from Akron, playing for his (almost) hometown Cavaliers. There was never any real argument that LeBron James didn't deserve ROY that season; the argument was that Carmelo Anthony deserved it every bit as much. Even now, 13 years later, that argument holds up.
The No. 3 pick in the '03 Draft (two spots behind his friend LeBron), Carmelo arrived in Denver with a championship pedigree and the hopes of a struggling franchise on his shoulders. As a freshman that spring, he'd led Syracuse on a thrilling NCAA title run. Now he was a Nugget, tasked at 19 years old with turning around a team that had stumbled to a 17-65 record the season before his arrival.
Needless to say, it was a good time for a franchise makeover, both in substance—Melo provided plenty of that—and in style. For the latter, the Nuggets completely overhauled their color scheme and jersey design, ditching the relatively subdued navy, red and gold that fans were familiar with for a shiny sky blue with bright yellow accents. It was a drastic switch, and where Carmelo Anthony was concerned, a fitting one: a bold, assertive look well suited to a bold, assertive young star.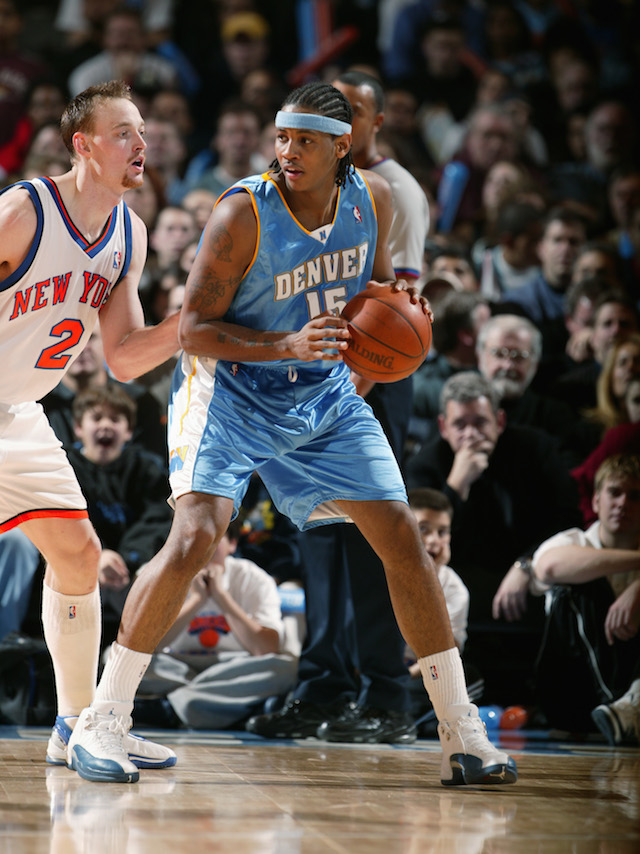 Anthony wasted no time making those new jerseys look good—and making the Nuggets look smart for drafting him. In his NBA debut, he posted a relatively modest 12 points, 7 rebounds and 3 assists, then scored 18 and 23 in his next two games. Denver's fifth game was a road date in Cleveland, one of the most hyped rookie matchups in NBA history. The individual battle was slightly underwhelming—LeBron had 7 points, 11 rebounds and 7 assists while Melo went for 14 and 6—but the Nuggets came away with the 4-point win. Back home against the Clippers three nights later, Anthony recorded his first career 30-point game.
It would hardly be his last. That season alone, Melo topped 30 nine times, including a season-best 39 points in a February win over the Blazers. But the more important numbers were coming on the scoreboard. Led by Anthony, point guard Andre Miller and Brazilian big man Nene Hilario, the Nuggets matched the previous season's win total three days before Christmas. Anthony's impact on his team's success was undeniable.
And yes, the League was taking notice. That season, for the first (and still only) time in NBA history, the conference Rookie of the Month awards went to the same players each month: LeBron James in the East, and Carmelo Anthony in the West. There wasn't much to separate them: For the season, LeBron averaged 20.9 points, 5.5 rebounds and 5.9 assists per game. Melo went for 21.0, 6.1 and 2.8 per. The only real difference? Anthony led his Nuggets to the playoffs. LeBron and the Cavs fell just short.
There's no comparing their trophy cases at this point. But for that debut season, Carmelo was every bit LeBron's equal. And he looked pretty good doing it, too.
—
Photos via Getty Images, Mitchell & Ness