Chris Bosh's life has, for the most part, been a fruitful one. He's won championships and played in All-Star Games. He's made $144 million on the court, and, via endorsements, a small fortune off of it.
And then there are all the other gifts the game of basketball has given him, like the means and time to pursue his other interests. Bosh has made TV cameos and learned to play guitar; he's chilled with camels and brews his own beer in his garage. "All these things," he says, "I couldn't have done if I worked a 9-5."
But like all human beings Bosh has also dealt with the merciless side of life, and over the years he's developed a coping mechanism for such times.
"Don't worry," he's fond of saying, both to himself and to his friends, "the sun will come out tomorrow. Everything will be OK."
A "glass half-full guy" is how Dean Keener, the former Georgia Tech assistant who recruited Bosh out of Dallas' Lincoln HS, describes him. Bosh, he says, is the definition of a positive person, which is why back in late February he was so struck by the tone of the text messages he was receiving from his former player and longtime friend. Bosh seemed downtrodden, defeated and full of despair. The few times the two did speak over the phone Bosh sounded nervous.
Of course it was understandable why.
A week earlier Bosh flew to Haiti for an All-Star Weekend vacation, only to have it ruined by an agonizing pain in his back and chest. He cut the trip short and returned to Miami to check into Baptist Hospital, where doctors discovered blood clots in his lungs. Bosh was also diagnosed with a pulmonary infarction; dead tissue had led to a buildup of fluid.
The root of these afflictions was unclear (though it was believed to be connected to a shin contusion he had suffered earlier in the year) and at the moment also irrelevant. All that did matter, to Bosh and those who know and love him, was that his life was in doubt.
"I love Chris to death, and for me, I was immediately brought back to the times when I found out about Earvin ["Magic" Johnson] and his HIV diagnosis, and [Alonzo Mourning] needing a kidney transplant—those are life-threatening diagnoses," says Heat president Pat Riley. "With Chris, this was the same thing—a condition that could be fatal. It was a very sobering time."
Riley also thought about another former player of his, Jerome Kersey. Bosh and his family did, too. One day earlier, Kersey had suddenly died at the all-too-young age of 52.
The cause of death: A blood clot had traveled from his left calf up into his lungs.
"It was scary," Bosh says. "I knew all about blood clots and how dangerous they are."
It took over a day for the blood thinners to do their job, after which Bosh was informed that death was no longer a concern. "That period beforehand—that was the most nervous I've ever seen him," Keener says.
As for the 31-year-old Bosh's playing career, well, that was a different story.
***
"I owe everything I've done to the game of basketball," Bosh says. "I've done so much in my life that I never dreamt I'd be able to, and it's all because of basketball."
It's a recent October afternoon and Bosh is calling from his Miami home. He's upbeat and jovial, and enjoying a lunch of lightly fried snapper and broccoli. "Don't worry," he says between laughs. "[The fish] is barely dipped in oil. It's not that greasy spoon stuff."
He's answering questions about the past year, the trials he's endured, the pain he's felt, and how he overcame it all. He's introspective and thoughtful. "A renaissance man," Riley calls him. "He and Kareem [Abdul-Jabbar] are the two smartest players I've ever been around." Bosh's pensive mind serves him well when recalling the recent past.
"I'm just more appreciative of the career I have," he says. "I used to question things a bit, wonder what I was actually contributing to society, wondering what I'd be doing if I wasn't playing ball. Especially after the championships, things got really hectic. Basketball was really difficult."
That word, difficult, he used to think he understood what it meant. But that was before he spent a week in a hospital room with fluid-draining pipes hooked into into him as if his body was nothing more than a clogged kitchen sink. Even months later the thought of all that hardware resting between his ribs sends shivers down his spine.
"It's such a hard feeling to describe," Bosh says. "Unlike anything I've ever felt. Just a weird and tough experience."
One day in particular stands out as being the worst.
It was his third with tubes in his chest, and his body was slowly adjusting to the morphine and beginning to feel more pain. The walls of the room were closing in. He felt nauseous, and depressed, and dirty, too. Showering was forbidden. Instead, he was forced to clean himself with a wet cloth that seemingly never stayed warm. He knew he wasn't going home for three more days and he was sick of watching episodes of Family Guy, SportsCenter and American Dad on TV.
"I had an iPad, but I just didn't have the energy to do all that, set it up and everything," he says. "I just wanted to lay back. I couldn't deal with trying to get comfortable with the screen on me."
He used it to watch Heat games, but his zeal for life had disappeared. No longer was the glass half full. Bosh's wife, Adrienne, was constantly at his side, but he only allowed his kids to visit him once. He just couldn't stand the thought of his children seeing their father in such a sickly state.
"He just looked so unhealthy," says Ed Downs, owner of the Miami-based ProTerf gym and Bosh's friend. "That image of him lying there, it haunts me." Riley remembers how concerned Bosh and his wife looked and the palpable fear pulsating throughout the hospital room.
But, little by little, Bosh's fervor returned. He's always been ruthlessly competitive, it just manifests itself in different ways. In high school he'd scan the PUNKS section of this magazine and then share with his friends why he was superior to every player written up. He also cried after a championship game loss, just like he did in 2011 when the Heat fell to the Mavs.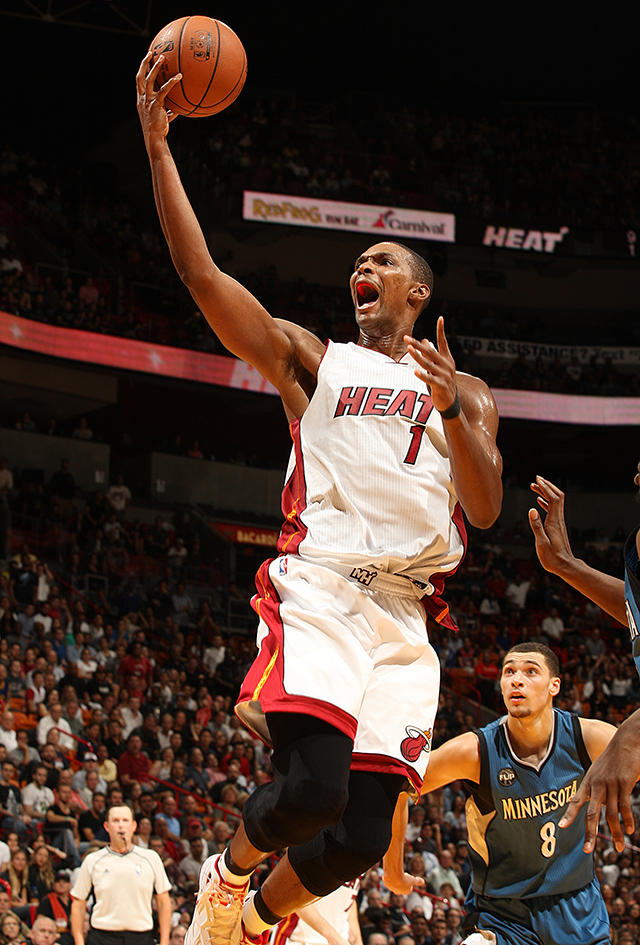 "You can't have the career he's had if you don't have a little bit of dog in you," says Bosh's friend and former teammate, Shane Battier. Or, as Riley points out, you don't make the career decisions Bosh has if fighting isn't a priority.
"Chris made a tremendous sacrifice when he came here in 2010," Riley says. "He kind of fell into that third slot. But because he was the guy willing to take a step back, or even two or three, so that the other stars could shine, that's what made things work for us.
"We say this internally all the time, but Chris was probably the most valuable player on the team because he was willing to be the complimentary star. That decision he made was one that only a true competitor makes."
It turns out Bosh just needed some time to rediscover that drive.
***
The first signs of vigor came towards the end of his hospital stay, when nurses rushed to Bosh's room after hearing screams.
"I was watching Heat games and getting into them," he says. "I'm a yeller when watching my team, even though they can't hear me. Like the manager in Major League II, jumping up and down. The games gave me an escape, a way to feel normal for a couple of hours."
After a week of torture, an ecstatic Bosh was, finally, discharged from Baptist Hospital—only to forget to take his pain meds his first day back home. "I figured once I got out of there I'd be able to get back to being normal," he says. "I was wrong." It took four bedridden days for Bosh to get the go-ahead from his doctors, and even then his comeback didn't exactly get off to a roaring start.
He began with short walks with his wife and baby girl, Dylan Skye, who'd accompany the couple in her toy car. Bosh, down 13 pounds from his listed 235, would last maybe three houses before becoming winded and requesting to turn around.
The slow progress frustrated him, but Bosh also felt invigorated. Confronting death had altered his perspective. So had the threat of losing his career.
"I realized playing basketball was what I was put on this earth to do. I'm 31 now—there's only so much more basketball I'm going to be able to play. My career is finite, and [I'm] more appreciative of it now than I ever was."
Rejoining the Heat last season was out of the question, but Bosh quickly went to work on preparing for an October 2015 return. Downs had reached out to Dr. Cedric Bryant, the Chief Science Officer of the American Council on Exercise, so he could design the proper rehab plan, and then sent it over to Bosh, who spent the summer at his Santa Monica home training in a sweltering high school gym with Downs, former Arizona Wildcat star Miles Simon and a shooting statistics guru named Justin Zormelo.
Workouts lasted from 10:30-2, six days a week. Everything was done in unison. If Austin or Zormelo had Bosh taking off-balance jumpers in the morning, then Downs would have Bosh standing on a balance board in the afternoon. The trio also focused on building up Bosh's cardio and core.
"I came from a place where I wasn't doing anything," says Bosh, who added 20 pounds of muscle to his previously frail frame. "After what I went through, anytime I was tired I just kept pushing." By the end of the summer he had, according to Downs, set career high marks in every fitness number which the trainer records.
Now, as Bosh embarks on his 13th NBA season, and second in Miami without LeBron James, the future Hall of Famer has just one goal. It's what pushed him to return from the brink, what kept him going all those times when things were looking bleak, when, as he says, "I came so close to losing it all."
"I want to win another Championship," Bosh says. "That's what all this is about."
—
Yaron Weitzman is an Editorial Assistant at SLAM. Follow him on Twitter @YaronWeitzman.
images via Getty