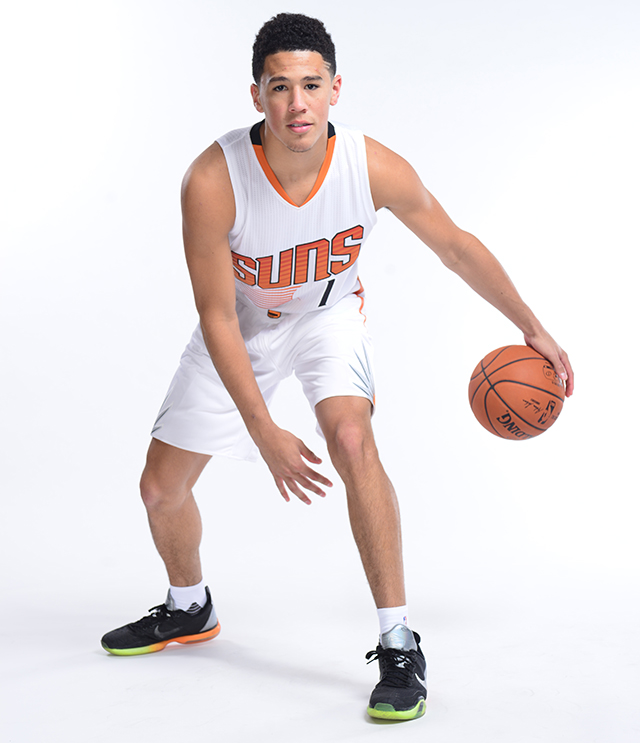 Devin Booker's basketball roots are planted deep—his pops had a long overseas career (along with a couple NBA years), while his older brother toughened him up as a youngster on the outdoor courts in Grand Rapids, MI. (Booker would later move to Mississippi to train with his father when the journeyman moved back to the States.) We chopped it up with the newly made Suns swingman to talk about his love for the game.
SLAM: What are your earliest basketball memories?
Devin Booker: I remember just being on the playground, wanting to play with my brother and his friends. Having an older brother, he used to push me in everything. We used to play in the driveway and I used to come in and cry and tell my mom that he would stop playing me once he won. That used to make me mad. Every time I got an opportunity, I'd go my hardest to prove myself to them. That's what it was for me—just trying to prove to my brother and his friends that I belonged.
I grew up in Grand Rapids with my mother and brother—my dad was playing overseas. I got to visit him while he was playing in Italy, so I got to travel. He used to say, "This ball's been good to me," and it has. Seeing how he could take care of his family by playing, it made me drive that much harder. I took that to Grand Rapids and I was competitive. At first, I just wanted to be the best on my teams. Then I wanted to be the best in my division. And then I wanted to be the best in the state.
SLAM: Any lasting memories from visiting your dad when he was playing overseas?
DB: He was a teammate of Danilo Gallinari. Gallo, I used to play one-on-one with him when I was 11 or 12. I was a big fan. He was the man in Italy. So you know, I'm playing Gallo one-on-one and he gave me his shoes, autographed. That was a big deal. I still have the shoes. I worked out in Denver and I had the same locker as him, so I told him about that. It's crazy how that actually happened.
SLAM: What kinda shoes?
DB: They're some Reeboks—he was sponsored by Reebok. They called him the Rooster, so it has the little rooster on it.
SLAM: What was the first NBA jersey you owned?
DB: I had an Allen Iverson jersey,the white one with "Sixers" across it. My uncle gave it to me. And then my dad played in the League, for like three or four years, so he had some extras and I used to wear them around the house.
SLAM: Is there a specific place you look back on as being important to your development?
DB: My 10th grade year, I moved to Mississippi. My high school gym—it's not one of the better schools—me and my dad call it The Dungeon. It didn't even have AC. It got AC the year I got there. When it rains, it leaks on the floor. My dad says, "This is where it started." I remember the drinking fountains, you couldn't even see through the water. You showed up with a water bottle. I'd say that's where most of my work was actually put in, my high school gym.
SLAM: Who did you root for growing up?
DB: I was a big Pistons fan. I actually had the opportunity a few weeks ago—I was in New Jersey with Rip Hamilton. We talked a lot. I explained to him he was basically my childhood. I used to watch that dynasty team. At the time, Rip Hamilton, he was my favorite player. I wasn't even a two-guard then—I was a big man, that's the crazy part. I was a big man. When you're bigger than everybody [as a child], your coach just throws you down there. So, Rip Hamilton, Chauncey [Billups], Tayshaun [Prince], all them. I was a big Pistons fan.
SLAM: Do you remember the first basketball you owned?
DB: It was for a Fisher-Price hoop. When I used to visit [my father in Mississippi], my dad used to have me stay with my uncle—but he's like my brother, because we're similar in age. When his mom used to be gone, we used to move the Fisher-Price goal to the living room so we had more space, then we had to move it before she got back. That's probably my earliest memory.
SLAM: Was there a point you knew your life would be all about becoming an NBA player?
DB: Nah, it's been forever. I get the question, "What would you be if you weren't a basketball player?" and usually I give an answer just because, but honestly, I've never had a backup plan.
—
Adam Figman is a Senior Editor at SLAM. Follow him on Twitter @afigman.
Share your photo with #TrueToTheGame #Sweeps on Twitter and Instagram for a chance to win Spalding NBA product, exciting trips and more. Visit spaldingtruetothegame.com to get in the game.