"If you walk into a room and you're the smartest person, leave immediately," charged Dwyane Wade as he helped kickoff the discussion at The Blueprint Power Hour during NBA All-Star Weekend.
Sports power players on and off the court descended on Toronto for meetings, events, games and parties as they do each year. Amidst all of the celebrations, 12-time All-Star Wade and his team brought together several smart people in sports and entertainment to join a game-changing discussion on the marketing and management of his brand.
Executives, agents, players, MBA students and more were able to hear the panel, moderated by Wade's former professor, Harvard Business School's Anita Elberse, and ask questions afterward. Stance Socks EVP of Business Development Clarke Miyasaki, National Basketball Players Association (NBPA) Executive Director Michele Roberts, and entrepreneur, actor and recording artist Ludacris joined Wade in discussing his brand, that many see as a "blueprint" which can be used by other players.
"Dwyane is so special. I wish every single one of our players had the business acumen intelligence that he has because he realizes that he is valuable," Michele Roberts exclaimed. She went on to share that the average span of a player's career in the NBA is four years and they need to figure out additional ways to bring in income. The NBPA is helping players, that do not understand the business of basketball and their own value, to monetize their individual and group brands.
Though he is currently a sterling model of what they want others to note, Wade shared that he has struggled because he didn't understand the big picture early on in his career. After going through litigation for three years and simultaneously going through a custody battle and divorce, he lost millions of dollars. Through these battles he learned about the importance being smart with his earnings.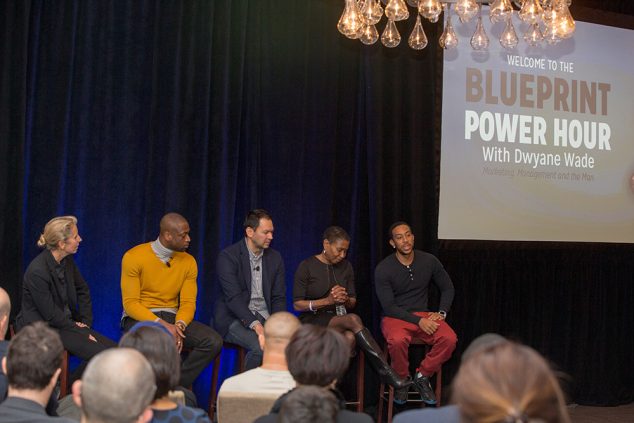 Wade's long-time friend Ludacris overcame similar obstacles and was one of the people Wade confided in over the years. Wade shared, "We try to hide our failures and we try glorify our successes. That's great but conversations like this are OK to have because we all have failures. No one is the perfect blueprint. We just all try to get smarter and better. Surround yourself with people that can help you think a different way."
Failure is the womb for success and Wade's shortcomings served as a learning tool and a launchpad for his future business endeavors. He built his capacity by not being afraid to ask questions, strengthening and building his team, and making smart partnerships with brands like Stance Socks, which went from 10 employees when he started working with them, to 150 and became the first company to have their logo on every player in the NBA through their partnership.
Wade makes sure that he is surrounded by smart, business-savvy people who he knows will elevate his brand including his business manager Lisa Joseph, who also studied at Harvard Business School with him, agent Henry Thomas who has been with him since the beginning of his career and helped Wade bring on Lisa, creative designer/stylist Calyann Barnett, Lloyd Frischer whom Wade said he calls "Money Lloyd," content manager Bob Metelus and more.
Sparking this type of conversation during a weekend when all eyes are on the NBA was a great move that will hopefully lead to a trend of athletes monetizing their influence off the court. As All-Star Weekend is leveraged as an opportunity to give back to the community through fundraisers, educational events like the Power Hour also make a great impact in encouraging players to learn the skills they'll need to sustain their wealth while they are playing and throughout their retirement.
#DwyaneWade laid down The Blueprint yesterday in Toronto. Go inside Dwyane's Marketing Management Power Hour.https://t.co/AOsLfG4Sqo

— Miami HEAT (@MiamiHEAT) February 15, 2016
Photos courtesy of CAA
302