Russell Westbrook, James Harden, LeBron James, Nikola Jokic, Draymond Green, and Elfrid Payton. Those are the only guys in the NBA who notched five or more triple-doubles in 2016-17.
Not bad company for Orlando's point guard.
Elfrid Payton has always demonstrated an ability to keep improving his game. As a freshman at the University of Louisiana at Lafayette, he averaged just 7.2 points on 45 percent shooting from the field. Two seasons later, right before he declared for the draft, he was second in the Sun Belt in scoring, posting 19.1 per game on 51 percent from the field.
Same story in the NBA, where Payton has progressed steadily, finishing with averages of 12.8 points, 6.5 assists, and 4.7 rebounds this past season. So Elfrid knows a thing or two about what it takes to elevate your play. He imparted this wisdom to other young ballers at the Jr. NBA Philippines National Training Camp recently. Set in Manila, this event featured 37 boys and 37 girls all competing for spots on the Jr. NBA All-Star team, which will embark on an overseas journey later in 2017.
We checked in with Payton, who had never been to the Philippines before, while he was still out there. "I've been having a good time," he told SLAM, noting that he's been able to both help out the athletes and explore the area.
The intense fandom and passion for basketball in the Philippines is well known, but Elfrid stressed that it was even more than he anticipated. "Just the people around here," he said, "you can tell that [the game] is growing."
After discussing the trip, Payton went on to address the season, his plans to further improve, his role model growing up, and the current NBA playoffs.
***
SLAM: What are your plans for the rest of the offseason once the trip ends? Are there specific things you want to work on?
EP: Just continue to try and get stronger, work on my finishing abilities, and my jump shot.
SLAM: Can you reflect on this past season, both in terms of your individual performance and the team's performance?
EP: I think it was an okay season for me…I picked it up as the season went on, as I try and do every year—play my best ball towards the end of the season. Just try to continue to get better.
As a team… You know, it was a tough situation. You got a new coach [Orlando has had four different head coaches in the three years Payton has been with the team. – Ed.], so it takes awhile to implement a new system and gain chemistry. I think we're moving in the right direction though, especially with the way we played after the All-Star break.
SLAM: What else makes you confident that you guys are headed in the right direction?
EP: We're starting to figure each other out. Like I said, implementing a new system takes time. It takes time for coaches to figure out players and how to use certain players. So I think just the coaching staff being able to figure the players out and the players being able to figure out the coaching staff…We finally started to gel a little bit at the end of the season. We were able to add Terrence Ross. I think that was a good addition for us.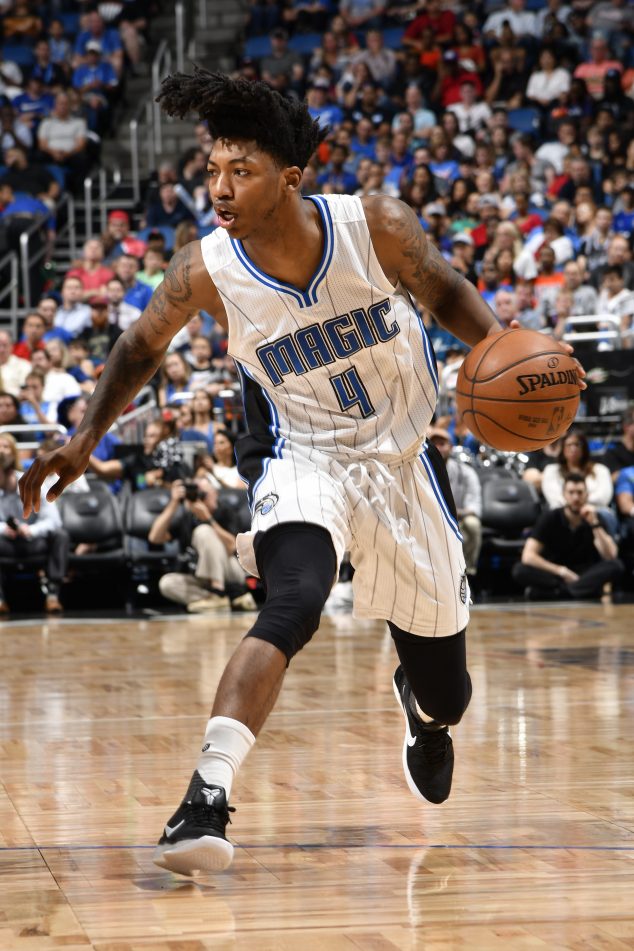 SLAM: You had five triple-doubles this season, which was tied for the fifth most in the NBA. Did your approach to the game or mindset change at all?
EP: No, just trying to impact the game as much as I can. Most people think you can only impact the game by scoring. I just try and do a lot of different things, whether it be rebounding or trying to get my teammates involved or on the defensive end.
SLAM: Do you have a favorite moment or game from the season?
EP: My favorite win would probably be against San Antonio [Orlando won that game 95-83. Payton had 10 points, 4 assists, and 3 steals in 23 minutes of action. – Ed.]. We were able to get that win on the road, against a team that doesn't really lose at home…That was a big moment for us.
SLAM: I read that the guy you looked up to as a kid was Allen Iverson. Why?
EP: I don't really play like Allen Iverson. I just think that he was somebody that was tough, competitive. He always gave it his all when he was out there. He was someone that was just himself. He didn't try to be anybody [else]. I thought he was somebody that was cool to look up to.
SLAM: Have you been able to catch the playoffs out there? And who you got winning it all?
EP: Yes, I have been able to catch the games. I have the Spurs winning it. Tough loss [on Sunday], but I still have them winning.
SLAM: I know it's early, but have you set any goals for next season?
EP: The goal is always to make the playoffs and make a run in the playoffs. That's always the goal.
—
Alex Squadron as an Editorial Assistant at SLAM. Follow him on Twitter at @asquad510.
Photos via Getty Images and NBA