You knew what you were getting yourself into. That is, if you drafted anybody on the San Antonio Spurs, you should have known. Every minor tweak or cough is treated like a career-threatening malady unless the game has serious implications. Second half of a back-to-back? Sit him. Barely noticeable limp? Sit him. Woke up on the wrong side of the bed? Sit him.
This can be incredibly frustrating for the owners of Tim Duncan, Kawhi Leonard, Tony Parker and Manu Ginobli, and it all came to a head when each of the four sat simultaneously against the New York Knicks this week at home. You could almost picture coach Gregg Popovich gathering his four essential players together the night before the game and, with a slight grin on his face, telling them that with the Knicks coming into town, it would really be a more interesting game for the home fans if they all just sat out.
Sure, Leonard and Parker technically sat out with injury, but they would have played if it mattered. As it turned out, the Spurs' bench still put the hammer down on the Knicks. Games like this one demonstrate that if you do not own a Spurs star, they are a team worth paying close attention to for daily situations and short term plug and play options.
When Parker sits, Cory Joseph could put up a good line. If it's Leonard or Ginobli sitting one out, players like Danny Green and Marco Belinelli are likely to take on a bigger role. Belinelli was the biggest benefactor against the Knicks, but the beauty of the Popovich system lies with its tendency to create a new hero on a game-by-game basis as needed. This quality that has made the Spurs so tough for NBA opponents wreaks havoc on fantasy owners from all angles. Is it really worth it?
Prior to this season, Leonard was projected by many experts to be worthy of a late first- or second-round pick. The reality is that he was never going to live up to those expectations (yet). To this point, he is averaging 31 minutes per game, and has only improved slightly upon his stats from last year (14.8 ppg, 7.5 rpg, 2 spg). It is possible fans were expecting a transformation like the Indiana Pacers' Paul George, who increased his scoring output by 10 points per game over the course of 2 seasons (12.1 to 21.7). George was given 36-37 minutes per game though, and Popovich continues to keep Leonard's minutes down, employing a strategy of balance. Kawhi doesn't get the benefit of nearly 40 minutes per game like Jimmy Butler in Chicago either, who has taken advantage and risen to an All-Star level statistically just as George did.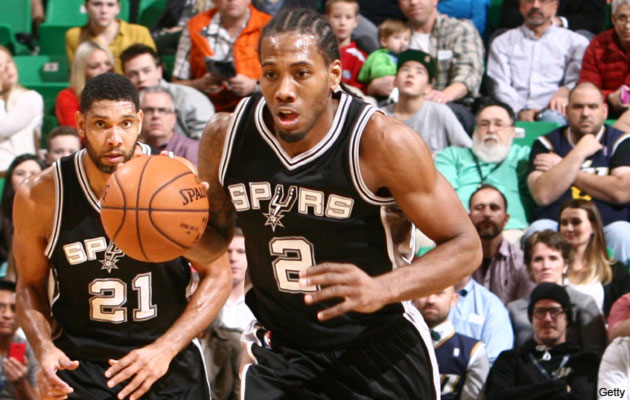 Leonard occasionally provides his owners with a glimmer of what he someday will be statistically, but his rise is coming within a process, and as a result we've seen an overall career low 46 percent from the field and 32 percent from downtown (compared to a prior 51 percent and 38 percent, respectively). This year, Leonard was simply not worth the draft position he had to be chosen at, but that isn't to say he won't be worth it in the future. He is going to be a force in the NBA Playoffs just like last year, and from a statistical standpoint there will be a larger leap from Leonard next season for fantasy owners. He might just be worth that same draft pick next year, combining one more year of development with one more year of aging from some of his teammates who are "older than dirt."
Speaking of Duncan, it should be fairly obvious by now that the man could be a productive NBA player until he is 50 if he wanted to be. He is going to retire when he is ready, but as long as the Spurs are still a championship contender it's hard to see it happening. The rest days will continue to be more prevalent than ever, and as a result, Tiago Splitter and Aron Baynes will see deep league value on a game-by-game basis. Owning Duncan will remain both a gift and a curse, as there's a good chance he will hurt your team in the fantasy playoffs at some point. It is always a good idea to use up all you can get from Duncan before the trade deadline in your league, and then deal him for whatever talent you can get that can lead you to a fantasy championship. Statistically, he will push a double-double on the season yet again (15.1 ppg, 9.7 rpg, 2 bpg) but it will all be for nothing if he sits during your most important match-up of the year. It has nevertheless been impressive to see such a lack of decline, as has been visible with the ever-competitive Kevin Garnett in Brooklyn (also 38).
A similar idea can be applied to Parker and Ginobli. The consistent Parker's numbers sit at around his career average, though he is averaging a career-low 29.7 minutes per game and is on pace to miss close to 20 games this season, as he has done for the last three years. Wait for a hot streak, and deal him while he is in the midst of it. Manu has been a risky own for a long time, as Popovich has always liked him in a role with more limited minutes. He has averaged under 24 minutes per game the last three seasons, and while that keeps his trade value at nil, he can provide owners in deep league with decent bench support. In the end, everyone in the NBA knows that the Spurs are again a top contender for the Championship, and again a frustrating exception to the norm for fantasy owners.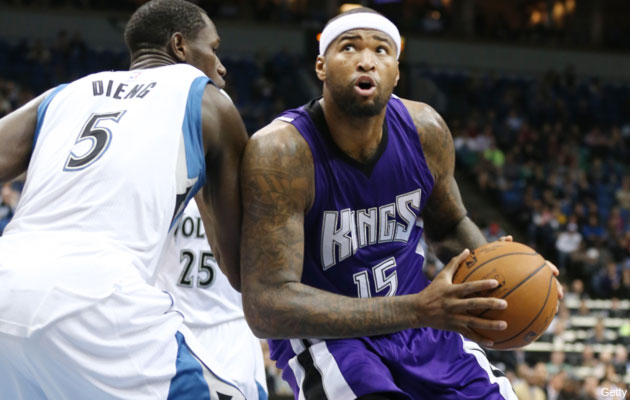 Quick Bits
DeMarcus Cousins owners may be frustrated by his viral meningitis scare but have no choice but to wait it out, and no other Kings have stepped it up to the point of being viable for anything but deep leagues. There is talk that Carmelo Anthony may miss time to rest his knee, but there isn't much to be excited about behind him (Andrea Bargnani is after all not close to returning). Amar'e Stoudemire continues to be the most surprising thing about the Knicks this year, and his minutes have been increasing. Joakim Noah is demonstrating why you can't buy high following a statistical career year outside the norm, with the injury bug returning and an expected drop in numbers with the additions of Derrick Rose and Pau Gasol.
The Hawks' Dennis Schroder continues to push for playing time, but it won't come at the expense of Jeff Teague, who has only improved on last year's career season thus far. Ricky Rubio will be out slightly longer than expected, which keeps Mo Williams on the radar for another at least another month. David Lee will be returning for the Warriors soon, but what Steve Kerr will do with him is a mystery, as the team has been rolling with Draymond Green at power forward. It's possible Green ends up taking a major statistical hit after Lee becomes readjusted, an example of the fluid nature of player roles throughout the season.
Dan Hanna is SLAM's weekly fantasy basketball columnist and a life-long Bulls fan. Follow him on Twitter @i_am_danhan. For advice on your fantasy team, post questions in the comments section.