Earlier in the season, the Detroit Pistons lost 13 games in a row and were outscored by 108 points during that span. Fast forward to the present, and the Motor City appears to have a legitimate NBA team again, with the Pistons standing at 7-0 since waiving forward Josh Smith. It couldn't have been that simple, could it?
This night and day reversal of fortune is truthfully pretty telling about the team's poor chemistry with Smith, and the fantasy implications of the move have become resoundingly clear.
Greg Monroe looks to be reestablishing his value after returning to the starting lineup. For some reason, conditions in Detroit have always seemed to fail him, but that's not going to be the case from here on out. Additionally, he is playing for what he probably hopes is a maximum contract from someone this summer. Not that anybody has ever played harder when they are playing for a contract…
Monroe has nevertheless been able to slide comfortably into a more prominent role and has put up four straight double-doubles. This includes a monster performance against the Dallas Mavericks in which he dropped 27 points, 18 boards, 6 assists, and a block. More nights like these will be coming, and his minutes should continue to rise. He has always deserved to be a starter for this team, and now he's proving why.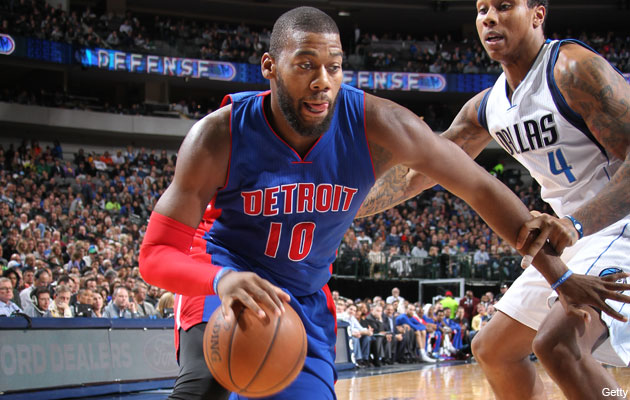 If you own Monroe and are thinking about selling high, don't do it. If you want to think the Pistons are just on a hot streak, that's your prerogative. But the seven-game win streak has included impressive victories over the Cavs, Mavs and Spurs. They are playing like a team and have found a second wind (or technically, they've found their first wind). Sure, they're still going to lose some games but the 7- or 8-seed in the Eastern Conference are very attainable. Don't be surprised to see the Pistons representing the Motor City in the Playoffs this year.
Brandon Jennings would be a huge part of that. He has always been a player who has gone through hot and cold streaks, but this season has featured a lot of the hot and his performance since Smith left has been pretty outstanding. His field-goal percentage has never impressed his owners, but it's sitting at a 49 percent clip since Smith left (under 39 percent with Smith). A blind man could see that he will have more opportunities with the ball in his hand without Smith next to him. His explosive scoring ability and 85 percent from the charity stripe keep his value up, and his hot streaks keep owners happy (enough). It's not like anybody is drafting him above his value.
Sometimes you have to take the good with the bad. Be careful about attempting to sell high on him; his value can only go so high given his up-and-down history so you are better off as an owner by playing to his positives and hoping for the best.
Jennings's backup, DJ Augustin, is a similarly streaky and is occasionally worth taking a look at in daily leagues and situations. If Jennings isn't feeling it on any particular night, DJ has been there to pick up the slack, and has even been deployed ahead of Jennings at times by coach Stan Van Gundy to teach the latter a lesson or two.
It needs to be pointed out that it's not fair to blame everything on Josh Smith. That's not really the implication here. Andre Drummond has nearly played his way into untradeable territory since a slow start, but he started to turn his season around before the Pistons waived Smith. Fantasy owners would be wise to view the early season struggles as nothing more than a mirage that will be forever forgotten.
The currently fiery Drummond is the real deal and is averaging 16 rebounds per game over his last 10 to go along with a few 20-point games and his usual blocked shot numbers. More importantly, he continues to get his field-goal percentage up, which had been hovering around an uncharacteristic 40 percent a month into the season. The opportunities will be there for Drummond to begin returning elite top-round value for his fantasy owners. In keeper and dynasty leagues, he is simply untradeable.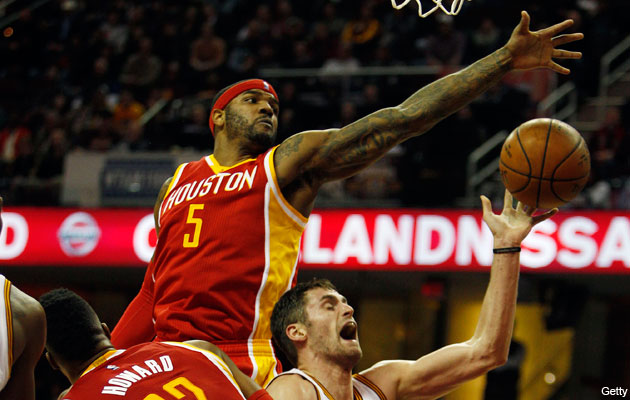 Let's get back to Smith. His move to the Rockets has resulted in play and stat lines that would most closely resemble a roller coaster. At this point, it's hard to see the benefit in owning Smith in most fantasy leagues. When the Pistons were playing him heavy minutes, he actually held decent value despite a mediocre shooting percentage, as poor decision making has never really truly translated negatively into fantasy box scores. The Rockets originally promised him a starting role, but it simply wasn't working out from a chemistry standpoint, and they are currently bringing him off the bench.
It's possible he could work his way back into that starting lineup eventually if he gets more comfortable with his new teammates; he is after all a talented player who can help a team if he is deployed correctly. At that point, he might begin to regain some fantasy value. One telling stat is that his free-throw percentage is sitting at only 44 percent, despite the fact that he shot 72 percent from the line during one season with the Atlanta Hawks. That disparity reeks of an issue with concentration, a lack of caring, or both. If he is able to mentally accept his new role with the Rockets, he can be a big boost to their aspirations as a team. He can be a great player. As an individual however, his days of doing whatever he wants on offense appear to be numbered.
While it seemed as though Smith's acquisition would have killed the value of some incumbents on the Rockets' roster, Donatas Motiejunas has retained his low-end value and has been starting instead of Smith recently. If Terrence Jones is actually able to return to the team this year, it will provide for an intriguing minutes discussion. Trevor Ariza's value couldn't get lower, and he is a candidate to bounce back from here on out. His 36 percent from the field and 31 percent from three-point land don't come close to last year's 46 percent and 41 percent, respectfully (did someone mention something earlier about playing better in a contract year?).
In the end, the Rockets added a unique piece in Smith and will be better in the long term for it. He should be able to help them and they are getting him for pennies on the dollar. Meanwhile the Pistons subtracted that same player and are clearly better for it. This is just the latest example that proves that chemistry and the team a player plays for can impact his performance on the court, and likewise his fantasy value.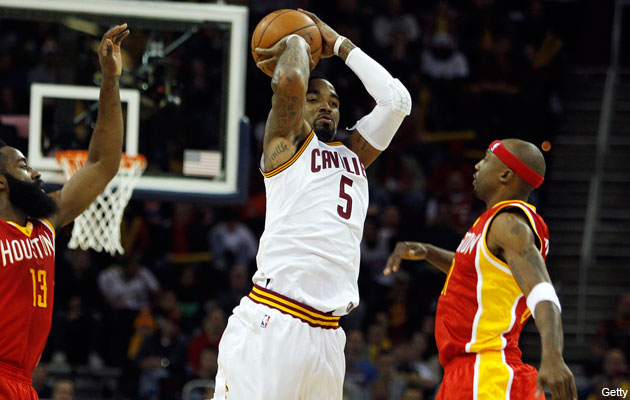 Quick Bits
It's hard to imagine JR Smith or Iman Shumpert providing anything to their new Cavs squad but complimentary play, so they can be ignored in most fantasy leagues. Larry Sanders can be dropped in standard leagues, but don't forget about him—he could return and get right back in the groove. Zach Randolph is getting closer to a return for the Grizzlies, and nothing suggests that the reliable Z-Bo will be anything but a big-time boost for fantasy owners.
Carmelo Anthony could miss the rest of the season, but it might actually be just as likely that he returns from this short rest fully healthy and ready to dominate. It's impossible to say, but if you can acquire Melo for a very small price, it might be worth the gamble. Just don't trade anybody you actually care about.
Keep a close eye on Hassan Whiteside, who is taking advantage of his opportunity thanks to the lack of Heat big men with 14 blocks in the last four games. Al Jefferson will continue to sit out for a while, which has led to a mini-emergence by Cody Zeller. Fantasy owners had already noticed his brother Tyler Zeller come into his own earlier in the season for the Boston Celtics. In other news, Deron Williams is done as a top fantasy player (for real this time), and with a new rib injury. After a surprising—but really not that surprising—benching, it's finally time to move on.
Dan Hanna is SLAM's weekly fantasy basketball columnist and a life-long Bulls fan. Follow him on Twitter @i_am_danhan. For advice on your fantasy team, post questions in the comments section.