February is an important month for Fred Jones. Thirteen years ago, he scored a 36 to defeat Jason Richardson in the final round of the 2004 Dunk Contest in Los Angeles.
During his eight years in the League, Jones, a Jordan Brand endorsee in the early '00s, rocked some ill PEs during his time with the Pacers, Knicks and Clippers that still haven't seen the retail shelves.
After retiring in 2009 at the age of 30, he returned home to Oregon, later joining the coaching staff as an undergrad assistant for the Ducks in 2015. After obtaining his degree, Jones moved back to Indiana where he opened up The Luxury Sneaker Exchange, a sneaker shop in downtown Indianapolis. He recently inked a deal with Oregon-based Shoot 360 to open up a facility in Indianapolis later this year.
SLAM caught up with Jones last week before Oregon played UCLA to talk about the 2004 Slam Dunk Contest, his prediction for this year's Contest, Jordan PEs and more.
SLAM: What's something you remember the most from that '04 Dunk Contest?
Fred Jones: It was here in L.A. and I had no clue I could even compete. I'm an energy, adrenaline jumper. I don't think I was just a flat-out leaper, but once you get in front of 20,000 people, they give you that energy and that ability to jump. It was fun. I had a chance to have all of my family and friends here being on the West Coast. That was the best part about it, just being able to enjoy it with them and a lot of my family during the All-Star festivities.
SLAM: Who do you have winning this year's Contest?
FJ: Man, it's going to be tough to go against Aaron Gordon, but this young kid Derrick Jones, I seen him. Aaron Gordon got a little charisma to him and he knows how to play to the crowd. I don't know if this other kid has that, but as far as just dunking ability, it's going to be between them two.
SLAM: Do you think in your prime you could compete in the contest with guys like Aaron and Zach LaVine?
FJ: [Laughs] No. I'm gracious that I won the '04 contest but I was going against an unbelievable dunker in Jason Richardson and he missed dunks. That's how I won. I know how I won. I was able to just make my dunks and that's what made me successful. Those guys, though, it's a different level today.
SLAM: You've been out of the League eight years now. What are your thoughts on how the game has evolved?
FJ: I love the game. The NBA is the pinnacle to me. I think that everything has to change, similar to these gyms. You have to improve and get better and the stuff that they've implemented and the way people shoot the ball nowadays is just the next phase of the NBA, and I like that.
SLAM: A common question many NBA vets get is the whole super teams in the League now. What are your thoughts on that?
FJ: It don't bother me at all. I think when you look at teams—even back in the day when they won championships—they had 3-4 Hall of Famers on their team. They didn't do it the same way because they didn't have those luxuries to do it the same way.
Nowadays, if a player plays out his contract and he wants to go somewhere else, that's his business. I don't have a problem with it because on the other end, an owner can trade you any time when you don't want to go, so I don't know why people have an issue with it when you've done your obligation.
SLAM: Who are some of the players you've been keeping close tabs on this season?
FJ: I'm a Russell Westbrook fan. I love his effort and energy level. James Harden is playing out of his mind. Isaiah Thomas is a friend of mine and somebody that I seen grow up and now blossoming into what he is today. And I'm in Indy so I'm always watching Paul George and any of my Ducks that's in the League like Aaron Brooks and Joe Young that are in Indiana. That's it pretty much. The usual suspects of course—LeBron, Steph and all of them.
SLAM: So James or Russ for MVP?
FJ: Today, James 'cause [the Rockets] are winning… but Isaiah Thomas is close behind.
SLAM: Lots of guys you played against are playing in the BIG3. Any chance you'll play?
FJ: Fred Jones gotta lose a little of this belly and then that is a plan [laughs]. Hopefully it does well this summer. I'm going to have my gym going next year and I'll be in there all the time so I can get back in it, but I'm going to shoot for next summer for the BIG3.
SLAM: You had some crazy Jordan PEs you debuted on-court throughout your career. What's your kick collection looking like now?
FJ: I can't say I don't have a good collection, but it's not what it used to be. I'm dibbling and dabbling in it all the time. And you don't get as many as you used to get when you were playing, but I still got quite a few. Now when they're retroing a lot of stuff, I have them from before.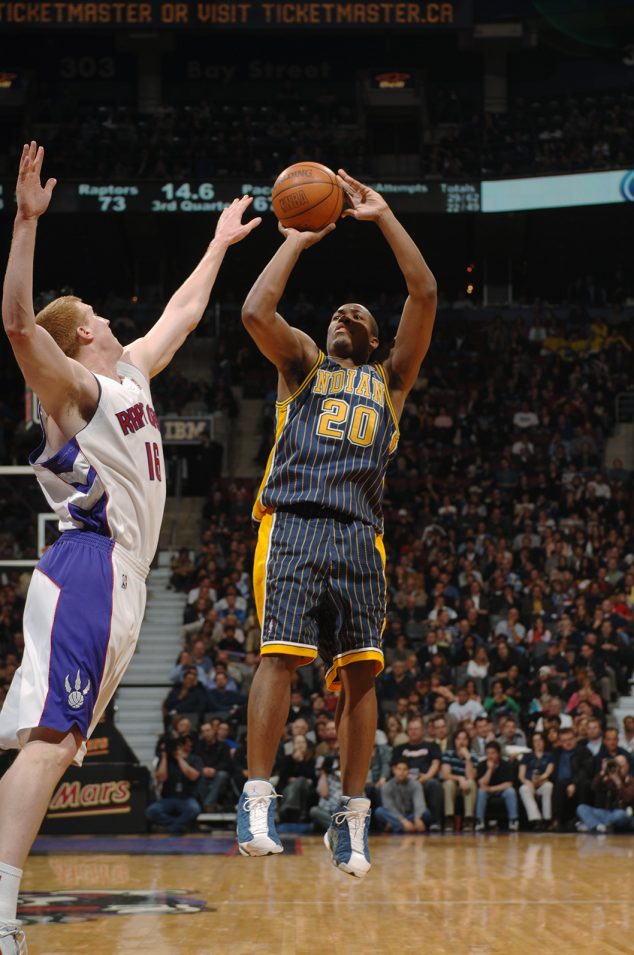 SLAM: What's the best PE you received?
FJ: I like my Pacers XIVs because of the yellow. It matches the Ducks [colors] and both 'ways from the Pacers to the Ducks. Then my Knicks stuff. Everything I did with the Terror Squad, had them on it and then I had some IIs that I dedicated to my nephew [Dustin] and I put his initials on it—FJ = DJ.
SLAM: And your grail?
FJ: The shoe I like the most right now is the BIN Vs. I've had that for years and I've been trying to wear it. I take it on the road and say I'm going to wear them and don't even put my foot in it. For probably five or six years now, I've been taking them on every road trip and I've never wore them. That's probably my favorite.
SLAM: Do you have anything in your closet you received from Jordan Brand that's a one-of-one?
FJ: Yeah, my birthday probably 10 years ago, my wife got Gentry [Humphrey] to make me some custom bowling shoes. I got some Jordan IVs that are bowling shoes that he made me for my birthday.
SLAM: What was it about Shoot 360 that interested you in the partnership?
FJ: Playing basketball, you live in the gym; you felt like you've seen every aspect of the basketball game until the day I walked in and saw that this was the new way then I was hooked. Plus, I got two boys that absolutely adore this place and love it. It made it come close to home.
SLAM: Times have obviously changed when it comes to skills development nowadays. How do you feel the technology-driven of Shoot 360 benefits today's generation?
FJ: Definitely skill development. I think basketball in the early stages was all about skill and repetition. Then it went away 'cause of all the athletes and how the game is played. This gives kids that opportunity to work on certain skill levels that can translate through all ages of basketball—ball handling [and] shooting. If you can do that, you can play at any level. It gives them the opportunity to not just focus on athleticism.
SLAM: What's something fans can expect to see at the Shoot 360 Indy facility this year?
FJ: My facility is basically my store, my journey from as a small kid trying to work on his game until he made it to the top level. It's a little bit of mixture of all of that. You'll get a lot of my jerseys and imagery around the facility of my road to that level.
—
Registration for 360 Indianapolis is open now.
601