It's fitting (though not fitted) that one of the pivotal moments in the history of the Mitchell & Ness Nostalgia Co. hinged on a product whose very name implies adaptation.
"For us, for a long time, it was all about jerseys and jackets, but then the snapback craze happened," says Lynn Bloom, the company's Director of Authentics and Archives. "Our headwear was unbelievably successful, and so a lot of new people learned about Mitchell & Ness through those snapbacks."
Much like those adjustable lids that enjoyed a fashion resurgence a decade or so ago, Mitchell & Ness today is a company designed to adapt—whether it ever planned to or not. Twenty years ago, the brand found itself forced to adapt to a new market it had never even considered. Where other companies might have stumbled, Mitchell & Ness embraced the opportunity, modifying and expanding its offerings without ever sacrificing the things that made it classic in the first place.
To that point, two words rise above all others: quality and authenticity. But to really get it, a quick history lesson is in order.
The roots of Mitchell & Ness date to 1904, when a couple of Philadelphia sportsmen, Frank Mitchell and Charles Ness, started a business making and selling tennis rackets and golf clubs. In the 1920s and '30s, they shifted the focus from country club pursuits to more accessible pastimes, and began selling athletic equipment and apparel to sports teams from the high school level to the pros. Over the next half century, the Mitchell & Ness label appeared on the uniforms of the Eagles, Phillies and Flyers, not to mention thousands of high school and college squads.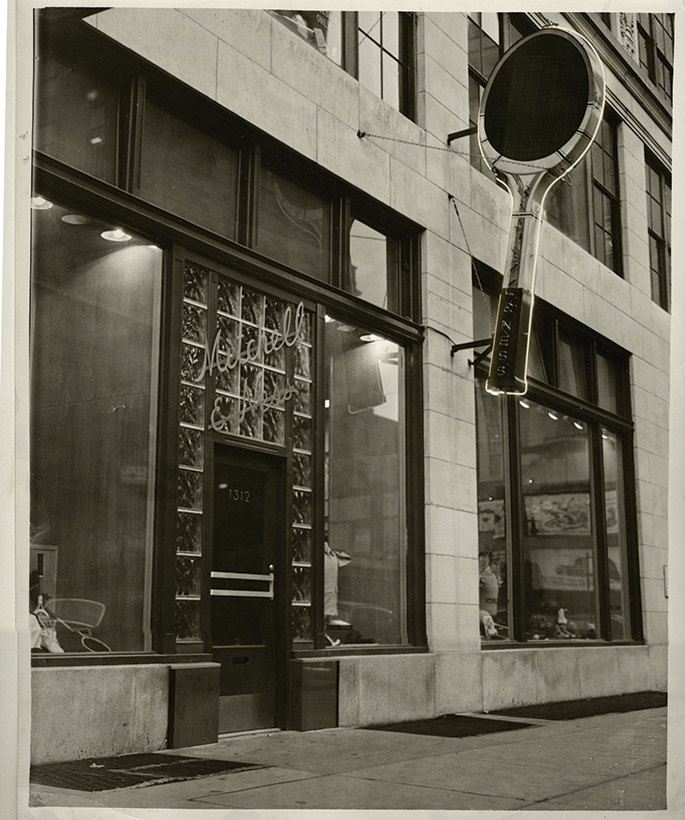 Along the way, in the early 1950s, the company was purchased by Sisto Capolino, who'd begun working there as a clerk when he was a 13-year-old, freshly arrived immigrant from his native Italy. Sisto's son Peter would join the family business and eventually take over when his father died in the late '70s. The timing was less than ideal. Increasingly unable to compete with national sporting goods chains or the major sneaker companies, Peter Capolino soon realized his company's path was unsustainable.
Fate offered an opportunity a few years later, when Capolino realized he had the materials and know-how to recreate vintage baseball jerseys. And that's where quality and authenticity come in: He insisted on getting those jerseys exactly right, poring over a library of old magazines to ensure he nailed every button, zipper and stitch. Eventually, he struck a licensing deal with Major League Baseball, and slowly but surely, the new-look company built an audience of old-school baseball fans turned collectors who coveted his spot-on re-creations of classic jerseys.
It was in the late '90s that Mitchell & Ness added licensing deals with the NBA and NFL, and while Capolino didn't know it at first, the timing was perfect. A handful of moments around that time helped mark a dramatic twist in the company's path, most notably Outkast rocking a variety of Atlanta-themed throwbacks in videos and photos around the release of their 1998 classic Aquemini, and Allen Iverson on the cover of a certain basketball magazine a year later with his hair blown out and a classic PHILA jersey on his chest. (As Bloom points out, that AI cover was a turning point for both Mitchell & Ness and SLAM; today, the company maintains a great relationship with Iverson, and that iconic jersey continues to be a popular seller for fans in Philly and beyond.)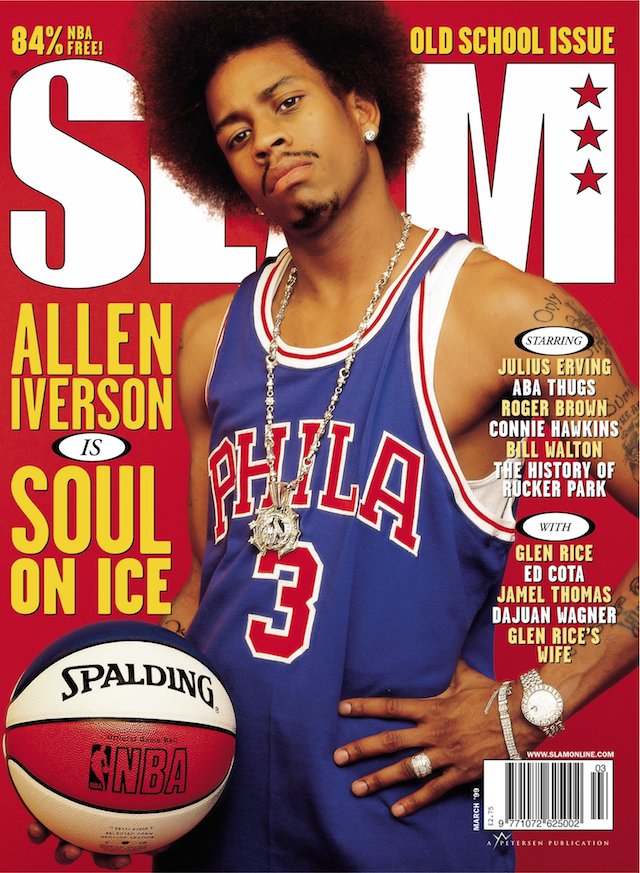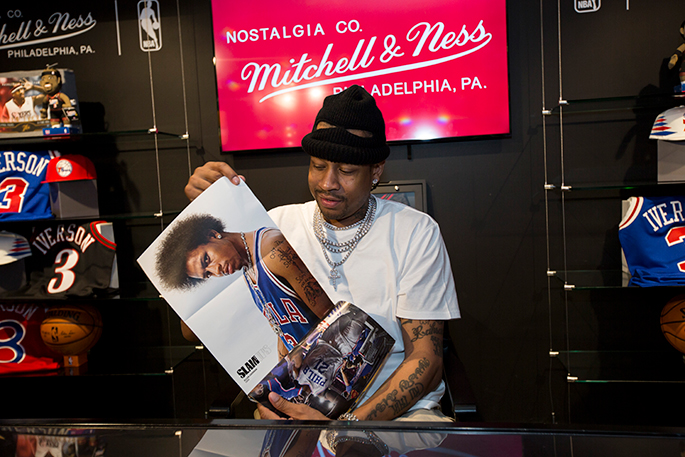 Before long, the throwback craze was in full swing, with every rapper and ballplayer (and seemingly everyone else) rocking oversized—but still 100 percent authentic—jerseys with their jeans and fresh kicks. But trends are bubbles, and like any other bubble, this one would eventually pop. And it was in that realization that Mitchell & Ness began to morph into the brand that fans know today.
Bloom, who has been with the company since 2001, says the next step eventually became clear. "We had all that success with authentics, so it was a natural progression for us to make other apparel." Working with their league partners, they started with track jackets and fitted hats. Acknowledging that the jersey trend was dying, Bloom says Mitchell & Ness was "still the company that started the throwback, vintage craze, so it was natural that we'd expand, but still focus on history."
It's an under-appreciated but significant part of the Mitchell & Ness story: a company that for years relied on hardball history buffs buying classic flannel Yankee jerseys from the '50s and '60s suddenly found itself with a customer base that loved the iconic and colorful designs of the '70s and '80s, but often didn't know much about the teams or players those uniforms represented. "Now, the younger customers see the hats, and then you hope they learn the history," Bloom says. "My whole mission is to keep them talking about the history of the game."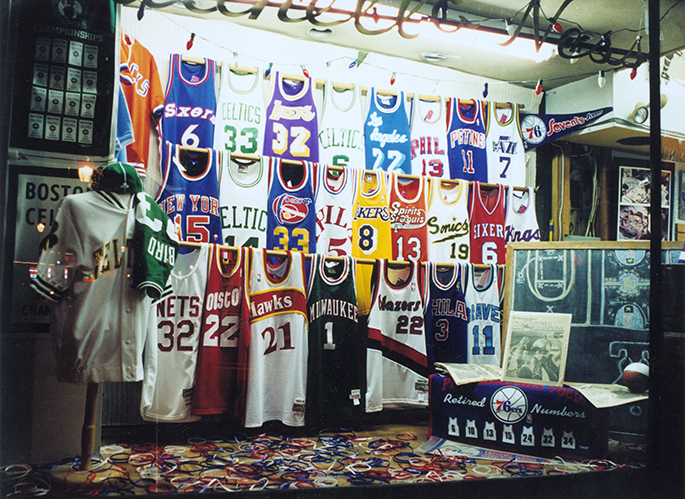 Bloom also knows that history needs to be accessible. After years of focusing on the authentic retro jerseys that could run $300 or more, the company now offers more affordable NFL and NBA replicas. Fans can now pick up name-and-number t-shirts of their favorite old-school players.
The customers have changed in other ways, and Mitchell & Ness has continued to adjust. Bloom notes that younger fans today are "much more player-focused than they used to be, when it was always about rooting for your local team. For example, we do LeBron's rookie jersey now, and we sell that to everybody, not just Cavs fans. It's all about the players."
And of course, the throwback craze that ended more than a decade ago has come around again, if not exactly in the same style—or size. "We sell a lot more mediums than we used to," she says with a laugh.
From baggy to fitted, fully authentic to affordably retro, Mitchell & Ness has proven its brand can survive changing tastes and fashion—and not just survive, but thrive. The company now has licensing deals with all major US sports leagues (including MLS), and don't be surprised if there are some iconic college jerseys on offer soon. The brand continues to expand, with a store in London and a recent pop-up shop in L.A. complementing the flagship store in downtown Philly, and there's potential for much more international growth. Closer to home, Mitchell & Ness now has stores or dedicated retail spaces in a number of stadiums and arenas around the US.
For all the growth, all the change, and yes, all that adapting, the commitment to quality and authenticity is what keeps Mitchell & Ness not just one of the hottest brands in sport, but one of the most relevant and respected. It all goes back to history—both the company's and that of the players whose names adorn the back of so many carefully crafted jerseys bearing that famous label. Some things don't change.
—
Ryan Jones is a Contributing Editor at SLAM. Follow him on Twitter at @thefarmerjones.
Photos via Getty Images and Mitchell & Ness.