Introducing The SLAM Legend of the Week, a throwback post that pays tribute to an individual who helped shape the culture of basketball in a significant way, both on and off the court.
Some of these players, including the subject of this piece (Rafer Alston), have graced old covers, and all have embodied what SLAM is about.
—
If you stepped on the court with Rafer Alston, you were taking a risk.
It didn't matter who you were.
"He's caught me. I ain't gonna lie," Stephon Marbury told SLAM back in 1997. "When you're playing against Rafer Alston, you're liable to get embarrassed. You know it's gonna happen."
Alston was recognized all throughout New York by the time he was 12 years old.
First dubbed "Shorty" on the playgrounds, it wasn't long before Rafer was given his famous nickname: "Skip To My Lou."
An announcer at Rucker Park blared it through a megaphone as he watched the young point guard skip his way up the court, ball on a string. With his elite handles and absurd dime dropping, Alston became a must-see NYC attraction.
The tapes don't lie. When Rafer got to skipping, fans rose to their feet and opponents trembled in anticipation. He'd bounce the ball back and forth between his legs, plotting precisely how he was going to humiliate his defender. Then he'd shake with a cross or quick hesi, drive to the rim, and dish off an assist that would surprise even the teammate on its receiving end. The whole thing had neighborhood crowds losing their minds.
The tales of "Skip To My Lou" have somewhat faded, which was a concern among the SLAM staff and part of the inspiration for this series. Because in truth, these tales belong in every authentic history of our game.
Like how at age 10, he approached Ron Naclerio, the longtime head coach at Cardozo High School in Bayside, Queens, who was also coaching at local middle school IS8 then, and personally let him know to keep an eye out for Rafer Alston. Or how he once shook Tim "Headache" Gittens so bad that spectators started throwing aspirin on the court for "relief." Or how he flat out started moonwalking during a high school scrimmage.
And of course, there's the fact that Rafer Alston was the reason the AND 1 Mixtape Tour launched in the late 90s. Nacleiro sent eight VCR tapes of Skip footage to the AND 1 offices, which were promptly put together and released as Volume 1 of the Tour, aka "The Skip Tape."
Even if you never got to experience the "Skip To My Lou" show live (I, admittedly, never did), your connection to basketball since has surely been impacted by it.
Prior to leaving HS, Alston had already solidified himself as a legend. But his journey was just beginning.
He appeared on the cover of SLAM in December of 1997, amid his first and only year at Fresno State with Jerry Tarkanian. The tagline read: "The best point guard in the world (you've never heard of)."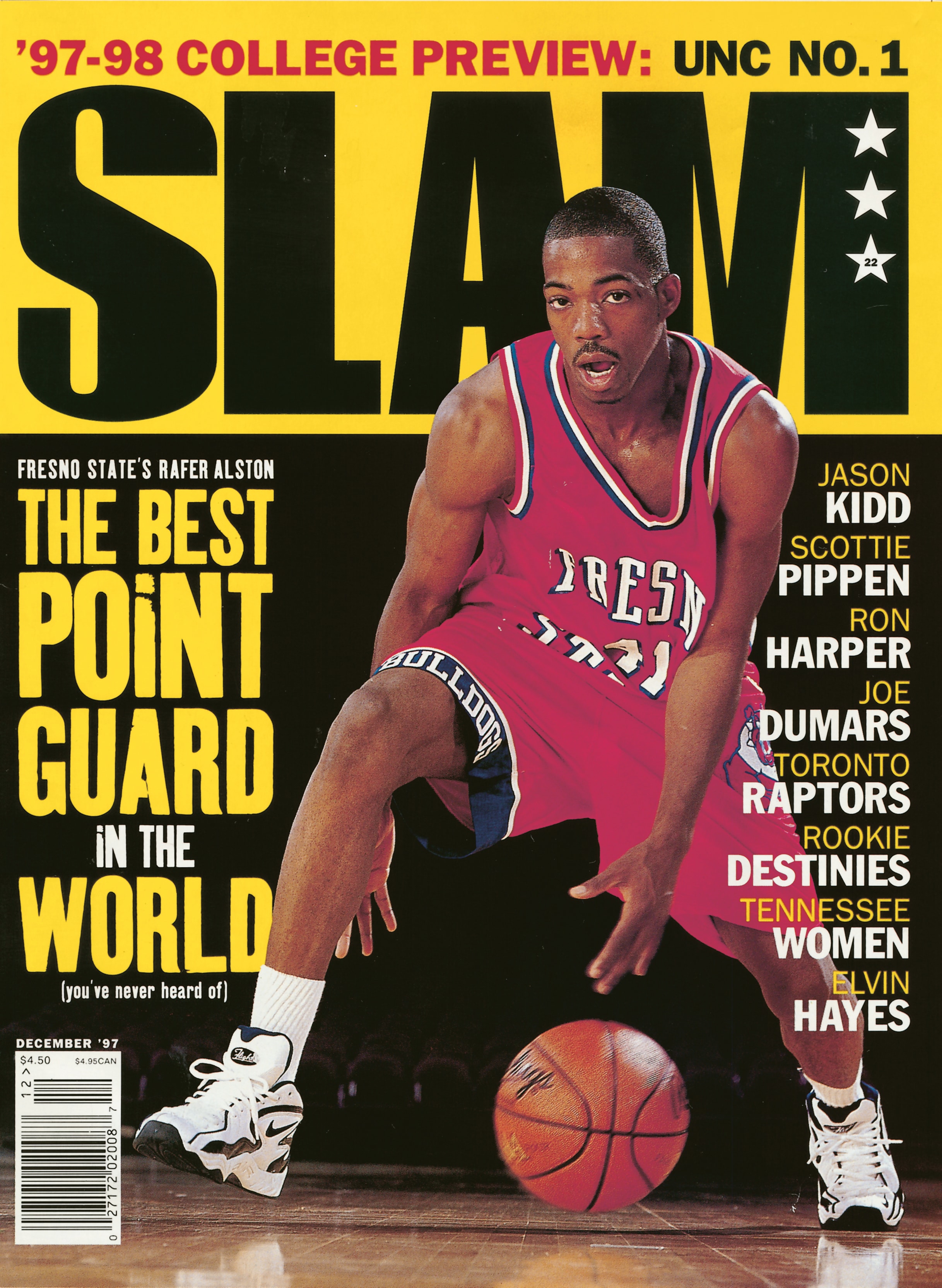 Many doubted that Alston, the streetball hero, was built for the NBA game. Critics called him just another playground PG who couldn't produce on the big stage. He ended up slipping into the second round of the 1999 draft, where the Milwaukee Bucks grabbed him at No. 39.
Alston struggled to find minutes early on, but when finally afforded the opportunity, he never looked back. Appearing in all 82 games for the Miami Heat during the 2003-04 campaign, Rafer averaged 10.2 points, 4.5 assists, and 1.4 steals.
He showed enough that season to earn a starting role, first with the Raptors and then with the Rockets. After being shipped from Houston to Orlando at the 2009 deadline, Alston filled in for the injured Jameer Nelson and helped lead the Magic to their second-ever NBA Finals appearance.
Over his 11-year stint in the League, you'd see these occasional flashes of "Skip." The quick handles. The deadly crossover. The behind-the-back assists. Just toying with defenders who dared to put pressure on.
From the park to the arena, you were always liable to get embarrassed. 
Five years ago, SLAM caught up with Rafer to discuss his basketball journey.
Asked how he wants to be remembered, Alston responded: "As a guy that can flat out play."
—
Alex Squadron is an Associate News Editor at SLAM. Follow him on Twitter @asquad510.
Photos via Getty Images.