It was a basketball household, no question. Jaren Jackson Jr was immediately surrounded by the game.
His father, Jaren Sr, played 13 seasons in the NBA and won a championship as a member of the San Antonio Spurs in 1999, the same year Jaren Jr was born. His mother, Terri, previously worked as the director of law, policy and governance for the NCAA and is now the director of operations for the WNBPA. Yet neither of them pushed their son towards hoops.
"It was never enforced like you would think," Jaren Jr tells SLAM.
Growing up, he was encouraged to try a lot of different things. He explored interests outside of sports, such as learning to sing in Hebrew at the local JCC, and took up competitive swimming and downhill skiing.
But as he grew older, and significantly taller, Jaren started to discover his own passion for basketball—a passion that was, and still is, 100 percent authentic, which is why whenever you talk to him about it Jaren is usually grinning from ear to ear.
"[Jaren's] found his own way and he's found his own kind of lane and he's just pursuing it," says NBA legend Kevin Garnett, who has been training and mentoring Jackson. "I love his passion. I love how he sees the world."
When SLAM catches up with Jaren, there are six days until the draft. He's at the Barclays Center in Brooklyn, NY—the same place where his pro career officially began when the Memphis Grizzlies selected him with the No. 4 pick on Thursday—along with top prospects Marvin Bagley III and Mikal Bridges, and Hall of Famer Shaquille O'Neal. The four of them have teamed up with retailer JCPenney to surprise a group of young men assembled from nearby YMCAs.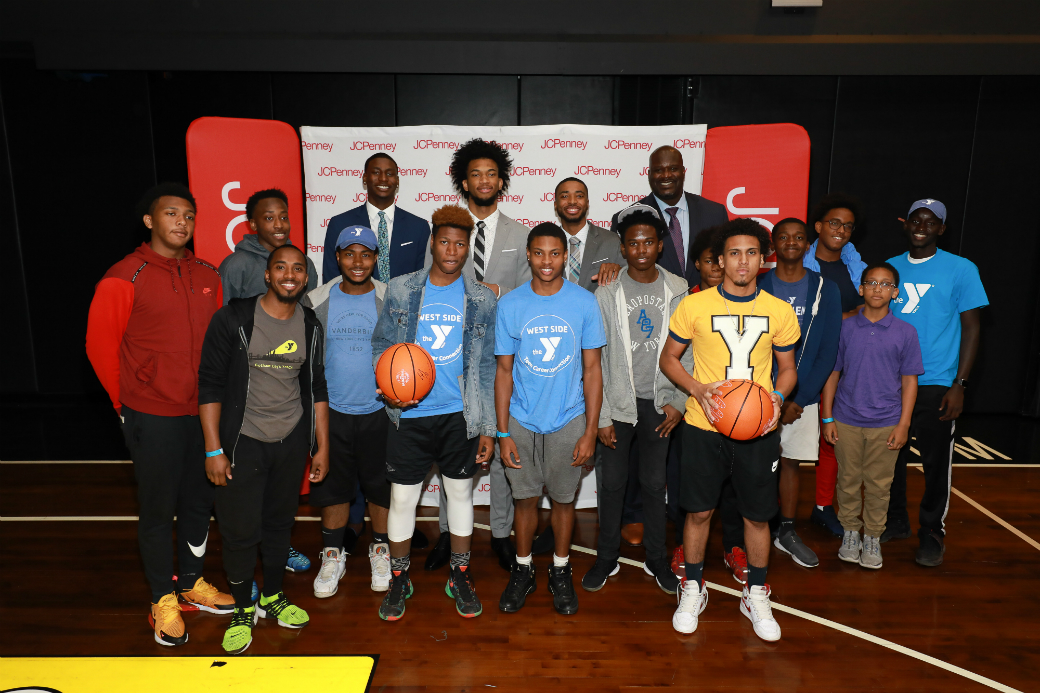 After being introduced, Shaq and the incoming rooks happily answer questions about how they managed to make it to this point in their respective careers and what they've learned throughout the journey. Jaren, who is merely 18 years old (the youngest American player in the 2018 class), comments on how it still surprises him to be the center of attention.
"This type of thing, this is crazy," he says, gesturing to the crowd of aspiring teenage hoopers and media members. "Seeing the cameras, taking pictures of me talk. I never thought I'd do that."
Later, one of these photographers nearly falls off the chair he's standing on, which inspires Jaren and Mikal—the "Champ!" as Jaren calls him—to break into a discussion about the best Shaqtin' A Fool Moments from this past season.
Jaren spends most of the event messing around and laughing. He sneaks behind Shaq during one of the big fella's television interviews and flashes a few devious smiles at the video crew. He flaunts the inside of his clean blue suit jacket, which has a turquoise, camouflage pattern that also matches his tie.
"Everything I wear is pretty loud," he says, knowing that he's planning to bust out the flashy pastel pink and velvet blazer in less than a week for draft night. "I like to just relate my style to my personality."
That personality—outgoing, unbothered, chill—is clear from merely one afternoon spent around Jaren.
Unless perhaps, you catch him on a game day.
"You can't really have that laid-back attitude [then]," he says. "Otherwise you'll get smacked."
For Jackson Jr, the joking stops on the court. He's there to compete and get better, not make friends. The reason he opted to go to Michigan State over the other schools that were recruiting him?
"When it came right down to it, I really wanted to win," he wrote in a piece for The Player's Tribune. "And not many coaches and teams in the country are better at winning games than Tom Izzo and Michigan State."

So there's that fiery side to Jaren as well. Basketball never loses its enjoyment, of course, but he also takes this stuff very, very serious.
Just ask Kevin Garnett, one of the more intense figures the League has ever seen:
"He has a similar drive to myself," Garnett assures SLAM. "[He has] an over the top work ethic which is more satisfying than anything. The way [he] works was refreshing to be with."
At 6-11, 242 pounds, Jackson Jr is the type of versatile forward that teams desperately covet today. On the offensive end, he can punish you on the low post with a variety of moves—a quick spin, a little hook, a sweeping floater; and when he draws contact, Jaren hits free throws at an extremely high clip for a near seven-footer (80 percent). He can also step out and knock down threes dependably (40 percent on 2.7 attempts per contest), a skill set that has become basically a requirement for the modern NBA big man. He averaged 10.9 points on 51 percent in just 22 minutes as a freshman.
That proficiency as a shooter comes naturally from his father, who was a 6-4 guard with range back in his playing days.
"Shooting is something that's consistent with both of us," Jackson Jr explains. "[My dad] always wanted me to shoot and continue to do that."
As for his defense, Jaren has the wingspan (7-4) and athleticism to protect the rim (he blocked 106 total shots, a single-season record at MSU), and the quickness and agility to effectively guard the perimeter. A lot of his training with Garnett has centered on how to properly handle high pick-and-rolls and stay solid when forced to switch—something KG excelled at and one of the reasons Jaren idolized him as a kid. Jackson had a tendency to commit too many fouls in college, averaging 5.9 per 40 minutes, so this preparation has been crucial.
Along with Jaren, the Grizz also drafted West Virginia guard Jevon Carter, the former Naismith Defensive Player of the Year, in the second round. The team surrendered 111.9 points per 100 possessions in 2017-18, which ranked 26th in the League, so it was clear what they were targeting.
"I think we got a shot of grit and grind back tonight with the attributes of these two young men," GM Chris Wallace said in his ensuing press conference, alluding to the successful era of Grizzlies basketball not too long ago when defense was a point of emphasis.
"This is the best case scenario for us as the draft unfolded."
Sure, Jaren is a young, late bloomer and there's always an element of risk involved with that. But the potential is glaring and the mentorship he's been receiving should give Memphis fans tremendous hope about what's in store for the future. Jackson Jr has leaned heavily upon his father during this entire process and will continue to do so as he transitions to the NBA.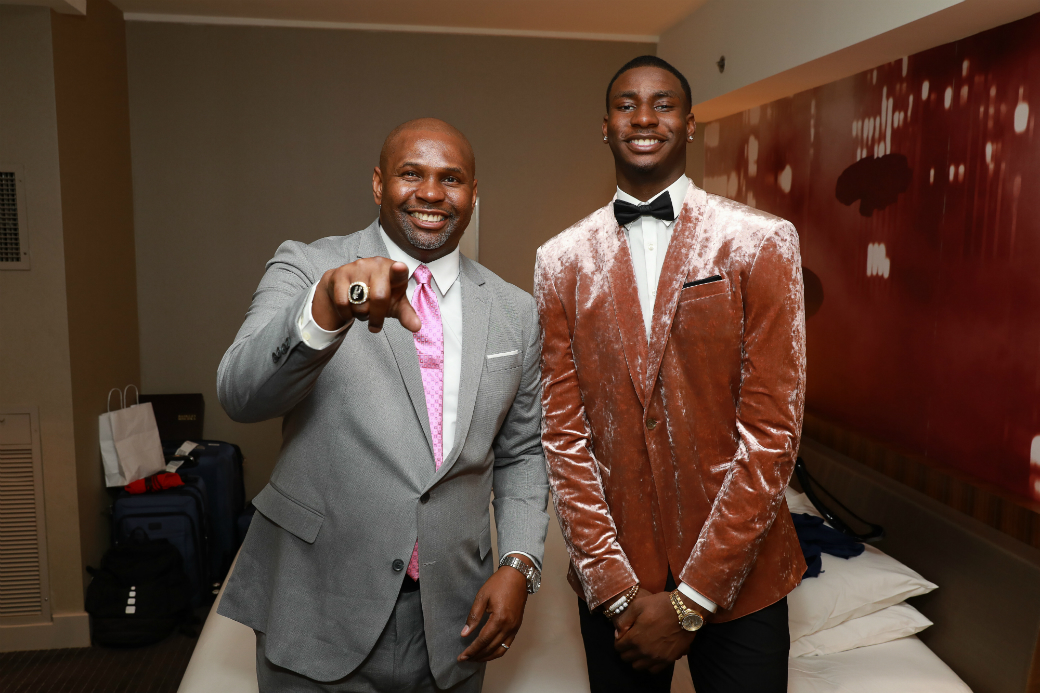 "He's been through everything I've been through in high school and college and in the NBA," Jackson Jr explains. "And he's won a championship, so he knows all the ins-and-outs, all the levels, [NBA] lockouts, he's been through it all. So just taking things from him on and off the court."
The long week of rumors, speculations, and mock drafts—"there's like 4,000," Jaren joked at media day on Wednesday—is finally over. The destination is set and Jackson Jr will get an opportunity, likely right away, to play in the frontcourt alongside three-time All-Star Marc Gasol.
As the journey continues, both Garnett and Jackson Sr have some final words of wisdom about the leap to the pros.
"Steel sharpens steel. You gotta seek out the best to be the best. You can't hide from them," KG assures Jaren.
"Be [you] and have fun. There's nothing else. It's that simple," Jackson Sr advises. "As long as [you] show the fans—the people who are watching [you]—that [you're] having a good time playing the game, [you'll] be fine."
So maintain that drive, invite the competition, and enjoy lacing 'em up every single day?
Yeah, Jaren Jackson Jr is definitely ready for this.
—
Alex Squadron is an Associate News Editor at SLAM. Follow him on Twitter @asquad510.
Photos via Getty Images and JCPenney.