I know, I know: Rough timing. Hey, it happens. You come up with a great idea, you execute it as well as you could possibly hope to (thank you, Sixers PR) and sometime between the magazine getting shipped off to the printer and the thing hitting newsstands you learn that your new cover star has been declared out for the season with a torn meniscus. Yikes.
Regardless, I'm standing behind this one. Anyone who's been following The Joel Embiid Story—which is to say, anyone who pays even remote attention to the day-to-day of the NBA—knows that this was deserved. SLAM is a magazine that covers the best stories in basketball, and man, what an amazing story.
Joel Embiid barely practiced during the two years that he sat injured on the 76ers sideline. He was mocked as a joke, his inability to get on the court simply evidence that former Sixers GM Sam Hinkie was as in over his head as many suspected. Then the '16-17 season started, and it was quickly clear: He was good. Not, like, a flash here, a flash there, a bright career ahead of him-type good. Really good! Borderline All-Star good! Twenty-eight points and 11 rebounds per 36 minutes good! Olajuwon-esque offensive moves and Mutombo-esque defensive prowess good! Instilling a basketball energy in Philadelphia that hasn't been felt there since the early 2000s good!
About that.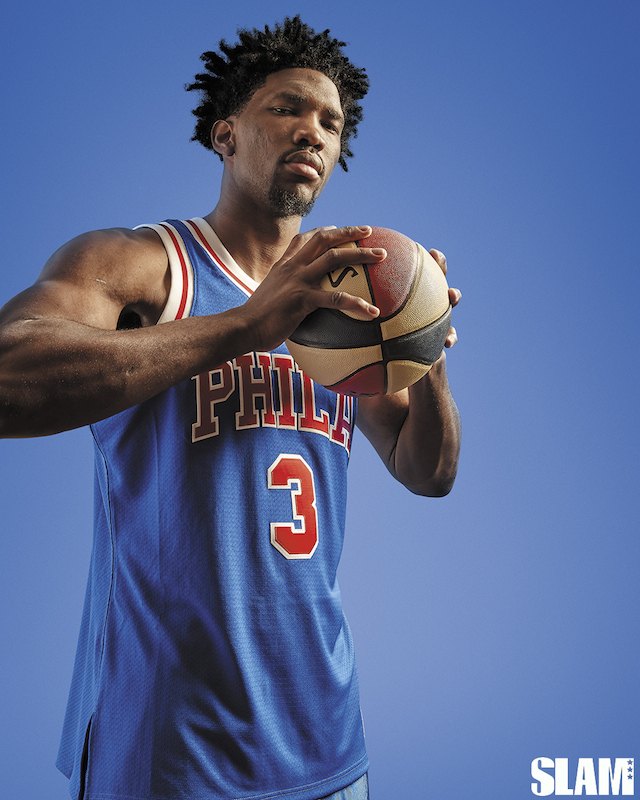 Yeah: We remade Allen Iverson's Soul On Ice joint. It's been a half-baked, almost jokey idea for a minute now, but at some point this winter it became obvious that this wasn't a ridiculous comparison or a blasphemous reach. (I realize more than a few people will feel it's exactly that. Oh well.) If you attended any Sixers home games while Joel was on the floor this season, you learned that there was suddenly a sense of positivity in the air of the Wells Fargo Center that hadn't existed in Philly since AI was out there playing his ass off night after night. Sure, Iverson (and that cover) influenced culture in a way that could never be replicated, but Embiid is the most prolific user of social media in today's NBA, and if that doesn't exactly equate to being the League's biggest cultural icon, it certainly puts him in the conversation.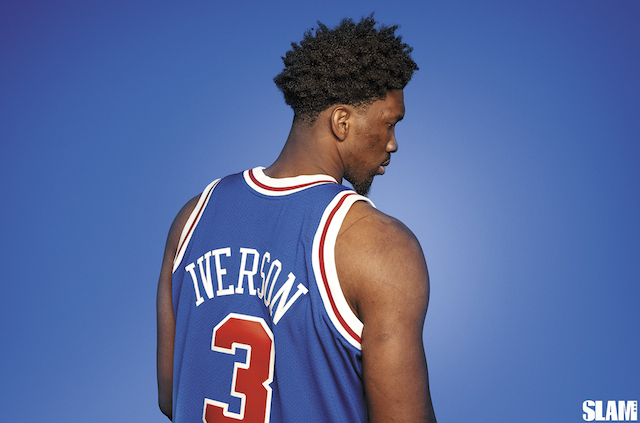 Anyway, peep the behind-the-scenes vid from the shoot above, check the cover below, read the cover story now, and look for the issue to hit newsstands and bookstores everywhere this weekend.
And, as always, trust the goddamn process.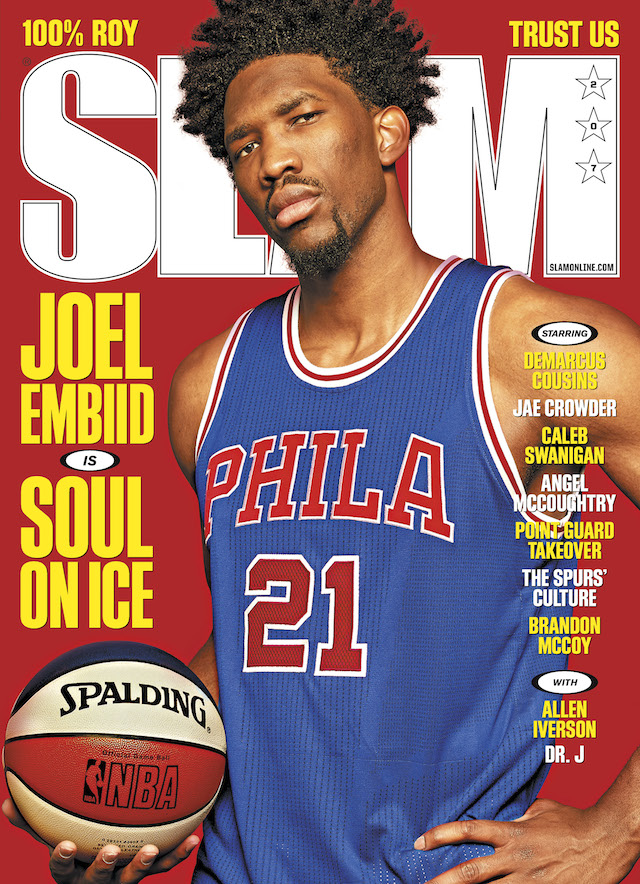 READ SLAM 207'S COVER STORY ON JOEL EMBIID HERE
—
Adam Figman is SLAM's Editor-in-Chief. Follow him @afigman.
Portraits by Paul Aresu
—
Related
SLAM 32's Allen Iverson Cover Story
The Oral History of AI's Soul On Ice Cover