Students held pink and blue signs high above their heads, welcoming JaVale McGee and the JUGLIFE Foundation to the St. Agnes Mella Primary School in Uganda this summer.
"Water is life."
"God's blessing must start with #JUGLIFE Foundation."
"Thank you very much #JUGLIFE Foundation for the safe water."
"Every drop is a huge blessing!!"
"Thank you for loving us."
A large white banner, propped up by two wooden sticks, read: "St. Agnes Mella Primary School and the community highly appreciates #JUGLIFE Foundation, together with JaVale McGee, for donating a safe water borehole to us through Hope 4 Kids International. Many lives have been saved."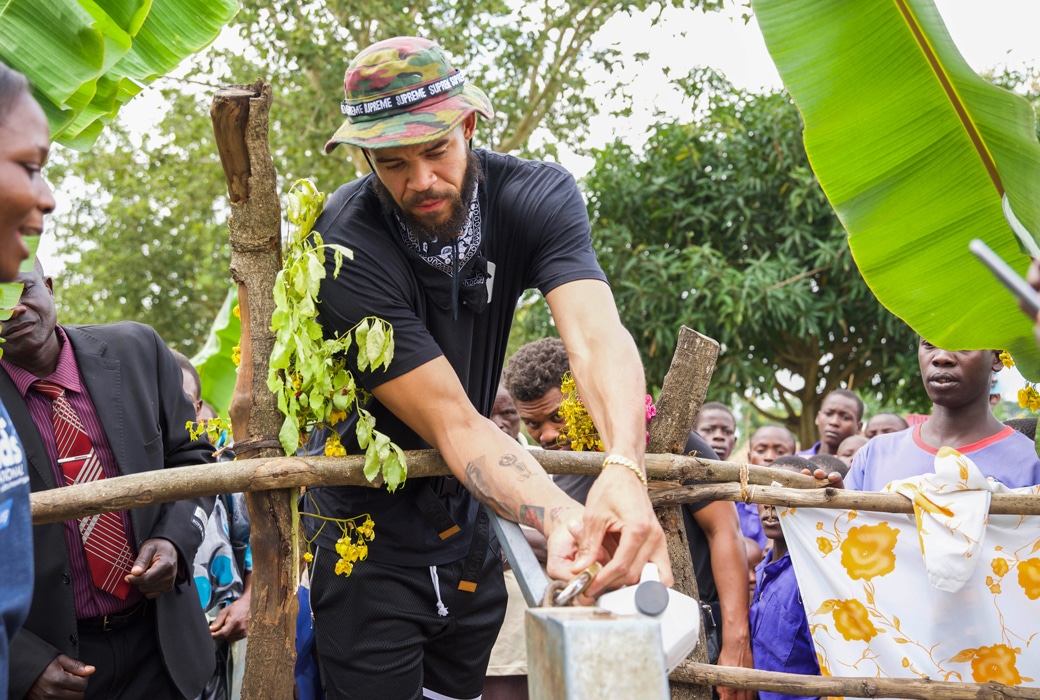 When the JUGLIFE movement was born five years ago, Los Angeles Lakers center JaVale McGee could never have envisioned this. A trip to East Africa. The opportunity to help build a new, clean water source in a place roughly 9,000 miles from home. And what the power of that work would be — to foster better education, ease the rigors of daily life, improve health conditions and ultimately, to save lives.
Back in 2013, McGee, then a member of the Denver Nuggets, began reading up on the importance of hydration. He discovered that most people, athletes included, don't drink close to enough water.
"I was just trying to get as healthy as possible," McGee tells us. "So I dedicated myself to drink a gallon of water a day."
He shared his plan with fans, posting pictures on Instagram with the hashtag #JUGLIFE. It was just something random he invented but it caught on quickly, motivating others to chase the same goal. Seeing this positive response, JaVale decided to take it a step further. His close friend and business partner, Kez Reed, had the idea to sell hoodies, t-shirts and beanies that would expand awareness and raise money. In a short time span, JUGLIFE transformed from a simple word scribbled on the side of a plastic container to a full-blown non-profit.
"The goal of the JUGLIFE foundation originally was to inform people about the importance of drinking water and the good qualities that come with it," explains McGee. "There's millions of kids in America that are dehydrated or even obese from a lack of water. There are so many things that go into hydration that people don't think about. There's so much stuff that you can solve by just drinking water alone."
A study published by the Center for Disease Control and Prevention right around the time McGee launched JUGLIFE found that 43% of adults were drinking less than four glasses of water a day, including 7% that were consuming none at all. Another experiment, conducted by the Harvard T.H. Chan School of Public Health, revealed that over half of the children and teenagers examined were not meeting their minimum daily water intake, with one out of every four kids not drinking any water during the course of a day.
As part of their efforts,  JUGLIFE has visited several public schools across America, hosting interactive "water education" assemblies that stress the significance of staying hydrated. The foundation has reached well over 10,000 students.
Funds are raised in part through a charity softball game that JaVale puts on. The 2018 event was attended by all of McGee's former Warriors' teammates, many of whom have voiced their support and continued to spread the word via social media.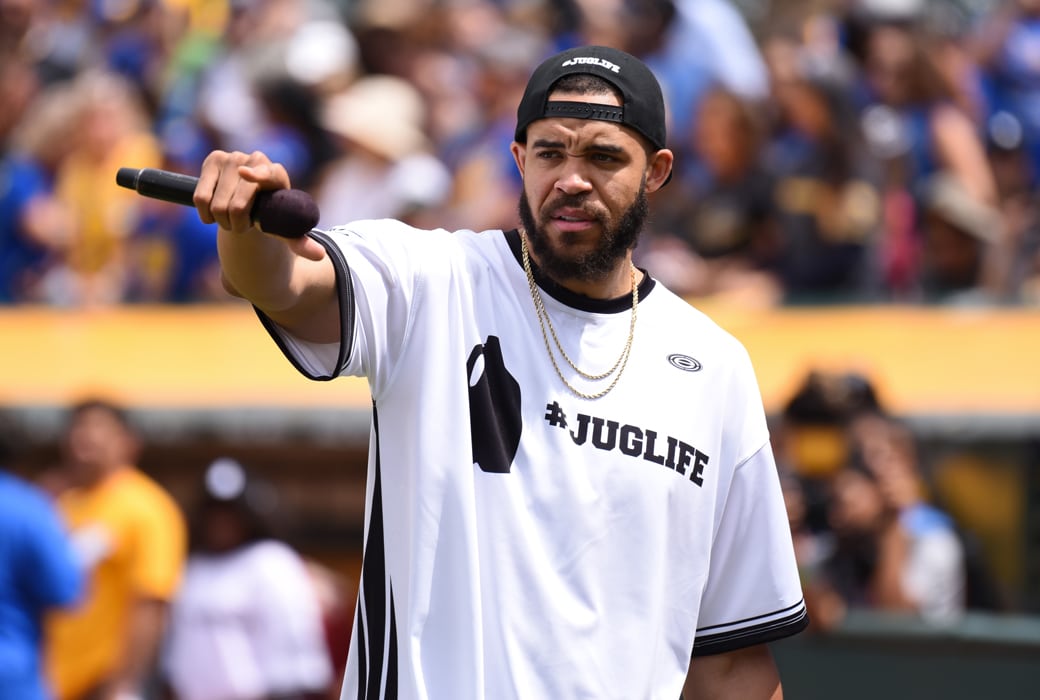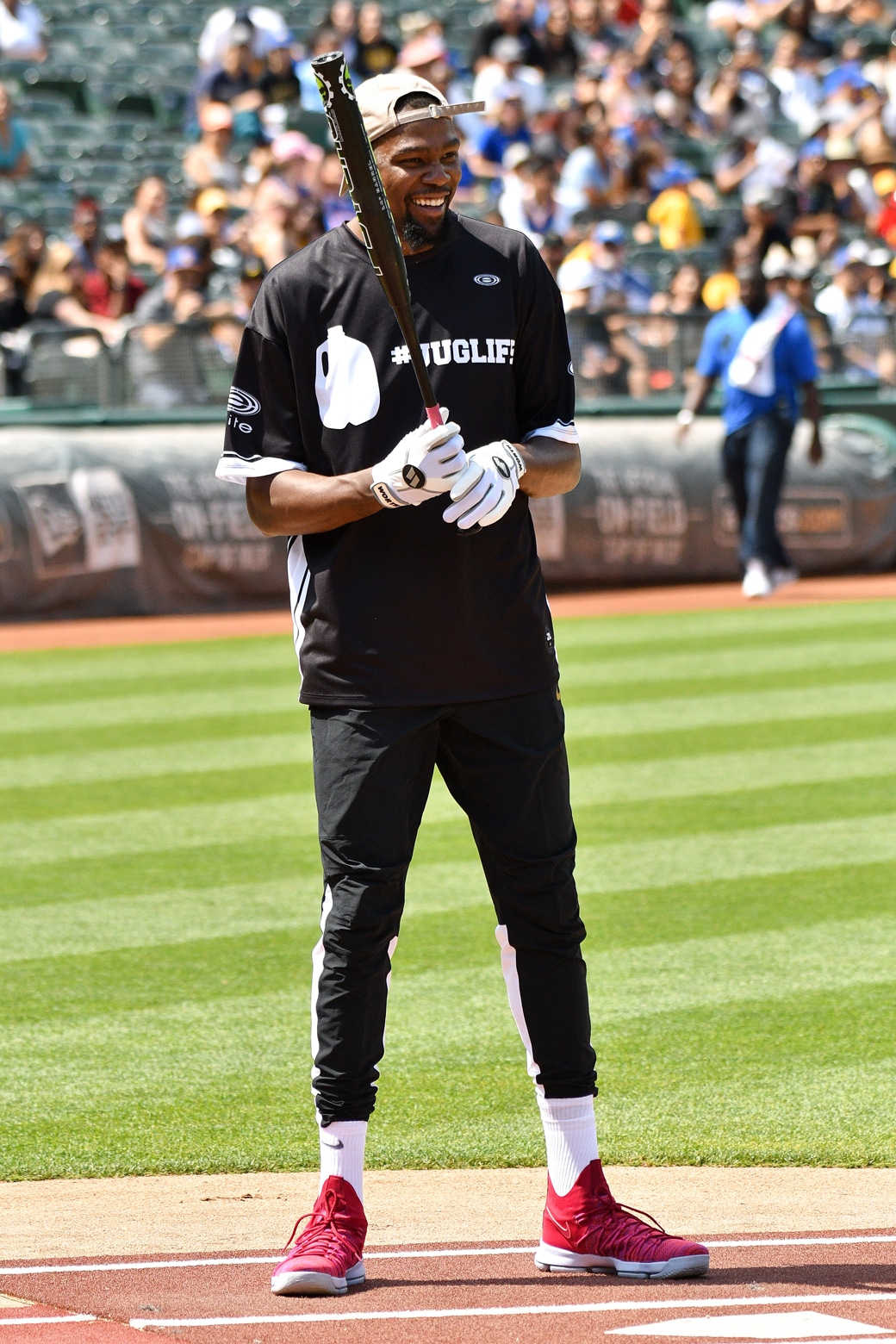 On the website, which features informative articles about leading a healthy lifestyle, you can still purchase JUGLIFE merch, including "Icon Dad Hats" and 64oz reusable bottles . And of course, visitors are encouraged to take up the "Gallon Challenge."
In the years since its inception, the mission of the organization has also expanded tremendously.
Ray Sidney, Reed's uncle, is a gospel singer who performs worldwide. He learned about the ongoing water crisis devastating villages across Uganda and promptly informed his nephew, inspiring JUGLIFE to widen its pursuits. Now the foundation operates globally, not only teaching about water, but also funding and facilitating the creation of wells in developing countries.
Beginning in July of 2015, JUGLIFE has helped to construct multiple wells in Uganda. Upon completion of each, the foundation has ensured, with aid from local partners and Hope 4 Kids International, that residents of the village are instructed on how to maintain and operate it.
McGee travelled to the area for the second consecutive summer this past July, getting the opportunity to see firsthand what's been accomplished.
"Being out there is extremely humbling," he says. "It's an amazing experience, just because you get to see people who don't have a percentage of what we have and their only need is water. It just humbles you to think, you really have to appreciate the things you have. My plan personally is to go every summer and just experience that, and hopefully bring more and more people each time."
Before dedicating a new well outside St. Agnes Mella Primary School, McGee and Reed were taken to the old water source for the village — a small, murky, contaminated pond close to 20 miles away, where animals would defecate and people would bathe and clean their bikes.
"The first time I saw it, I teared up," McGee tells us. "For them to have a clean water source, after seeing that original water source, it shows that what we're doing is really helping."
Over 780 million people still lack access to safe water. JUGLIFE is determined to continue to do its part to end the ongoing catastrophe, one well at a time.
"Build more water wells," McGee says, when asked what's next for JUGLIFE. "Not just limit ourselves to Uganda. We can spread the foundation to other countries and other continents.
"So that we can, worldwide, try to solve the water crisis."
—
Alex Squadron is an Associate Editor at SLAM. Follow him on Twitter @asquad510.
Photos via Getty and Dominique Oliveto.