He was the savior who never saved, but was present when others did. Not many examples of that in NBA history. Which only makes the judging of Keith Van Horn's career, already a complicated endeavor, even more confusing.
He was good—really good at times—but not great, which, most of the time, is good enough. It's hard to be, literally, one of the best in the world at something, and Van Horn was. He just wasn't the best of the best, which, as the No. 2 pick of the '97 NBA Draft, is something he was expected to be.
While at Utah, Van Horn was perhaps the greatest player in the history of the Western Athletic Conference—a three-time conference Player of the Year. "He just had an extraordinary finish to his college career and seemed to be the reason behind every one of Utah's Tournament wins," says Michael Rowe, former President of the New Jersey Nets, who was part of the brain trust that decided to trade up in that Draft in order to bring Van Horn to the Meadowlands. "We thought he was the kind of player, and person, who you could build a franchise around."
A year earlier the Nets had handed the reigns of the franchise to a hotshot 37-year-old college basketball coach named John Calipari. Calipari came from UMass, where he had spent eight seasons morphing a previously off-the-map basketball program into a national powerhouse. The Nets, a franchise best known for its success in another league, were hoping for a similar result.
In the first year of the Cal Era, built around first-round pick Kerry Kittles and the acquired Sam Cassell, the Nets lost 56 games. And so here they were, in possession of the Draft's No. 7 pick and with a decision to make.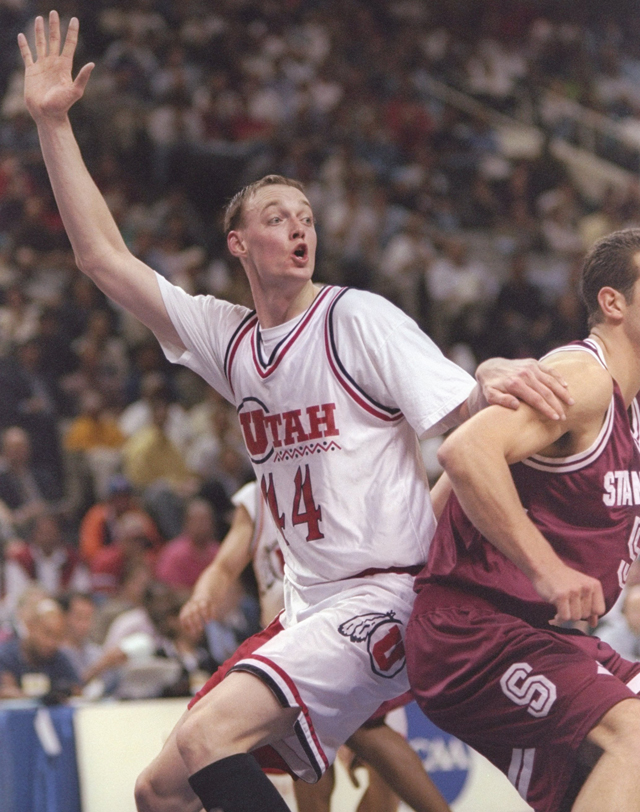 According to Rowe, the Nets were considering two options: Trading up and getting the 6-10 Van Horn, or staying at No. 7, where they believed they could select a talented freshman from Villanova named Tim Thomas. Like Van Horn, Thomas was also an athletic, highly skilled big man. "Calipari loved guys that size who were quick and could shoot," says Rowe. The problem was that Thomas was from Paterson, a rough city in Jersey. The Nets were worried that playing close to home would hinder Thomas' growth. With that, a choice was made: The team's revitalization would instead be led by a lanky, baggy t-shirt wearing, pasty-skinned kid from Utah with a funny haircut and shin-high (they would inch closer to his knees as years went on) white socks.
As a rookie, Van Horn was the focal point of the Nets offense, scoring just under 20 points a game and leading the fun-to-watch team on to the cover of SLAM (in the process becoming the first white player on our cover, for whatever that's worth) and to their first Playoff appearance in four years, where they fell in the first round to Michael Jordan's Bulls—all signs of progress for a perennial NBA punchline wallowing away in Jersey's swamps.
Van Horn was a Jersey star, one who could make the sternest of Garden State residents swoon. "One time," says Kelly Leonard, a longtime friend of Van Horn's and former Utah teammate, "we got pulled over on the Turnpike for speeding in a construction zone. The cop walks over to the window, but before he starts writing the ticket, he sees it's Keith." The trooper walked away with an autograph. No ticket was handed out.
Van Horn was doing what Calipari and the Nets thought he could, and had wagered he would.
Off-the-court he was a budding young star who fans could get excited about, and on the court, well, he was doing everything. Van Horn could shoot the three, put the ball on the floor, post up and finish with both hands. And contrary to the stereotype that came with being a white basketball player "from Utah," Van Horn was athletic and could jump, too. He also wasn't actually "from Utah," it just happened to be the place where he played his college ball. Van Horn is a native of Diamond Bar, CA. But to many, the idea of the "Great White Hope"—the name that the late Brian Williams bestowed upon Van Horn during the latter's rookie season in the League—coming "from Utah" just made too much sense.
The next season, Van Horn's statistics crept up. He averaged 21.8 points per game, the fifth-highest number in the League, and pulled down 8.5 rebounds, too. The problem: the Nets never got going during that lockout-shortened season. After an equally slow start in '99-00, the Nets acquired Stephon Marbury and canned Calipari. The man who had bet his NBA career on Van Horn and built his offense around him was no longer there. Keith Van Horn's New Jersey rise had just begun, and already the end was in sight.
***
Keith Van Horn wakes up every day in his Evergreen, CO, home and makes the near 40-minute drive to his office in Littleton. There, he meets with his assistant around 8:30 in the morning, who fills him in on all the different ventures that he's involved with. There are many. He made $88 million in the NBA, according to Basketball-Reference.com, and that money is being put to good use today. There's a real estate investment firm; a school for kids with special needs; a mobile software company called Accuworks that created another mobile software company called Branded Business Apps, which, well, we'll let Van Horn explain what exactly it is that they do:
"We developed a brand and utilized and licensed some mobile software, which then was used to develop applications with small- and medium-sized business, and that allowed them to develop mobile apps at a relatively low price. But we ended up selling that."
There was also a fly fishing club that Van Horn created after buying some on-the-river Colorado land; this was one of Van Horn's first post-NBA investments, but that too was sold.
Van Horn says he was always interested in business, and those who know him say he always had a mind for it. Take the MBA he received after retiring from the NBA in 2006. Or his relationship with Jon Huntsman Sr, the University of Utah benefactor and billionaire businessman whom Van Horn befriended while in college.
"I'm always looking for new and interesting things to get involved in," says Van Horn. "I knew I wasn't the guy who could sit on a golf course all day."
After meeting with his assistant, Van Horn devotes most of his day to running the Premier Basketball Club, a youth basketball program that he says works with around 1,000 kids from the Denver area. He does that until about 3:30, when he'll either head home or to a local field or gym where he'll watch one of his four kids compete in some kind of sport. "A major reason why I stopped playing so early," Van Horn, who was 31 when he retired, says, "was because my kids were older and I wanted to spend more time with them and my wife."
Getting traded is never easy. On the outside, all we see is the swapping of laundry, the trading in of a blue shirt for a red one. But there's so much more that goes into it. Families need new homes, kids need new schools, friends are left behind. Some are able to brush it off. Part of the business, they say. Then there are men like Keith Van Horn, who says that, "getting traded affected my mindset."
What does he mean?
"It affected my ability to feel like I could balance playing in the NBA while also giving my kids and family a stable life. And it made me realize that I was just like everyone else."
The first time he was traded was following the 2002 Finals. The Nets had gotten there (after another team SLAM cover) for the first time in team history—only they were being led by the new franchise savior, Jason Kidd. Suddenly, Van Horn's role had become a secondary one, and he expendable. He could still do it all on the court, and at times he did. But there were also stretches when he left coaches and teammates and fans wanting more, wondering why his game seemed to have a bi-polar nature to it and how he could go from unguardable one game to unheard from in the next.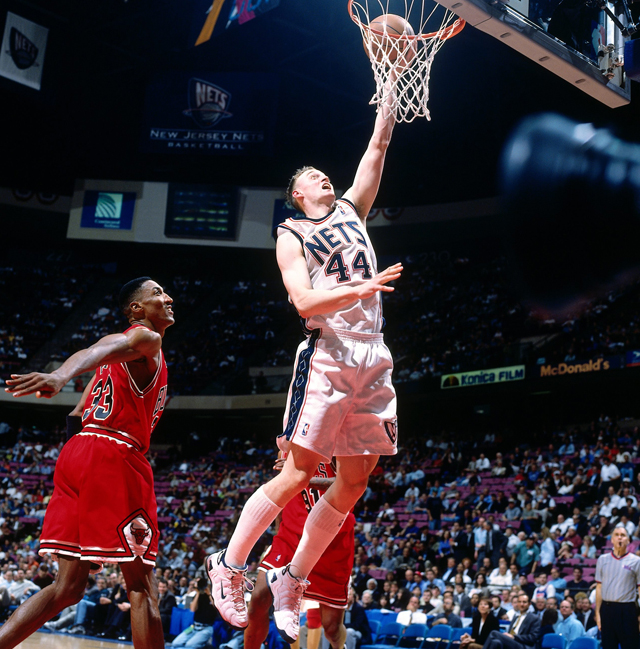 "I don't think Keith wanted to be a great player," says Byron Scott, who coached Van Horn for two years in New Jersey, before he and then-Nets general manager Rod Thorn decided to ship Van Horn to Philadelphia in exchange for Dikembe Mutombo, whom they hoped could help slow down the defending champion Lakers and Shaq. "I think he was pretty satisfied with what he had. He worked hard in practice, but he never went the extra mile. He seemed to be kind of fine with the skills that God gave him."
"I disagree with that," says Leonard. "Keith always worked really hard, always took his game really seriously, and Byron kind of tied Keith's hand behind his back with the Princeton offense that he and (assistant coach) Eddie Jordan ran. I don't think he gave Keith a fair chance to shine, and it's not like they weren't successful together. They made the Finals that year, and him and Jason [Kidd] clicked."
The second trade came a year later, from Philly to New York. A few months after that he was sent to Milwaukee. A little over a year later to Dallas. Four years, four different homes. For Van Horn, there was no coming back.
He had become a father during his sophomore year of college—the mother was his future wife—and had another child two years later. "He married young and was really mature when he came into the League," says Scott. "He wasn't one of those guys that would go out every night with other players. He was well-liked, but socially on the outskirts a bit."
Keith Van Horn was different than most NBA players, and not just because of skin color. This is someone whose idea of showing a Utah recruit named Michael Doleac a good time was taking him to see Dazed and Confused, and who, in his first lunch with Nets management after the '97 Draft, at a fancy Italian restaurant near the Meadowlands, asked the waiter for a turkey sandwich and a glass of milk.
Maybe Keith Van Horn wasn't good enough, and maybe he didn't work hard enough, as Scott says. Or maybe he was just an outsider wanting for the one thing that the NBA didn't provide him. Maybe Keith Van Horn could never turn the NBA into a home because the League never gave him one.
Originally published in SLAM 180