After a 15-year NBA career, former All-Star Kenyon Martin was ready to be a basketball dad. His son Kenyon Martin Jr (better known as "KJ") is a Class of 2019 prospect who's gaining steam as a star at Sierra Canyon—the Los Angeles-area high school whose name you likely recognize from the rumors surrounding another famous NBA son, LeBron James Jr.
KJ's career is priority No. 1 in the Martin household these days. But as it turns out, the elder Martin's career isn't over yet either.
The longtime NBA power forward was approached to play in the Ice Cube-backed BIG3 last summer, and 10 weeks later he was raising the trophy as captain of Trilogy, the inaugural season's undefeated champs.
We caught up with K-Mart following the start of season two, which airs on FOX or FSI, to discuss KJ's rise through HS basketball, the college recruiting process, the recent NBA Draft and more:
—
SLAM: What's it been like to watch your son develop as a high school basketball star?
KM: Oh, it's great, just to see him mature over the last couple years, how serious he's taking the game now with his work ethic, and things he's doing to try to achieve his ultimate goal, which is to make it to the League. I'm a proud father. I thought me getting drafted and the birth of my kids, all that was great, but just to see your kid going after his dreams and him working at it, is satisfying. It's not a complete process yet, but I'm happy for him—everything he's doing is for him. I've been there, so I don't want it for me. Everything he's doing, he's doing for him. I'm excited that he's getting better and he's learning—the sky's the limit for him.
SLAM: How do you manage your son's expectations, being a former pro yourself and knowing how hard it is to make the NBA?
KM: Just by being honest. I'm not the sugarcoat dad. I'm telling you the good, the bad and the ugly. There are no secrets about how hard you need to work. He's got all the tools. So what are you going to do to make sure that you utilize all those tools? Do you want to be just a good high school basketball player or do you want to be elite? You've gotta do your schoolwork, if you don't, you don't play. You gotta pass your SAT, ACT—you don't do that, you don't go to college. No college, no NBA. It's those things. I don't sugarcoat it for him.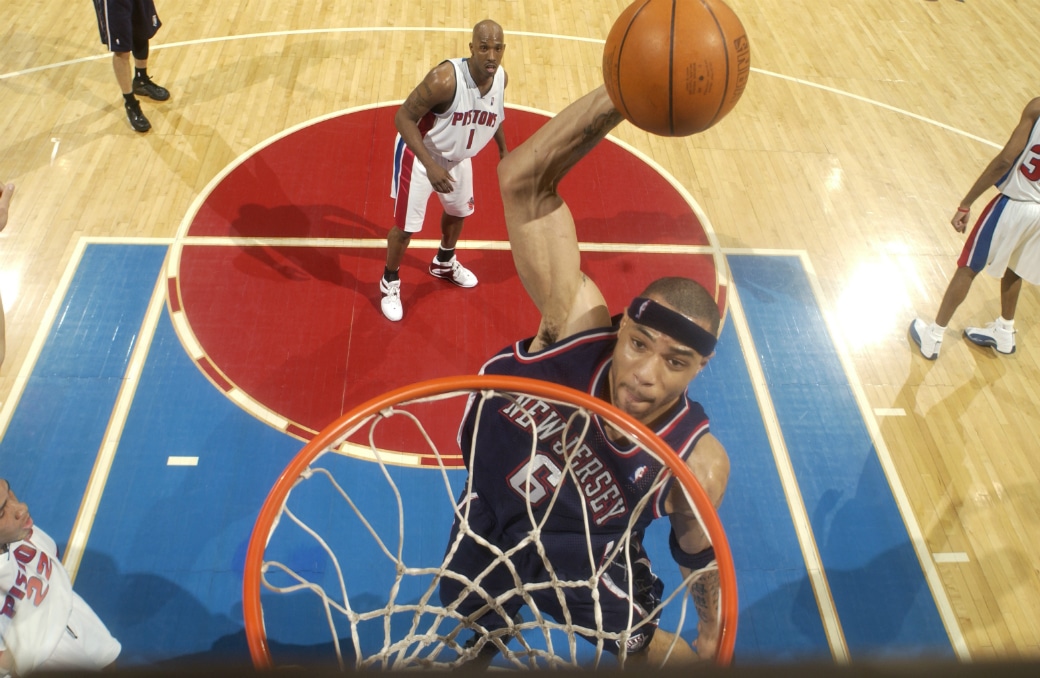 SLAM: Having gone through college recruiting yourself, how do you keep your son away from some of the pitfalls of that process?
KM: By being there every step of the way. Just being visible. People see you and they're reluctant to do things knowing that they have to approach you first. There are no games or tournaments that he's going to that I'm not there. I'm not missing one game all season long, all summer long—and if I'm not there, my wife is there. Once he walks off the court, we're with him until he gets in the car to go home. Because kids are easy targets, they're naïve and they look at the "right now." But I'm teaching KJ to look at the big picture—and the big picture is, don't do anything to jeopardize your future, on or off the court.
SLAM: You were the No. 1 pick in 2000. Is the Draft a special time of year for you?
KM: The Draft changes kids' and families' lives forever, so it's a huge deal. I've got a picture of my draft day hanging in my man cave, as a constant reminder of that moment. People ask me what was the best moment of my career—Draft day was the best moment of my career. Everything after that was just basketball. Some of these kids, it's their dream to make it, they grow up with that dream to make it to the NBA. That wasn't a dream of mine, I just happened to be tall, athletic and played hard, and I put some skill to it after the fact because I was passionate about the game. But it wasn't a childhood dream with me having posters on the wall. These kids have that, and it's a great accomplishment.
SLAM: What was your dream growing up?
KM: I didn't have a dream. I grew up in the inner city, man. My dream was not to die, not to be on drugs, but to be a productive member of society. Where I'm from, people don't make it out, bruh. People don't make it out. Very few. So for me to be here, talking to you and successful, it's a blessing from the Lord, with hard work and a little luck along the way.
SLAM: Any players in this year's draft class catch your eye?
KM: I like Miles Bridges, I think he's slept on. I think Cleveland made a mistake by not picking Michael Porter, huge mistake. You don't pass on that guy, I don't care what his back is like right now, just sit him out for a year, everyone else is doing it. And I'm happy for Jacob Evans from Cincinnati going to Golden State. People don't understand: That pick might have just helped them win another championship. [Andre] Iguodala's a little older and banged up, and they gotta get rid of Nick Young, they're not going to pay him. This kid Jacob Evans is tough as nails, he can do it all: defend, make shots, put it on the floor, athletic. Jacob can learn from [Iguodala]. I'm excited to see what DeAndre Ayton is going to be in this League, too. And I want to see if Trae Young translates.
SLAM: After your team Trilogy lost the 2018 season opener to Tri-State, there was some pushing and shoving that started with Nate Robinson and Rashad McCants going at it. How real is that passion?
KM: Last year we were waving and bowing after every game, and I told people last year that if you don't want us to bow after the game, then beat us. That after the game stuff, that's a product of us doing what we do, us getting under people's skin. Rashad wore a crown to the combine, and wore a crown to the game. That's just a product of us being successful and us letting everyone know how successful we were. And you gotta eat a little crow sometimes. We took that on the chin. But it's all in competition, we're not gonna mess the money up. It's a new league, and people expect us to act that way, so we can't do that.
SLAM: It looked like your mom ran on the court and tried to get in the scuffle. What happened there?
KM: Hell yeah, she ran her ass out there. Yeah, my momma ran her ass out there. It's unfortunate that she thinks she still has to protect a 40-year-old man, but that's mom. I was hot at her for running out there, because in those situations you never know, tempers flare and somebody could turn around and push somebody or arms flailing and hit my mom in the face, and then I'm going to jail. I can handle her, but if something were to happen to her out there, then I'mma lose my cool in a major way. It was just the heat of the moment, that's all that was, my mom ran out there trying to protect me. I wasn't the one involved in it, but she was just trying to protect her baby. Which, I get—but I'm 40 now, mom. [Laughs] I can handle my own.
—
Abe Schwadron is the Managing Editor at numberFire and a former Senior Editor at SLAM. Follow him on Twitter @abe_squad.
Photos via Getty Images.