A cool wind rolled through the subzero streets of Minneapolis, and two men were joined inside the Target Center for an unlikely occasion.
It was the winter, 2005, and John Thompson, the venerable former Georgetown coach, sat at the foul line, arms folded across his broad chest. In a chair opposite him was the city's most revered sports star, Kevin Garnett.
These were two great basketball men, on hand to engage in a deep, introspective conversation about life and loss in pro sports, and so this intimate forum was not improbable on its own. What made the conversation unbelievable were the cameras rolling to capture it all.
This was, after all, Kevin Garnett, a recluse in plain sight. Not quite the most reserved mega-talent in NBA history but surely one of its most guarded. For a personality so outsized and passionate on the floor, there was no truly knowing him off of it. Away from the court, he was private, exhaustively cautious to reveal much of any real intimacy to those outside his closest friends and family.
Garnett, the reigning League MVP, could have been excused for not being in a mood to talk about much of anything. The previous year, his Timberwolves had finally broken through in the playoffs, reaching the Conference Finals after seven straight first-round defeats. But in '04-05, a painful regression: Minnesota, which had fired coach and Garnett confidante Flip Saunders midway through the season, limped into the All-Star break with a .500 record, despite the fact that KG was again among the league leaders in just about every relevant statistical category.
There was little to suggest the famously brooding superstar would speak openly about his frustrations to Thompson, who led the discussion as part of his broadcasting work for TNT, or anyone else in a public setting. But on this day, as the NBA success he labored so long for was slipping away, something inside Garnett released himself to the coach, the burden of unmet expectations finally bubbling up and spilling right out of him. "I hate that I'm like this in front of you right now," a shaken Garnett told Thompson, his voice catching and his eyes running.
"These," he said, "are tears of pain."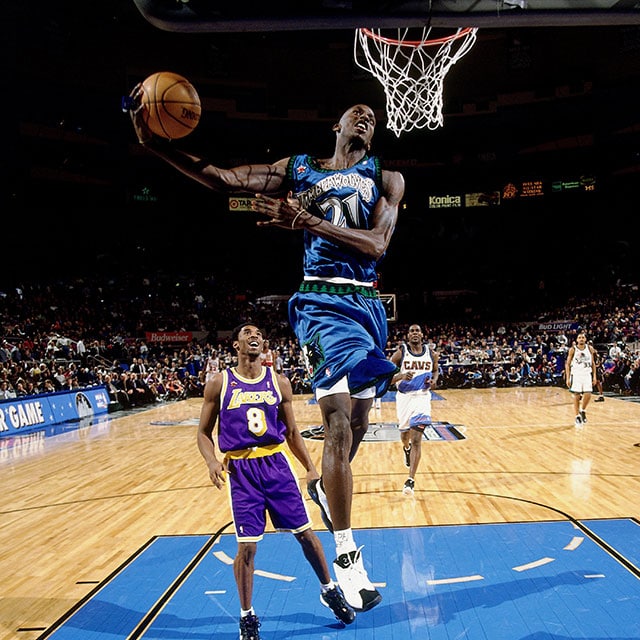 It was a watershed moment, a then-unseen peek into the soul of an NBA icon. When the interview aired during that year's All-Star Saturday, Garnett's vulnerability made him beloved.
He is no longer a player today, having left the game last fall following 20 seasons that took him through Minnesota, Boston and Brooklyn, and will soon bring him to the gates in Springfield, MA. But in retirement, what once seemed impossible is now true: Garnett has joined TNT as an on-air personality, the star of a signature segment called "Area 21" that debuted on the network last year.
If life moved ahead like the lines on a graph, onward and always upward, Garnett might point to that conversation with Thompson more than a decade ago as the moment he changed for good, when he realized the catharsis of sharing his innermost feelings and set his sights on a post-career try at television.
The reality was different. As soon as KG opened the door to his world, he immediately slammed it shut again. Secretly, after the interview aired, he was mortified that he had publicly displayed such openness. "I fucking hated it," he says today. "I hated it, to be honest. I'm a very shy person. I like to be to myself. I'm very private."
What followed was a near total shutdown, Garnett reverting back into himself, adopting an even stricter regimen to conceal his truest self from the brightest lights of the media. "I was different," he says, "from that interview on."
And so, as Garnett begins the second season of a TV gig in which he has proven to be an incredibly candid and outgoing on-air personality, the crowning question to one of the more improbable second acts of an NBA superstar remains: How did Kevin Garnett get here?
***
The Big Ticket is certain of one thing. Not in a million years did he picture a retirement quite like this.
Sometime last fall, not long after he called it quits from the NBA following a season-and-a-half farewell tour back with the Timberwolves, Garnett was relieved. He was no longer a player, which gave him some peace, but he was also no longer so actively a public figure, which gave him a tremendous sense of comfort. The spotlight was easy to give back. "I felt like I wanted to step away from all of that, be more of a family man, be there more for my kids," he says. "I was missing a lot. I wanted to just chill and do nothing."
It was a fine idea. It was also unrealistic. KG's energy is legendary, never stopping, always talking. "I couldn't see him going into retirement to be, like, a soccer dad or sitting around the house," says Paul Pierce, who became his teammate in 2007 following Garnett's trade to Boston. "He's gotta be moving around. Interacting."
With a motor that did not easily quit, KG found himself listening to opportunities he might not have given consideration to in an earlier life. When TNT approached him last year over a series of meetings in New York, network execs may not have thought they'd find such an intrigued participant. "I never was the one for network TV," he says. "That shit comes off real scripted. I'm looking at people sounding like a puppet. Real shit, I was turned off. Like, Ew. Nah."
Garnett's distant relationship with the NBA media was a well-chronicled affair, though its roots were not so widely understood. Drafted straight out of high school in 1995, Minnesota eagerly rolled out its new franchise star, a beaming teenager with a megawatt smile. But the years in full view hardened him. In 1997, he signed a $126 million extension with the Timberwolves, then the largest contract in sports history, and the magnifying glass under which he lived intensified.
Suddenly, at home and in every city, questions about money were all that KG received. He began to close himself to reporters, if not withdraw from them completely. In Minnesota, Garnett would duck many of his media availability sessions, retreating to a training room instead of standing in front of a scrum. His absence often gave the Wolves' front office fits. "You kind of had to make excuses for him for a while," says Kevin McHale, a longtime Minnesota executive who drafted KG in '95.
He became a brick wall, though in private he was a celebrated teammate, fiercely loyal and in fact quite a chatterbox. After almost every practice or game, Garnett held court in the locker room, regaling younger players for hours with tales of doing battle opposite Michael Jordan and other legends. "Hey, Mac!" he would exclaim when McHale walked by, imploring the Hall of Famer to spin a yarn or two about his own Celtics days.
In Boston, Pierce would survey the scene and marvel. "It was like sitting around a campfire," he says.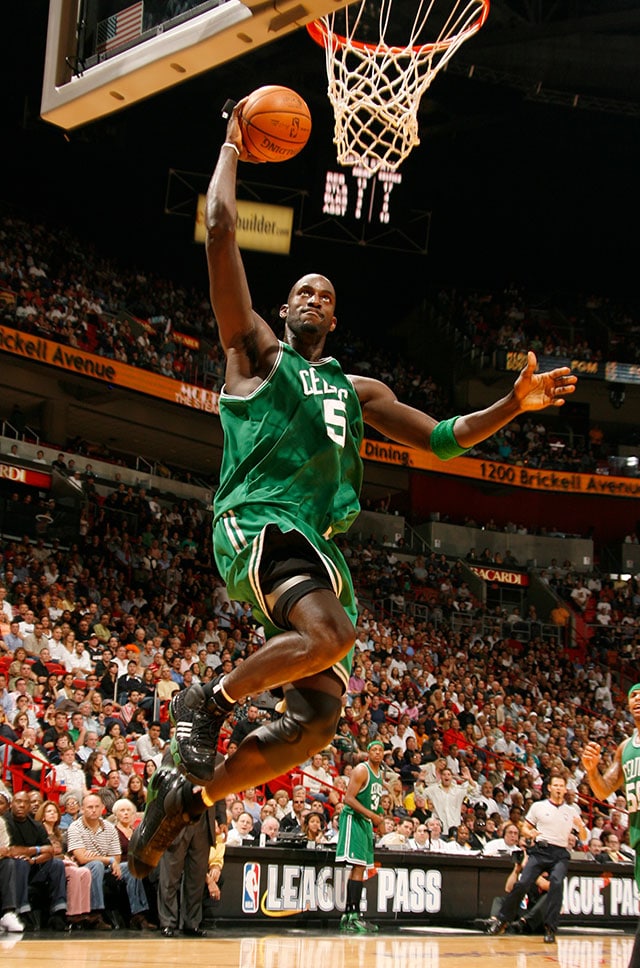 Those who know him say this was the real KG. "That's more Kevin than the guarded guy," McHale says. "I promise you that."
***
TNT had a need.
The network boasts the crown jewel of sports studio TV, Inside the NBA, where Ernie Johnson, Charles Barkley, Kenny Smith and Shaquille O'Neal hold court every Thursday night. Yet while those stars handle mainstream league discussion, TNT programmers realized there was an entirely separate conversation happening below the surface, a social media-driven dialogue that seemed to care less about which teams were winning and losing and more about what arena Jay-Z was sitting front row in or whatever fun chatter the League was inspiring on any given night.
Garnett agreed last fall to bring his voice to TNT, where "Area 21" would be his barbershop—an unpolished forum featuring a star, often clad in T-shirt and jeans, that carried real weight and authority inside the NBA community. "His credibility," says Craig Barry, one of the execs who brought Garnett to TNT, "is off the chain."
He learned the craft over many months, engaging on air with buddy Rasheed Wallace, or discussing with Isiah Thomas and Tayshaun Prince the responsibilities that athletes carry when it comes to issues of social justice. Garnett was growing as an on-screen personality, but "Area 21" would not truly become a landmark piece of TV until the spring, when he and his former Celtics teammates set the Internet on fire.
On May 8, an unofficial gathering of former Boston champs descended on Georgia. In the late morning light of a suite inside the Four Seasons Atlanta, Pierce surveyed the room and felt a warm familiarity wash over him.
There was Rajon Rondo. There was Kendrick Perkins. There was Sam Cassell and Glen Davis, too. By the hotel phone, ordering room service lunch for the group, was Garnett, the de facto host for the day.
Over the course of several hours, the six were brought right back to the locker room they once shared during the most beloved time in recent Celtics history, which brought Boston its first and only trophy since Larry Bird.
In an era of the NBA when you are nothing without a trio of top-flight All-Stars, the Celtics' big three of Garnett, Pierce and Ray Allen set the standard for the modern superteam.
They had arrived in Atlanta one by one from all parts of the country to appear as Garnett's guests on "Area 21," though Cassell, an assistant coach for the Los Angeles Clippers, sat out the televised portion of the panel. On the air that evening at TNT's nearby studios, they were to ham it up, to revel in their basketball glory and discuss with candor the impossible highs and lows of such sustained basketball excellence.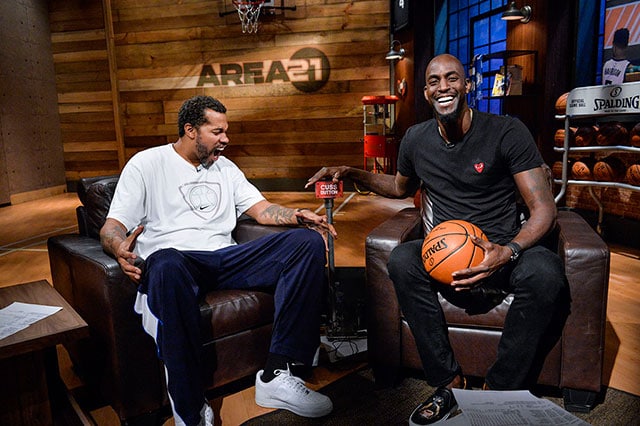 Yet there was one matter that was not so simple to discuss. It was painful. It was raw. It was unresolved.
Notably absent from this reunion was Allen, who left Boston to join the rival Miami Heat in 2012. The act was seen as a betrayal to his former Celtics teammates. They had devoted themselves to brotherhood above all, and believed Allen's departure to be an act of treachery.
Addressing thorny items like the Allen issue was precisely the reason "Area 21" had been greenlit in the first place. On the air, the Celtics explained the genesis of their beef, that it was not over Allen leaving but how he had done so, failing to tell any of his teammates he was planning to join another team in free agency. The talk lasted less than seven minutes, though clips of it quickly went viral, as Garnett presided over a revealing and intimate conversation the likes of which he never would have made public as a player.
To those on the panel, the segment was a cleansing experience, a vehicle to address a longstanding basketball curiosity once and for all. It's where "Area 21" can become special, to be the conduit for Garnett to leverage his standing among NBA peers to get to the bottom of the feuds, controversies and matters fans want a final word on.
He is new to this trade still, but Garnett has fast endeared himself to his TNT colleagues. Johnson has observed the same authenticity with Garnett that Barkley, Smith and O'Neal brought to television. "They never felt a need to be someone other than who they are," Johnson says. "I think that's always the key in this business."
Barkley, for his part, couldn't resist layering a few digs throughout his praise of the network's newest star. "He's much better privately than he is on television," Barkley quipped. "We're hoping at some point he takes over for Shaq."
Perhaps. But O'Neal, goofy and unscripted though he may be, wears a suit and sits at a desk. That is not Kevin Garnett. That has never been Kevin Garnett.
"This is really who Kevin is, who you're seeing now," Pierce says. "I just never thought he'd put it on TV."
—
Jason Buckland is a writer living in Toronto. Follow him on Twitter @jasonbuckland.
Portraits via TNT, action photos via Getty Images