On May 28, 2016, Klay Thompson saved Golden State's season and changed the course of NBA history.
Everyone who follows hoops knows the story. Thompson hit 11 threes, scored 41 points—including 19 in the fourth—and led GSW to a comeback win over the OKC Thunder at Chesapeake Energy Arena. The W brought the series back to Oakland for a seventh game. The Warriors won that tilt, lost in the Finals, acquired Kevin Durant in the offseason, won the 2017 Championship and are currently poised to potentially do so again. All due, directly or indirectly, to Thompson and the Star Wars socks he credited for his hot hand.
That's the tale, thanks to intrepid reporting, that the public has been privy to. There's more to that supernova of a game, though.
Earlier that week, 1,340 miles away in Orange County, CA, Philippe Zarif, a friend of Thompson's from high school, suffered a loss. Zarif's dog, a 13-year-old purebred boxer named Tyson who was the star of his owner's Instagram account, died without warning. The loss cut Zarif deep, but he didn't expect its impact to reverberate beyond his immediate family. That's why he was so surprised when, on the morning of Game 6, Thompson texted him, "This one's for Tyson."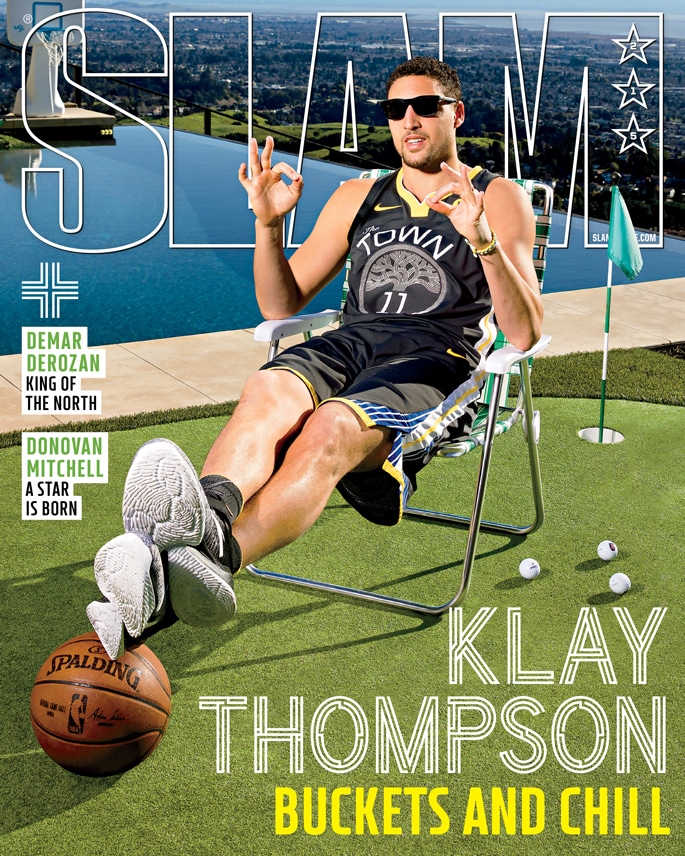 "Phil treated that dog like a son," says Klay, who cares for Rocco, his own English bulldog, like a proud Pops. "I know loved ones come in different capacities, whether it's human or animal, so he was really in my thoughts."
"That Klay even reached out to me about it was epic," remembers Zarif, owner of Mulch, an eco-friendly clothing line based on the West Coast. "It was the biggest game of the year, and he still was thinking about my loss. That's Klay."
That's Klay, indeed. Both carefree and deeply caring. Cool AF but ferociously competitive. Purposely private but with a personal brand built around authenticity. The guy the next 11 tracks will splash a little light on.
1. Lynyrd Skynyrd, "Free Bird"
Steve Kerr once said, to paraphrase, that he aspires to be like Thompson. His star shooting guard, he said, "is the most low-maintenance guy on earth." Some of Klay's friends, a group more laid back than a lounge chair, attribute those island vibes to Thompson's father, Mychal. The family patriarch, who grew up in the Bahamas before becoming the No. 1 pick in the 1978 Draft, instilled that ethos in his three sons. Others assert that by spending his teen years in Orange County, CA, Thompson picked up a beach attitude. Everyone has anecdotes, though, that attest to his chill ways.
Klay, his friends offer, will often forget his wallet; lose track of time while playing video games; go 30 miles to meet his trainer if it's easier for the trainer; hang with rookies and fringe players; and never lust for a teammate's fame.
A quintessential sample: This past October, the Warriors spent a week in China. The local crowds that greeted the Dubs at arenas and slept outside hotels were enormous and intense. As a result, the team stuck to a regimented schedule and moved with a legion of security guards. One day while in Shanghai, without warning or notice, Thompson left the hotel to take a walk around the city. After a few hours, Charlie Torres, Klay's long-time skill development coach, noticed he was gone. Torres blew up Thompson's phone to no avail. Later that evening, as Torres was starting to get nervous, he found Thompson swimming in the hotel's pool.
"Klay had a swim cap on," laughs Torres, who later learned that was hotel policy. "He just moves his own way, and I respect him forever for that."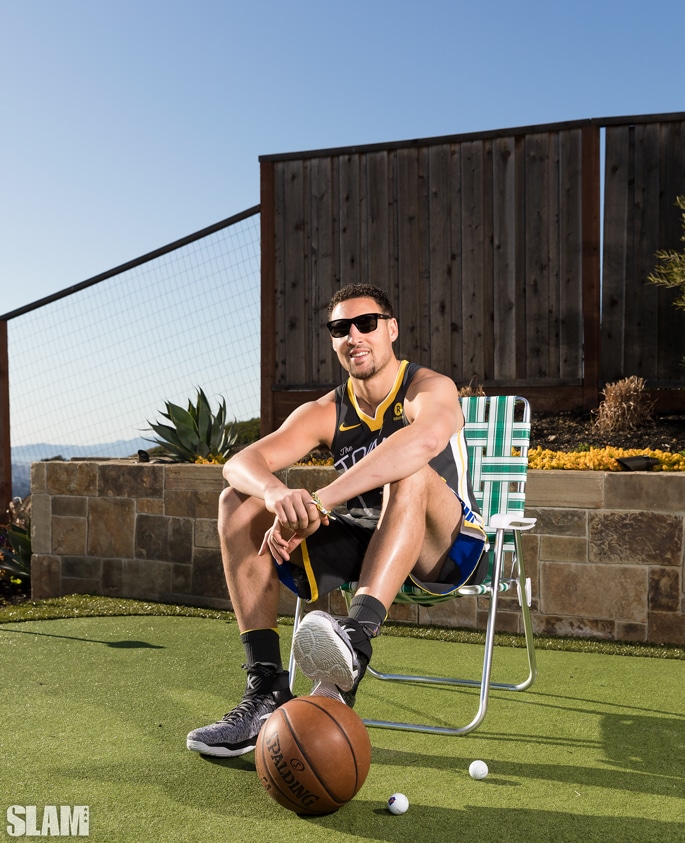 2. Lupe Fiasco, "Kick, Push"
Thompson picked up more than a breezy attitude while living in Orange County. As a teen, the late-blooming athlete gravitated toward skateboarding.
"I wouldn't say I'm nasty, but I'm probably the best NBA player on a skateboard," says Klay, who grew up near Ladera Ranch Skatepark. "I'm contractually obligated not to skate anymore, but I'll go out on a limb and say I've probably still got it."
Thompson was drafted 11th overall in 2011, the year of the NBA lockout. During the six months between the Draft and the end of the lockout, Thompson spent a lot of time working on his game. Still, he had free time on his hands, and his high school friends would be back at Ladera skating, so…
"I was skating a lot back then," says Klay. "I hadn't signed a contract yet, and looking back it wasn't smart, but it was a lot of fun."
Tony Panici, a graphic designer, was one of those friends. He recalls once telling Thompson he'd be at the park and inviting him to come hang. "He walked up with a skateboard in his hand and a Jordan jersey on," Panici says. "He was nice on a skateboard. He knew exactly what he was doing."
Ladera wasn't the only place Thompson would get it in. Around the same time, he used to drop by professional skateboarder Ryan Sheckler's private skatepark in SoCal. You can imagine, with Sheckler's pedigree and fame, how gnarly that park is. Regardless, Thompson would drop in and show off serious skills, especially for someone of his size.
"There are people that say they can skate, but Klay could really skate, dude," says Sheckler. "He's smart, but he's got no fear. He just lets life happen. That's one of the reasons he's so fun to be around."
Nowadays, everyone notes, Thompson seldom comes by Sheck's park. When he does, Klay's the designated DJ.
3. F.L.Y., "Swag Surfin'"
Klay is also interested in surfing, which makes sense and fills out his "chill" profile. Thing is, as he learned during the lockout, it's hard to find a wetsuit when you're 6-7. "I'm definitely not good—I'm not going to lie," says Thompson, "but I'll go after it when I retire."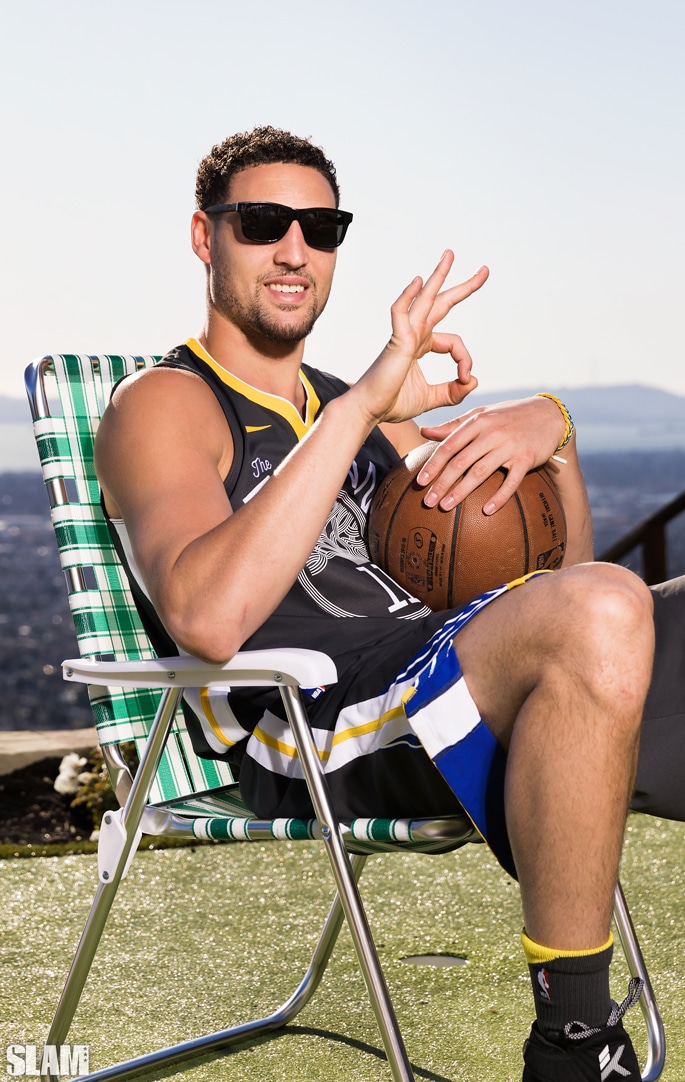 4. Bill Withers, "Lean On Me"
Thompson has a sensitive and selfless side, too.
Says Zarif, "You think he's not paying attention or aware because of his attitude, but he sees all the little details and is meticulous."
This past November, Chris and Jonathan Baxter, two brothers in their mid-20s, were killed in a tragic car accident. The Baxters, staples in the SoCal basketball community who were known for their love of the game, would work out with Thompson in the offseason. "Those two guys," says Torres, "would drive from anywhere to come defend and rebound for Klay."
When Thompson heard about the tragedy, he felt sharp pains in his stomach. How could they—two young dudes who just loved hoops—be gone? It didn't make sense. Due to the NBA schedule, Thompson couldn't attend the funeral or the accompanying services. He did, unbeknownst to most, finance the repast.
"That was a tearjerker for me," says Torres. "That's the kind of guy Klay is."
5. Bob Marley, "One Love"
Thompson has a special place in his heart for friends and family. He has a whole separate chamber, though, for Rocco.
"He's like a therapy dog for me," Klay told this writer in 2017. "He's great to have through the ups and downs during the season. He loves me unconditionally."
And Thompson loves Rocco back. No matter how many pillows he rips up or basketballs he deflates.
6. Survivor, "Eye Of The Tiger"
When Klay is at the beach or relaxing with Rocco, he's known to be as calm as one can be. But when he's competing, Thompson morphs into a beast. This manifested itself early in his life, but Klay's circle really started picking up on it over 15 years ago when he would travel north with his undersized traveling squad, CABC, to go play in the heart of L.A.
"I'd walk in the gym and be nervous," recalls Zarif. "But he was never intimidated. He was a gamer."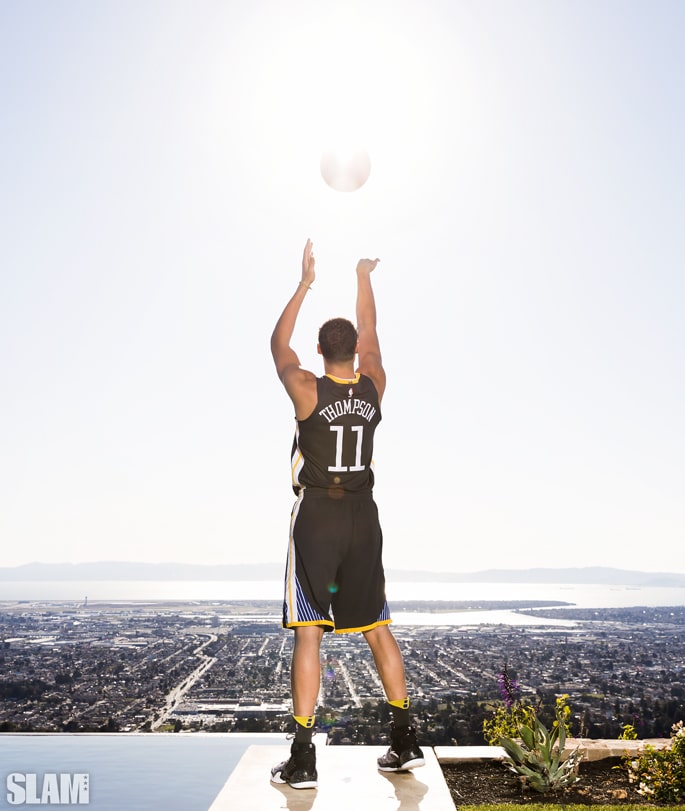 Klay despised losing then, and he still does now. In fact, after finishing second in this year's Three-Point Contest on All-Star Saturday night, Thompson left Staples Center before the Dunk Contest was complete and bailed on all of his plans for the biggest party night of the season.
7. T.I., "I'm Serious"
This behavior doesn't just apply to basketball. Board games, like RISK, cards and pool also get Klay's blood pumping.
"He hates losing," says Shecks, "and I love beating him."
"No one wants to be the loser," says Klay, "that's why games with me go on for so long."
8. French Montana Feat. Kodak Black, "Lockjaw"
Fans were astounded that Thompson only needed to dribble the ball 11 times to score 60 points in a game last season. What's really remarkable, though, is how few words he got by with in the press conference afterward.
"I've always been quiet and stoic," says Klay. After Thompson moved from Oregon to Cali at age 14, he was shocked, like any teen who feels momentarily uprooted, and barely spoke in public for a full year. Most of his classmates didn't learn he was the son of an NBA player until later.
"We were teammates and didn't share a lot of words," says Zarif.
9. E-40 Feat. Nef The Pharaoh & D.R.A.M, "Slappin'"
Of late, Thompson has started to come out of his shell. Sorta. He still doesn't feel a need to make the media swoon, grab every endorsement he can, or publicize his personality for profit.
"My parents taught me to be confident, but humble," he says.
So, we'll unveil some of his hidden gems:
—Chess: Though he regrets not being in the school Chess Club, Thompson knows his rooks and knights. Sources on the Warriors say he's probably the best player on the team.
—Football: Thompson gave up football after his freshman year in high school. Mychel, Klay's older brother and an ex-NBA player, says that the then-QB had a DI arm and would have earned a college scholarship if he hadn't hung up his cleats.
—Golf: Klay boasts a handicap of 15 and has played some remarkable courses, including Monterey Peninsula and, most recently, Augusta.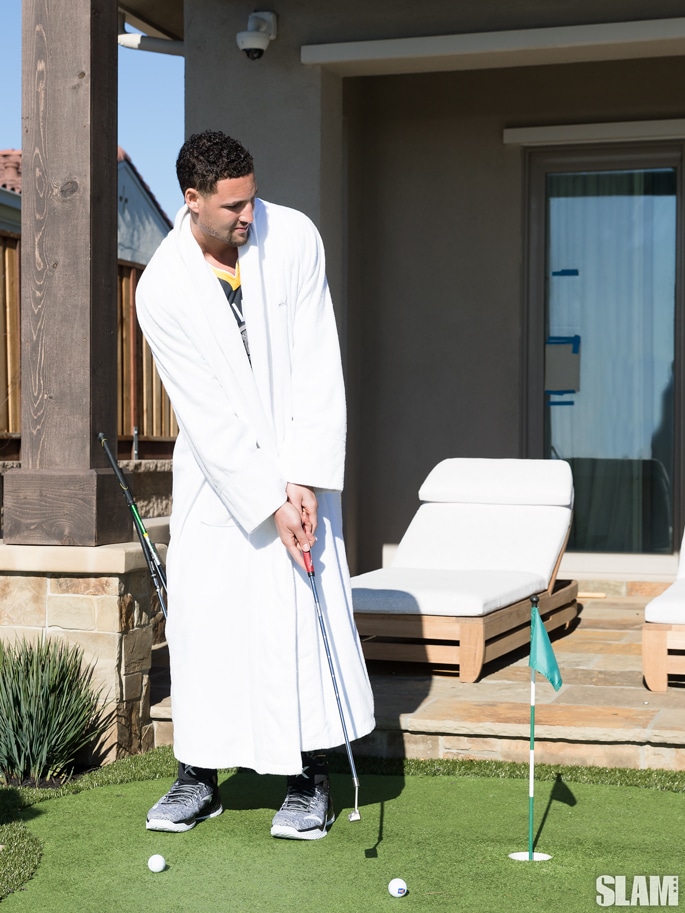 There's enough apocryphal lore whispered amongst friends about Thompson's vast skill set to make you believe it all. In one story, Thompson hits so many shots in a row over the course of three days that the hoop's net literally gives out and falls off the rim.
"That's just gas," laughs Thompson, "but I appreciate hearing it."
10. Jay-Z feat. Alicia Keys, "Empire State Of Mind"
As a result of all of the above, Thompson has started to build an underground following. The swell of support consists of people attracted to his authenticity, business-like approach to the game and unguarded viral moments that arise as a result.
Funny thing is, Thompson is not purposely trying to build his brand this way—it's just happening. #ChinaKlay isn't contrived, nor are the funny one-line quips he's given to the media of late. They're just snapshots of a 28-year-old who is comfortable in his own skin.
Take a moment from his Anta-sponsored tour of China this past summer. There's a video most of us have seen in which Thompson brutally misses not one, but two dunks in a row. Except Klay doesn't care. Where most athletes would have told their sneaker company, No, I won't try it, Klay just laughs and says, "I was fresh off an airplane that took me from the US to China."
11. Sly & The Family Stone, "Everyday People"
Sheckler sums up Klay perfectly. "He's just a normal dude who balls harder than you do. People identify with that."
—
Tzvi Twersky is the Head of Basketball at Stance Socks and a Contributing Editor at SLAM. Follow him on Twitter @ttwersky.
Photos by Ryan Young
Video shot by Matt Maniego and edited by Christian Quezada