'He's Here to Destroy': DeMar DeRozan, Gordon Hayward, Derek Fisher and More Remember Kobe Bryant's Career
The Lakers will retire Kobe Bryant's No. 8 and No. 24 jerseys in a ceremony during Monday's game at Staples Center against the Golden State Warriors. In his 20 seasons in the NBA, Kobe provided plenty of memorable moments, from his rookie season all the way to his final, still-unreal 60-point game.
Earlier this month, we spoke to DeMar DeRozan, Norman Powell, Derek Fisher, Rick Fox and Gordon Hayward about their favorite memories of Kobe and what they remember from some of the key moments from Kobe's career.
***
On Kobe's final game:
DeMar DeRozan: (The Raptors were in Brooklyn for their season finale that night, but having clinched the No. 2 seed in the East, their starters were rested and didn't make the trip—so DeRozan was able to watch Kobe's final game in Toronto.) I was sitting in my living room on the couch. The way he came out so aggressive, whatever the outcome was going to be, I knew he was going to shoot it at least 30 times. To go out the way he did, it was like a holiday. It was like everybody came out to see a presidential ceremony. Everybody in the building was just shocked. It was crazy. The whole vibe in there, seeing people's faces, it was incredible. I remember sitting there really tripping. I was tripping.
Norman Powell: (While DeMar was at home, Powell scored a career-high 30 points against Brooklyn and was on the team flight home during Kobe's final game.) That was tight. We were on the plane flying back from New York and everybody had their phones on, connected to the Wi-Fi, keeping updated on Twitter and on the NBA app. He got 50, then he got 55, then he got 60. It was crazy. I was mad I didn't see the game.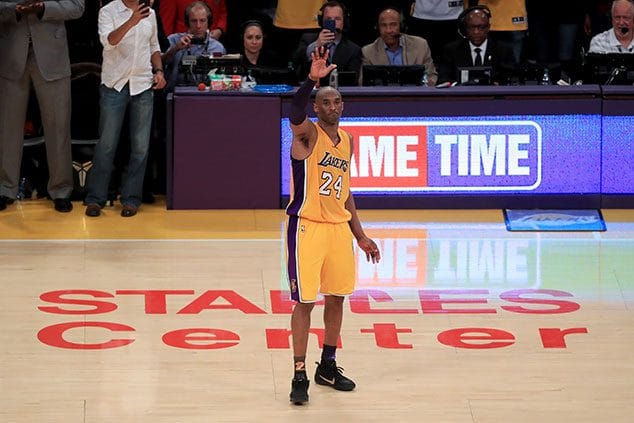 Rick Fox: It was fitting to see Kobe end his career as aggressively as he started it. Kobe had the ability to rise to the occasion, especially under the bright lights, and that night gave him one last opportunity, and he did just that. It was almost a reward for supporting him and rooting for him. For a lot of Lakers fans, they've only known Kobe Bryant as their star. And to see him leave after 20 years with the team on such a high note, it was like a thank you for the fans.
Gordon Hayward: (Before the game, Hayward and the Jazz found out they were eliminated from playoff contention after the Rockets beat the Kings earlier in the night.) We were playing to win, but we knew this would be a special game because it was Kobe's last game. It was one of the most exciting atmospheres I've ever been a part of and probably one that I'll never be a part of again. You could literally feel it while you were warming up. Just all the celebrities there, and every time Kobe had the ball, the whole crowd just stood up and if he scored, they went nuts. And that happened throughout the entire game. I remember when he was scoring his last points at the free throw line, and the crowd just going wild, and it felt like time just kind of stopped. That's something I'll probably never forget.
Derek Fisher: We've played a lot of big games in that building, a lot of NBA Finals games, and I don't know if I've ever experience an energy and buzz the way Staples Center felt that night. The last game symbolized how he approached every game. It was like, I don't care if I have to shoot 50 times, all I want to do is win the game. I don't care about your feelings. I don't care what people are going to say. If I have to shoot the ball 50 times to win the game, then so be it. It was like, alright, I'm not going to get to do this again after tonight, so I'm leaving it all out here. He played that way every night. He wasn't concerned about what people were going to say the next day. I think it was the perfect ending.
On Kobe's 81-point game against the Toronto Raptors:
DeMar DeRozan: I remember I was getting mad because the Lakers were losing by almost 20 points. Kobe started being Kobe, and I started to feel like I was watching Space Jam because it felt so surreal in so many ways. I didn't understand how an individual could possibly do that. To see him put up 81 points was the most incredible thing in the world. He didn't seem tired. It seemed like he just wanted to keep going. To pull your team out of a 20-point deficit and score 81 points in the process? That's one of the greatest performances I've ever witnessed.
Derek Fisher: I was with the Golden State Warriors that season and we had a game that night. It wasn't until I got home after our game that I turned on ESPN and saw on the ticker at the bottom of the screen that Kobe had 81 points. I was like, Nah, that's a typo. Then I saw the score scroll by the ticker and it was 122-104 Lakers. I was like, Well, if the team had 122 points, theoretically it's possible Kobe had 81 points, but nah, no way. When I finally put on SportsCenter and started watching the highlights, I was in total disbelief. It was crazy. I was trying to figure out the math on that. It's impossible to score that many points, but he did it.
On a rookie Kobe air balling the Lakers out of the 1997 playoffs against Utah:
DeMar DeRozan: That showed me no matter how bad something gets, you can't let it break you. I took that mindset not just with basketball, but in life. I remember every guy on the team holding their heads down when Kobe took those shots, but it didn't stop him from wanting to take the next shot. That says a lot about him. For Kobe to take the plane, go back home, and get to to the gym to work on his craft, it shows why he was going to become one of the greatest. That has stuck with me to this day.
Derek Fisher: I don't know if a lot of guys would have been able to recover emotionally or psychologically from that. The following year in training camp, you saw the jump from year one to year two, and it was like, Oh, okay. It was remarkable, because that experience with the airballs would have crushed just about everybody else, especially with so many people talking about it. Year two was a different Kobe. You could see him grow and the work that he put in that summer really paid off.
On Kobe's signature lob to Shaquille O'Neal to clinch a Game 7 comeback against the Portland Trail Blazers in the 2000 Western Conference Finals:
DeMar DeRozan: That was one of the most intense things. I remember sitting on the edge of my bed watching every single game being nervous like I was about to lose something, like my life was on the line or something. That was how intense and locked in I was. I remember the comeback, how they fought, and Kobe throwing Shaq that lob, and Shaq running and pointing to the sky. I used to get chills because it was something you always wanted to be a part of. It was the coolest thing in the world to see these people that you look at as immortals compete in something that you loved to do. It gave me the passion to want to do that.
Derek Fisher: We controlled the series for the most part and all of a sudden we look up and we're in a Game 7 and they're kicking our butts in the third quarter. That year was the beginning of Kobe's evolution into a great player because he was able to manage his emotions and adjust his game offensively and defensively. I thought during that series against Portland he really started to understand how to do that at a very high level. To be able to make that final play down the stretch and throw a lob to Shaq, that was very instinctive. Scottie Pippen might have pressured a lot of other players into a mistake, but Kobe went around him and he threw the lob. As a third-year player to be able to read things so naturally, I realized he saw the game in a certain way that a lot of people didn't.
Norman Powell: I was watching it on the couch at home with my uncle. Everybody just went crazy.
On their earliest memories of Kobe:
DeMar DeRozan: When James Harden and I were still in high school, Kobe would come to Loyola Marymount University in Los Angeles during the summertime and play in the open runs on campus. This was a player I grew up watching and admiring, and to be able to guard him and compete against him, it was everything. You take so much from it and you learn from it. It was great to experience to see his greatness first hand.
Derek Fisher: He was drafted 13th and I was taken 24th in 1996. At the time, I had spent four years at Arkansas-Little Rock and I was thinking, There's no way someone from high school is ready to come to the NBA. It was not making sense to me. I was like, This kid just finished playing high school, there's no way he can be that good. Then we became teammates, and it started becoming evident right away this guy was going to be special. He had the work ethic and skill level, and he had it when he was 18. Practice tells you a lot about guys. There were things Kobe would do in practice that would just blow your mind away. You would see on a daily basis that this dude is not here just to hang out, he's here to destroy and dominate everybody.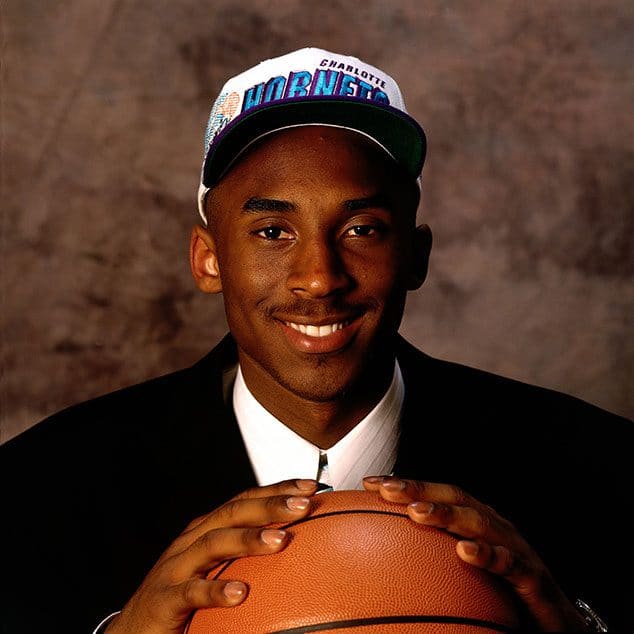 Rick Fox: I remember a young, determined, talented skilled player who had great designs on not just being the best he could be, but on being one of the best to ever play the game. In the eight years I played with Kobe, his focus and determination to become a champion never wavered. He was always looking to maximize every moment of his day to get better as a player, and not everyone approached their day that way.
Norman Powell: Growing up, I would get anything I could that was Kobe- or Lakers-related. I had everything. My room was filled with Kobe posters. I used to always play as Kobe in the video games on Nintendo GameCube. Sometimes I would turn the sliders all the way up and I would take every shot with him. I scored 130 points with him one time.
On other favorite memories from Kobe's career:
Rick Fox: Winning three championships together. There was the Game 4 against Indiana in the 2000 NBA Finals when Shaq fouled out, and Kobe helped us pull out a win in overtime. That was when he was starting to come out of his shell and emerging as superstar. He had been an All-Star player, but playoff basketball is where your legacy is made. I can think of our Western Conference Finals against San Antonio in 2001, when Kobe had 45 points in a Game 1 win. He had just risen to this newfound level of dominance. I can remember him fighting through food poisoning against Sacramento in Game 2 of the 2002 Western Conference Finals, and winning a Game 7 on the road in that series.
DeMar DeRozan: The impact of Kobe's sneakers. Every Kobe that came out, I had them. I wore Kobes all throughout high school. It's my favorite shoe, period. Everybody always wanted Jordans, but I wanted Kobes more than anything. In like junior or senior year of high school, I had the Kobe 2s. I think I had every colorway. I used to be on NIKEiD too. I don't even know how I got hipped on NIKEiD. Nobody was technologically inclined like that back then. You couldn't just come through with a laptop and design a shoe for hours. I got lucky and I did that, and I remember one of my closest friends to this date, she bought the shoes for me with her credit card because I had no credit card and the shoes were so expensive.
Derek Fisher: Kobe's maturity after the three-peat Lakers broke up. The years that we were apart, I think Kobe realized that within a team, even though he was the best player, there's a fabric and community that exists. When Phil [Jackson] was there, he was trying to help us understand those things, but I don't think Kobe fully understood it or appreciated it until it was all gone. He started to realize he had to bring his teammates along. He started to go out to dinner with guys and tried to build connections with his teammates more than maybe he had before. I don't think Kobe woke up one day and changed, he just continued to mature. It's just sometimes with perspective, we see things a certain way, and when we have something and when it's gone, we see it a different way.
Gordon Hayward: Working out with Kobe in the summer of 2016. The biggest takeaway was his mentality, and his attack mode, and how to punish the defender so if they give you the same shot over and over, you take it over and over until they stop it. The mentality of: I'm going to work on this shot so much so it doesn't matter if somebody has a hand in my face, or if there's four seconds on the shot clock, or if it's the beginning or the end of the game, I've practiced this shot over and over so when I shoot it in the game it's nothing. Those were the things I took out of it.
Related:
Kobe Bryant on LeBron, The Warriors, Giannis and More
—
Alex Wong is a writer based in Toronto. Follow him on Twitter @steven_lebron.
Photos via Getty