Unexpected. Out of nowhere. Surprise. These words, meant to both contain and justify his potential greatness, mean nothing to Kyle Kuzma. They neither resonate with nor accurately describe his game or his drive, even if we want them to.
In fact, none of the ongoing side chatter or armchair analysis currently revolving around Kuzma and how this all must just be some lightning-in-a-bottle misunderstanding has had much of an effect on the Lakers rookie.
That's because Kuzma, at all of 22 years old and 6-9, was made for this. The ascent from Flint, MI, to the University of Utah, to Los Angeles, where he's becoming a franchise cornerstone for the League's most visible team, has not been a surprise. At least not to anyone actually watching.

"I think I get that because a lot of people think it's kind of like a fluke thing," says Kuzma as to why others might label him another flash in the NBA pan.
"It's always been like that. It was like that in Summer League," he says. "They were like, Oh, Summer League. He killed, but it's Summer League. Then, same thing when preseason came, and I did the same thing in preseason. Now, I'm in the regular season playing against real [pros], and still the same thing. So for me, I kind of use it as motivation. It is what it is—people are going to say what they want to say, but it's all white noise to me."
Through his first 48 games of action, that had certainly been the case. As this issue went to print, Kuzma was leading the Lakers in scoring at just over 16 per, including a six-game stretch in mid-December when he dropped averages of 26.5 points and 7.3 rebounds. The opponents? Only Cleveland, Houston, Minnesota, Portland and Golden State (twice). That's no fluke.
It's also because when you watch Kuzma, one thing becomes glaringly clear: He is fearless. Fearless for the moment, pressure and grand stage of it all. Fearless for the added expectations, rising jersey sales and becoming a star for a rabid fan base starving for a return to the glory days. His fearlessness comes from confidence—that this isn't just the season's feel good story; it's the start of something bigger.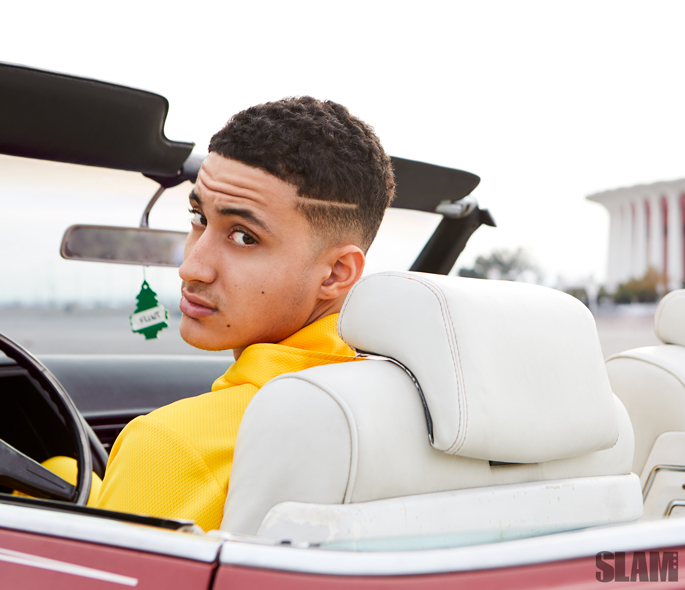 "He wants to be the best. Anytime he steps on the floor, he thinks he is the best. That's how he plays, a lot of confidence," says Lonzo Ball, Kuz's fellow Lakers rookie and best friend on the team. "I think it helps him, just the way he plays and his mindset. I love it."
"I feel like when you work hard, you're prepared. And when you're prepared, you should be confident," Kuzma says. It's a simple yet seemingly perplexing proposition for many young players once they hit the pro stage. Guys who, after likely reigning as their respective team's focal points since grammar school, quickly find themselves adjusting to a different role and a new normal in the NBA.
Yet Kuzma propels forward with hard work and confidence. Everyone who gushes about the kid, from the aforementioned Ball to Lakers coach Luke Walton to Draymond Green, says as much. That he lives in the gym, he's always working and pushing himself, and that his confidence is unshakeable.
"I don't know how he does it—he just learns to tune things out and then just kind of respond when he needs to," says Vin Sparacio, Kuzma's manager and longtime mentor, dating back to Kyle's junior year of high school. "I guess that's a good thing and a bad thing, but he's just wired different."
When Kuzma himself speaks on his approach, it doesn't feel forced or fake. His postgame interviews alone have already made him a late night basketball Twitter favorite, whether it's his innocent nonchalance about dropping 38 at Houston or 31 on Christmas Day. It doesn't even click in his brain that he's not supposed to be doing this, this early. Every milestone is just another day, another bucket for Kuz. And in a profession that tightropes the line between confidence and arrogance ever so gently, it feels genuine when he describes himself as "really humble."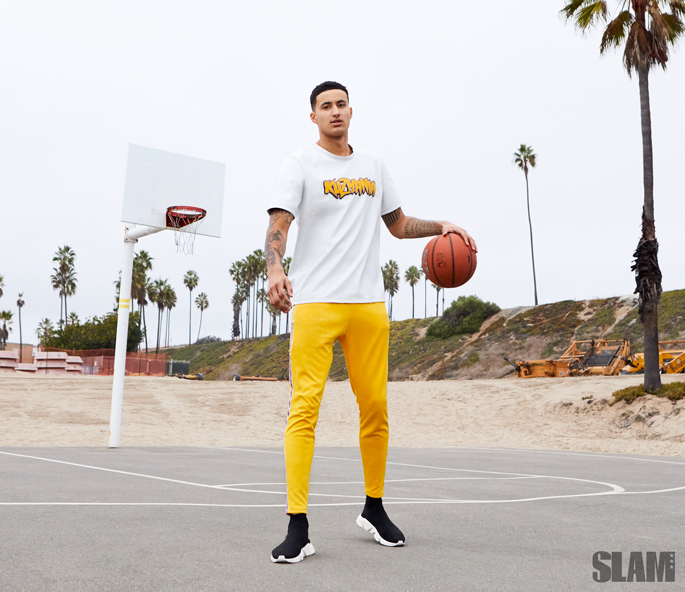 "I really want to be one of the hardest workers in the NBA," Kuzma says. "I think that's really important. You know, everybody wants to be the best but doesn't necessarily put in the work. KD or whoever else is at the top may be more talented or more skilled, but I want to outwork guys."
It's that work ethic and attention to detail that has separated Kuz from the pack wherever he's gone. He's a new spin on a traditional model: an inside-outside super threat, refined through a dedication to the fundamentals—with a few tomahawk dunks and 30-foot trey bombs mixed in. It's a direction the city and its premier franchise are also desperate for: a squad that can take their team's history and modernize it for the new NBA.
It's also why on a slightly foggy Saturday in January, Kuzma found himself driving around L.A. with the top down in a 1970 Cadillac DeVille, a whip both iconic to his new town and one built from the same Michigan foundation as he is. Even for a kid born in '95, sometimes you gotta stick to the classics.
Now, when you're Kyle Kuzma, driving around L.A. by itself can attract a fair amount of attention. But when you're Kyle Kuzma in a bright red Cadillac convertible, you can bring the city's traffic flow to a frenzy. During his ride, which included a stop at the Forum to pay homage to the great Showtime Lakers of old, Kuz was halted at nearly every conceivable turn.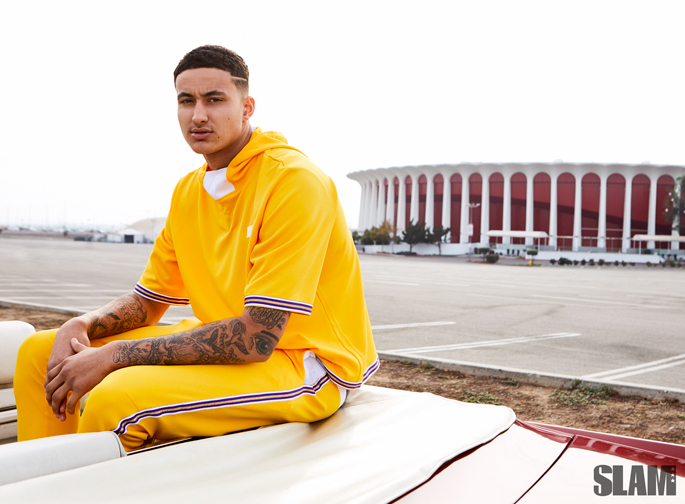 "KUZ! KUUUUUUZ!"
"Kuzma, shoot the three! Keep shooting that three, Kuz!"
If they didn't know him months ago, they sure as hell do now. But even his current teammates couldn't have seen this coming years ago.
"I do not actually [remember Kuzma], he must have sucked back then," says Lakers guard Tyler Ennis, laughing as he jokingly ribs the rook. "I played him twice, in AAU and in high school. So, it was crazy to see how far he's come, just because if he was decent I probably would have remembered him. He hit the gym hard and worked his way to where he is now."
Kuzma admits every player wants that high-profile path to the pros. One that leads from the McDonald's All-American Game, through one-and-done or All-American collegiate glory, "but it doesn't work for everybody," he says. "For me, I've had trials and tribulations and it's not about the end, it's about the journey and what it takes to get there."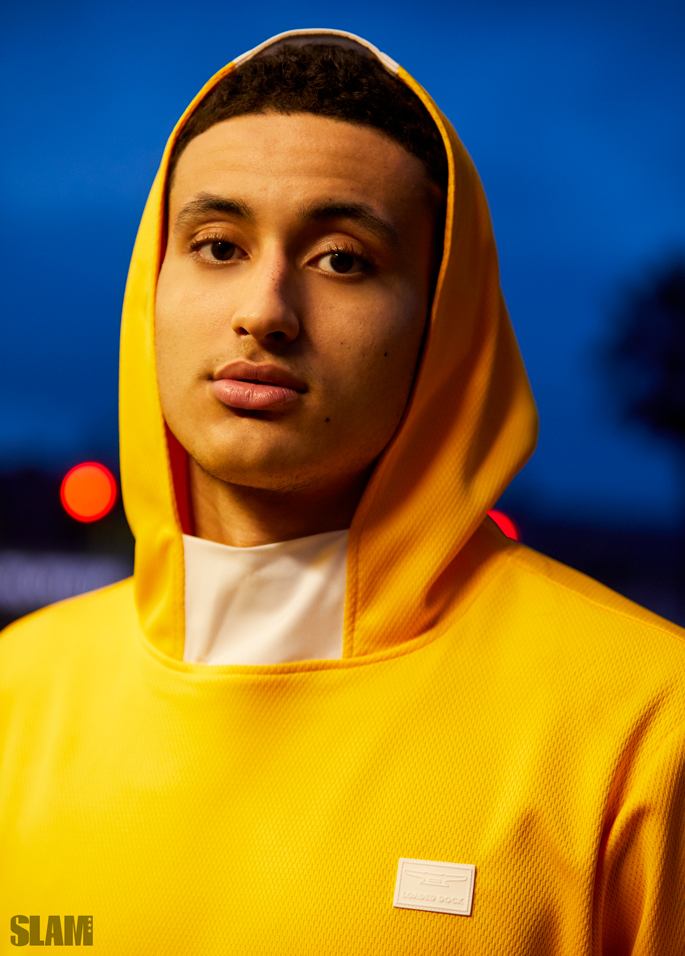 As a 22-year-old rookie, Kuzma is mature beyond his years and concerned with staying focused on the present. That, and being a great teammate. It's actually the first attribute both Lakers PGs, Ball and Ennis, point at as to why they love playing with him.
"For me, I try to speak things into existence," says Kuz. It's a strategy that's worked well so far. He says that even dating back to kindergarten, whenever asked what he wanted to be when he grew up, he would always point to the NBA. That no matter the obstacle or struggle, it was always the NBA. Now that he's here, he's found there's only more work to do.
"I know what I can do," he says. "I know my capabilities and I know I'm going to be doing this for a long time."
—
SLAM 214 is on newsstands next week!
—
Jack Jensen is a writer living in Los Angeles. Follow him on Twitter @jensenjack.
Video by The Rec League.
Portraits by Geordy Pearson.