It's almost time for All-Star Weekend, your yearly mid-season break from the usual NBA programming, during which the entire basketball (and entertainment, for that matter) industry descends upon one lucky city for a few days of relatively controlled chaos.
I can't speak for…well, anyone, but I love All-Star Weekend. It's plenty stressful, sure—what with the running around to events and meetings and media availabilities and games and parties and god knows what else—but more than anything, All-Star Weekend is great because it is fun.
All basketball things are fun, but between the pressure we put on athletes, fans who tend to be a little too focused on the result instead of the journey, the slightly uptight media and the truly high stakes competition of the League, the NBA can get a little weighty. Which is why All-Star Weekend is a blast. Its entire existence is centered around celebrating the sport we all love. Off the court there are brand-sponsored events that range from very entertaining to very strange and random celebrity encounters in both the expected and unlikeliest of places; on the court there are dunks and…OK, really just dunks. (But dunks are dope!)
I think SLAM is pretty good at All-Star Weekend, mostly because SLAM is pretty good at fun. That's what we're here for. So, with the timing clearly right, our annual All-Star special covers this year's Weekend in a few different ways—a spotlight on some stars who will be featured in the main event, a look at those who've experienced ASW through various lenses (coaches, celebs, retired players), a focus on some hoops-loving natives of this year's host city of New Orleans, and even a glance back at a forgotten All-Star Weekend tradition that didn't make it to the 21st century.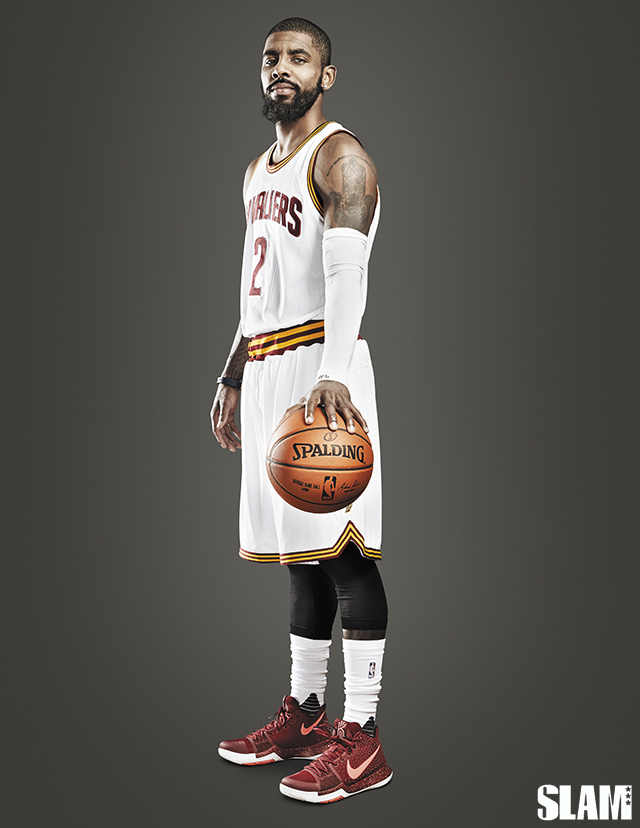 And who better to cover such an issue than Kyrie Irving? It isn't really part of the Kyrie narrative, but on the low, the Cavs PG might be Mr. All-Star Weekend. Think about it: In 2012, Irving broke onto the scene by scoring 34 points and dishing 9 assists in the Rising Stars Challenge, taking home MVP. The subsequent year he once again showed out in the Rising Stars Challenge (you recall what happened to Brandon Knight, yes?) then won the Three-Point Shootout on Saturday and had a strong 15-point performance off the bench in the All-Star Game on Sunday. He followed that up by going for 31 points and 14 assists in 2014's ASG, winning MVP. Not a bad little résumé.
It's not just the accomplishments, though, that make Kyrie so damn fun, and therefore so perfect for All-Star Weekend. It's his whole demeanor. His vibes, to use a term I wish I left in 2016. His seemingly ever-present affability. His hilarious Uncle Drew alter ego. His legitimately cool signature sneakers. And most importantly, his game itself, with those ball-on-a-string handles and clutch jumpers that are perfectly formulated for the modern era of bite-sized looping videos. (RIP Vine—miss you so much.)
Along with all of this issue's great stories and images, we'll be documenting every nook and cranny of 2017's ASW on our site and social feeds, which you're hopefully following by now. Catch you in NOLA.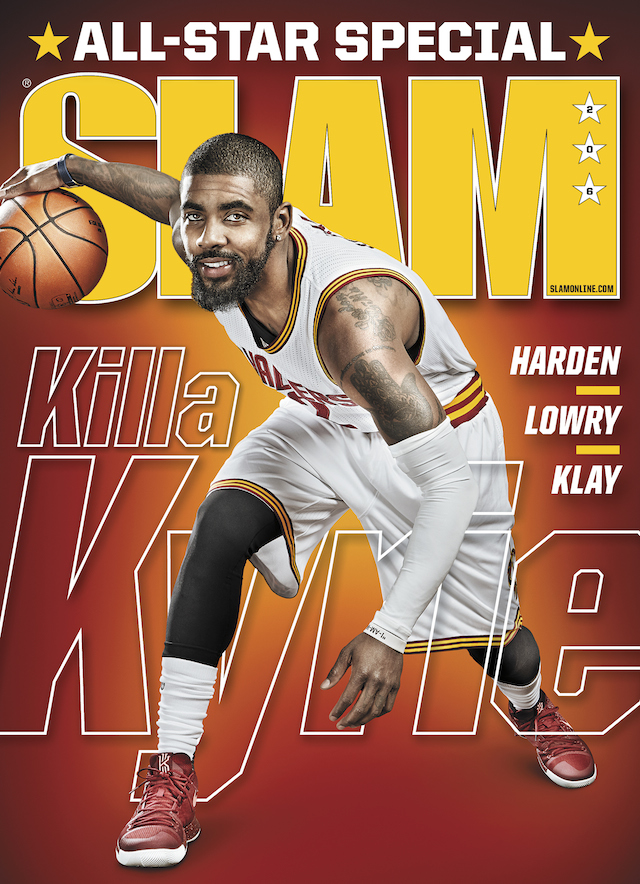 —
Adam Figman is the Editor-in-Chief of SLAM. Follow him on Twitter @afigman.
Cover + portraits by Paul Aresu
624