The Lakers will play their ninth consecutive Christmas Day game this year, making them the only team in the NBA to play every Christmas since TicketIQ began tracking data in 2011. The Warriors have the second-most appearances with eight (they didn't play in 2012), followed by the Celtics with seven (they didn't play in 2012 and 2013). The Lakers are clearly a fan favorite, as four of the games they have played in have been the priciest for that year's Christmas slate, and twice—including this year—the average asking price for a Lakers Christmas Day game on the secondary market has broken the $1,200 barrier.
There will be five NBA games this Christmas, starting with the Celtics at the Raptors at noon ET and wrapping up with the Pelicans at Nuggets at 10:30 p.m. ET. 
Where To Buy Christmas Day NBA Tickets
Primary market tickets are available to all games, except the Clippers–Lakers game at Staples Center, which is sold out on primary partner AXS.
On the secondary market, TicketIQ has seats to all games and offers a Low Price Guarantee on all Christmas Day games in addition to Low Price Guarantees on all NBA tickets. That means that if you find a secondary market ticket for less on a site like StubHub or Vivid, we'll give you 200 percent of the difference in ticket credit. TicketIQ customers save up to 25 percent.
How Much Are Tickets To Christmas Day NBA Games?
According to TicketIQ, the priciest game of the bunch will be Clippers-Lakers, which is trending at a $1,405 average asking price. The cheapest game will be Pelicans-Nuggets, which has an average asking price of $205.
The average asking price of all Christmas Day games is $587.40 on the secondary market, making it the priciest Christmas Day since TicketIQ began tracking data in 2011. If the Clippers-Lakers average holds, it will be the priciest Christmas Day game of the decade. To date, the next two priciest were $1,292 for last year's Lakers-Warriors game and $1,011 for Cavaliers-Warriors in 2015.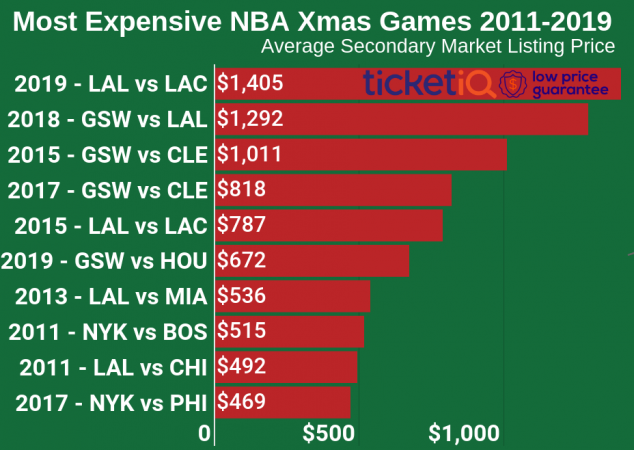 Where: Scotiabank Arena
Time: 12 p.m.
Secondary market average asking price: $410
Secondary market cheapest ticket: $91
Primary market cheapest ticket: $141
Where: Wells Fargo Center
Time: 2:30 p.m.
Secondary market average asking price: $245
Secondary market cheapest ticket: $73
Primary market cheapest ticket: $59
Where: Chase Center
Time: 5 p.m.
Secondary market average asking price: $672
Secondary market cheapest ticket: $105
Primary market cheapest ticket: $155
Where: Staples Center
Time: 8 p.m.
Secondary market average asking price: $1,405
Secondary market cheapest ticket: $339
Primary market cheapest ticket: Sold out
Where: Pespi Center
Time: 10:30 p.m.
Secondary market average asking price: $205
Secondary market cheapest ticket: $15
Primary market cheapest ticket: $49