The past three seasons have been brutal for the Los Angeles Lakers.
The sample size is still small, but it looks like the Lakers have turned the page. Through all the coverage about the youth, let's not forget the veterans who have helped guide the young core.
Seven guys are at least 30 years old on the roster. From Nick Young's carefree attitude of nicknaming himself "Uncle P," to Luol Deng's attentive approach, there's no shortage of knowledge for the young players to tap into.
"I try and help them with everything I can," Marcelo Huertas says. "All my international experience, especially with the young guards, teaching them things I've learned throughout my career."
The 33-year-old Brazilian has been around the circuit for quite some time. Huertas started playing in the NBA last season with the Lakers, but he brings along a decorated international resume, which includes a four-year stint with FC Barcelona.
Jose Calderon is going on his 12th NBA season, and has played with the Gasol brothers for Spain, earning three Olympic medals (two Silver, one Bronze).
"Just talking to them, trying to keep them going. Advice if they need to. Just whatever, you know, sometimes it's very simple, just being there every day, trying to do the right thing, and do what you got to do to get ready for the next game coming up." Calderon says. "Not only point guards, to everybody. Once you win in the league, even just the plays in the game. Some of the guys don't know them that well yet, so you always just got to let them know."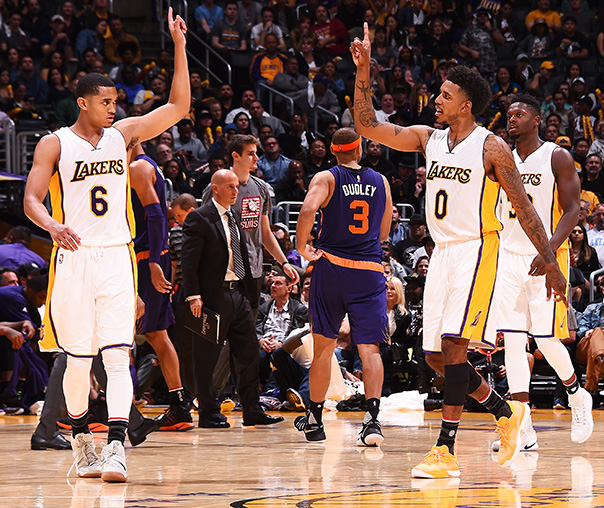 Fresh off signing possibly his last big multi-year contract, Deng understands his current role as a mentor at this juncture of his career.
"I know for me I got a different role now that I'm here," he says. "For the younger guys, I always try to stay positive and communicate with them throughout the game. [We] know what we're trying to build here as a team and where we're going. We're trying to build a winning culture."
Several vets said there hasn't been a need to provide a mentorship role with the young core. The surprisingly comical Timofey Mozgov talks about leading by example in silence.
"I don't try to be a veteran," says Timo. "All the things you show them, you do by not talking. You do your own business, be a professional. You just see what they can get out of it."
Likewise, Metta World Peace talks about how there hasn't been a need to provide a leadership role with the younger guys. He simply wants them to focus on one thing, and one thing only.
"Not really, you just gotta live your life. If you live your life, then everything else will be easy," World Peace says. "Basketball will be easy. Having fun will be a norm. So, I just tell [the younger guys], don't change. Just be yourself and have a good damn time."
Although Mozgov and World Peace don't realize it, some of the younger guys look up to guys like them with more respect—especially Metta, given his remarkable career.
"I had Reggie [Miller], that was great," MWP acknowledged. "He was probably my biggest mentor because he was such a good basketball player. So, I kind of respected him on that level."
Imagine someone like World Peace, who clearly was a bit irrational and immature in his younger days, admitting that even he looked up to Miller as a mentor with respect. With that in mind, it shouldn't be difficult to see how the younger guys on this Laker squad could look up to the Queens native.
Coach Luke Walton addressed the media after a recent win against Atlanta on how the chemistry and synergy has been great, led by some veterans' willingness to sacrifice.
"It's been a lot of fun coaching these guys. They're all willing to take whatever role it is to help the team win," Walton applauds his team. "Tonight, the guys on the bench all played more minutes than the starters. And when I turned around to survey the bench to see if I wanted to make a move, literally two or three of the starters told me, 'leave them in, let them go'. It's a lot of fun to coach that way."
Whether or not the Lakers grab a playoff spot, the team is finally on the upswing after three brutal years, thanks in part to the leadership of their diverse group of veterans.
147