Self –> Mother –> Agent –> Doctor –> Self
That's the route LaMarcus Aldridge's decision took.
After the Portland Trail Blazers' star power forward tore a ligament in his left thumb during the team's January 19 victory over the Sacramento Kings, the Blazers announced that he'd have to undergo surgery to get it fixed, a process that'd sideline him for six-to-eight weeks. That meant the remainder of January, all of February, and probably most of March; maybe, if he recovered well, he'd be full strength for the Playoffs. Or maybe not.
Three nights after that win against the Kings, just hours after the team told the world of their big man's plan to sit out and fix his finger, the Blazers fell to the then 14-26 Boston Celtics, losing in the contest's final seconds. That's when Aldridge began to think on it. Here he was, a 29-year-old in the middle of his basketball prime, his squad residing at third place in an insanely competitive Western Conference, about to have surgery and miss up to two months of on-court action, not including the time it'd take him to readjust to the game. His absence would undoubtedly result in a slide down the standings for the Blazers—ask Kevin Durant and/or Russell Westbrook what can happen when a group's best player is forced to literally suit up and watch from the bench.
Aldridge knew pushing back the surgery until the summer was an option, pending his ability to stay on the court and willingness to play with a brace of some sort.
"I was just like, I want to try this," he says.
The first call went to his mom. "Her reaction was like, I don't know," he laughs. "You know how moms are. She always backs me up, so she was just like, I'm not gonna say one way or the other, but just think it out."
One down. Next up: Aldridge's agent. "He was on board, but he was like, Let's just talk to the doctor one more time."
That's two. Then came the doc. "The doctor was like, Yeah, it's already torn. He said, You have to keep something on your hand, because if you don't, you won't be able to take the pain.
"So it was just up to me, basically."
Aldridge attended the team's next practice, but played it cool, not participating in many drills with his teammates. Afterwards, he ran up and down the court with an assistant coach, participating in a full-court game of one-on-one. The thumb held up. He officially decided to put off the surgery; the team confirmed the news to reporters before the big man was even able to hit the showers.
"I went into the locker room and I think the journalists had tweeted it, and all my teammates were like, This isn't right," he says. "And I was like, It is right. Then they were just happy to have me back. Someone was like, OK, Bionic Man!"
"I was grateful," Blazers head coach Terry Stott says. "It kind of came out of the blue.
"As far as emotionally and from a leadership standpoint, I think it sent a strong message about how important this season was to him and that we can do something this season."
One night later, Aldridge led the Blazers with a typically LaMarcus Aldridge-like performance, scoring 26 points and grabbing 9 rebounds in a 103-96 win over the Wizards. It was certainly a special night because of the preceding 48 hours, but on paper it was nothing Blazers fans haven't gotten used to over the past few years: Their favorite team's reliable starting PF leading the way from start to finish.
It's easy to forget just how long Aldridge has been a Blazer—he backed up Zach Randolph while coming off the bench during his rookie year of '06-07—and just how consistent he's been over that stretch. He averaged 17.8 ppg and 7.6 rpg as a second-year starter, averages he's topped every year since, very slowly building on both figures to eventually reach his current averages of 23.4 and 10.2.
That trend is representative of the way he's progressed as a player, finding what works for him and sticking to just that until he feels he's ready to push it further. He's gradually become one of the best mid-range players in the L, and has very gradually expanded into three-point territory—in this, his ninth NBA season, he's shooting 1.5 three-pointers per, having never averaged more than 0.3 per until this season. (He now hits 0.5 per, a 35.2 percent clip.)
"It's just the evolution of my game," Aldridge says in mid-February during some downtime at the NBA House, where he helped promote American Express PIVOT, a digital video experience that provided fans with the opportunity to learn about players' moves from over 50 angles, throughout All-Star Weekend. "I feel like I could've been shooting threes a long time ago, but I like to do things as a process. I like to go home and work on a certain move or a certain shot for two or three years until I feel comfortable with it. So this year I feel comfortable [shooting threes] and as I take it and get comfortable with it, it'll get even better."
"A lot of people will go back and work on the one thing they already do well," says Blazers assistant Jay Triano. "LaMarcus tries to find something that he can add to his offensive game or defensive ability, and he's found a way to do that in the offseason every year and come back as a different player in a lot of cases."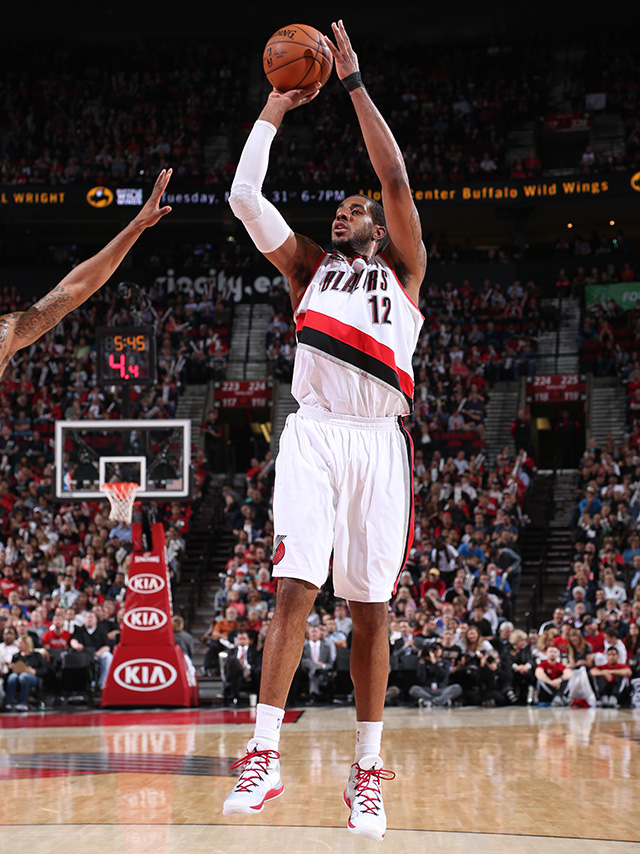 And he's done that almost entirely on his own. Aldridge spends his summers away from the limelight, either back home in Texas (he was raised in Dallas) or in California, training by himself. "I have a guy that I hire to rebound," he says. "I tell him what to do. My whole mindset is I know myself better than anybody else, and I know what I want to get better at and what I need to get better at. My first month of the offseason is all film, and I see the things that I'm doing bad or I'm doing good or that I should do better, so after that I can still work on those things. My whole thing is, I try to pick one or two things and get better at them."
Last year at around this time LaMarcus went on one of the more incredible runs in recent NBA history. He scored 89 combined points Games 1 and 2 of the Blazers' first round series against the Rockets (46 and 43, respectively), averaging 29.8 points and 11.2 throughout the round.
Aside from the threes, the biggest strides Aldridge made this past season were a little less tangible. He claims to have become more vocal, noting that it required him to step away from his innately shy personality to direct teammates around the court. "To lead the team, I've got to get better at being more vocal and getting out of my comfort zone," he says.
Still, Blazers coaches refer to Aldridge as more of a leader by example, which he does by maintaining one of the strongest basketball IQs in the League today. According to Triano, the team usually plays Aldridge for the full first quarter of games, after which LA can be seen sitting on the bench, studying an iPad to see what took place during that first quarter and where improvements can be made. "Most guys go to the bench and they want a drink water and to relax a little bit," Triano says. "He's looking for the next advantage he can get when he gets back in the game. He's wanting to know where his touches are coming from and where he can exploit the guy defending him a little bit."
"He's a pain in the butt," says ever-honest Wizards big man Marcin Gortat. "He's probably the best power forward in the League right now."
Over the coming few weeks, Aldridge will guide a Blazers team that's been struck by injury after injury: Wesley Matthews is out for the season, Arron Afflalo has missed the past week and may not return during the first round, and CJ McCollum twisted his ankle a few days ago, though he's expected back for Game 1. It's been the case for a while, but never more than now: The fate of the Blazers resides in the hands of their Bionic Man.
Adam Figman is a Senior Editor at SLAM. Follow him on Twitter @afigman.
Images via Getty