I.
When Luka Doncic pulls up to a photo studio in central Madrid on a crisp April afternoon, a scuffed and scratched basketball travels with him. The Spalding goes most places with Doncic. It lives in the trunk of his car, always at the ready. That's not strange, though—most teenage hoopheads keep a weathered rock in the trunk. What's different is that Doncic's ride happens to be a metallic blue Porsche with paint so shiny the car's surface ripples in the sunlight.
This is the dichotomy of life for Doncic, who's only a teenager but already been a pro for years. He seems in many ways like any 19-year-old. He's a sneakerhead who spends a lot of time playing Overwatch. He calls L.A. "amazing," especially "the beach and the cars." He posts frequently to Instagram—and when he does, die-hard NBA fans implore Doncic to join their favorite team.
"Come to the Suns," they comment under his pics.
"Future Knick."
"Come to the Lakers."
Doncic isn't just a kid from a country most Americans would struggle to find on a map. He's also a 6-8, 220-pound teenager who annihilates grown men in the EuroLeague—the world's second-best basketball circuit—for Real Madrid, one of the world's best non-NBA teams. From Arvydas Sabonis to Kristaps Porzingis, Doncic is doing things no one his age has ever done in Europe. Now he's projected by experts as a top pick in June's NBA Draft. If he goes first overall, he'll be the first European perimeter player ever to earn that distinction.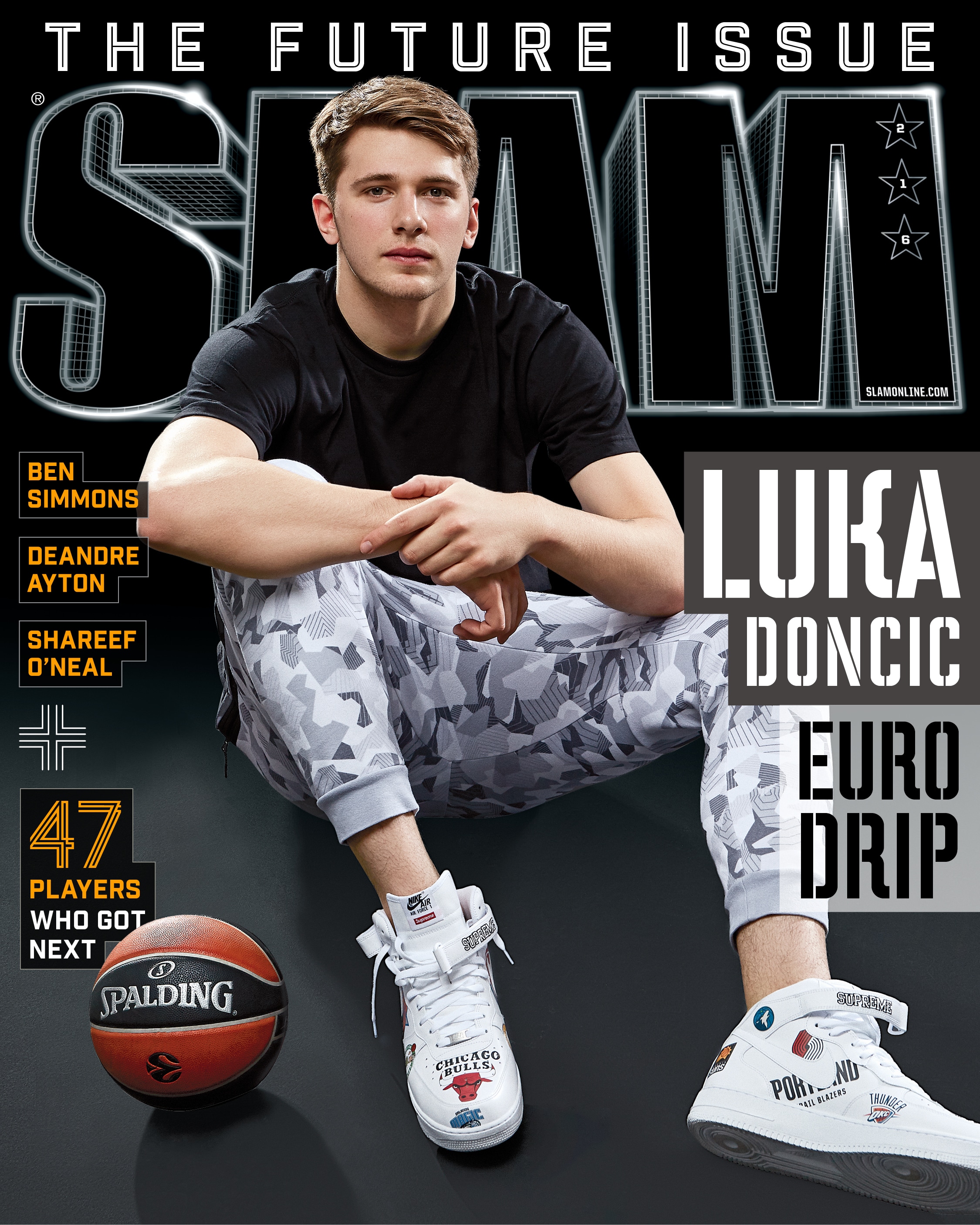 Stories and details are just beginning to trickle out as the draft approaches. His profile was boosted after helping lead underdog Slovenia to a FIBA EuroBasket title in international competition last September. But for all his success, Doncic is still primarily discussed by basketball obsessives and draft aficionados.
That's about to change. Soon, he won't only be a subject for the recesses of Basketball Twitter. Soon, he'll be opinionated on by your uncle who watches First Take. Soon, Doncic will be in the thick of it. This is what happens when you've been tabbed as one of basketball's next Big Things.
"Not even a little bit, I didn't imagine that," Doncic says, two months before the draft, about the wave of attention that's just beginning to swell.
The future is wide open for Luka Doncic, basketball's international man of mystery. But to fully appreciate where the young star is going and the heights he could reach, you have to understand the unprecedented path Doncic has traveled so far. You have to understand how he arrived at this moment on the verge.
II.
The story starts in a tiny country wedged between Italy, Austria and Croatia. A nation smaller geographically than New Jersey, with a smaller population than the borough of Queens. A place known mostly for picturesque landscapes and charming architecture.
It was here, in the Republic of Slovenia, that Luka was born to Mirjam Poterbin, a former hurdler and dancer, and Sasa Doncic, a longtime European pro baller. Practically from birth, Mirjam says, Luka's obsession was "ball, ball, ball." When he was just 1, she put up a miniature hoop in his room.
"It was always just…" Mirjam flicks her wrist and makes a whoosh-ing sound.
Before he became a teenager, a young Doncic's talent had made him a legend in Slovenia's basketball circles. What stood out then is what stands out now—a savant-like feel for the sport, preternatural skill level and a combination of vision, imagination and unselfishness that allows him to dictate the entire flow of a game as opposed to simply dominating as a scorer. He's a natural point guard who can just as easily play the 2 or 3.
"He was a great kid, always smiling," says Lojze Sisko, director of the youth program at Doncic's childhood club in Slovenia. "Every day after practice ended, he went to the court outside and practiced more."
Doncic was just 13 when he earned the offer that would change his life. Real Madrid—arguably the world's most iconic sports club—wanted to sign him, move him to Spain and develop him for its senior team. The choice was not a simple one: Real Madrid was a chance for growth far surpassing anything at home, but the Spanish capital is 1,200 miles from Slovenia and everything Doncic had ever known.

"I was just a kid," Doncic says today.
After weeks of internal debate, the 13-year-old Doncic decided to go to Madrid. The first few months were difficult. "Not just once," Doncic says, he considered returning home. He arrived without even knowing the local language.
"All my friends, school, family—everything was in Slovenia," he says. "But after I learned Spanish it was easier to communicate, to make new friends."
Doncic lived with other young soccer and basketball prospects in Real Madrid residences. Eventually he settled in, and on the court he blossomed under the mentorship of veterans. By 16, Doncic was playing for Real Madrid's senior team alongside former NBA players like Rudy Fernandez and Andres Nocioni. He was literally a boy among men, but oozed potential.
"When we recruited him when he was 15 years old," says Quique Villalobos, a former Real Madrid player and Doncic's agent with BDA Sports, "we already knew we had something in our hands, which was going to be very different from other players we'd had before in Spain. We weren't 100 percent sure, but we had the feeling we had some kind of gold in our hands."
Doncic ascended without the mixtapes and viral crossovers that accompany American prodigies. But with the benefits of hindsight and YouTube, anyone with an Internet connection can go back today and trace his rise. There he is in 2012, dominating a youth tournament in Italy. There he is a year later, age 13, throwing no-look passes and dropping 70-foot dimes for a Real Madrid junior team. There he is splashing three straight triples as a baby-faced 16-year-old going against grown men in a 2016 EuroLeague road game.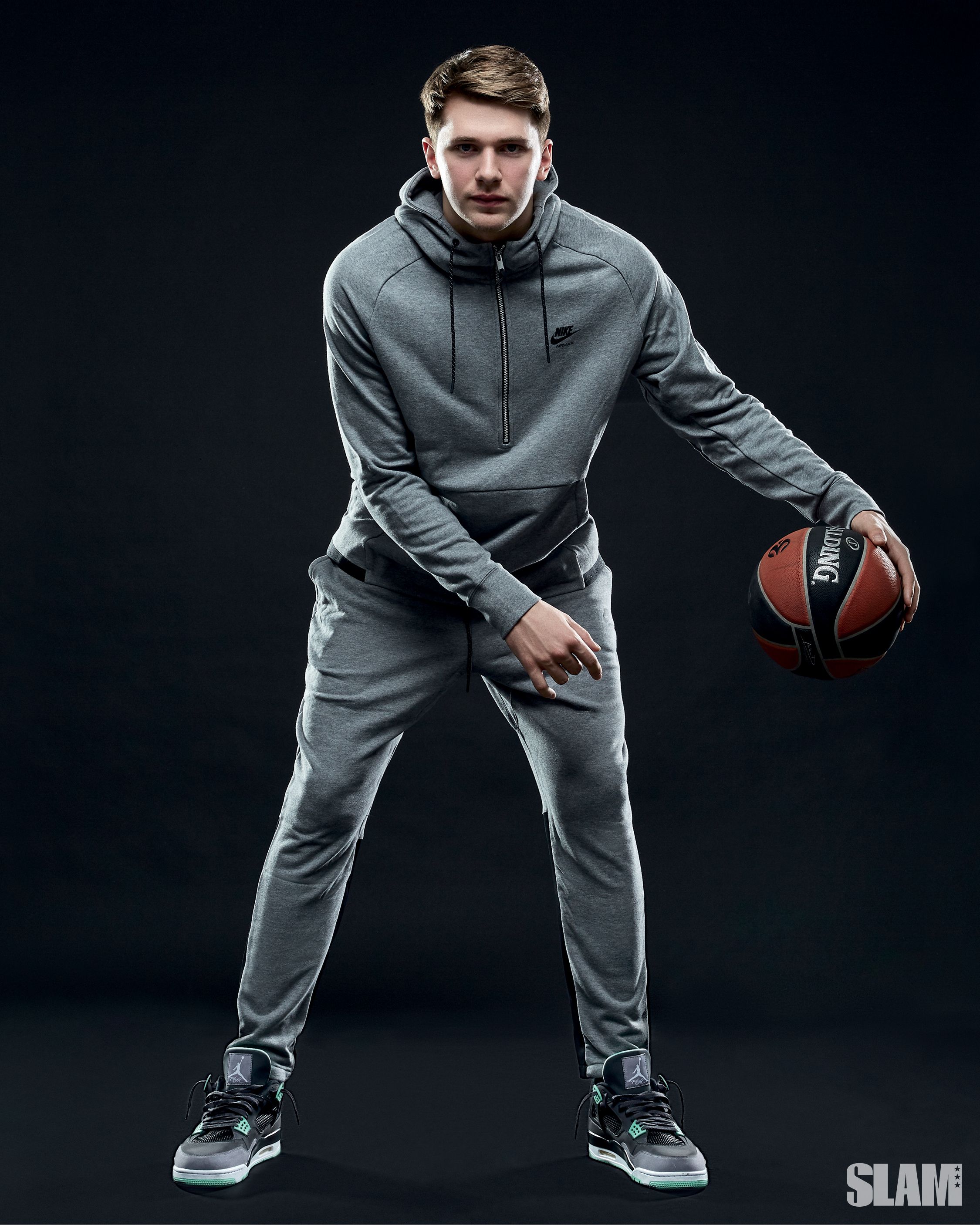 Doncic made his biggest leap as a pro this season, during which he was 18 and 19 years old. He more than doubled his scoring average, from 7.8 to 16.9 points per game, good for third in the EuroLeague. Playing 25 minutes per game, he also averaged 4.8 rebounds and 4.6 assists, which ranked 11th in the League. He was second in both fouls drawn and free throws attempted. And Doncic led the entire league in player efficiency—joining the likes of Sabonis and Andrei Kirilenko while becoming the first teenager ever to accomplish the feat.
Doncic says he began to truly believe he could "be something" when he started getting regular minutes with Real Madrid's senior team two seasons ago. This season, he transformed alluring potential into elite production at Europe's highest level. Now the next logical step—the only logical step—is the NBA.
III.
One hour before a late-April EuroLeague playoff game against the Greek club Panathinaikos, Doncic gets loose at half-speed. As Future blares and Madrid's WiZink Center slowly begins to fill, Doncic swishes four straight three-pointers from the deep right wing. Next, he dribbles left into the lane and unspools an exaggerated one-legged floater that goes about 20 feet high before dropping through the net. Real Madrid just split the first two games of the playoff series at Panathinaikos' raucous home court in Athens. Tonight's is a pivotal game, but Doncic's relaxed shooting session belies no stress.
The game's first basket comes off a Doncic assist. Madrid then takes a 4-0 lead when Doncic uses his thick frame to back down former University of Florida star Nick Calathes before nailing a tough fadeaway. With less than 10 seconds remaining in the half, Donic blows by former Michigan State star Adreian Payne near half-court. Then he charges down the lane and spikes a one-handed poster dunk. Next to the Panathinaikos bench, Madrid's section of purple-shirted hardcore fans—including a guy banging a large drum and two guys with megaphones—erupts. Doncic beats his chest as the dust settles.
After halftime, Doncic scores Madrid's first bucket of the third quarter with a fast-break lay-in. A few minutes later he finds the angle on a pick-and-roll to make a beautiful bounce pass for an easy basket. Panathinaikos calls timeout. Doncic looks at the crowd and pumps his arms on his way to the bench. He finishes with a modest stat-line—7 points, 3 assists, a game-high 10 rebounds—but Madrid comes away with an 81-74 win and the series lead.
Doncic is reserved and amiable off the court, but during games he emanates an exuberant confidence. He'll yell after big shots, hang on the rim to punctuate two-handed dunks, stare at defenders for an extra moment after scoring. There's a flair, an edge, a hint of cockiness to his game, but Doncic shrugs off the shift in personality.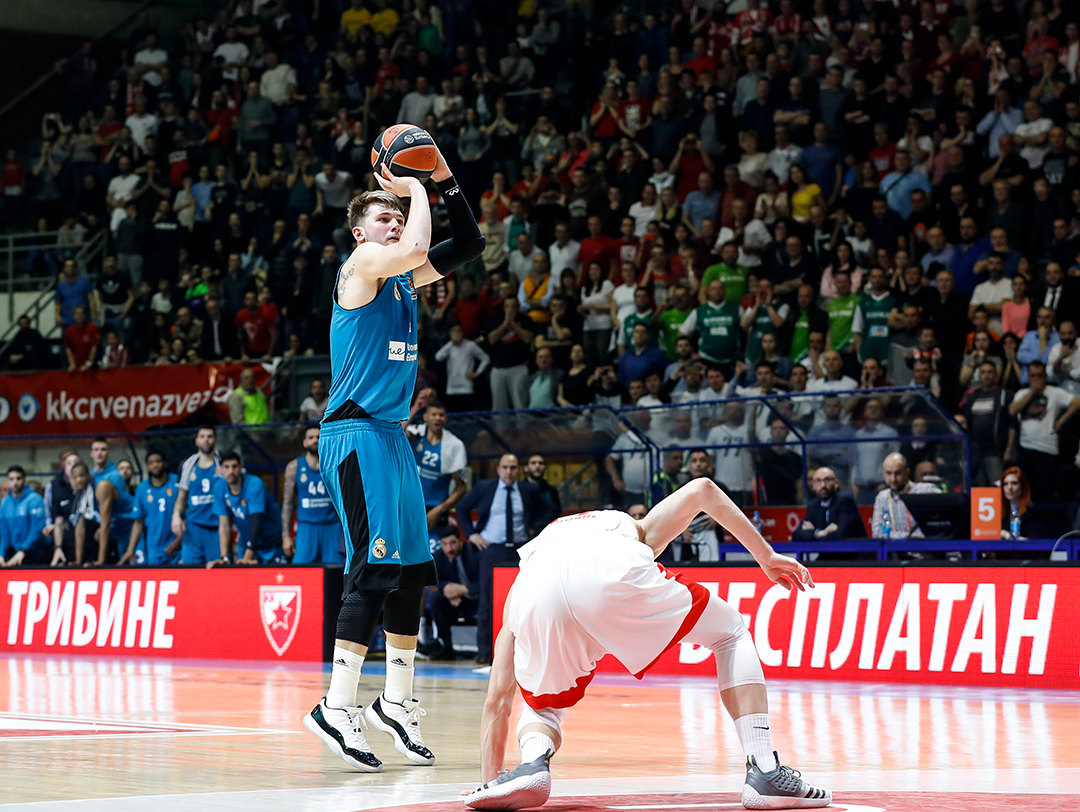 "When you go to the court, you just change," he says. "You're a different person."
Anthony Randolph, a 2008 NBA lottery pick and teammate of Doncic with both Real Madrid and the Slovenian national team, says this self-belief is one of the young star's biggest attributes.
"Even if he's had a bad game so far, if it comes down to the last second, he's going to take that shot," Randolph says. "He has enough confidence not to get down on himself and just to keep playing."
That mindset, combined with Doncic's versatility, vision and skill, make him a special prospect. Not that he's without weakness. If anything holds Doncic back from becoming a full-fledged star, it will likely be his lack of top-shelf explosiveness. But six years after he left Slovenia for Real Madrid, the hype around Doncic is growing for good reason.
"Talent-wise, he's one of the best I've seen," says Randolph, who spent six seasons in the NBA before going to Europe. "As long as he continues to get better and stay humble and keep working, I feel like the sky's the limit."
IV.
It must be surreal existing on the brink between two realities. Today, Doncic might be well-known to European basketball fans, but in a year he could be one of the NBA's hottest names. If he struggles in a EuroLeague game, it might get micro-analyzed by a couple draft nerds, but if he hits an NBA slump, trolls and hot-takers will rip him to shreds online and on national TV. For all the promise, we have no idea what'll actually happen.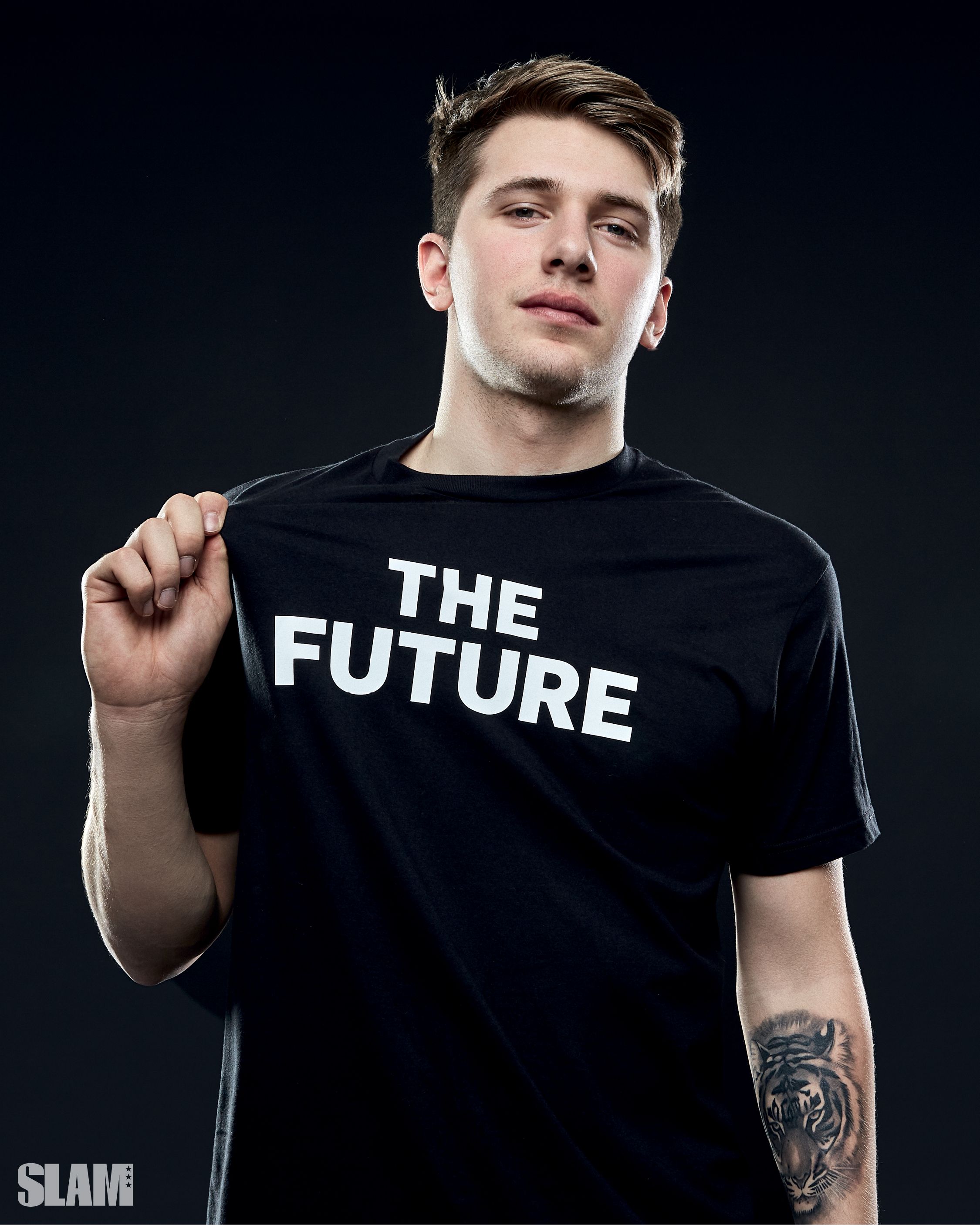 From the outside, though, Doncic seems unbothered.
"That's what's really good with Luka," Mirjam says of her son. "He's here. He doesn't think about the next game. He's thinking about the game today. Also in his life he's like this. He's not thinking about what might happen or how it's going to be."
A few minutes after the April photo shoot in Madrid, after dribbling the scuffed basketball that lives in the trunk of his Porsche while cameras flash away, Doncic sits on a bench in a brightly lit studio. He says his full focus is on leading Real Madrid to a EuroLeague title, but allows that he's excited for what will follow. He's "here," as Mirjam says—but also knows he's at a special juncture.
"You're happy and you're sad a little bit, you know?" Doncic says. "Because I will live a new life."
As Doncic reflects in the Spanish metropolis he moved to at 13, he wears brand new Supreme x Nike Air Force 1s on his feet. The crisp white kicks are emblazoned with the logos of various NBA teams. Phoenix Suns. Dallas Mavericks. Atlanta Hawks. On and on. Soon, he'll be in one of these places playing for one of these teams.
Soon, the whole world will know Luka Doncic. Soon, the rest of his life will really begin.
—
Sam Laird is a freelance writer based in Spain. Follow him on Twitter @samcmlaird.
Portraits by Pablo Albacete, action photo via Getty Images
Video by Juan Barrera