Metta World Peace On Learning From The Young Lakers, His Favorite Shot, D'Angelo Russell
Metta World Peace wasn't supposed to be around this long. Three years ago, he looked just about done as a 34-year-old Knick, and he disappeared to China the following season. It was fair to assume we wouldn't see him in the NBA again.
And yet, here we are in 2017, with MWP still in our lives. He's found the perfect home, back in L.A., where the promising Lakers are coached by first-year man Luke Walton. But don't call World Peace some sort of mentor or player-coach—that's not what this is all about. The dude's just here to learn.
SLAM: Tell me about The Panda's Friend.
Metta World Peace: It's mostly a clothing line right now. We try to promote calmness and mindfulness, promoting it to a different demographic, one that usually just gets what's trendy or what's hot. We're about more than just publicity, being known, being wanted—that's not reality. The Panda's Friend is not about being the best, or number one—it's just about life.
SLAM: The Lakers started fast and have been competitive all season. Are you surprised?
MWP: No. We had a good training camp. Without those injuries we'd be in like fourth place. And we lost a lot of close games, you know. I'm not worried about the record. We got a hell of a team.
SLAM: What can you show the young guys?
MWP: For me, it's just about having fun and working hard, that's it. I'm not trying to show that I know it all—I don't know it all. I learned from people. I learned from Larry Bird and Chuck Person. For the most part, these kids might know more than me. They're very good basketball players, that's why they're here—they gotta know something. I don't have to show them much. They've shown me things too. They've shown me ways to improve, to get better as a player, better as a person. It works hand in hand. You can't act like you know everything.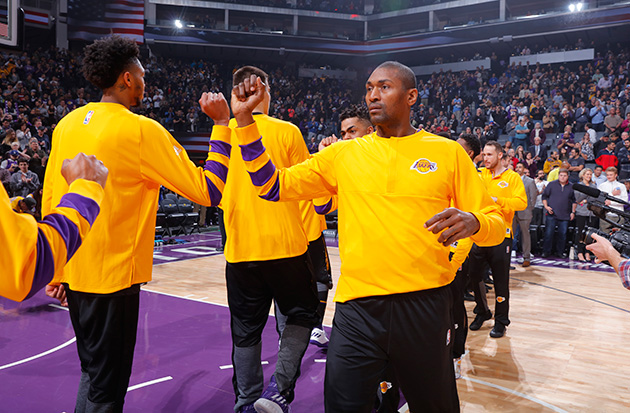 SLAM: What do you think of D'Angelo Russell?
MWP: Definitely playoff ready. He's 20, he's still filling out. But he is an NBA scorer, now he's getting stronger, he's gonna be a real problem for years to come.
SLAM: Julius Randle?
MWP: Probably the most talented player on the team. Athletic ability, strength—his body is just NBA ready. He's just super strong and super bad. Pretty cool. He's still got a lot to learn. That's the beauty of it though. Next year he'll be even better.
SLAM: You must love being around such a young team.
MWP: It's fun. I love it. It's kinda crazy. Just being in practice every day, playing full court—it's fun to see it all over again.
SLAM: Why does everybody love Luke Walton?
MWP: He's great. He's just great. He's definitely a players' coach. When you're playing, there's 15 people you gotta manage. You can't control 15 people no matter how much you want to. All you can do is hopefully get their respect and have them buying in. He does that—he understands how to do that. At the end of the day people go home to their own lives and issues. If you can keep that in order, let people have fun, and at the same time work hard—well, he's able to do that. On top of that, he's just a really good coach, and he loves coaching. It's in his blood. It just makes sense.
SLAM: What was your favorite shot as a Laker—Game 5 vs Phoenix, or Game 7 vs Boston?
MWP: Number one is that three, man. It was cool 'cause it wasn't like a spot up—it was like a jab step, then I pulled it back. It was pretty cool. It was a huge three, huge shot.
SLAM: Did you know it was going in when you let it fly?
MWP: I just pretty much shot it with the best preparation. I prepared for it to go in. At that point in time you can't think about doing it the right way. If you think about it going in, you might miss an important mental step, like not bending your knees, or not following through. You can want it to go in all you want, but if you forget a fundamental step, that shit's not going in.
RELATED:
Metta World Peace Says He Was Inappropriately Touched By Ghosts
Metta World Peace Hopes to Play 20 Seasons