By the lofty statistical standards of his 1989-90 season, Michael Jordan's 49-point outing against the Orlando Magic that February ranks as impressive, but hardly incredible. It came in an overtime game, for starters, and also in a loss—a 135-129 setback in Orlando to a Magic team struggling through its first NBA season. As for that point total, it was one of 22 times that season where Jordan scored 40 or more; six weeks later, he'd post a career-high 69 against the Cavs. He would finish the season averaging a League-best 33.6 points per game.
That said, the Orlando game stands as unique in Jordan's remarkable career, even if it's largely overlooked. It was Valentine's Day, 1990, and the Bulls were wrapping up an ugly six-game road trip that already included double-digit losses in Houston, L.A. and Denver. The game in Orlando was the second of a back-to-back. The team was tired and frustrated. They just wanted to beat this expansion team and go home.
And then somebody stole Michael Jordan's jersey.
That's the story, anyway. Details are murky, and it's not clear anyone—other than the perpetrator—knows exactly what happened, but at some point, perhaps during the Bulls' game-day shootaround, Jordan's game jersey went missing. The team's equipment staff scrambled to find it, with no luck; eventually, arena security was called in, and employees who might have had access to the Bulls' gear were questioned. Nothing turned up. All the while, the clock ticked down toward tip-off.
As the story goes, the Chicago equipment guy found a Jordan devotee in the crowd and tried to appropriate the fan's jersey, but it didn't fit. That left only one option: A single backup jersey packed in the Bulls' traveling gear. It matched the team's road gear, the classic red with black-and-white piping on the neck and shoulders that might just be the most popular and iconic top in NBA history. Only this one was missing the 23 and the J-O-R-D-A-N across the shoulders. There was no name on this jersey. And the number was a decidedly un-iconic 12.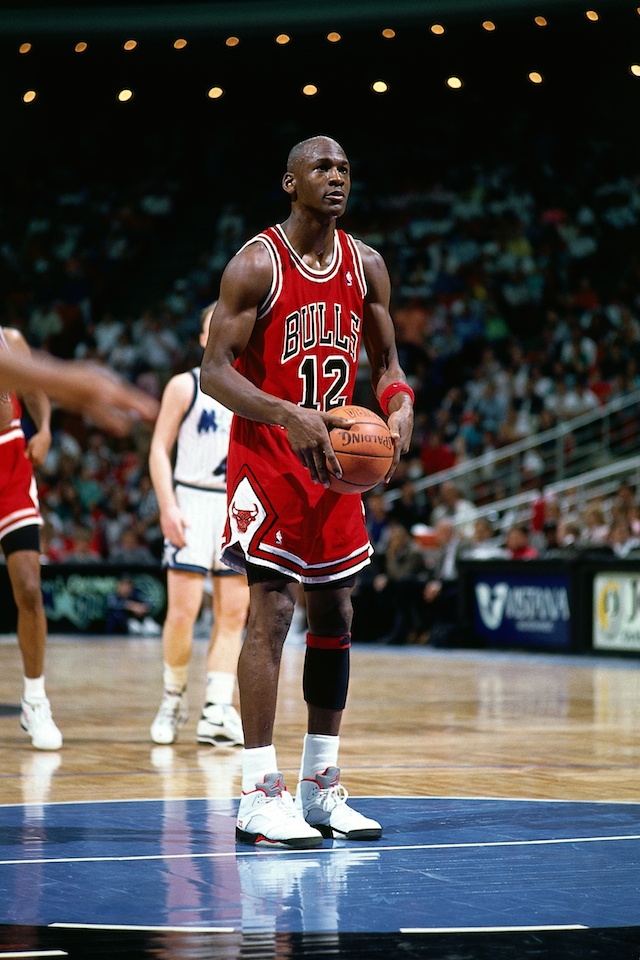 Mike didn't have much of choice.
So yes, Michael Jordan wore No. 12. Just that once, without his name on the back, and without any of the memorable fanfare of that 45 he donned famously at Madison Square Garden. But even without his name, Jordan was hardly anonymous that night. He scored 49 on 43 shots in 47 minutes, pulled down 7 rebounds, dropped a pair of assists. Perhaps ironically, Jordan himself didn't have a steal that night, a category he led the League in that season; he didn't register a turnover, either.
He wasn't happy afterward, lamenting a blown opportunity and a 1-5 road trip, and he was clearly annoyed—to put it mildly—at the fiasco with his jersey. This was, after all, a guy who wore his college practice shorts under his game shorts throughout his NBA career; whether it was superstition or commitment to routine, Jordan clearly didn't appreciate having his gear tampered with, let alone snatched. Needless to say, his equipment guys made sure nothing like that ever happened again.
Of course, as a player who used any slight—real or perceived—as motivation, it figured Jordan would turn this episode into a win one way or another. After that forgettable trip to O-Town, the Bulls ripped off a nine-game win streak. When they faced the Magic again a few months later, Jordan "only" scored 38—wearing his customary 23, of course—in a Chicago win. And the nameless No. 12 jersey? It was never seen on his back again.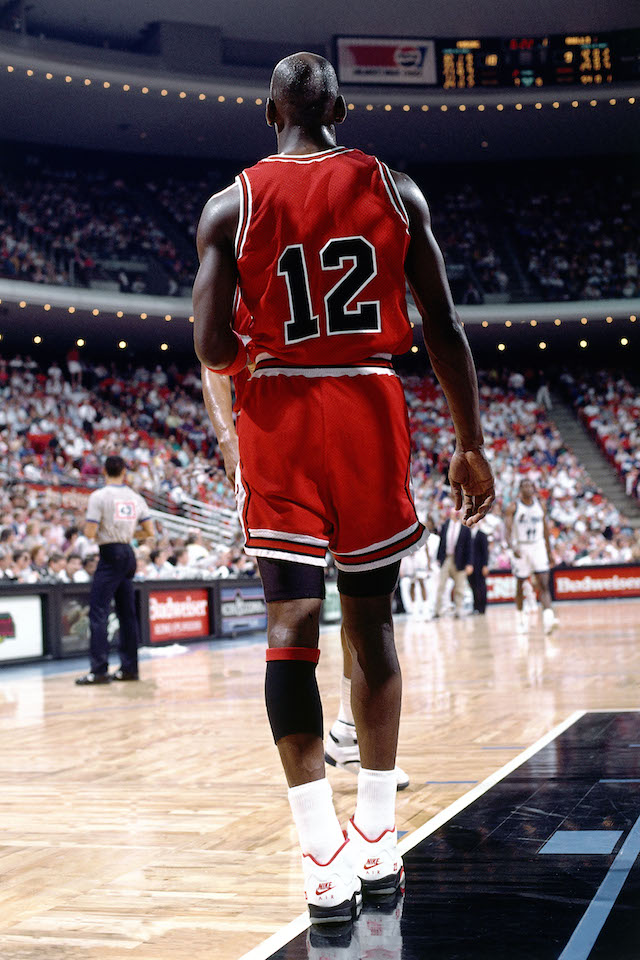 Photos: Mitchell & Ness, Getty Images