When ESPN broadcasted The Last Dance earlier this year, the 10-part docu-series on Michael Jordan, it became the source of a whole lot of things. One, obviously, was something to look forward to for five consecutive weekends right as the pandemic had seemingly put the entire planet on lockdown this spring. And, yes, the content lived up to the hype in all kinds of ways.
The impact of the series, though, transcended Basketball Twitter and become a cultural moment. One way to measure that in 2020? The number of memes that derived from it. Draft night was exactly six months since the airing of the last episode. And memes that use screenshots of different facial expressions and soundbite captions from MJ are still circulating the web on the daily. They seem to perfectly fit with just about any everyday-life scenario that people love poking fun at on the internet.
One meme in particular that has been ubiquitous is the "and I took that personally" meme. Throughout the doc, MJ touched on how he constantly found new motivation to be great—which mainly came from taking personal offense to even the smallest bit of doubt or slight casted by anyone around him. And while the different ways that the meme is used online is certainly hilarious, there is a whole lot of truth to it for the select few athletes who actually live by the words.
Which brings us to Anthony Edwards.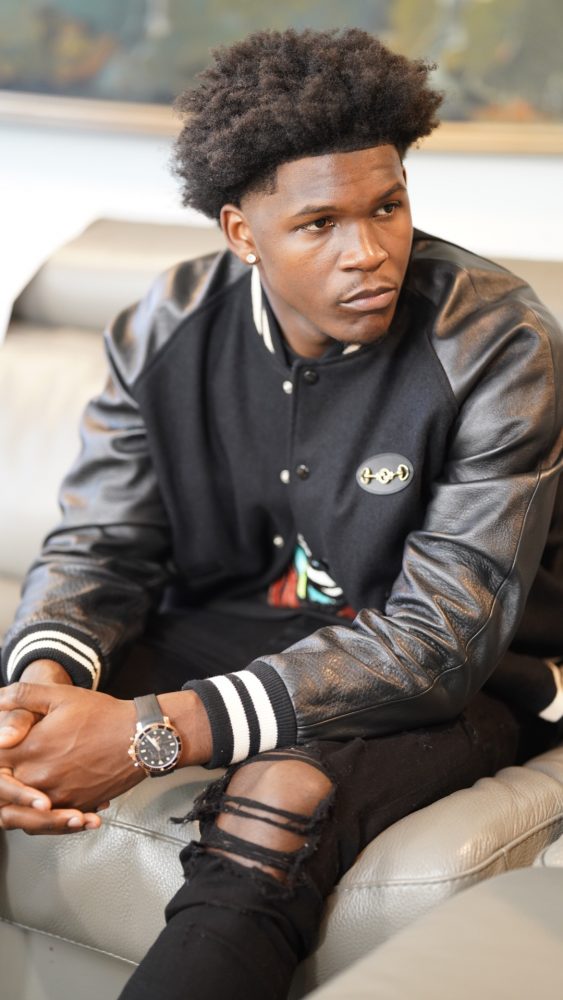 The ongoing pandemic has led to people picking up all kinds of new hobbies, thanks to so many social activities being put on hold since the spring. Some people learned new skills. Others found new ways to remain occupied. Everyone tried new things. And that experience did not exclude Ant-Man.
To kill time, his inner-circle decided to take up ping-pong. Edwards joined in. His brother, his trainer and a friend, along with the ATL native, would play up to eleven. The winner stayed on while losers rotated.
"My people brought me down to the ping-pong table where I stay at," he recalls. "And they were beating up on me, so that was like for the first week. I took it upon myself to get better. Now they might get over a point, depending on how I'm feeling. I practiced."
Yes, he pretty much MJ'd his own boys. And all because of ping-pong. You know you're dealing with someone who is next level competitive when it's over something that it usually wouldn't be. But that's what separates the good from the greats. Those who have a shot at getting there from those who force their way in there. Those who end up willing their way to the top pick in the NBA draft.
No, we're obviously not comparing Jordan and Edwards in any way, shape or form. But we are telling you that they're cut from the same cloth when it comes to competing.
While today he's known as the No. 1 pick in the 2020 NBA Draft, for a while it looked like it was going to be on the gridiron where the 6-5 guard would be making the most noise. A quick Google search leads you to a video of Edwards on the football field as a member of the Atlanta Vikings 10-and-under team. He played cornerback, quarterback, and running back.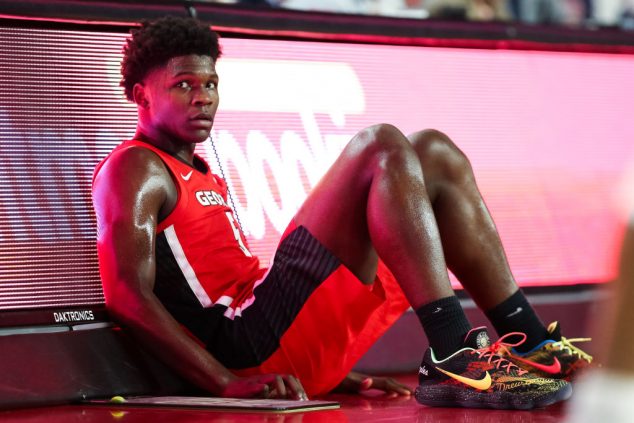 "I was really good at football. [For] 8-and-under and 10-and-under, I was like the number one player in the country," he told SLAM just days before getting drafted by the Minnesota Timberwolves. "I was the number one running back. I was kind of good in football—not gonna lie."
He adds that he'd probably be a wide receiver if he would've pursed an NFL career.
Ultimately, though, he opted for basketball.
"To be honest, I didn't really know that that was the right decision [at the time]," says Edwards. "Somebody told me to start playing multiple sports because [they said], Don't put all your eggs in one basket. So, I just started playing basketball and baseball, and then eventually I just gravitated toward basketball. I just felt like it was the right sport because it was probably the most fun I had playing a sport as a little kid. So, I just started liking it more than the others. I was like 16—not that long ago."
Edwards' rise to top prospect in his class was extraordinary quick, considering that he didn't start focusing solely on basketball until he got to high school. But as he's proven to be the case with anything he sets his full attention to—like, ping-pong during quarantine—once he's locked in on something, he's trying to be second to no one in it.
"I don't really care about outside expectations for me," he says. "I just have expectations for myself. So I never worried about what people would say about me. I worried about what I would think about myself. Whatever I wanted to do at that point in time, I'd just set my goal and I'd go get it."
The journey hasn't been all rosy, of course. There were some soul-deep painful times along the way. Ones that could have easily and understandably derailed him from the path he nonetheless was able to stay on. Edwards lost his mother and grandmother to cancer in 2015 within an eight-month span. He went on to wear the No. 5 jersey in high school and college in their honor—they both passed on the fifth day of the month. For his draft night outfit on Wednesday, Edwards wore a black t-shirt designed by Don C that said "PEACE" in red lettering with two hands holding up a basketball-like globe with a dove in front of it. Each hand had a wrist bracelet with the words "YVETTE" and "SHIRLEY"—the names of his mother and grandmother, respectively. It was his way of ensuring that he was able to share this special chapter of his life with them.
Despite the rough times, if there is one universal comment you'll hear about Edwards off the court, it's regarding the ear to ear smile he's constantly sporting. That jovial personality becomes evident right away in just about any interaction with him.
"I feel like that's just me. I've always been like that. It doesn't really come from nowhere," says the new Wolves guard. "I'm just always happy. Nothing can make me sad. I'm always happy. That's just always been me—a joyful person."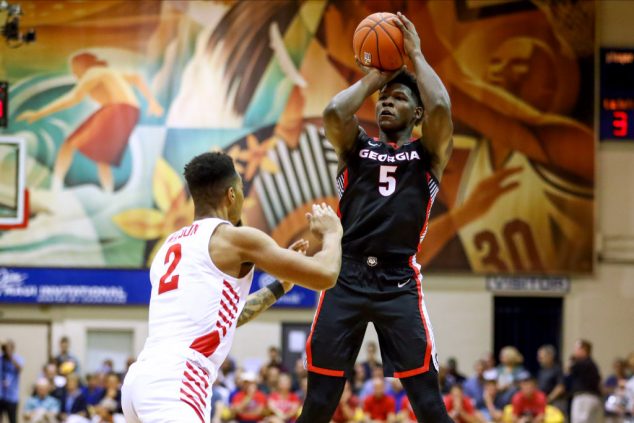 On the court, though, you'll get a totally different side. The same one that took it upon himself to practice ping-pong earlier this year because he was not about to let anyone be better than him at something that involves a winner and a loser—didn't matter if the ones on the opposite end were friends or family. In his one season at Georgia, he broke all kinds of records. He scored the program's most points in a freshman debut since Hall of Famer Dominique Wilkins did over 40 years ago. When he dropped 37 points against Michigan State, he became the first freshman for the Bulldogs to reach that mark since 1975. When all was said and done, he led all freshmen in scoring nationally with 19.1 points per game.
As he went through the pre-draft process, which is usually a 3-month ordeal but became an eight-month saga in 2020, Edwards says that staying locked in was actually easy for him, despite all of the uncertainty that surround him and everyone else.
"It wasn't challenging at all for me. I stuck to the script—just get better every day and don't think about when the draft is gonna be. Luckily, I had a gym—I had it private, where I could work out by myself every day. So, I was free of Covid and I was just getting better."
He eventually met with different teams. MJ even attended the workout he had with the Charlotte Hornets. In the end, his message to every franchise he spoke with was the same—short and simple.
"My message to them was probably just, Draft me. That's just the easiest way I could say it," recalls Edwards. "And I promise you I'm going to give y'all all I got. That was probably my only message."
—
Franklyn Calle is a Senior Content Producer at SLAM. Follow him on Twitter @frankiec7.
Photos via Getty Images.
673