This story is running in SLAM's "Future Issue," so the timing couldn't be better to talk about who's got next for the Toronto Raptors: power forward Chris Boucher. The lanky St. Lucian-born big has a great feel for the game, a non-stop motor and an impressive touch from deep. If he becomes Toronto's best player in three seasons, we won't be shocked. 
In a January 8 contest against Sacramento, Boucher was his typically efficient self—23 points, 10 boards and 2-4 from long distance. His most memorable highlight of the night, though, was an emphatic block against Marvin Bagley III. It was probably the best moment of the game, and so it became a Moment, literally; a platform called NBA Top Shot, owned by a company called Dapper Labs, immortalized the block by minting it into a digital collectible.
We purchased the highlight, or "moment" as they're called by Top Shot, for $9 on February 15. By the time we went to press for this issue a few weeks later, three of the same moments, albeit rarer ones, sold for over $1,000 each. Yes, a Chris Boucher rejection clip has had that kind of return.
OK, we might have lost a few readers there. Our bad. Let's back up a bit. As you've probably heard, the sports card industry is bananas right now. Individual sales are shattering records. Good luck finding a proper pack—Target shelves are empty. eBay is experiencing unprecedented transactions. NBA Top Shot is simply leaning into the frenzied collectibles space, but doing so with a revolutionary approach.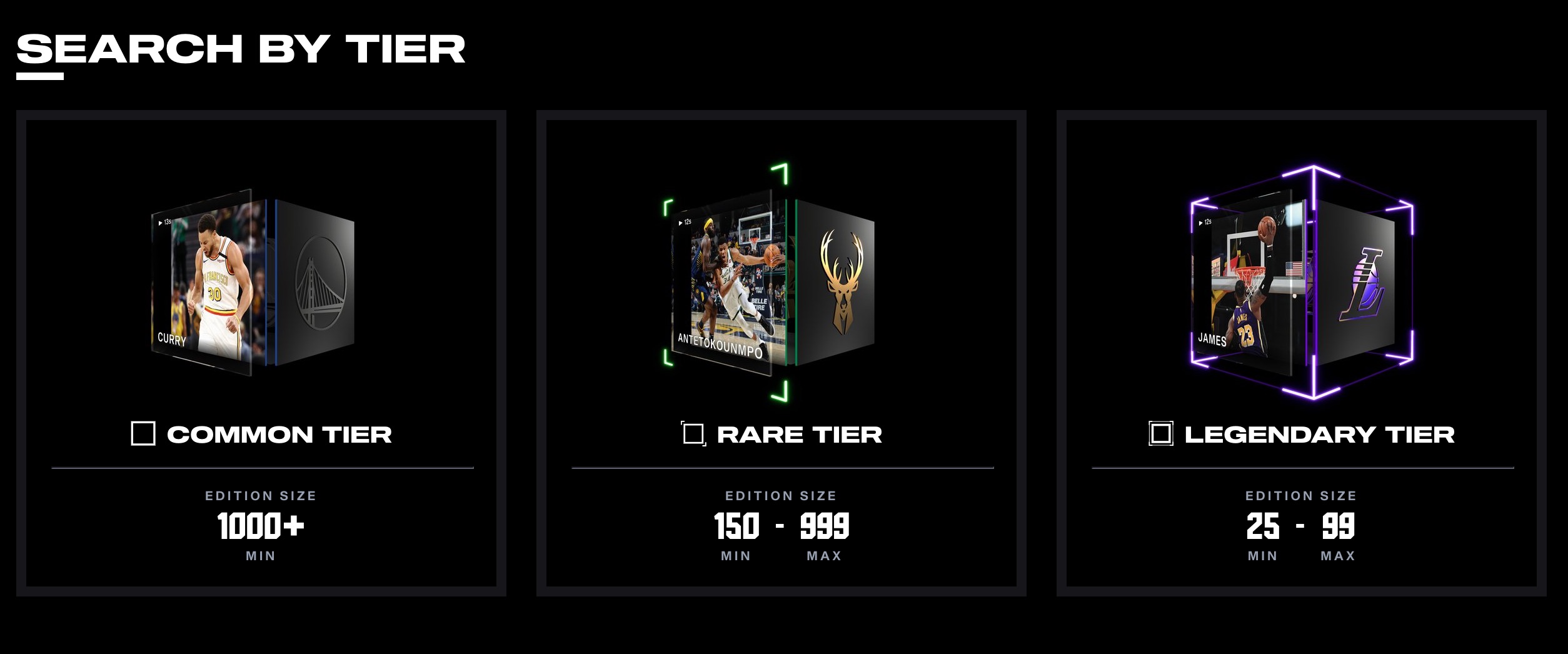 Top Shot is a blockchain-based platform that allows fans to collect, trade, and sell officially licensed game clips. Moments are placed in virtual packs sold exclusively on NBATopShot.com. Packs, priced so far between $9 and $1000 (depending on the potential exclusivity of the pack's contents), sell out very quickly and are only released at certain times, announced a few hours or at most a day before the pack's drop. Tens of thousands of people have been "lining up" (digitally) to get their hands on them, and most are usually unable to.
But they aren't just selling out. Early adopters are also cashing out. Like with traditional cards, NBA Top Shot releases Commons, Rare clips and elusive Legendary moments. The latter comes with a production cap of at most 99, sometimes less. People who've lucked into one have doubled, tripled or 10-timesed their profits on the site's marketplace. A clip of a LeBron James dunk recently sold for a whopping $208,000.
What's crazy is that even with the buzz, things are only just starting here.
"As far as adoption cycle, we're super early," says Roham Gharegozlou, the CEO of Dapper Labs, NBA Top Shot's parent company. "I think we are still at the 'insider' stage going to the 'early adopters' stage."
We sense your hesitation, though. Real money? Virtual highlights? Can't I just go to YouTube for free if I want to see a Ja Morant dunk? Of course you can. You could also have your cousin in art school design a Kobe Bryant rookie card for you in Photoshop instead of paying $42,000 for a gem mint 1996 Topps Chrome on eBay.
"That is a question that comes up from people who don't necessarily understand collector economies," says Gharegozlou, who's already tasted success in the virtual world with the CryptoKitties virtual game. "What you're buying in an NBA Top Shot isn't the video rights, it's not the intellectual property rights. It's the asset itself. It's kind of analogous to a trading card. The difference with a digital item is you don't have to prove that it's [real]. The blockchain is what ensures the authenticity."
Blockchains have made plenty of headlines the past few years. In simple terms, they're databases where blocks of information are chained together. Bitcoin transactions are done on them. In NBA Top Shot's case, its moments (which are, in technical terms, minted as non-fungible tokens or NFTs) serve as digital certificates on the blockchain that collectors show for ownership of a video asset.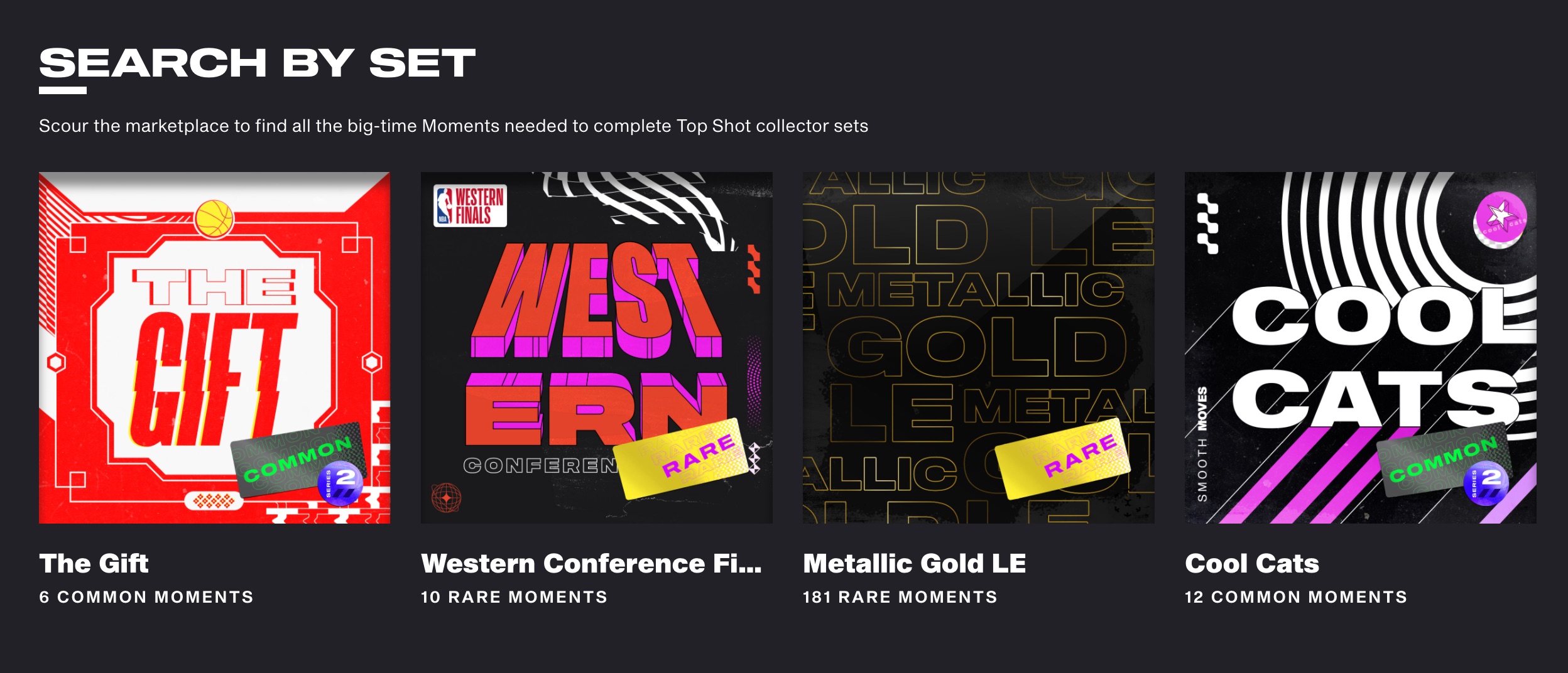 Many see this concept as the future of the industry. Investors like Dallas Mavericks owner Mark Cuban and influential entrepreneur Gary Vaynerchuk loudly agree. Other companies such as StarStock and Otis, essentially stock markets for cards and collectibles, differ from TopShot, but are relevant examples of how the collecting world is changing to a more digital, you-don't-even-touch-what-you're-paying-for space.
The NBA, one of the more forward-thinking professional sports leagues, saw it, too, which is why it and the National Basketball Players Association decided to partner with Dapper Labs for Top Shot. "They already identified this technology as something that could make an impact on their business," says Caty Tedman, Dapper Lab's head of partnerships, of the joint venture that started in July 2019. "What we brought was an idea of how to bring it to consumers." Tedman says more than 150,000 have registered on the site when we spoke with her, and The Action Network reported that NBA Top Shot has already eclipsed $180 million in marketplace sales, with more than 60 percent of that coming just in February 2021. (By the time you read this, all of these numbers will be much higher.)
Those around the League also noticed the potential. Though players get a cut of the sales via Dapper's partnership with the NBA and the PA, some have decided to purchase their own moments. And when Dapper Labs announced a $12 million round of funding in August 2020, its list of investors included the Nets' Spencer Dinwiddie, the Magic's Aaron Gordon and the Cavs' JaVale McGee.
"The company is very innovative," says McGee. "I understand how [sports] cards work so the fact that they were technically digital cards, sitting on the blockchain, it was definitely one of the most impressive things that I've seen. I'm really into Bitcoin and all the cryptocurrency. I was taking a chance with this company, but it worked out perfectly."
Of course, with any investment comes inherent risks. Top Shot prices fluctuate with demand, the moment's scarcity and other factors. And sure, with any new tech company comes growing pains. Collectors have grumbled about packs being too hard to obtain. The NBA Top Shot site has been buggy at times. But to the company's credit, they've faced every challenge head on, made the appropriate fixes and have smoothed out subsequent drops.
Still not convinced? Neither was Michael Ferguson. A passionate Ohio card collector, Ferg turned his love into Rated Rips, a vibrant online card business that live streams pack-ripping sessions called breaks, submits subscribers' cards to grading companies and runs an informative Discord community that talks about everything surrounding the hobby, including NBA Top Shot.
"Somebody did bring it up in one of the live streams one night," says Ferguson. "I don't know. It's hard to understand yet because they're so new and have some kinks to work out. But it's insane the amount of money you can make on that platform. It blows my mind what people are paying for these moments. It's really a fascinating idea. It's a big opportunity with how high everybody is into the card market right now. The only problem with it now is that it's almost impossible to get packs because they sell out in an instant."
The topic of Top Shot kept coming up in Rated Rips' chats. So, like any good businessman, Ferg started a discord channel on the subject and dabbled a few dollars into the company. "I try to get through [on release days]," says Ferguson, who stood with us and 12,000 others in the virtual line for a recent pack drop, "because the return on investment is almost a guaranteed profit. The first pack I bought was $9. I pulled a LeBron out of it and I sold it for $380."
And honestly, that's all the NBA Top Shot team wants basketball fans to do—give the platform a chance. "We really want people to check it out and make up their own minds," says Gharegozlou, who's aiming to add games and more vintage moments to the lineup in the future. "The $100k sales get the headlines but there are a million ways to collect and grow a collection you love and care about. It's easier to get into than anyone thinks."