Led by Guest Editor Carmelo Anthony, SLAM's new special issue (below) focuses on social justice and activism as seen through the lens of basketball. One hundred percent of proceeds will be donated to the Social Change Fund. Grab your copy here.
—
On the evening of Thursday, June 4, thousands gather at Revolution Hall in Portland, Oregon's Southeast neighborhood to march against police brutality and the recent murders of Tony McDade, Ahmaud Arbery, Breonna Taylor and George Floyd, whose murder caught on video at the hands of Minnesota police officers sparked global outrage. As the protest heads two miles toward the Southwest waterfront over the Morrison Bridge, a Black grandmother who has been here before marches with her granddaughter who's likely new to the fight. A multiracial group of high school students capture video on social media, as a middle-aged, same-sex couple walks in unison carrying a large sign that reads, "Black Lives Matter." Floyd and Taylor's names fuel emotionally charged chants, muted only by moments of silence honoring them and other victims. The protestors signify Portland as a city looking for unity and change. And at the front of the movement, leading the people in lockstep, is Trail Blazers star Damian Lillard.
The Black Lives Matter movement has reached unprecedented support since Floyd's death on May 25, 2020, with organized protests across all 50 US states and over 60 countries. Truthfully, police brutality isn't new. Nor is capturing it on video. But amidst the COVID-19 pandemic, everything deemed non-essential has been placed on pause. People have had more opportunity than ever to watch Floyd's death and internalize what is really going on. With protests arising across the country, NBA players have joined in with their presence and platforms. Minnesota Timberwolves players Karl-Anthony Towns and Josh Okogie joined former NBA player Stephen Jackson to protest for Floyd, who was a close friend of Jackson's, in Minneapolis. Boston Celtics star Jaylen Brown drove 15 hours from Boston to organize a protest in his hometown of Atlanta. And reigning NBA MVP Giannis Antetokounmpo led several of his Bucks teammates to join a protest in Milwaukee, while calling for change and justice over a bullhorn.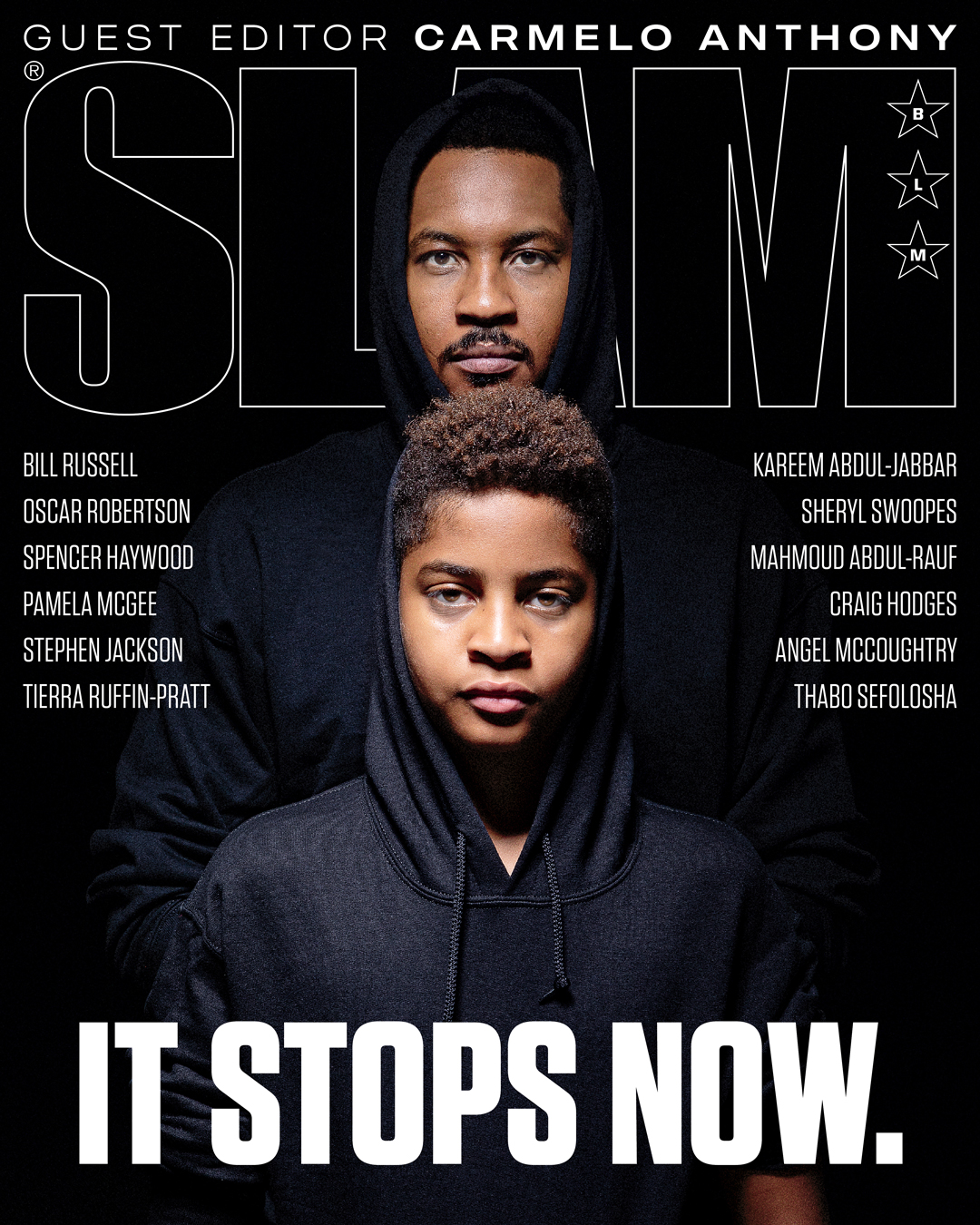 All of their efforts are significant, but other than Jackson, whose proximity to Floyd rightfully centers his voice, Lillard leading Portland in a protest hits different given the city's tense racial history. Portland's a complicated microcosm of America. A progressive environment on its surface, it's a city that's built on prejudice and unjust racial inequalities once you peel back a few layers. Oregon's foundation has an uncomfortable and often omitted historical timeline of aggressively anit-Black legislation, events and organizations. Dating back to the 1850s, laws made it illegal for Black people to live in the state or own property; state officials intentionally chose not to ratify both the 14th and 15th Amendments to the Constitution until 1973; and Portland was a well-known epicenter for hate groups as recently as the mid 2000s.
Lillard's been with the Blazers since 2012, his outward affinity for the city of Portland growing more evident each year. He's performed as Dame D.O.L.L.A. at several shows with local artists. Other members of his family work with the city's youth, and it's far from uncommon to see him at a local establishment supporting small business. He's openly talked about how much he wants to go down as the best Trail Blazer ever and, considering his investment in the community, he's an NBA Finals appearance away from being the Rose City's GOAT.
But the same city that loves Lillard doesn't always make the six percent of people who look like him feel quite as welcome. Portland's often considered a place where creative opportunities seem endless, which might actually be true for some residents. But for many Black people in Portland, side-stepping stressfully damaging microaggressions and trite stereotypes in community spaces and work environments is part of the day-to-day. Even the African Americans and POC who fuel the city's creative industries deal with racism, exclusion and are made to feel as though they should just be thankful to be there. Co-workers mine them for their "cultural insights" in systems that seldom promote people of color but couldn't exist without them. And to be a Black person outside of Portland's cool kid industries can make you feel largely unseen.
Like his NBA brethren in other cities, Lillard stepping up to join the conversation is so important because he bridges entire communities. As great a player as he is, Portland adopted Dame because he's the type of leader willing to work when no one is looking and fight like a mad underdog for the city when it counts. And that's the type of dedication necessary for Portland, and all other cities across America, to put toward ending racial inequalities in order to enact change. Let's hope the energy is reciprocated.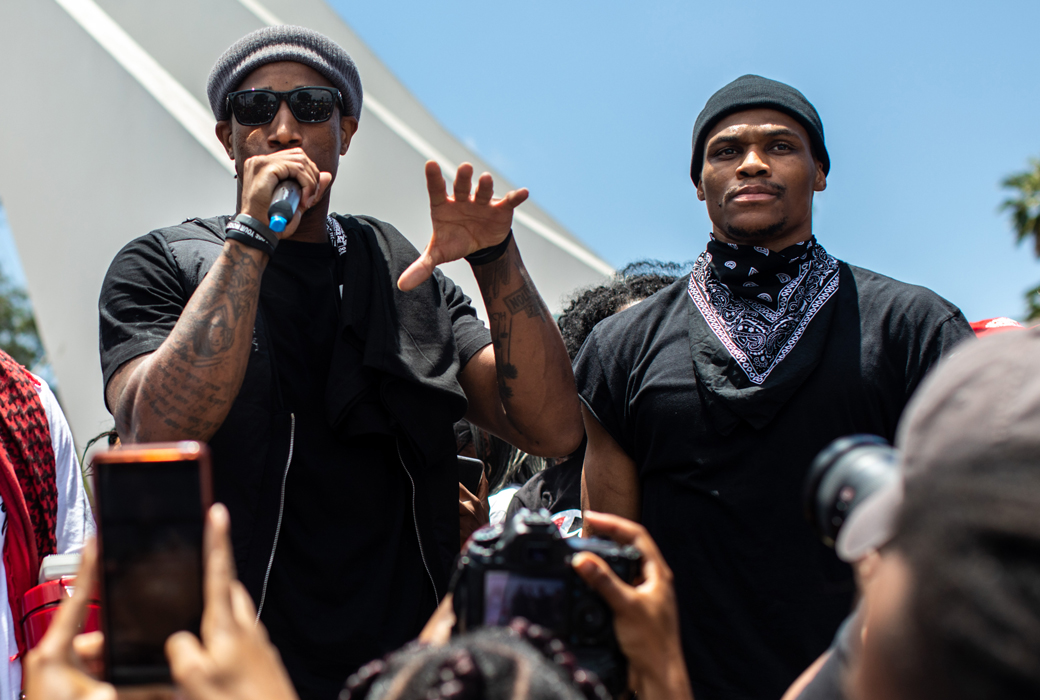 The list of NBA and WNBA players who have shown up for Black Lives Matter protests is extensive. SoCal natives DeMar DeRozan and Russell Westbrook spoke out against police brutality at a rally in Compton, with DeRozan revealing that he recently had a friend slain by police. Golden State Warriors swingman Juan Toscano-Anderson led teammates Damion Lee, Kevon Looney, Klay Thompson and Stephen Curry at a protest in Oakland. Current and former Kings Harrison Barnes and Matt Barnes showed up to represent at a demonstration in Sacramento. Pelicans forward Jaxson Hayes attended a protest in NOLA, and Jazz guard Jordan Clarkson attended a march in Los Angeles. Pacers guard Malcolm Brogdon delivered a powerful speech in Atlanta, and Sixers forward Tobias Harris joined the movement in Philadelphia. Enes Kanter drove from Chicago to Boston to protest alongside Celtics teammate Marcus Smart.
Karima Christmas-Kelly of the Minnesota Lynx attended a vigil in Minneapolis where Floyd was murdered. Renee Montgomery passed out bottled water to protestors in Atlanta. Seattle Storm teammates Jewell Loyd and Breanna Stewart both addressed the crowd at a local protest. Several players from the Fever marched for equality in Indiana. Aces star Liz Cambage led passionate chants for justice on the streets of Melbourne, Australia. Members of the Wizards and Mystics peacefully protested together in DC.
The fight for justice continues. And basketball players remain at the forefront.
—
One hundred percent of proceeds from SLAM's new issue will be donated to the Social Change Fund. Grab your copy here.
Terrence Watson is a contributor to SLAM. Follow him on Twitter @LowerEastScribe.
Photos by Bruce Ely and via Getty.