Nerlens Noel is 6-11. He has a flat top. He dresses like the Fresh Prince (word to West Philly), his teammates describe him as goofy and he's a budding star on the basketball court. So would you believe he was a meek, shy high schooler less than three years ago?
"Nerlens was always quiet. He would slowly move around campus and would sometimes struggle to keep to his schedule," says Marcus O'Neil, head coach at Tilton (NH) School, where the Everett, MA, native played his final two years of high school ball. "Then we would get into a highly tense and competitive situation, and he became a different person. We would be in a timeout and I would catch a glimpse of Nerlens' eyes and I could feel the competitive fire."
After hurriedly answering two or three questions from a pack of beat reporters in the visitors' locker room at Madison Square Garden following an April loss to the Knicks—a few days before his 21st birthday—Noel takes a few minutes to sit down with SLAM, and the fire is there.
"Year Two, I want to be an All-Star, clear as that," he says point-blank. "I want to work on every aspect of my game, I want to get stronger, just come back a lot more dominant."
After sitting out all of 2013-14 while recovering from a torn ACL, Noel averaged 9.9 points, 8.1 rebounds, 1.9 blocks, 1.8 steals and 1.7 assists per game in his rookie season, finishing third in Rookie of the Year voting (behind Minnesota's Andrew Wiggins and Chicago's Nikola Mirotic). After the All-Star break, in particular, Noel was phenomenal. In March, the kid put up 14.3 ppg, 11.2 rpg, 2.4 spg, 2.1 bpg and 1.8 apg—numbers no player, let alone a rookie, in League history has notched in any one month since Hakeem Olajuwon in December of 1994. That included a notably beastlike 30-point, 14-rebound performance against a formidable Clippers frontline.
"I thought about it the whole break," says Nerlens, who is uniquely looked at as a leader on the rebuilding Sixers despite having just finished his first season in the L, "about how I needed to assert myself and finish strong. I think that was my turning point."
Usually, there ain't much to celebrate from an 18-win season. But Noel's rapid development was diamond-in-the-rough stuff. In the words of Sixers head coach Brett Brown, Nerlens is "a complete game changer."
On offense, he's still a work in progress, having mostly relied on hustle points during his rookie season. "My game is different. I'm slender. I'll get stronger, but I like to use my quickness," says Nerlens, whose favorite player is still Kevin Garnett. "I definitely see myself bulking up and being able to be out on the perimeter and shoot that 15-footer with more consistency. That's going to be one of my main focuses going into this offseason."
But for Nerlens, it all starts on D, where he's already one of the NBA's premier shot blockers. No one is safe: James Harden and Russell Westbrook were among the victims of Noel's 142 rejections last season.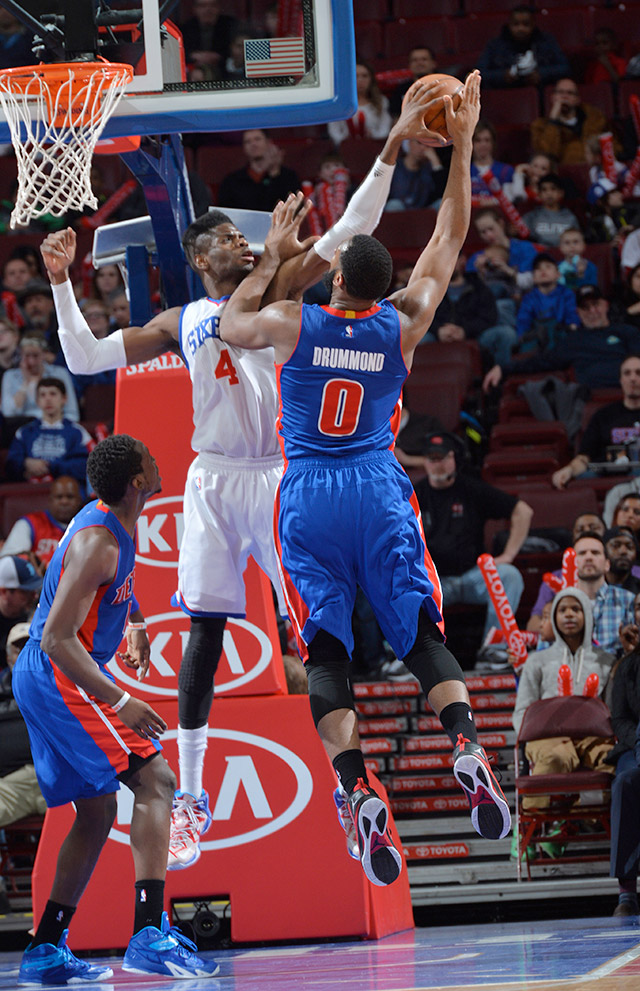 "If people get to the rim, he punches it. It's to the point now where, if someone gets to the cup, we know Nerlens is going to go get it," says Sixers guard Hollis Thompson. "Someone tries to dunk it, he's gon' block it. That's what we're used to. It's a lot of fun playing with him, because Coach says, 'Just go get it, I don't care if you get a foul, just go get it.' So he's trying to block everything."
Asked if he's ever had his shit swatted in practice, Thompson laughs. "He'll be on the wing, you'll go by him, think you've got a dunk, and he'll come behind and just beat it out of bounds. It's crazy. He's just crazy athletic and he's passionate about getting stops."
Veteran teammate Jason Richardson says the only comparison that comes to mind for a defensive anchor so effective and yet still so young is three-time Defensive Player of the Year Dwight Howard—with whom J-Rich played in Orlando from 2010 to 2012.
"Dwight came in so raw, came in as a defender, a rebounder, blocking shots," Richardson says. "I look at Nerlens like that—he has the ability to be what Dwight is now. I have no doubt in my mind that if Nerlens continues to grow, he'll be a Defensive Player of the Year in the next five years. No doubt in my mind."
Noel was the only player to finish in the top 10 in both steals and blocks in 2014-15. He posted a block rate of 5 percent and a steal rate of 2.9 percent—the only other full-time player in the NBA to match those statistics in both categories? Anthony Davis. Individually, Nerlens was top-10 in Defensive Rating, better than Davis. And despite Philadelphia's dead-last ranking in Offensive Rating last season, the Sixers were 13th in the NBA in Defensive Rating.
"To build a program, and grow a program, I think you have to do that through defense," says Brown. "Especially in the city of Philadelphia."
In Nerlens, the Sixers are doing just that.
Abe Schwadron is an Associate Editor at SLAM. Follow him on Twitter @abe_squad.
Images via Getty