Ask Dillon Brooks if he remembers one particular welcome-to-the-League moment from his rookie season, and you'll get a very honest answer.
Nah, there was more than one.
"We went to Cleveland, like a month into the season, and I thought I was doing a great job on LeBron," Brooks remembers. "And then at the end of the half, I looked up, and you know those little player stat boxes on the scoreboard? He already had like 15 points, 8 assists and 10 rebounds in the first half."
Brooks is talking by phone in July, so enough time has passed that he can laugh about being on the receiving end of a fairly typical King James first half. But that wasn't the only one: He recalls another early-season trip, this one to Portland, where he started off cold from the floor and thought to himself, OK, this is going to be a good day for me on defense. He was primarily guarding CJ McCollum that night. CJ finished with 36.
"That's when you know," he says, "even though you feel like you're playing great defense, these guys are superstars."
It's worth pointing out that, individually at least, such rough moments were the exception for Brooks last season, not the rule. The 45th overall pick in the 2017 NBA Draft, Brooks was hardly expected to make much of an impact from his spot in the middle of the second round. But the 6-6, 220-pound wing from Oregon—the 2017 Pac-12 Player of the Year—made the most of an unexpected opportunity, establishing himself as one of the most effective rookies in a strong class. Last season wasn't much fun for anyone in Memphis, but if anyone benefitted from the Grizzlies' difficult year, it was the up-and-coming Canadian.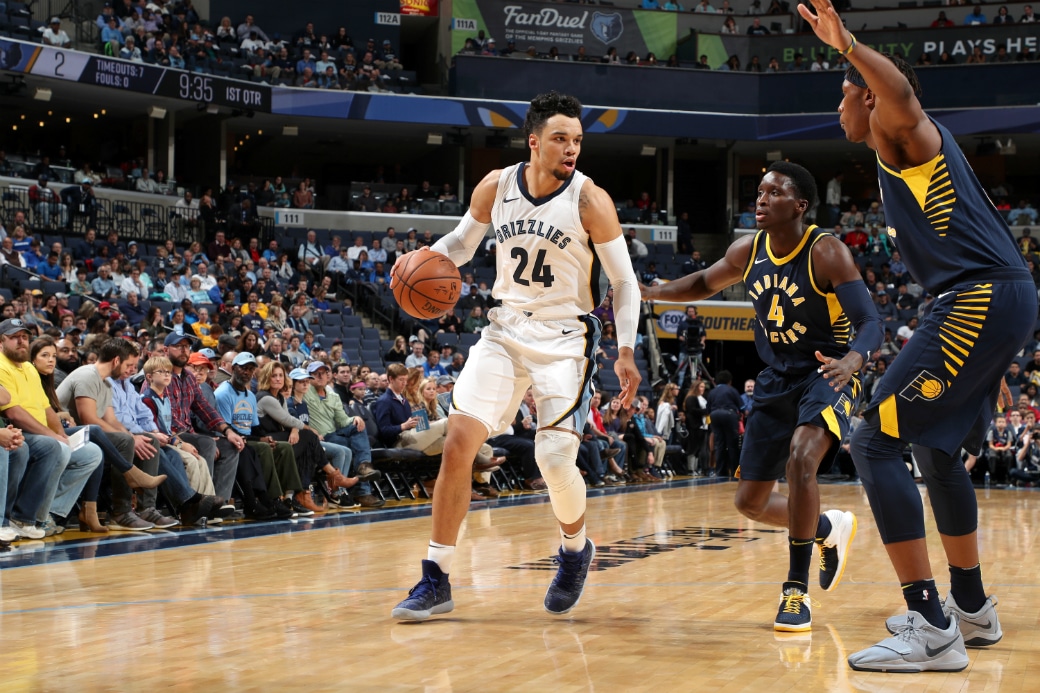 To quickly recap: Drafted by the Rockets (behind a whole bunch of dudes whose names you've already forgotten), Brooks was sent to Memphis in a draft-night trade. He put in sufficient work over the summer to earn a place in the rotation, and then justified it on opening night. Coming off the bench against New Orleans, he scored 19 points in 29 minutes—a shocking debut for any rookie, let alone one who wasn't guaranteed a roster spot a couple of months earlier.
Memphis won its first three games of the season, notching dubs over the Pelicans, Warriors, and Rockets, and Brooks played substantial minutes as a reserve in each. For both the team and the player, it was a promising start to what looked like a potentially great year. Neither of them could've predicted the rash of injuries that was about to hammer the squad.
The big one was stalwart point guard Mike Conley, a move that forced Tyreke Evans to the 1 and ultimately opened up a spot for Brooks. Add in injuries to Chandler Parsons, Wayne Selden, and even Tyreke eventually, and Brooks went from a nice option off the bench to a vital piece on a team that was just trying to stay afloat. They mostly sank, however, suffering a pair of double-digit losing streaks and finishing a dismal 22-60. But Brooks was a bright spot throughout, playing all 82 games—the only rookie in the League last season to manage that—and starting 74. His per-game averages of 11 points and 3 boards were modest enough, but considering his duties generally included checking the opponents' best wing players, it was by any measure an impressive first season.
Brooks admits he'd be lying if he said he expected it.
"I thought it was gonna come a little slower for me, I guess," he says. "At the beginning of the year, we had one of the best benches in the League, and I know I was fortunate not to go to the G-League. But then with the injuries, and especially with a losing season, as a young guy, you don't want to lose the opportunity to show what you're all about. I heard that a lot from my coaches—you don't get a lot of opportunities, and you might only get one."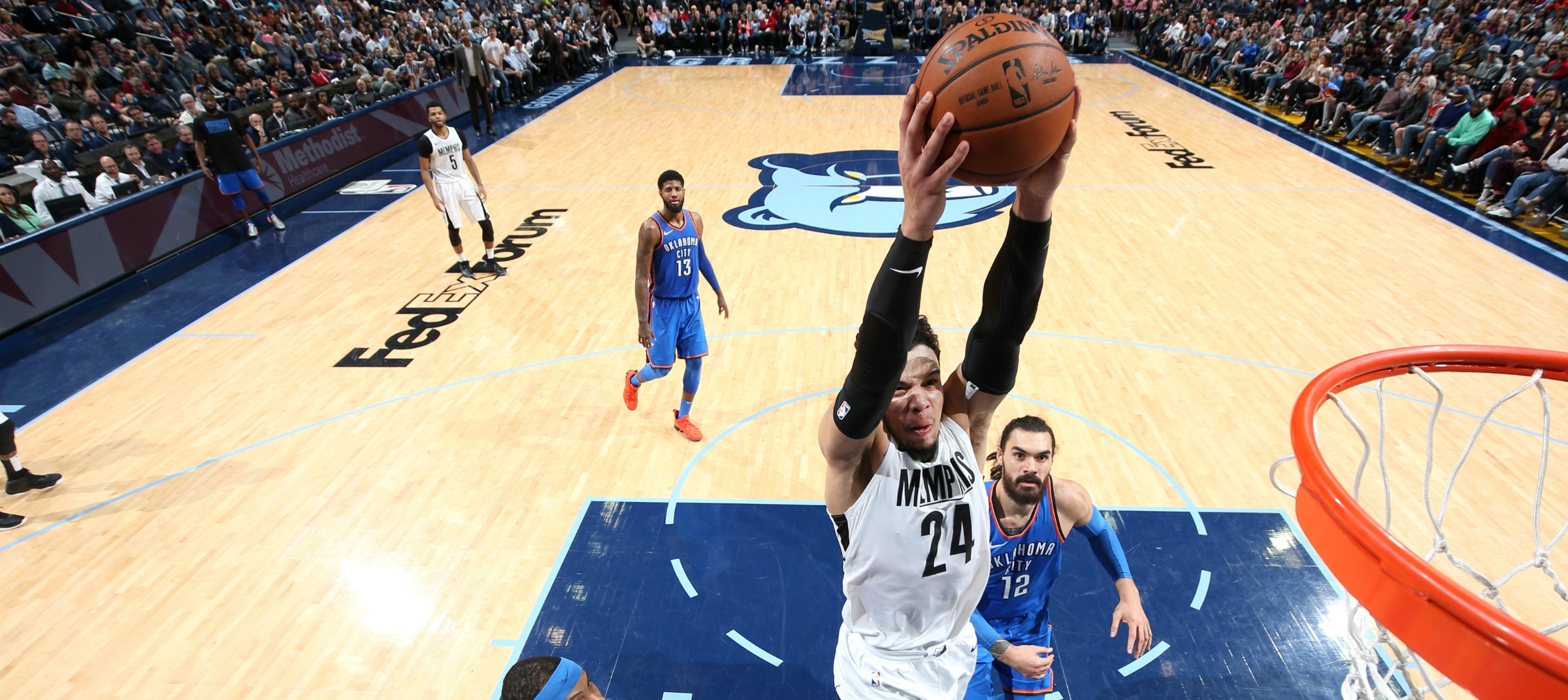 If you're looking beyond the numbers for a testament to Brooks' determination, it might come from the Grizzlies coaching staff, who actually had to tell him to work on his game less—during the season, at least.
"I tried to be in the gym every day, but the coaches were telling me to take it easy—you know, don't work out every day, it's a long season, take it easy," Brooks says. "But that's not in my nature. I had goals for myself."
He's already achieved one of those goals, showing he can be a serviceable NBA starter. Making sure he's got his spot locked down will require more work, of course, including fine-tuning a decent jumper that still shows room for improvement. But perhaps his biggest accomplishment last season was establishing himself as a guy his teammates could count on. "I feel like that's the biggest thing for a rookie," he says. "I got my chance when we started losing, and I was able to leave my mark."
Another of those goals is arguably a bit more personal: Establishing himself as one of the key pieces on a promising young Canadian national team. With a mix of NBA vets like Kelly Olynyk and Cory Joseph and potential superstar in Duke freshman RJ Barrett, Brooks knows the Canadians could make some noise at next summer's FIBA World Cup. More than most, the Mississauga, Ontario native appreciates the chance to rep his country—an opportunity he told himself he wanted no part of just a few years ago.
"You know, I tried out for a provincial team when I was probably 13 or 14, and I got cut. And I told myself, this is all politics, I'm better than most of these guys, I'll never play for Team Canada again," Brooks explains. It took a few years before one of the national team coaches approached Brooks and asked him to reconsider. "Ever since then, I know that ultimately I was blessed to play with Team Canada again. I feel like I'm indebted to Team Canada—I just want to prove myself every single year that I belong on that team."
Having helped the squad advance to the next round of World Cup qualifying this fall, Brooks says that even with Andrew Wiggins' uncertain status, he feels their potential is higher than the top of the CN Tower. "If we play as a cohesive unit," he says, "we could definitely make some noise next summer in the Worlds."
Brooks' international experience this summer wasn't limited to his time with Canada's qualifying campaign. In July, he traveled to Spain at the invitation of teammate Marc Gasol to play in the summer charity game Gasol hosts with his brother. Brooks scored a team-high 26 points to lead "Friends of Marc" to victory over a "Friends of Pau" squad that included Ricky Rubio and Jimmy Butler. "That was really fun," Brooks says. "I got to see different parts of Spain, and I had some great meals—I love their signature dish, even though I can never pronounce it." Of that famous paella, Brooks adds, "They didn't serve it at any of the meals we had, so Marc's like, I got you when we get back to Memphis."
An unexpected NBA starting job, a key role on his national team, even the promise of homemade paella—Brooks' first year as an NBA player had a little bit of everything. The one exception, of course, is team success. In that, he was a particularly interested observer of Jordan Bell, his former Oregon teammate, who was picked seven spots ahead of him last summer. Bell's draft-night trade was a little more fortuitous, as he went from the Bulls to the Warriors—and eventually played key playoff minutes in the Dubs' run to a second straight championship.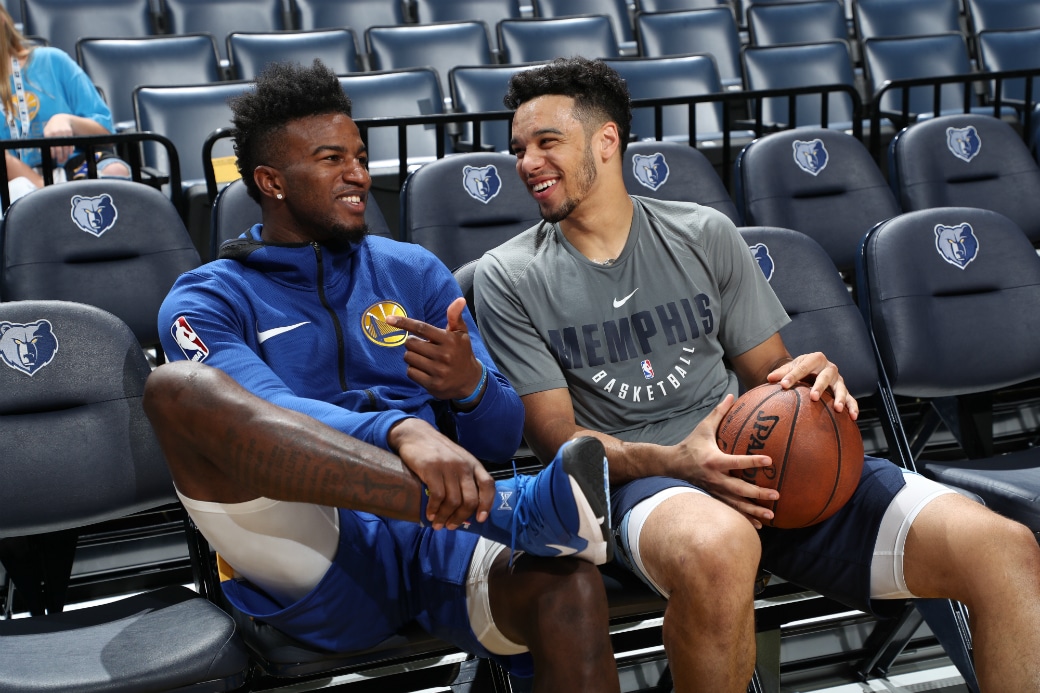 Naturally, Brooks remains an admirer of his friend and fellow ex-Duck. "I watched him every single game," he says. "What impressed me about Jordan was, he had to sit and watch so many games, but he was always ready. And then in the playoffs and Finals, he's playing big minutes, guarding the best players."
It can't be easy seeing one of your boys collect a ring as a rookie on an all-time-great squad while you had to endure a brutal losing season, and Brooks doesn't deny a little bit of envy. It's also motivation: "It's just the competitive nature in me, but when I watch any of the other rookies, I feel like I did better than most of them."
The goal now is to ensure he's even better next year. He wants to establish himself as the Grizzlies' third scoring option behind Mike and Marc, improve his three-point shot, tighten up his handle, and, his defensive solidity aside, stop falling for pump fakes. "I did that so many times last year," he says with a sigh.
But the one thing he doesn't need to do is prove he belongs. That job is already done.
—
Ryan Jones is a Contributing Editor at SLAM. Follow him on Twitter at @thefarmerjones.
Photos via Getty.
2,858