Erik Spoelstra was speaking to a group of reporters during the playoffs last week about Josh Richardson. "He's been a very important player for us," the Miami Heat head coach said of his team's 24-year-old swingman. "And it's not necessarily the play calls or box-score stats, but when you feel J-Rich's presence in a game, those are the games we're very difficult to beat."
This, of course, is the sort of praise you often hear coaches bestow upon their players; it'd be easy to write it off as standard cliché coach speak. Here's the thing, though, the part that makes clear that Spoelstra's admiration here wasn't just another example of a coach saying the thing he thinks he's supposed to say: When it comes to Josh Richardson, and his story, and how he arrived here—here being the NBA, but also his place in the League as one of its better and more underappreciated players—there's nothing typical or cliché.
Richardson was never supposed to make it this far. He grew up in Edmond, Oklahoma, where he was a good enough guard to earn a basketball scholarship to the University of Tennessee. He averaged a measly 7.9 points per game as a sophomore—not exactly a mark that screams future pro—and so he figured he'd spend his post-college days chasing a different dream: medical school. He'd always wanted to be a surgeon, and even enrolled in a pre-med track at Tennessee. But then came his junior season, and a change in position (to point guard) combined with an injection of confidence and freedom, which led to a boost in his numbers.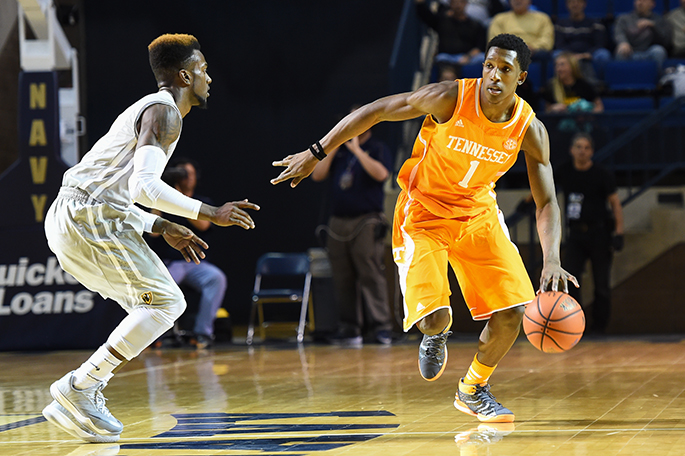 As a senior he averaged 16 points per game. The Heat drafted him in the second round (40th overall) in 2015. Richardson spent some time on the bench, and some days in the D League. But he found some NBA minutes here, and some starts there, and by the end of the year he'd established himself as one of the Heat's top young prospects.
Now, having wrapped up his third season and having graduated from the school of prospects, Richardson has proven himself to be more than that. He's proven himself, after putting up career high numbers across the board this season (33.2 minutes per game, 12.9 points, 2.9 assists, 1.5 steals and 0.9 blocks) to be one of—if not the—best players on the Heat, even if, as Spoelstra said, his traditional box score doesn't jump off the screen.
"He's All-NBA defense," Spoelstra told Miami reporters recently. "Night in, night out he's going to have three of the toughest covers in the game and he doesn't even blink. And that's the expectation and how he's developed that potential. He's become a very disciplined, dynamic defender, one that can really guard multiple positions in a totally different way. I think it's a shame, I don't think his name out there. I don't think people recognize the kind of defender he is except for the teams that he plays against. I think they see it."
Let's talk about that defense for a moment. Whether Richardson is worthy of a slot on one of the League's two All-NBA Defensive teams is a matter of math. Was he one of the NBA's top 10 defensive players this season? That's for others to figure out. There's no arguing, though, that Richardson has evolved into one of the game's best on that end of the floor.
"I think I'm a top 10 defender in this League," Richardson said recently, adding: "I've gone from working harder to working smarter on defense. Knowing guys tendencies, knowing what spots they like to get to and trying to keep it away from them. That's where I've gotten a lot better."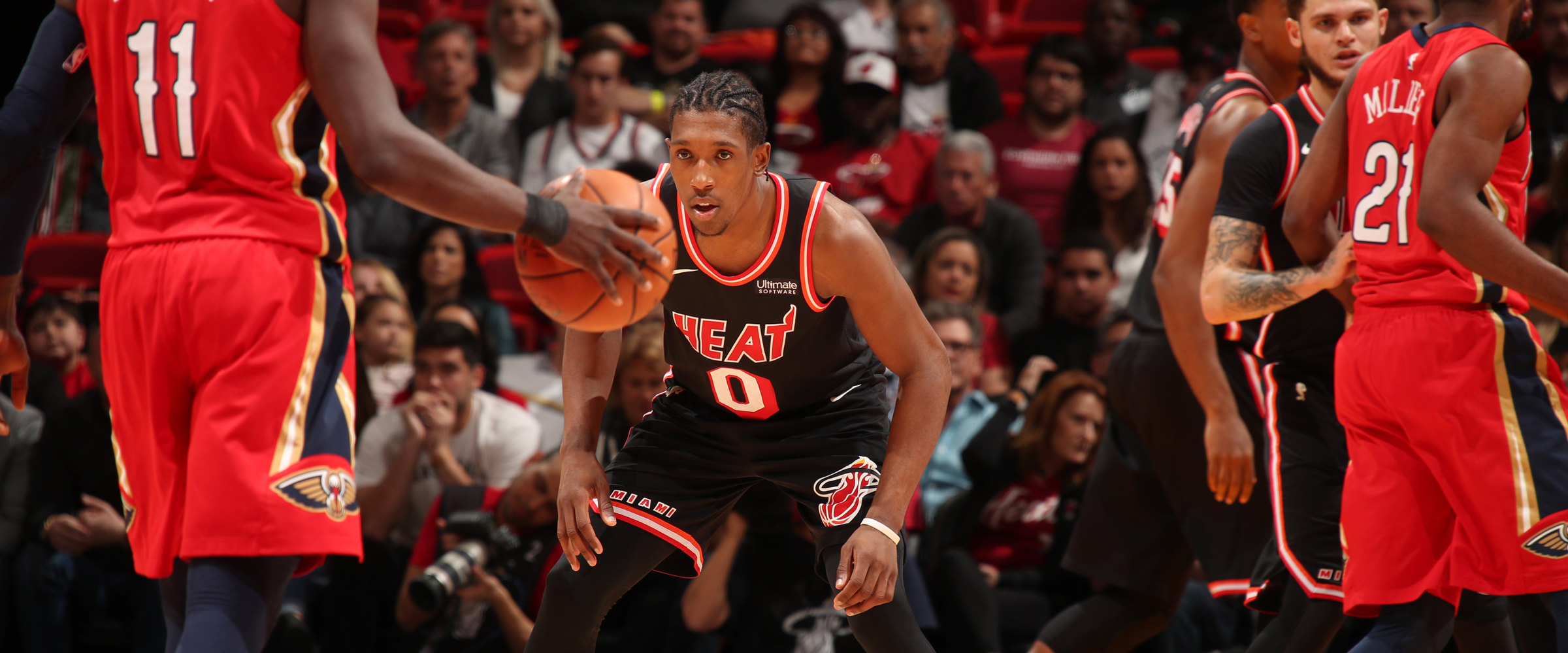 Looking for some fancy numbers to back that up? How about that the Heat held opponents to a stingy 4.4 points fewer per 100 possessions when Richardson was on the floor, one of the best marks among all wing players in the NBA. Or how about the fact that this season only two players (Draymond Green and Danny Green) 6-7 or shorter swatted more shots than he did. Or that opponents shot 3.4 percent worse while being guarded by Richardson.
And for the math-weary of you, just know it's not that calculus-sounding stats are prove all. But when the numbers back up what you see on the floor, that's how you confirm that what you think you're seeing is right. And in this case, it's what Spoelstra said, and has said, all season: Richardson is a dynamic defender, capable of slowing even the most explosive of scorers.
"It's just his hands," Sixers wing Robert Covington, one of the players Richardson is competing with for one of those All-Defense spots, said last week. "He's guarded me and different guys on this team and not a lot of people can do that in this League. Him having the demeanor to take on that challenge is similar to me so that's why I have respect for him just based on the way he gets the job done. He's one of those guys that can do the little things on both sides and he can make his team better."
Right, the other side of the court. Whereas on defense he's a star, on offense Richardson's game would probably best be summarized as solid. He's a solid scorer, a solid creator, a solid shooter, though as far as his three-point shooting goes, that characterization might be a bit unfair.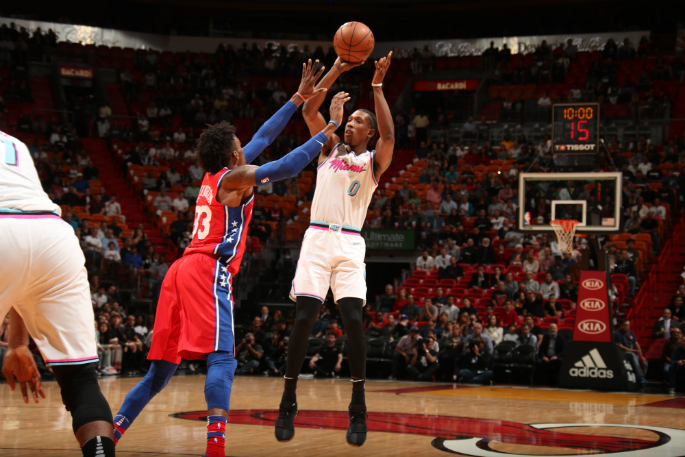 Richardson drilled a ridiculous 46.1 percent of his deep looks as a rookie before dropping to 33 percent last year. This season, he connected on 38 percent of the 4.1 triples he jacked per game—a strong number considering the volume. He also flashed the ability to get the rim and finish off the bounce, and his assist rate was one of the better ones among NBA wings. Again, none of these skills are anything that excite. But wrap them all together and then fold that into a package with that tenacious defense and suddenly you have a player who's exactly what teams looking to win want and need.
And that's the key, right? In the NBA you have about, oh, 20 or so players who can rightfully bill themselves as stars—for everyone else the trick is figuring out how to best help their team win. We call these guys role players. But if you can figure out how to perfect the role of a role player, well then you morph into something even greater, a star on the level of Draymond Green.
Josh Richardson isn't there yet. But he's not as far from reaching that peak as you might think.
—
Yaron Weitzman is a writer living in New York. Follow him on Twitter @YaronWeitzman.
Photos via Getty Images.