When OG Anunoby arrived at Indiana University as a freshman in 2015, assistant coach Chuck Martin noticed a teenager who was quiet in a respectful way, and someone who was trying to figure out whether he belonged at all. "He was trying to figure out just how good he could be," Martin remembers. "He was trying to figure out whether he could actually play at a place like Indiana and succeed. It was all new to him."
Over time, through visits to the training room before and after practice while Anunoby was receiving treatment, Martin cracked his stoic exterior and discovered a kid with a big sense of humor and a perspective that made him an engaging person to converse with. Martin also came to appreciate Anunoby's serious demeanor on the court.
"He would have a tremendous play," Martin says. "But he would never pump his fist. At first, you're asking yourself, is he not excited at all? Then you realize that's just who he really is. He's always in the moment. Once a moment has happened, it just comes and goes, and he's on to the next moment, the next possession."
Being in the moment is probably why Anunoby, a versatile 6-8 forward with an absurd 7-6 wingspan, established a reputation during his first season with the Toronto Raptors as someone who was extremely short with words when it came to dealing with the media. It became a running joke that the team's Twitter account capitalized on by having Anunoby provide "in-depth" statistical game day analysis.
From Anunoby's view, answering questions about a game that already happened probably seems beside the point. It's the next game that matters to him. The next opportunity. The next moment.
Just before he took off for the 2018 Summer League in Las Vegas, I asked OG, who is merely 20 years old, to summarize his rookie season for me.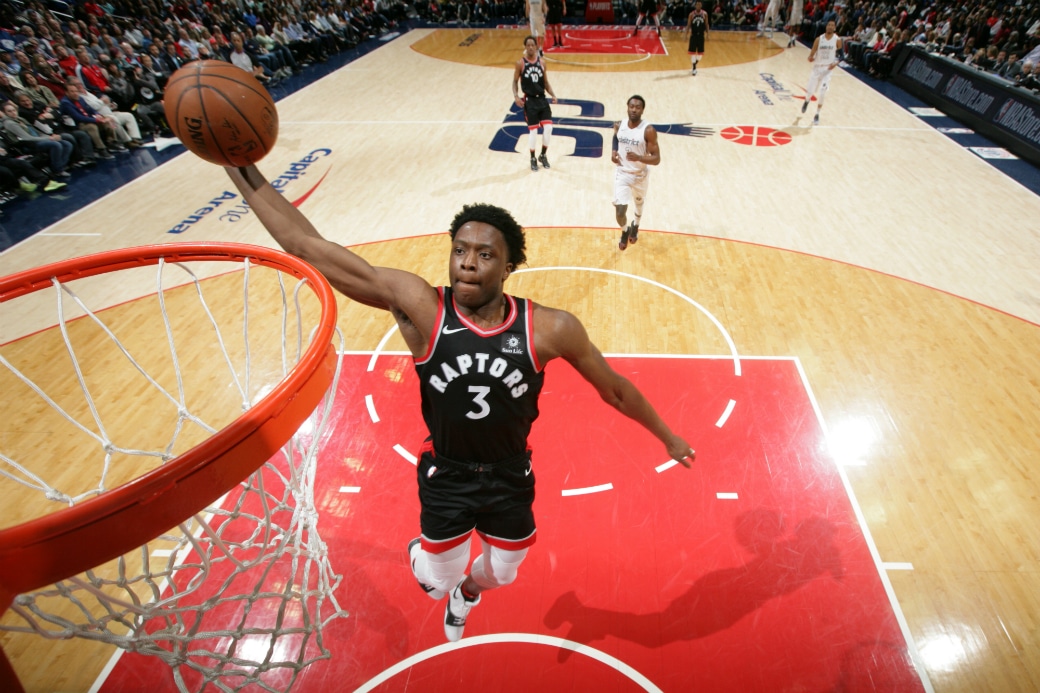 "We were a really talented team," he responded. "We played really well. We won 59 games. We lost in the second round."
That's one way to sum it up. Toronto did win a franchise-best 59 games in the regular season before being swept by the Cavaliers in the Eastern Conference Semis.
Another version goes like this: Anunoby's sophomore year at Indiana was cut short after he tore his ACL, causing his draft stock to fall, resulting in the Raptors landing him with the 23rd overall pick. Expected to be sidelined to start his rookie campaign, Anunoby surprised everyone by being in the lineup on opening night, and ended up playing in 74 games, starting 62 of them. In the playoffs, Anunoby hit 57 percent of his field goal attempts and 44.8 percent of his threes in 10 starts, and took on the assignment of guarding LeBron James in the second round.
"It was cool," Anunoby says of earning a starting role. "I know I worked hard, so it was cool to contribute to a team that was really good."
Martin was with Anunoby when he tore his ACL in January of 2017 and remembers how difficult a time it was. "He was physically hurt, but emotionally hurt too," Martin describes. "He was like, Man, why is this happening to me. He was down, and rightfully so. It was a tough moment, but he overcame it."
During their stint together in college, Martin and Anunoby often had insightful conversations about topics unrelated to basketball. "He's also got a global perspective of the world," Martin says. "Because he wasn't just a kid who lived in one place. He's a guy that fits perfectly in Toronto, where it's such an international city."
Anunoby was born in London, England and went to high school in Jefferson City, Missouri. Outside of basketball, he is passionate about music and loves to play NBA2K. He enjoys reading plenty of books too, listing Aesop's Fables as one of his favorites. In high school, like any other teenage kid, he developed an interest in the skateboard brand Supreme. It was noticeable during his rookie year, when he wore the brand after the draft in his first visit to Toronto, and throughout the season in post-game interviews and to team functions.
Anunoby is engaging when the conversation turns to the streetwear brand he likes, but doesn't love ("I'm not in love with it, that's too strong."). When it comes to Supreme accessories, Anunoby has no interest in the pinball machine or a Supreme brick. He does have time for the Supreme x Rimowa suitcase and the Mophie charger, because those are actually useful.
The Supreme x Kate Moss t-shirt remains a grail piece that he has yet to acquire, but Anunoby checks the brand's drop list weekly, and also paid close attention throughout the season to what other NBA players were rocking. "If I see them wearing a piece," Anunoby explains, "then I wouldn't wear that piece. I'll make a note in my head: Don't wear that."
In Toronto, Anunoby found a surprising companion to chat about Supreme with in general manager Bobby Webster, who has a much more conservative dress code. But Anunoby thinks the streetwear look would fit the team's GM just fine. "He can do it," Anunoby says. "He could pull it off."
OG's quietness and wry sense of humor might define him, but Martin doesn't want anyone to confuse those traits for a lack of competitiveness. While Anunoby isn't a player who will post all of his workout videos to Instagram or Twitter, the competitiveness burns, quietly, in its own way.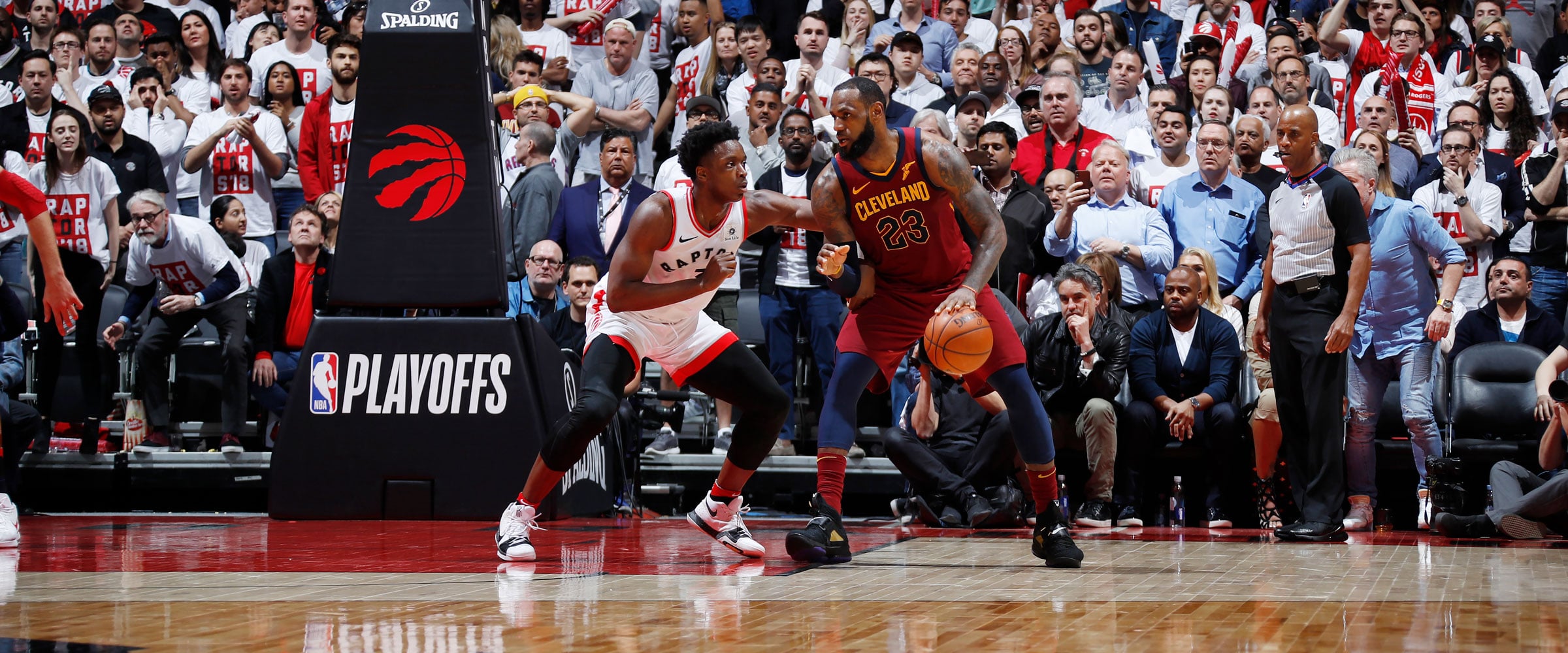 "If you challenge him, he will rise and meet the challenge," Martin says. "There's something in him. He has this innate ability to rise to the occasion. He's never afraid to meet the challenge."
The Raptors got a glimpse of that in the 2018 postseason. In a first round matchup against the Washington Wizards that got increasingly physical, it was Anunoby who refused to back down from a shoving match with Markieff Morris in his first career playoff road game. "It was cool playing big games like that," Anunoby says. "I think it'll help me a lot moving forward."
Toronto's season ended in disappointment, with that second round sweep at the hands of LeBron and the Cavaliers, but Anunoby took the challenge in stride. Game 3 will be remembered for James's ridiculous game-winning basket, but the possession before, it was Anunoby who hit the shot that tied the score and, for a brief moment, gave life to the possibility that the Raptors could get back in the series. OG finished with 18 points on 7-of-12 shooting in the loss.
The Raptors are betting on Anunoby's playoff experience to propel him in year two, as the team has a lot of adjusting to do. Head coach Dwane Casey has been replaced with assistant coach Nick Nurse, and star shooting guard DeMar DeRozan and backup big Jakob Poeltl were just sent to San Antonio in a blockbuster deal for Kawhi Leonard and Danny Green. Whatever direction the organization heads in, Anunoby figures to be a huge part of their future; so his development is key.
At Summer League, the Raps put the ball in Anunoby's hands more, and tried to see what he could do in an enhanced offensive role, at times playing him at the power forward spot as well. Through four outings, he posted 15.8 points, 6.0 rebounds, and 1.3 blocks.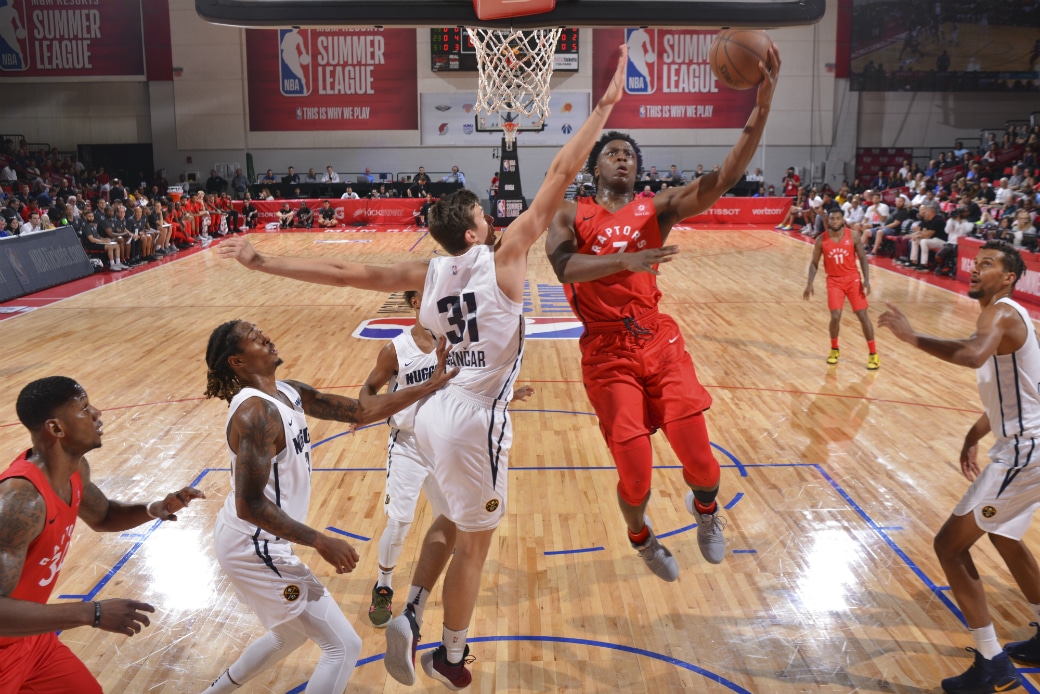 Anunoby says he is working on every facet of his game — his shooting, dribbling, passing and defense.
Martin sees a player who can become more of a focal point on both ends of the floor down the stretch. "Hopefully, he can become a guy who can finish at the end of games, and be a guy that the organization feels like they can trust to get a defensive stop or get a basket on offense late in games," he says.
Asked what people should expect next season, Anunoby simply replied: "An improved me."
—
Alex Wong is a writer living in Toronto. Follow him on Twitter @steven_lebron.
Photos via Getty Images.