by Brett Weisband | @weisband
Thunder (37-10) 112, Heat (32-13) 95
After a sluggish first five minutes of the game that saw them fall behind by 18 points, Kevin Durant and the Thunder absolutely torched the Heat. Miami jumped out to a 22-4 lead, prompting OKC coach Scott Brooks to make some quick lineup changes, including pulling Kendrick Perkins after just five minutes. Perk didn't come back into the game, and from the point they went down 18, the Thunder outscored Miami 108-73. Durant demolished everything in his path once again, scoring 33 on 12-23 shooting (his 12th straight game with 30 or more), along with seven rebounds and five assists. Guarding each other most of the night, Durant and LeBron James (34 points) engaged in the kind of duel toward the end of the third quarter that fans everywhere wanted to see, going shot-for-shot for several minutes, threatening to lay ruin to the arena as they landed blow after blow.  
The Heat had trouble with the Thunder's length and athleticism on defense, as they were harassed into 20 turnovers and 3-19 shooting from deep. OKC beat the Heat at their own game, hitting 16-27 triples and holding onto the ball (12 TOs). The Thunder got major contributions from their improving bench; Jeremy Lamb rained in four 3-pointers on his way to 18 points, while Derek Fisher found the fountain of youth and hit 5-5 from deep, including two wild bankers. Serge Ibaka pitched in 22 points and eight boards for the Thunder, winners of nine straight. Good luck finding a way to slow this team down.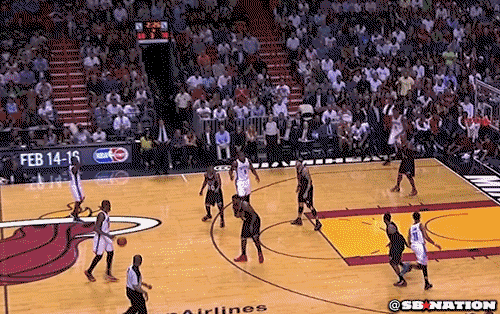 (H/T @SBNation)
Raptors (24-21) 98, Magic (12-35) 83
Toronto raced out to a big lead early and never looked back in a blowout over Orlando. After trailing for the first two minutes of the game, the Raptors led the rest of the way. Kyle Lowry made one final case for his All-Star candidacy, going for 33 points (11-20 shooting) and 11 assists to lead Toronto. The Raptors hit their first nine 3-point attempts on their way to 14-31 shooting from deep on the night. Lowry keyed that as well, hitting 6-11 from long range. The Raptors' front court pair complemented their hot outside shooting, as Amir Johnson had 22 points and 11 boards and Jonas Valanciunas had 14 and 15.
The Magic hit just 33.3 percent of their shots on the night, including a 6-19 performance on 3-pointers. In a bit of good news for Orlando, Nik Vucevic returned to the lineup 14 of 15 games with a concussion. He posted 16 points and 10 boards in 20 minutes.
76ers (15-31) 95, Celtics (15-33) 94
Evan Turner (16 points, six rebounds, eight assists) hit a twisting runner as time expired to give the Sixers a win in a game between two teams that seemed to have no interest in claiming victory. Boston missed five of their final six field goal attempts and two free throws after taking a 92-90 lead, while the Sixers missed five free throws in the final three minutes. Spencer Hawes scored 20 to lead Philadelphia, while Jared Sullinger had 24 points and 17 boards for Boston. Neither team shot better than 43 percent.
Suns (27-18) 126, Bucks (8-37) 117
Phoenix won a shootout with the normally offensively challenged Bucks, outgunning Milwaukee and withstanding three straight quarters of more than 30 points by the Bucks. Goran Dragic was a beast (or dragon) for the Suns, dropping 30 points and six assists, hitting 4-5 from deep and 9-13 overall in just 24 minutes despite dinging his elbow. He got support from Gerald Green, whose resurgent season continues. The reinvented high-flyer hit 4-6 of his 3-point attempts and scored 23 on 7-13 shooting. The Suns got some defensive contributions from rookie Alex Len, who used his long arms to forces some misses at the rim and to collect 10 boards.
Milwaukee, the league's worst offensive team, had a poor shooting night (42.7 percent) despite their high output. They upped their efficiency by getting to the line 36 times, hitting 34 of them. Ersan Ilyasova (27 points) and Brandon Knight (24 points) combined to hit all 21 of their free throws for the Bucks.
Timberwolves (23-22) 88, Pelicans (19-26) 77
Minnesota finally crawled back over the .500 mark, winning an ugly contest at home against the Anthony Davis-less Pelicans. Kevin Love dominated to the tune of 30 points and 14 rebounds, carrying the load with Nikola Pekovic sidelined. The Timberwolves didn't exactly earn this win, shooting just 40.2 percent and 4-20 from long range. The short-handed Pelicans were even worse, clanking their way to just 35.4 percent from the field and somehow performing even worse from deep at 9.5 percent (2-21). Eric Gordon scored just 14 for the Pellies on 5-17 shooting, while Al-Farouq Aminu led the squad in scoring with 18. For the T-Wolves, Kevin Martin had 18 on 7-18 shooting.
Rockets (31-17) 117, Mavericks (26-21) 115
Houston survived a furious run by the Mavericks in the final minutes to escape with a road win against their in-state rivals. Houston led 116-104 with 2:44 on the clock, but Vince Carter (22 points off the bench) and Devin Harris (14 points) both got fouled on 3-pointers, draining all six free throws. After a VC triple, Dirk Nowitzki airballed a 3-point shot that he appeared to get fouled on. Following two Dirk free throws, the Mavs forced a turnover on the inbounds to give themselves a chance. They got the switch they wanted, getting Jeremy Lin on Dirk. When the double came, Nowitzki found Jose Calderon for an open 3, but the veteran missed that one and subsequent try as the Mavs' run fell short.
Dwight Howard had 21 points, including 9-11 shooting from the line. Chandler Parsons dropped 26 for the Rockets, who once again played without James Harden. Houston hit 9-21 triples on their way to 55.4 percent shooting and had seven players hit double figures in scoring, including all five starters. Nowitzki was an absolute monster for Dallas, going for 38 points and 17 boards in the loss. Dirk also netted his 26,000th career point, another milestone in his illustrious career. 
Bobcats (20-27) 101, Nuggets (22-22) 98
The Bobcats snuck out a tight win in Denver, outlasting the Nuggets in the final seconds. Al Jefferson carried the 'Cats down the stretch, scoring 11 of his 35 points in the final quarter to go along with 11 boards and two blocks. Charlotte's defense went back to being very stingy, holding the Nuggets to just 39 percent shooting, including 9-28 from deep. Neither team led by more than five points in the second half after two lopsided quarters to start the game off. Charlotte got 16 points apiece from Gerald Henderson and Ramon Sessions in support of Jefferson, but no other Bobcat hit double digits. Charlotte withstood a season-high 33 points from Randy Foye, who handed out seven assists as well. Evan Fournier scored 21 off the bench for the Nugs, who were without star point guard Ty Lawson.
Bulls (23-22) 96, Spurs (33-13) 86
The injury-riddled Spurs dropped their third straight game, falling to the Bulls in San Antonio. Jimmy Butler scored 19 for the Bulls, who used their defense to win this one, forcing the Spurs into 19 turnovers, five more than their average. Chicago got double doubles from Carlos Boozer (16 and 12) and Joakim Noah (10 and 10) and had seven players in total reach double figure scoring.
The Spurs were down four regulars after Manu Ginobili tweaked his hamstring earlier in the week. Tony Parker scored 20 in his absence and Tim Duncan had 17 points and 12 rebounds, but two of the Spurs' starters (Othyus Jeffers and Jeff Ayres) went scoreless in a combined 31 minutes. San Antonio had lost three in a row for the first time all season.
Grizzlies (24-20) 99, Kings (15-30) 89
Memphis handled the Kings, using an efficient offensive performance and their customary slow-it-down pace to pick up a win in Sacramento. Mike Conley put up 27 points (8-13 shooting) and 10 assists, while Zach Randolph chipped in 18. The Grizz shot 54.7 as a team on the night. Set back by injury early in the season, the Grizzlies are starting to look like a team that no one will want to play come spring. They've been one of the hottest teams out West in 2014, going 11-3 in January.
The Kings were led by Isaiah Thomas' 24 points, while Rudy Gay shot 10-16 on his way to 23 points against one of his former teams. The Kings got up about six fewer shots than usual despite hitting their average in turnovers, falling into Memphis' grinding game plan.
Clippers (33-15) 110, Wizards (22-23) 103
The Clippers used a late spurt to get away from the Wizards after leading comfortably most of the game. Washington closed the gap to 100-99 with three minutes on the clock, but the Clips outscored them 10-4 the rest of the way to pick up the win. Blake Griffin had 29 points (12-20 shooting) and nine boards for L.A., leading five Clips in double figures. Jamal Crawford used a parade of free throws (11-12) to score 21 off the bench, while J.J. Redick hit three 3-pointers on his way to 20. DeAndre Jordan, not exactly an ace free throw shooter, hit four of them in the final stretch and finished with 14 points and 17 boards.
The Wizards' young stars in the backcourt both had nice games; Brad Beal dropped 20 and John Wall went for 19 points and 11 assists as the two shot a combined 15-27, although neither of them hit a 3-pointer (both went 0-3 from deep). Washington shot 51.1 percent for the game, but couldn't complete the comeback after being down 16 earlier in the game. They hit just 2-10 shots in the final minutes and dropped to 0-7 in games that would have put them over .500 this season.
Pistons at Hawks – Postponed
The game in Atlanta was postponed, to be made up at a later date, due to an ice storm that hit the Southeast earlier this week.