It's scary to think that the best is yet to come for New Orleans Pelicans' Anthony Davis.
Just 22 years old, Davis is arguably the best all-around big man in the game and his hunger to maximize his God-given abilities while being fully committed to the Pelicans' franchise is a blessing to New Orleans.
After finally getting his first taste of the Playoffs this past season, Davis is only hungry for more. With new coach Alvin Gentry, the Pelicans will look to push the pace more on offense as well as set the tone on defense.
SLAM caught up with Davis—who was in Chicago on August 22 to host the second annual Red Bull Reign 3×3 Tournament—to discuss what's been a busy offseason for him.
SLAM: How does it feel to have your contract settled and the security of knowing where you're going to be?
AD: It feels real good. I knew I was going back to New Orleans. I love the city, love what the team is doing and I have faith in the coaching staff and my teammates. It was an easy decision for me.
SLAM: Have you been in talks with Alvin Gentry yet about the various ways you'll be utilized?
AD: A little bit, but we haven't really gone into full detail about what we want to do with the team or myself. We are going to be running a lot, getting up and down and trying to play faster, so that's definitely exciting. We got a defensive coach to try and move up on defense and we're just going to try and have fun.
SLAM: There was a video out a few weeks ago with you working on your three-point shot. Can we expect you to step out and take more going forward?
AD: I'm going to mix it up. I love playing down low, but at the same time, if the opportunity is there; I'm definitely going to take them. That's one thing for sure that coach Gentry has told me—"Shoot the ball," "Let it go." I've been working on it and I'm very confident in my game.
I've shot three's all my life. I didn't really need to shoot them over the past few years as much, but I'm never going to turn down shooting threes, especially if the coach tells me he wants me to shoot them. It's something that I've definitely been working on. I definitely plan on utilizing it this year.
SLAM: Just sitting here next to you, the obvious difference is the muscle you've put on your frame. You're obviously preparing to handle more of a load down low going into the season.
AD: It's probably like 10-12 pounds. I've just been really working, man, and staying in the gym; weights. That's the first thing that everybody says when they see me: "Oh, you're getting bigger!" When you're going against Dwight Howard and Big Cuz, you gotta put on some weight.
SLAM: You guys did fall to the eventual champs in the first round of the Playoffs, but how was it finally making it to the second season and as a young team, getting that experience?
AD: It was fun. I definitely learned a lot about myself, the team and about the Playoffs. The physicality really is different, the environment is different, the pace of play is different. Everything is different from the regular season. Guys actually step up their games in the Playoffs.
You hear about it all the time, but it really happens. Guys really lock in. It's tough when you're playing a team a minimum of four times straight. They know what you're going to do, you know what they're going to do and it comes down to who can hoop? That's what I found out and it definitely motivates me to get back next year and pursue more.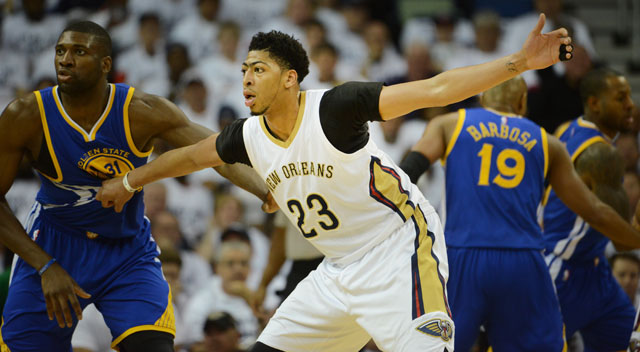 SLAM: With being a two-time All-Star, a Gold-medal winner, MVP candidate and the face of the franchise, how much more comfortable are you with leading? Toward the end of this year, I saw you become more vocal on getting on guys.
AD: I'm very comfortable. They know I have the best interest for them and I'm going to try and do whatever it takes to win. If you have to get on a guy and curse him out to get him going than that's what you have to do to win. The same goes for me. If someone sees me slacking, they should do the same thing to me to get me going. We kind of have that mutual respect. As long as you respect a man, you can tell him whatever you want to tell him in order to help him get better.
SLAM: I know you love coming back home to Chicago. Just with being one of the marquee names in the League, how is it coming back now?
AD: It's wonderful. To come back and see everyone come out to an event like this to support, have fun. Me being able to come back and do this event, it's surrounding yourself with basketball. Who doesn't love basketball? I think that's the easiest ways to get guys closer together. Whether they're enemies, basketball can bring everyone together and this tournament proves that.
That's why I wanted to do this. Last year, it was a great turnout. This year, it was even better with more players. It's a great atmosphere. There are a lot more people here at this time than it was last year. I'm definitely excited for it.
SLAM: Just how have you been able to relax this summer, because you didn't really take too much time off from what I hear.
AD: I've just been chilling, really. Chilling at home, going to see my family. I went on a little vacation earlier in the summer. That's really it. It's now grind time for me. I'm trying to be one of the best that ever played the game. That's how I approach things and go about my summer.
SLAM: Training camp is just a few weeks away. Just how excited are you to get started?
AD: I'm definitely excited. I was excited about our little mini-camp we had earlier in the week in L.A. I was excited just to get back around basketball and for it to start back up. Most people are excited for the season and all these TV games, I'm excited for training camp to get back in the flow and get this thing started.