Days after trading the face of the franchise Derrick Rose to the New York Knicks, the Chicago Bulls appeared to be in major flux. The team's big men Pau Gasol and Joakim Noah are more than likely changing addresses, and the team's best player, Jimmy Butler, was dangled in trade talks with Boston and Minnesota.
Opting to retool instead of rebuild, the Bulls' front office stuck with Butler and paired him with a running mate of the future who can immediately contribute offensively.
With the 14th pick in the 2016 Draft, the Bulls selected Michigan State wing Denzel Valentine. Valentine had a breakout senior season, averaging 19.2 points, 7.8 assists, 7.5 rebounds per game. He shot 46 percent from the field, 44 percent from three, and 85 percent from the free-throw line.
The 2016 AP Player of the Year, Valentine fits the MO of a Bulls draft pick. He's a four-year player, with a good background, from a well-respected program. His experience, demeanor and ability to score the ball is intriguing to Chicago.
Valentine has the unenviable task of playing the 2-guard in Chicago. Brent Barry, Ron Mercer, Trenton Hassell, Hersey Hawkins, Keith Bogans, John Salmons, Ben Gordon, Larry Hughes, a young Jamal Crawford, and a past-his-prime Richard Hamilton have all donned the red and white in the house that MJ built.
Valentine, who coincidently will wear Jordan's old number 45, is up for the task.
SLAM: How did it feel to hear your name called on draft night?
Denzel Valentine: Man, it was amazing. It was so surreal. Just watching the drafts in the past with LeBron, Anthony Davis, you can name all these great players, but to walk up on that stage and shake the commissioner's hand, it's everything I dreamed of. It's here! It was really surreal.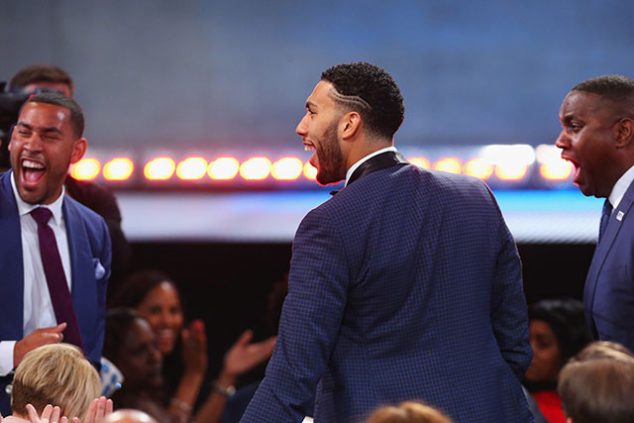 SLAM: Your reaction was priceless!
DV: I know, I know. Especially going to a city like this. When you think of basketball, you think of the Chicago Bulls because the greatest player ever played here. They want to win here, I want to win, it's just everything I believe in is the Chicago Bulls.
SLAM: How do you think you will fit in with this roster?
DV: I think I fit in really good. Coach Hoiberg seems like he has a great feel for what he wants. That's big guards that can do a lot of things—handle the ball, make plays and be able to knock down the three-ball. That's my makeup, so I'm very excited that I got selected here.
SLAM: For those that don't know, what does Denzel Valentine bring to the table? 
DV: I think most important is versatility. Being versatile, being able to play 1 through 3, being able to get in the paint and make plays, make decisions for other people, being able to play in the pick and roll, and also being a knock-down shooter. I'm able to space the floor and let other players get in the paint and open the floor up a little bit so people can do what they gotta do. I can guard a point guard or a 4-man, even. We'll be able to play different lineups with me in there. I'm also a winner. I bring toughness to the table, and I'll compete every single night.
Woke up like this 🙏🏽😀😀😀 pic.twitter.com/PzNE8tqVfJ

— Denzel Valentine (@denzelvalentine) June 29, 2016
SLAM: What part of your game needs the most work? 
DV: Probably just getting caught up to the speed of the game. I haven't played one NBA game. I don't know how the game works completely yet. As soon as I can get caught up to that, that's when the best comes out of me. That's why I'm here this week working out and trying to get ahead of the game.
SLAM: Has Draymond Green given you any advice about transitioning from the college game to the pros?
DV: Yeah he's talked to me. He gave me advice on what to do and what not to do. He pretty much just told me to stay true to myself, keep doing what I've been doing and don't change.
SLAM: Since the Draft, a lot had been made about your past knee surgeries. What do you say to those who doubt your durability?
DV: I'm going to do everything I can do in my power to have a long career. I'm healthy right now, I've been healthy in the past. I can't control the wear and tear that I have on my body. Obviously it's not that bad because I can still play and I'm healthy right now. I know that it's a concern for other people, but it's not a concern of mine. I'm going to do whatever I can do to stay healthy and have the longest career that I can.
SLAM: What's your goal for your rookie season?
DV: I wanna win Rookie of the Year. I mean, why not? I feel like I'm the best player if not top 5. I think coming to this team I'm going to be put in great situations to be successful. I wanna go get that Rookie of the Year and hopefully make the Playoffs, and make a championship run. Why not?
110