The New York Yankees hosted close to 80 kids and adults with hearing impairment at Yankee Stadium in the Bronx (NY) a couple of weeks ago, including more than 15 Holocaust survivors from the NYC area, as part of the Starkey Hearing Foundation NY mission. The Minnesota-based organization provided free, customized digital hearing aids for the attendees. Among the celebrity guests in attendance to help assist with the fitting of each device was five-time NBA champion Ron Harper. The former Chicago Bulls and LA Lakers swingman has been involved with the foundation for a few years, traveling with them to numerous missions throughout the world.
The foundation has pledged to give out one million hearing aid devices worldwide to those in need this decade, currently providing over 175,000 devices annually. For the NY mission, joining Harper in assisting with hearing aid fittings was New York Yankees Joe Girardi, former Bronx Bomber first baseman Tino Martinez, Netflix's Orange in the New Black actress Dascha Polanco, and ABC's Shark Tank Daymond John, among other celebrities.
While some of the celebrities alternated their time with the attendees throughout the day, Harper, enthusiastically and fully engaged, opted to spend the entire 5-plus hour event with the New York natives, some of whom were actually hearing for the very first time.
The Dayton (OH) native grew up battling a communication impairment of his own, dealing with stuttering since a young age. We caught up with the former NBA standout the day of the mission for a little while and talked about his involvement with the foundation, post-retirement life and the state of the NBA today. Check it out below.
SLAM: What drew you to the foundation?
Ron Harper: Some friends of mine from Iowa have been doing this for 20 years and they asked me if I could tag along one time. They had me come to a couple of the events they were doing like eight years ago. And now I've been doing it ever since. Last year we went to India for three weeks. We did a lot of great work. Just a lot of transforming kids with hearing impairments and seeing how much it changes someone's life. A great gift to give a kid, or just anybody, is the gift of hearing.
SLAM: Anything particular about that first mission that sold you on joining the efforts?
RH: Not really. You just do it. You don't even think about it. You sit back and just enjoy the work that you do. It's really not work. It's just giving back and for a great cause.
SLAM: What is some of the advice you give to the kids at these events?
RH: The greatest advice I can give to the kids is, 'This will change what you thought of yourself. You can hear now.' Hearing is about processing what's going on. You can get a chance to change a kid's life and give a kid the chance to hear what you can hear. Just think about all of us who take that for granted. The fact that we can hear, we can see and we can speak. Like, when I was growing up I had a speech impairment. Everybody used to make fun about that and make jokes. But it never discouraged me because I knew the kind of guy I was going to become. I wasn't going to let it get in the way of who I was going to become and do what I was going to do. So it all turned out great.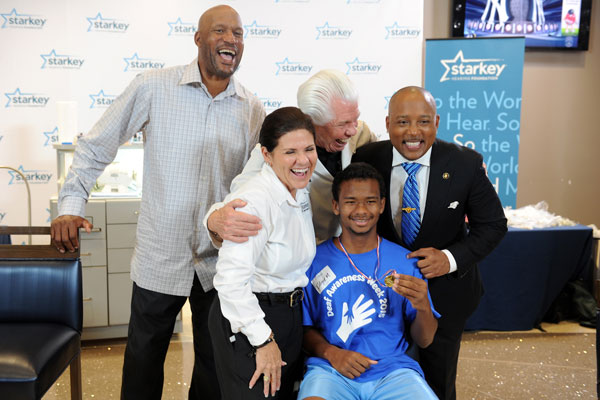 SLAM: Some of these kids might be getting taunted in school, just like you mentioned you did. What do you tell kids in that regard, being that you can relate?
RH: When I was in the seventh or eighth grade, playing on the basketball team, kids were talking about, 'Oh, you can't speak right.' I was like, Well, then step on the basketball court. I'll let my game speak for myself. But, you know, kids don't really understand what they're doing to a young kid. They think is nice, cute and funny but I always tell kids, Everyone is not the same in this world. Don't think you're any different from anyone else in the world just because you're not the same size, not the same color or from the same neighborhood. Just keep being you and know that someday everything will work out great.
SLAM: Did such taunts later come from players in the NBA as well?
RH: Oh, yeah! A couple of guys tried to trash talk to me but it didn't go too well for them that night. People don't understand that when we get to that level where we're playing at, if you think you can joke about something from a guy's life, that will just give him more motivation and more fire. Every time I saw that guy, I had to put it on him.
SLAM: What's Ron up to nowadays?
RH: Ron has a five-year old, a nine-year old and a 15-year old. He's just being a dad. Stay at home but I chase the sun a lot. My son is about to be a sophomore in high school at Don Bosco in New Jersey. So he's going to be playing on the varsity team this year. I'll be around to watch him play. I try spending as much time doing as much quality work as I can do. Just trying to help the kids and change the kids lives. I think I did enough of what I had to do playing the game, so now I'm just trying to give back. And I think this is the right start.
SLAM: Are you keeping up with the League closely these days?
RH: I follow the Cavs, the Bulls, the Lakers and the Clippers.
SLAM: Do you see the culture of the League being different now from when you were playing with MJ and young Kobe?
RH: People are now making a big deal about the three-point shooting in the NBA but the rules have changed our game. They've made it more for the three-point shot. You know, there really isn't that much size anymore. There's no more low-post game. All is mid-range or long-range game. There's no more Shaq. Tim Duncan is getting older. You have guys like LeBron and Kevin Durant—people that can expand the floor and attack the rim at the same time. So that's what the game has come to. It's not a team-friendly game. The San Antonio Spurs still believe in teamwork and they're all on the same page. I love the way they play. Coach Popovich has done a great job there. They're always going to be one of the best teams around because they believe in what they do. There isn't any more players that believe in shooting over 50 percent from the floor. They shoot 40 or 35 percent and think that's awesome. It's just not the same to what we were used to. I'm not bashing the game, I just think that's where the game has gone to. But it's still an exciting game and it still has some great young players. And we still have some older guys hanging in there.
SLAM: Any particular guys that remind you of yourself back in the day?
RH: There are a few great role players that play the game right. Like I tell guys, It's easy to score 20 to 25 points on a bad team because they're going to give you the ball. But I want to see how many guys can transform their games when they're with a good team. Can you accept the role that you're going to have? Later in my career, I could've still scored. It's just that I didn't have to. When I came to the Bulls, I had Scottie Pippen… I had Toni Kukoc. But when I had to score, they knew I could score. It really isn't about scoring. We all get paid, but I got five championship rings.
(Photo by Craig Barritt/Getty Images for Starkey Hearing Foundation)
200