"There's a lot of guys out here that are extremely talented, and you always ask yourself, why couldn't they stick in the NBA?" Bulls power forward Taj Gibson says.
"I have these discussions with my teammates every day and I ask myself at night, What is it that I do that has me so blessed to still be here?"
It's a humble ponder, but in Gibson's case, the answers are not all that difficult. He's been consistent and he's been a great teammate. Just does his damn job, something far easier said than done in a League riddled with the vices of fame, money, endorsements and egos.
"In the NBA, it's easy for guys to say, 'I wanna be a good teammate,' but it's really tough because there's so much animosity and guys are getting so much money," says the seven-year vet. "I always had the philosophy that positive energy brings a positive impact."
Energy has indeed been his calling card, along with defense, rebounding and screening–aka "dirty work." You won't catch him in an All-Star Game, won't find him on ESPN's Top 10 very often, and he probably isn't on your fantasy roster. But the intangibles he brings help win games, and Gibson's been a stable part of a Bulls unit that's collected more than 300 Ws over the last six years.
"Sometimes I enjoy it, sometimes my body is a little banged up," he says. "But I know my teammates and coaching staff appreciate it because we talk about it in film. What people don't understand is that behind closed doors, we hold each other accountable. After my career is over, I want guys to be able to say that I was a hell of a player to go into battle with."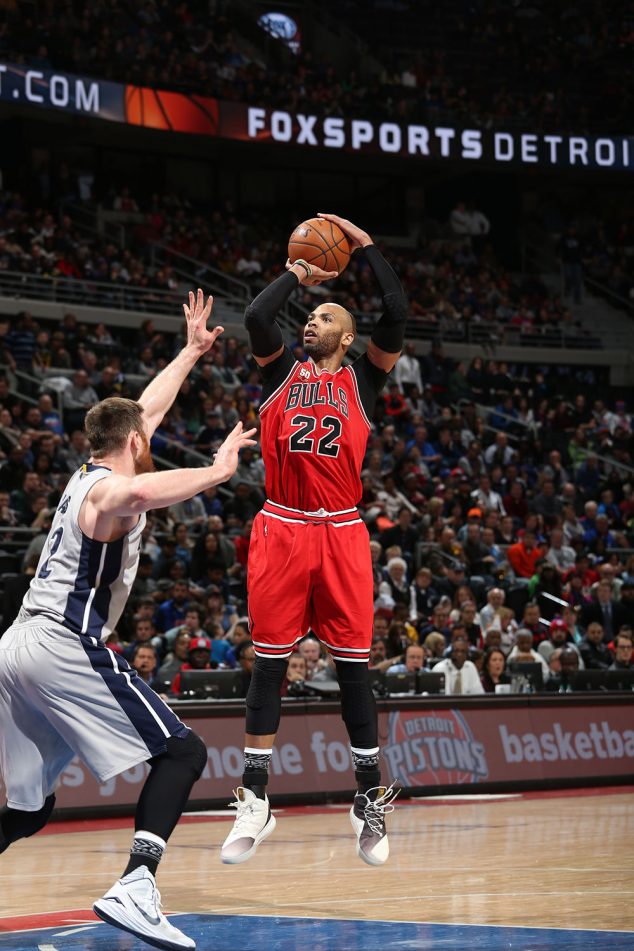 While they sit in the postseason mix the Eastern Conference, the Bulls have also been among the most inconsistent teams this season. Gibson, however, has been a steady cog. He's shooting a career-best 53 percent from the field and getting 8 points, 7 boards and a block that you can pencil in for him just about every single night.
The consistency garnered him the trust of first-year Bulls coach Fred Hoiberg. On December 9, Gibson was permanently entered into the starting lineup for the first time since his rookie campaign and provided some much-needed zeal that helped the Bulls win four of their next five.
"I approach every game like I'm a rookie in the aspect that every game is another opportunity to prove that I can play and that I've earned every minute I've gotten," he says. "Every starting opportunity I've gotten, I've played. That comes from being tested, staying ready and being poised and patient."
Pau Gasol, one of Gibson's starting mates, has been around not just his share of great players, but plenty of conceited ones, too.
"Luckily, there's some guys [in this League] that don't put themselves before the team," Gasol says. "Taj is one. He's been around and understands we all have to sacrifice individually on some level for the team."
For most players, the career path to the NBA starts with being a nationally renowned prep star followed by a stint in college as their team's primary offensive option. Once setting foot in the L, the accolades, attention and scoring opportunities players grew used to cease to exist. That culture shock can complicate one's transition, but Gibson was already well-versed in how to play his part.
In three years at USC, he played for former NBA coach Tim Floyd and alongside highly touted Nick Young, OJ Mayo and DeMar DeRozan. He was All-Conference twice and Defensive POY once, but he guesses the last time he's led his team in scoring was high school. It's an achievement he can't immediately recall.
"In the NBA, everybody is a specialist at one or two things," he says. "You have to figure out what you do great. That's what helps you stick around in the League for a long time."
Gibson was never highly rated in high school. Hasheem Thabeet, Jonny Flynn, Earl Clark, Austin Daye and Byron Mullens were drafted before Gibson was selected 26th in 2009. None of the above have suited up this season, though, while the NY product is a critical part of a Playoff team.
What separates prospects from pros? "I was always coachable," Gibson says. "I had a lot of coaches curse me out on a daily basis, but I was one of those kids that had to suck it up. I come from Fort Greene, Brooklyn, where everything is tough. I had to fight my way to the court, so when I got there, I appreciated it."
Situations and surroundings play a role, too, and Gibson credits Nate Robinson and Kurt Thomas as two vets who guided him early in his career and showed him how to prepare mentally and physically. He's taken on a similar role with rookie Bobby Portis.
"He's a blue-collar guy that gives it his all every day just like me," Portis says. "He plays with a lot of heart. Something that he tells me every day is to lock in, and if your shot's not falling, just play hard. I've seen it with him—he's a dog on the court and an anchor on defense."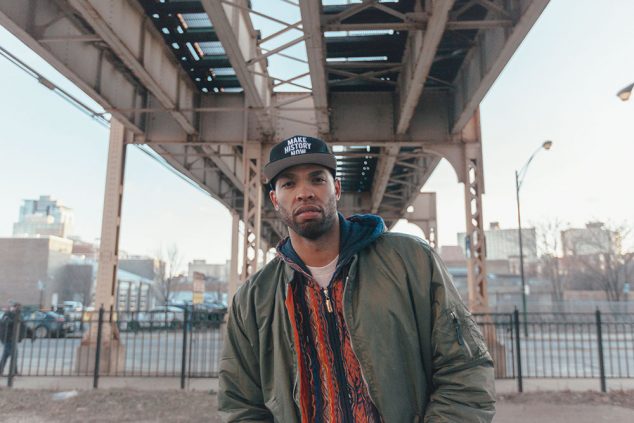 Gibson's game has an old-school feel. He's not a perimeter-oriented 4-man hovering beyond the three-point arc; he's a throwback bruiser who goes hard in the paint. It's a style that's made him an ideal candidate to connect with '47, a Boston-based lifestyle sports brand that recently collaborated with the Black Fives Foundation to create hat and apparel collections paying homage to the all-Black teams of the pre-1950s. Gibson, who recently came on as an ambassador for the brand, will appear in '47's latest content rollout.
"Taj is from Brooklyn, which is where a lot of this history comes from," '47's Consumer Marketing Manager Ryan Johnson says. "He's a well-spoken guy with a good head on his shoulders, a solid player that's a bit underrated that does a really good job and could start on a lot of teams in the League."
Gibson has been on the winning end of a solid career, earned the respect of his peers and is now repping the pioneers of the game. Not a bad résumé for a 30-year-old with more than a few seasons left.
"I've always loved basketball for the small things: being on a good team, playing for the guy next to you," says Gibson. "I appreciate going back to New York and seeing guys in street tournaments. We're able to connect from playing together when we were 13. We can still relate and talk about those good times—that's why I love the game. These relationships will last me forever."
77