Growing up in Compton, CA, Richard Sherman attended basketball powerhouse Dominguez High School. While he made his mark on the football field and the track team, he paid close attention to the basketball world and is friends with plenty of world-class hoopers—including Kobe, KD and Russell Westbrook. We caught up with the Seattle Seahawks corner back to talk pickup ball, being friends with Russ since high school and if he would like to see aspects of the NBA's collective bargaining deal in the NFL.
***
SLAM: What's it like to be able to work with Kobe?
Richard Sherman: I grew up a Lakers fan and am still a Lakers fan. It's really cool and it's a dream come true for a kid from L.A. to work with Kobe as a creative director for BODYARMOR's "Obsession Is Natural" campaign. It's about as good as it gets for me.
SLAM: Tyson Chandler was a huge recruit at Dominguez. Do you remember the hype around him back then?
RS: I was actually one of the ball boys when Tyson was there and he was making his run and they were going to state championships. I ran into him not too long ago at The Players' Tribune and he remembered me being the ball boy. We had a good laugh at that and how far we've come.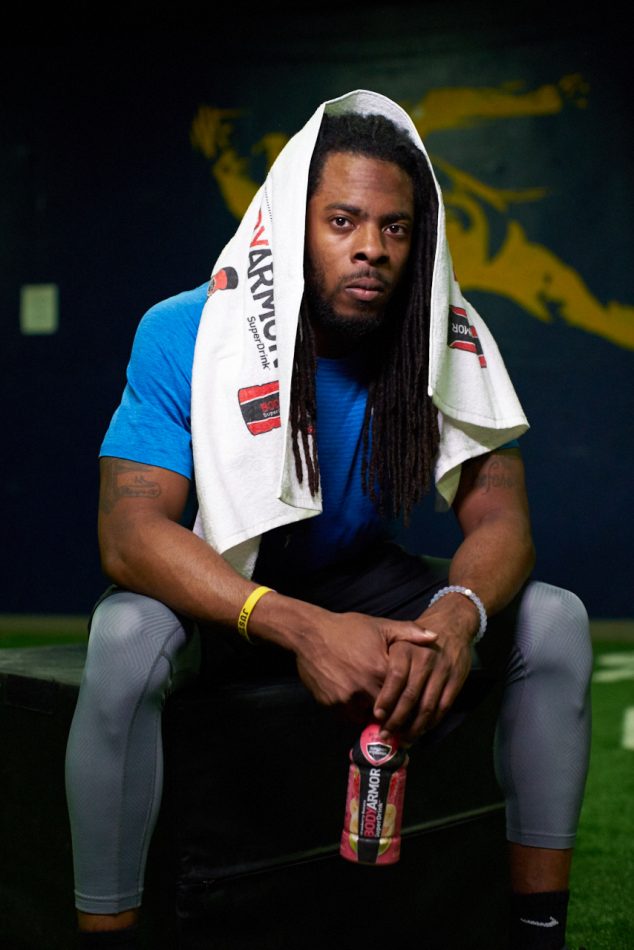 SLAM: Do you have a relationship with any other current NBA players?
RS: Me and KD have a pretty cool relationship. Right now we got a pact to see who can get their second ring first. Our season starts and ends before his, so hopefully I can get that done. When I was in high school, the girl I was dating went to Russell Westbrook's high school so I used to go up there all the time. We ended up having a cool relationship—we've been in contact since high school.
SLAM: Who are the best ballers on the Seahawks?
RS: I'd say someone between Doug [Baldwin], Kam [Chancellor], Earl [Thomas] and Jimmy [Graham].
SLAM: Do you guys get together and play during the offseason? 
RS: We go up to L.A. Fitness and run all the time. They're pretty competitive. Most of us as football players are defensive stoppers, but we can get the ball in the basket when we want to.
SLAM: There's such a great basketball community in Seattle. Do you think an NBA team is ever going to come back to the city?
RS: I would hope so. It's unfortunate that this fan base had to be punished for what the owner did. It's not like the fans weren't coming to the games. These fans are the most incredible fans in sports and they deserve a team.
SLAM: You made a comment during the offseason that NFL players may have to go on strike to get the contracts that players deserve like the NBA did in 2011. Do you think the NBA's bargaining deal is the model that other leagues should follow?
RS: I don't know if it's the model CBA, but there are things in the NBA's CBA that they do well and there are things that we do well. We really like the way they treat their players. Obviously their league is more of a players' league than our league. Our league is owners controlling and them keeping the personalities of the players pretty much suppressed. I think there are things we can learn from the NBA and MLB and how they got their deals done.
SLAM: Does "Obsession Is Natural" accurately describe your approach to football and life? 
RS: It definitely does. It's always been my dream to be remembered in this game and remembered as one of the all-time greats, just like Kobe is in basketball. In our game, with how violent it is, I don't think you can play 20 years, but I'll do my best. Everything I do, every bit of energy, every thought is focused on some version of me being better at football than I was yesterday.
—
Peter Walsh is a Senior Editor at SLAM. Follow him on Twitter @peter_m_walsh. 
Top photo via Getty Images
Photo in post via BODYARMOR