A typical offseason day for Zach LaVine consists of little downtime.
"Wake up around 9:00 am, get some food, head over to the gym with my trainer and work on whatever I'm working on that day," he explains. "I do about an hour and a half workout there, then go get some more food. I either do a stretching session or what they call the R3Bar – you work on that for your core. Then drive up to my dad's spot, lift or do a field workout. And then shoot again at night."
The moments when Zach is not fixated on basketball are few and far between, but SLAM caught up with him on one of those atypical afternoons.
It's about 2:30 pm on the West Coast and he has just finished testing out the new "Gambit" mode in Destiny 2: Forsaken – the most recent version of his favorite video game. The event, which took place at a studio near Zach's hometown in Bellevue, Washington, was also attended by Dallas Mavericks rookie Luka Doncic.
Normally LaVine won't throw on the headphones to play Destiny until very late in the evening, once all those hours of training have been completed. As a kid, his father actually worried that video games would sidetrack from his ambitious dream of making it to the NBA.
"I had a Game Cube all the way up until high school," LaVine admits with a laugh, seeing that the console was extremely outdated by the time he reached that age.
But those potential distractions — either then or now — never truly got in the way. In fact, much of Zach's "downtime" is spent on a court anyway.
"My hobby is playing basketball. When I'm messing around – I just bought my parents a house with a little workout facility and a court in the back – we go out there and play horse or one-on-one or something like that," he says. "So basketball is pretty much my life."
Living without the Playstation was tolerable. Living without basketball was not.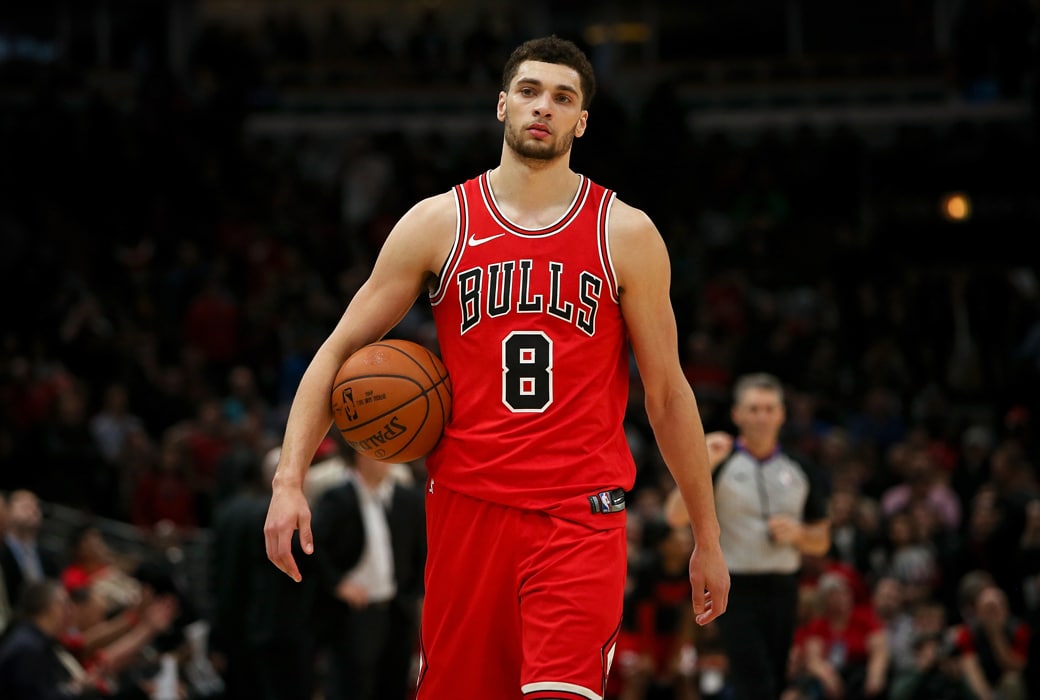 It wasn't until February of 2017 that Zach got to experience that void. In a game against the Pistons, the Timberwolves guard elevated for a layup and came down awkwardly on his left knee. After being examined by the medical staff, LaVine actually battled through considerable pain for another six minutes of action until it became too much to bear.
An MRI the following morning revealed the extent of the damage: Torn ACL.
For an ambitious 21-year-old just beginning to solidify himself in the League, having to suddenly watch from the sidelines in street clothes wasn't easy. The former UCLA Bruin was having the best season of his career to that point, averaging 18.9 points, 3.4 rebounds and 3.0 assists per contest.
"It was terrible sitting out the season. It felt like it was so long because I was waiting to play," he describes. "Obviously it makes you hungrier because you're not able to go out there and show what you can do. It's not that you get forgotten about, but other things come into people's minds because you haven't been playing. So you want to get back out there – take a hold of what was yours."
That opportunity would have to wait nearly a year, as LaVine worked to regain his health and explosiveness. The long road back would require a lot of patience, a lot of Destiny and even a change of scenery. Roughly four months after sustaining the injury, he was traded to the Chicago Bulls in the blockbuster deal for All-Star Jimmy Butler. Amid his summer of rehab, Zach had to gather his things and relocate to the Windy City.
His Bulls debut came the ensuing January, midway through the 2017-18 campaign. LaVine had to get re-acclimated to the NBA speed and learn to mesh with his new team all at once – a task that, unsurprisingly, proved challenging.
There were flashes of what makes LaVine such an intriguing player to build around. He has exceptional athleticism (as the two dunk contest titles have made clear) and can score in a multitude of ways, putting constant pressure on opposing defenses with his quick first step and range from the perimeter.
Against his former team in early February, Zach led the Bulls to a 114-113 victory with a season-high 35 points, including the final 11. He caught a body in Sacramento, showing that elite elevation to get above the rim.
Yet the talented wing would struggle to establish a good rhythm, averaging just 16.7 points on a career-low 38 percent shooting in 24 outings. With the Bulls out of playoff contention, LaVine was shut down in March due to tendinitis in the same troublesome knee.
The impression you get in talking with Zach is that the real, full-blown return still looms – and the entire summer has been dedicated to ensuring it goes as planned. From the early morning workouts to the evening shooting sessions, LaVine has seen enough results to tell SLAM definitively, and repeatedly, that he is "back 100 percent."
"I got my speed back, my jumping back," he says. "Once you get off an ACL injury, you're lifting and eating. So I got up to, like, 210 pounds. I've never been that heavy before. I'm not a post-up player. I'm fast, a more athletic guy. I got back down to the weight I need to be at [185 pounds], but still I feel strong. I feel really good, man. I'm excited for the season."
Meanwhile, the Bulls re-affirmed their faith in LaVine, swiftly matching a four-year, $78 million deal he signed with the Kings as a restricted free agent. Zach has since clarified that he never wanted to leave and was hoping Chicago would meet the offer.
"We're excited to have him back," Bulls head coach Fred Hoiberg said at the recent Summer League. "He's a 23-year-old. He has as good athleticism as anybody in this League.
"Obviously there's a ton of value in Zach and what we feel he can bring long-term to the organization. And again, he fits with the way we want to play with his athleticism. Now that he's got a taste and a feel for how we want to play, to have that full summer leading into training camp this year is very important."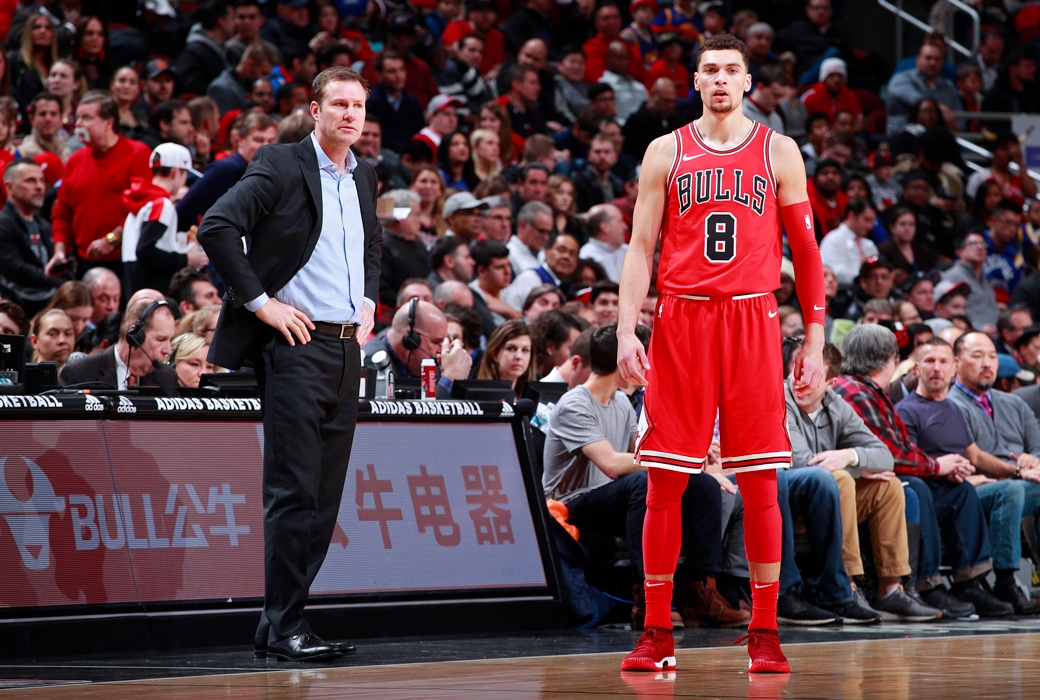 Not everyone sees the value that Hoiberg alluded to and some have made that known, voicing their opinions that the Bulls paid too steep a price to retain LaVine. These critics mostly point to defensive flaws and offensive inconsistency – two things Zach has been addressing in his training.
As for the dip in his field goal percentage, LaVine has studied plenty of film and is determined to eliminate all the deep 2's from his game, knowing that he can create better looks using his handles and agility.
To be honest though, the outside noise really doesn't bother Zach. You can detect in his tone just how confident he is in his own abilities.
"Over the last couple years, I've been trying to get better and better and I feel like I'm at the stage now where I should be trying to reach accolades like an All-Star and things like that," he says. And as someone who has never made the postseason and is tired of going home early, Zach intends to help Chicago return there as fast as possible.
The front office has assembled a core of youngsters that they believe will blossom nicely as a unit. LaVine, point guard Kris Dunn and forward Lauri Markannen – all foundational pieces who came over in the Butler deal and have only appeared in 12 games together – will be joined by newcomers Jabari Parker, Wendell Carter Jr, and Chandler Hutchinson. Big man Bobby Portis has grown into a serious contributor off the bench. None of those players have celebrated their 24th birthday yet.
According to Zach, most guys reported early to camp by choice in order to make sure they develop the utmost chemistry. The team, which had the best attendance in the NBA despite going a woeful 27-55 last season, wants to give their passionate followers much more to cheer about in 2018-19.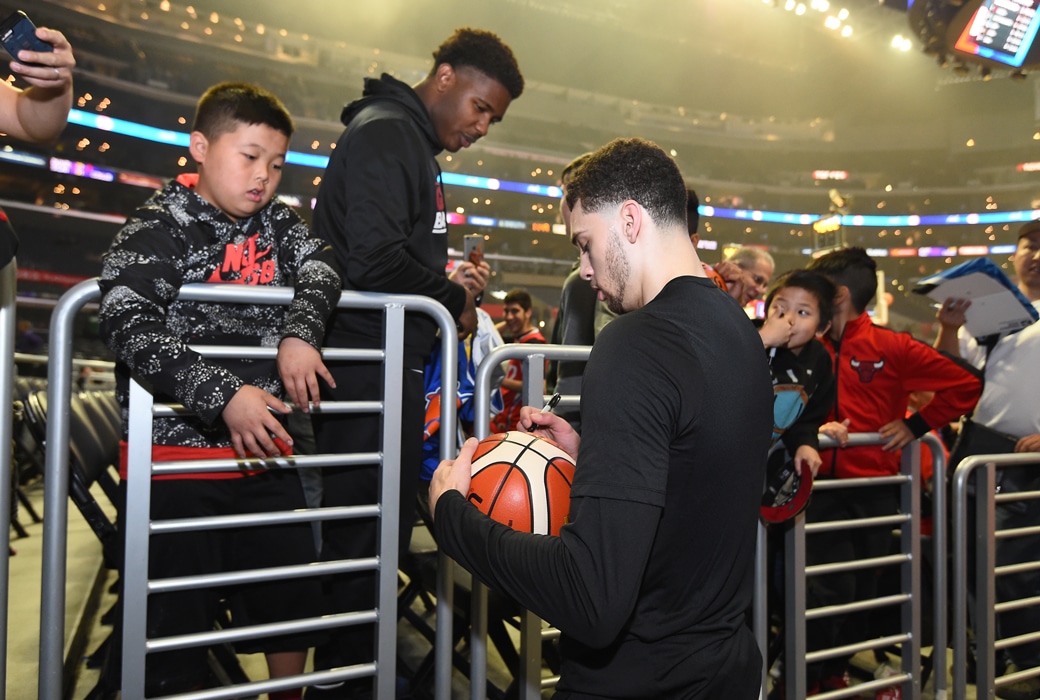 A glance into the rafters at the United Center should provide all the motivation one needs. Six banners from the Michael Jordan era hang from the ceiling – mementoes of their storied past and not-so-subtle reminders that there is a history of winning in this building.
"Be ready," Zach says, when asked if he has a message for Bulls fans. "Chicago is a big-time sports town and you deserve winners, and we're going to try to get back to the glory days of the 1990s when you guys got spoiled."
It's going to take some time to be sure, but those fans can find hope in the fact that cornerstones like Zach LaVine are working tirelessly each and every day, from 9 am until the sun goes down, to get there.
—
Alex Squadron is an Associate Editor at SLAM. Follow him on Twitter @asquad510.
Photos via Getty Images.