Former Los Angeles Lakers forward and current Time Warner Cable analyst Robert Horry made a special guest appearance during the American Express "Teamed Up" event with Kobe Bryant Tuesday night in L.A.
Horry, who spent seven years as a Laker and won three his seven career NBA championships with Kobe, was also accompanied by former teammate Rick Fox, and the two shared the stage with Bryant to speak on the Black Mamba's 20-year tenure in the L that's coming to an end on April 13.
After the event, SLAM chopped it up with Big Shot Rob to talk Kobe's retirement, favorite Mamba moments, Bryant over the years, Final Four picks and much more.
SLAM: With eight games left, has it hit you that Kobe is calling it quits after 20 years?
Robert Horry: Due to the fact that I'm with Time Warner Cable, to see the perks, who he is and accepting it is the part that I'm having problems with—him accepting retirement and moving on because you watch him play and you almost want to be like, 'Man, why don't you do it like Roger Clemens and only play home games?' You never want to see the greats leave the game and when they've brought so many memories you'll talk about for years, it's just hard to see him walk away.
SLAM: What was Kobe's approach to everything your first year with the Lakers?
RH: Just young and aggressive. He just wanted to play and [didn't] really understand the game. He just wanted to be out there and play hard. Then he started understanding the game and adding that to playing hard and that's who he is now. He became Kobe.
SLAM: And during the 3-Peat era?
RH: It was weird because the fact that we got Phil [Jackson] and we just came together as a team, and he just started to understand what players on the team could bring to the game. And it wasn't just about him, him and him—he made the people around him better and in return, we made him better. I think that's what he appreciated most about it.
SLAM: Numerous Kobe stories from former teammates have been told over the last couple months. Any untold ones worth sharing?
RH: Nah, not really. You tell the ones you can tell, you know? There's a lot of stories that you can't tell because it has a lot of curse words—a lot of things you want to keep to your heart or keep to you when you want to write a book. [Laughs] But, for the most part, he's a fun, loving guy and he knew when to laugh and joke and when to turn it on and have fun with the guys. That was the best thing about all that.
SLAM: How weird is it going to feel not seeing No. 24 suiting up in purple and gold next season?
RH: It's going to feel like the Lakers are turning into the Clippers. [Laughs] It's going to feel like this young, brash team who's trying to search for an identity and for who they are. It's going to be very weird. It's almost going to make me not go back to work next year because he's not going to be there. [Laughs]
SLAM: How difficult is it to see the type of season the Lakers are having during Kobe's final season?
RH: It's hard, man. Really, really hard because when you've had a person who's been so successful as Kobe has and has won so many games and to see him constantly lose night in and night out. [The team] has the second-worst record in the league and it's hard because you want to see him finish how he started his first season and how he started his career winning.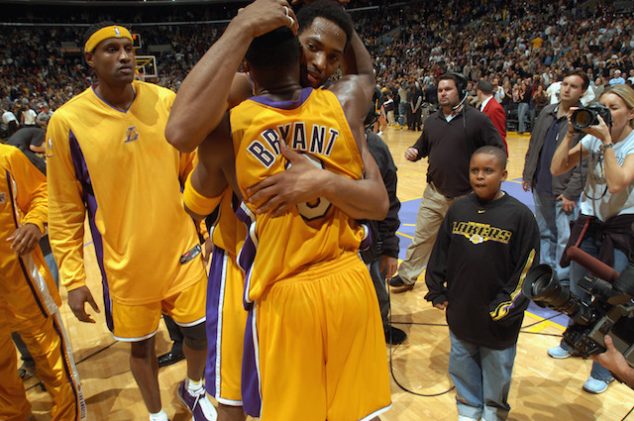 SLAM: Favorite Kobe moment?
RH: For me, it has to be the moments where we had a connection. He and I would look at each other during a free throw and I would give him a nod and he knew I was going to take it out really fast and throw him a home-run ball to get a layup. I think those connections that we had those personal connections mean more.
SLAM: A lot of NBA veterans have been discussing which of their teams would beat today's Warriors. Which one of your previous squads would give them a run for their money?
RH: All of them. [Laughs] All of those teams I've played on had a great big man. They (Golden State) have a good big man—we had a great big man. They got great guards—we got great guards. The key was that we had great big men and that was always going to be the deciding factor.
SLAM: The game is obviously evolving. Thoughts on the small ball in the NBA today?
RH: It's because of me. People don't realize that we started "small ball" back when I was with the Houston Rockets because other teams didn't have anybody that could guard Charles Barkley. Me, I was a 3 and they put me as a 4 and we revolutionized the game and swept Orlando [in the Finals in 1995] with small ball. But now, everyone's like, 'Oh look at this new thing, small ball, we spread the floor with no big man.' It's changed now because the small ball guys are bringing it up full-court and now they do things of that nature. Now everybody wants to be like Scottie Pippen. That's the way it is, but if you get a big that could still pound it in the inside and score, you could slow the game down and change the game up. It's going to be small ball for now, but pretty soon the bigs are going to come back into play.
SLAM: If the MVP award were to be given tomorrow, who's getting it?
RH: You know, for me, what Steph [Curry] is doing is amazing, but what Kawhi [Leonard] is doing is amazing, too. Everybody is going to stay they (Golden State) have the best record in the league and he's averaging 30 points a game, but I'm saying to myself that Kawhi's [on a team with the] second-best record in the league and he's averaging 26 points a game and he's playing good D. So, what do you want? You want a guy who's going to give you strictly O or do you want a guy that's going to give you strictly offense and great D? I love what [Steph] is doing, but I'd have to give it to Kawhi because he goes at it on both ends of the court—not saying that Steph doesn't play good defense—but I just think that Kawhi plays a little bit much better D than him and he's required to play three or four different people on the defensive end. So I'm going to give it to both—co-MVP because Kawhi deserves it as much as Steph does.
SLAM: Who you taking in the Final Four?
RH: I like Buddy [Hield]. I like Oklahoma and I like Buddy a lot. People have been saying he's not a Top 5 draft pick—I say he's a Top 3 pick. I think he's good and I like him a lot.
—
Photos by Andrew Bernstein/Getty Images