There is an underlying truth about the NBA Draft that surfaces each year as the process ticks into the late first round: If a team wants a certain International Man of Mystery, it best pick ahead of San Antonio.
In June of 2013, one such raw-if-intriguing prospect began to slide. The Spurs, picking at No. 28, had watched him up close and knew him well. The Jazz, having already burned their first-round pick, knew he'd be gone when they picked again at No. 46. So Utah traded up for Denver's No. 27 pick, dishing just a second-rounder and cash to leapfrog the Spurs and select the Draft's best player.
It's easy to see that last bit now, anyway, just two years into the dazzling career of a so-called project. But Rudy Gobert is annoyed that it took so long to catch on.
"I knew I was going to be better than some guys, but I wasn't going to get drafted higher than them—that's the way it is," Gobert says. "My goal was to be first round—then I knew I was gonna make it, working hard, and get respect from the staff and my teammates."
Gobert, now 23, is phoning in from the Utah Summer League. Lean, lanky and every inch of 7-2, he speaks with a thick French accent (think "Dion-jello Rooh-sell," as in the Lakers' top pick) and refers to doubly beneficial situations as "winning-winning," but any language barrier ends there. He picks Twitter fights (in English) with ESPN for ignoring him as an elite defender. He recalls past statistics with ease. Thankfully, a box score in Salt Lake City reads the same as one in, say, Saint-Quentin, the small French city where Gobert grew up.
His nickname, the Stifle Tower, is a nifty nod to both Gobert's nationality and daunting size. He brushes his teeth directly before each game ("Every time, he's the last one to the huddle," says teammate Trevor Booker), though whether this hygienic tradition has French roots is unclear.
The ascending star is a scout this week. Utah's summer roster features three first-round picks from the past two Drafts—key pieces to a promising rebuild that mercifully skipped the tanking phase—and Gobert is in town to observe. Yesterday, 22-year-old Rodney Hood led the Jazz with 18 points in a win over Boston.
Gobert, one of six active NBA players born in France, made his faux-NBA debut against similar competition two years ago, back when he was known for mythical measurables and little else. His wingspan was the fourth-longest ever recorded at the basketball combine. When Gobert was selected at No. 27, announcement of his 9-7 standing reach prompted an ESPN panelist to proclaim, "He should have been the first pick!"
If that was meant as a joke, the League is no longer laughing. After spending his rookie season as a small sample-size standout, Gobert has developed into a formidable defensive anchor as a sophomore. Shooting in Gobert's general vicinity should be considered only in the case of a shot-clock emergency. Had it been Gobert contesting Magic Johnson's fateful skyhook in '87, the ball would have been spiked into 1988.
"He cleans up a lot of our mistakes," says Booker.
Last year, among those who played in at least 50 games for at least 25 minutes per night, nobody forced a lower field-goal percentage at the rim than Gobert. Despite drawing just 37 starts, he trailed only Anthony Davis and Serge Ibaka in blocks per game among qualifiers.
Most of the damage was done following the February trade of Enes Kanter and subsequent call to the starting lineup for Gobert. The Jazz, off to a 19-34 start, closed the season by going 19-10 after the deal—a pace that would have ranked fourth-best in the West over a full season. During that stretch, the team held the League's best rebounding percentage and permitted the fewest points per game (by a mile—the difference between Utah and the No. 2 defense was the same as the difference between Nos. 2 and 13).
Gobert's minutes spiked to 36 per game in March, a month in which Utah allowed fewer than 88 points nightly. That number was far closer to the all-time record (83.4 by the '98-99 Hawks) than the second-best that month (94.9, Memphis). Gobert's presence did not merely help to make Utah's defense momentarily elite—it propelled the unit into historic territory.
So why, exactly, was Gobert left languishing among undersized college standouts and bench mob energizers as 2013's dreaded second round drew near?
"My English was pretty good, but it wasn't great, so I probably wasn't trained in media-communicating like all the other players were," he offers. "I wasn't saying I was going to be a superstar and stuff like that, but maybe I should have, you know?"
Surely some teams would have liked the heads up.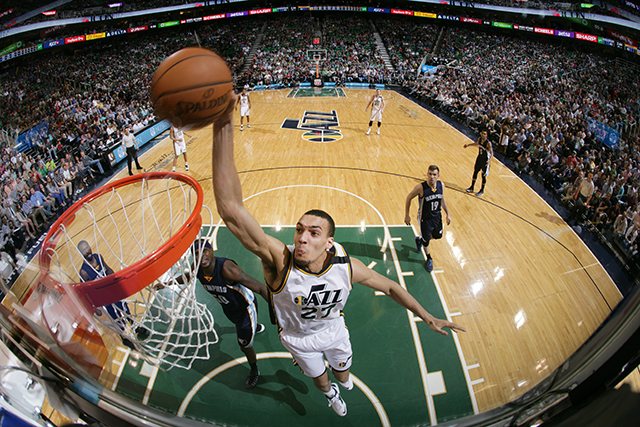 Rudy Gobert was not born 7-2. He was not even born 7-foot. In fact, early in Gobert's basketball life, he was, by hoops standards, ordinary.
"At first, when I was 15, nobody really wanted me," he says. Gobert dabbled in various sports as a kid, including soccer, karate and boxing. His father, Rudy Bourgarel, played ball as a foreign student at Marist College in the mid-'80s before moving back to France, but there was little pressure on young Gobert to follow suit.
Still, he spent two years at a basketball academy in his early teens, and, at 15, tried out for a number of French youth teams. He accepted the only spot he was offered, in Cholet, five hours west of his childhood home in Saint-Quentin.
Gobert's first three seasons with Cholet were spent on the youth team. He grew eight inches, or, as he puts it, "Twenty centimeters—I don't really know in English—what can I say?"
He cracked Cholet's pro team in 2010 but played in just one game. The following season, he chipped in 13 minutes a night, and 23 the year after that.
A year later, he was in the NBA.
Well, sorta. More specifically, he was often on a bench in the NBA, or else over in Bakersfield, CA, 100 miles north of Los Angeles, with Utah's D-League affiliate, the Jam. Gobert appeared in just 45 games with Utah as a rookie and eight more with Bakersfield.
But inconsistent minutes are just par for the rookie course. Toss in Gobert's lack of stateside experience, his developing frame and his uninspiring Draft slot, and the D-League stints were no surprise.
That didn't make them any more tolerable.
"I was really mad," Gobert admits. "It was frustrating for me—for my pride—to go to the D-League."
If there was an upside to spending time in Bakersfield—other than receiving some extra burn against lesser competition—it came off the court.
Former Belmont standout Ian Clark was twice optioned to Bakersfield alongside Gobert, and twice promoted with him, too. The two quickly became best friends. Though Clark himself was just an undrafted rookie during that 2013-14 season, it was often up to him to show his French teammate the ropes.
"He had to learn how to drive, so I drove with him all the time," Clark remembers. "When he gets in his car, he turns the music up really loud and he likes to sing. In there, and in his hotel room, he sings Beyonce."
Gobert bided his time as a rookie on the fringe easily enough—schooling surprised teammates in pool, studying American slang under Clark's tutelage and, apparently, singing. But his first season in the NBA was hardly what he'd hoped it would be.
"When I came to the NBA, I told myself I wasn't going to the D-League because I was ready to play," Gobert says. "That's why I waited one more year in France [before entering the Draft]. Most people in France, too, were saying I'd be going to the D-League."
Those critics were hushed late in the summer of 2014 when Gobert debuted for France's FIBA World Cup team. Despite playing without Joakim Noah or Tony Parker, France reached the quarterfinal to face powerhouse Spain.
Pressed into a lead role, Gobert delivered: 9 points and 13 boards in 23 minutes while holding counterpart Marc Gasol to 1-7 shooting in a victory. France fell to Serbia in the following round, but by then, Gobert, for so long unproven, had proven himself. And he knew it.
"FIBA was really a challenge for me because, in France, people didn't really know me. They thought I was an NBA bench player and wasn't supposed to be good, or maybe at best a good rotation player," Gobert says with told-ya-so pride. "At best."
This NBA season will present a whole new set of challenges for Rudy.
"It was very hard for me in the second half of the season to have blocks because the element of surprise was gone," he says. "Guys were shooting floaters, probably missing most of the time. But that made the team's defense better, so obviously I was happy."
Here, within the game's all-important team-first realm, is where Gobert most separates himself from erratic rim-protectors and overaggressive stat-chasers.
"Blocking the shot is not most important," says the League's premier shot-blocker.
The proof is in the numbers. Over 26 games in January and February, Gobert averaged 28 minutes, 3.1 blocks and 9 boards per game. When he broke out in March—playing more than ever—his rejections dipped to 2.3 while his rebounds swelled to 14.9 per game.
That's to say nothing of his offense, which steadily improved as his role expanded last season.
"His potential on offense is just as high as his defensive potential," says Booker, once the recipient of a behind-the-back feed from a sprinting Gobert. "Rudy is a super competitor, so he's always working with coaches on his offensive game. You can see it coming around."
If nothing else, Gobert is already a solid complementary offensive piece. He's coordinated, he hits free throws at a 62 percent clip ("I was at 70 percent in France," he points out) and he knows how to get open under the rim if left unaccounted for.
"It's great to play with good ballhandlers and players who can create the danger," Gobert says, crediting teammates like Dante Exum, Trey Burke, Alec Burks and Gordon Hayward for opening up offensive chances.
Of course, Gobert could perfect the Dream Shake and still be chiefly known for his defense. And that's the way he likes it.
"I'm really taking pride in making sure the team is the best defense in the League," Gobert says. "I'm gonna do it for the rest of my career."
Leo Sepkowitz is an Editorial Assistant at SLAM. Follow him on Twitter @LeoSepkowitz.