By Russ Bengtson (regular font) and Jake Appleman (italics)
To be honest, I'm not entirely sure how this whole thing is gonna work out. I'm writing this early Sunday evening, without seeing Jake's notes. I presume he's written his the same way, and it'll be up to him (and Sam) to fuse them into some sort of readable shape. I know it's gonna be a lot to read for a meaningless November Atlantic Division game (I'm sorry, is that triply redundant?), but if we had to sit through three hours (and 100-plus free throws) of it, the least you can do is read our notes.
Damn Straight!

LIVE FROM NEW YORK—IT'S SATURDAY NIGHT!!!! (Cue on SNL Music). IT'S SATURDAY NIGHT LIVE:
STARRING: Mediocrity; The Uptempo Collapse; Soft fabric; Poor shot selection; Patrick Ewing; Coney Island family matchups; Ryan "Underwear" Gomes; Drunk fans; Unnecessary technical fouls; Coffin-nailing ejections; Side-effects that may include nausea, constipation, dry mouth; 3,000+ words.
Featuring: Spike Lee; Legendary Sound bytes; Rampant cynicism; Tim Meadows
Musical Guests: Sean Paul during timeouts.
And Your Hosts: Russ Bengston and Jake Appleman.
Pregame:
–When I get into the Celtics locker room, Paul Pierce is already in there, in some crazy grey and black get-up (baggy grey jeans, grey tweed sports coat, black button-up and fedora). One of the beatwriters is giving him a hard time about it, and P Double is giving it right back. The beatwriter steps up, offering his own shirt for Paul's perusal. "Feel it! It's soft!" Pierce looks at it like it were some sort of a small, dead animal. "Man, that looks like something I use to wipe my dishes," he says. Which I don't believe, because it's unlikely that Paul ever uses his own dishes, let alone cleans them.
–Russ is wearing shoes.
–The Celtics should be the enemy in the Garden, but they got their New York connects. Wally Szczerbiak (Long Island, represent!) is introduced to a mix of boos and cheers, while Sebastian Telfair (Coney Island's REAL finest?) gets mostly cheers. Paul Peezy gets his share of cheers, too, but that's just because he's one of the L's most likeable stars. A blue-collar guy, if you will—despite the fact that he probably wouldn't even touch his dishes with chambray. (Russ, what the hell is chambray? Oh.)

–Channing Frye, while being interviewed by my main man Samori Benjamín of WBAI, shouts across the room to Steph: "Dude, your shorts are on backwards."

–Jambalaya for dinner in the Garden press box. Some dude tried to convince me, the guy in the Depor jersey, that it was paella. Come on, homie. Step your paella game up. In related story, Russ' legit beef with Steph is NOT served with dinner.
–Your inactive Knicks tonight are Jared Jeffries (wrist) and Kelvin Cato (redundant).
—Samori, a diehard Knick fan, is playing the talent card to try and defend his squad optimistically. Russ and I aren't having any of it. I turn around and simply declare: "SLAM magazine officially disagrees with you." Russ and I share a hearty chuckle.

Gametime:

–Eddy Curry opens up with a brick over Kendrick Perkins. I'm guesstimating, but that's 742 pounds of man right there.

–Steph initiates the Knick offense with a simple pass. He cuts to the left corner and is about to flash backdoor from the baseline when Q-Rich begins to also cut towards the middle. Steph slinks back to the corner visibly disappointed. The Knicks score, though.

–Bassy can't handle his cousin early on.
–The Knicks explode out of the blocks. Fast breakin', capitalizing on Celtic turnovers, Stephon dropping dimes to an energized Eddy Curry. Before things even get started, they're up 10-0. Ever the cynic (realist, if you ask me), I assume they're just building a foundation for the inevitable Uptempo Collapse.
–Kendrick Perkins tells Steve Francis politely to get that weak sauce layup out of his painted area. That rejection brought to you by this Kendrick Perkins sound byte.

[audio:http://slamonline.com/online/wp-content/uploads/2006/11/perkisabeast.mp3]
–Ryan Gomes compliments Wally Szcerbiafjaperau55shootsalotir4uepraup's early dominance with a classy midrange jumper and a nifty up and under. Yes, ladies and gentleman, Ryan Gomes is BALLLLLLLLLLLLINNNNNNNNNGGGGGGG.

[audio:http://slamonline.com/online/wp-content/uploads/2006/11/balllllllinnnnnnnnngggg.mp3]
—Re: The Aforementioned Uptempo Collapse: And they try it out quick. Wally gets a putback off an offensive rebound, Ryan Gomes, Jake's favorite Celtic (don't forget Scalabrine), hits a J, P Double gets on the board, Wally hits a 3, Gomes scores again and Wally gets another triple, and it's 14-11, Celtics. Um, make that 16-11. Good to see the Uptempo Collapse is working flawlessly. The crowd, possibly confused by who they should be rooting for, starts a "Ra-jon Ron-do" chant. (For the record, Channing Frye is at the line when this happens, and I don't hear "Ra-jon Ron-do," but "Tay-shaun Knock-off.")

–Gomes is dominating Frye. He baits Frye into his second personal, which unfortunately (for Boston), brings David Lee into the game. If I were Doc Rivers, I'd bring in Powe to bang with Lee, slide Gomes to the 3, Pierce to the 2, and take Delonte West out. My reasoning: The Knicks are going to settle for too many jumpers, so why not not have a taller, better rebounding team in there. Anyway, Doc counters with Powe and Brian Scalabrine, a respectable decision. Isaiah counters with Jerome James. Advantage: Doc and your local cardiologist. (Sidenote: Until he starts playing with more aggression, Channing Frye shall be henceforth known as Cameron Frye.)
–No hustle guys out there for the Knicks…so of course neither of them (Balkman or Lee) checks in until there's 3:10 left in the first quarter. More on this later/More on this later…
—Balkman? No first quarter minutes. Ditto for Nate Robinson and Jamal Crawford. We do, however, get 2:41 of Jerome James, who not only hits his only shot, but doesn't drop dead or call for a break. Then again, he also doesn't exactly hustle back on defense—or hustle at all, for that matter.
–Paul Simon is at the game. I love Paul Simon.
–The Knicks city dancers are wearing gloves. Russ asks why. I respond: Because masochistic Knick fans are into S&M. (Sidenote: For the record, I find S&M horrifying.)
–Note to Rajon Rondo: Stop Shooting.
–Gerald Green checks in and looks confused. It appears that he has absolutely no idea what's going on, until Renaldo Balkman gifts him a 1-0 open court layup. He's fouled from behind. And-1. You can't teach athleticism.
–It's Allan Houston jersey night for some reason—we never do actually figure out how, since there aren't any giveaways, and Houston himself is not in the building. They do, however, announce something about it on the scoreboard. As "ALLEN HOUSTON." Yeah, no need to spell that right. As long as you can cash them checks, right AllAn?
–Hey, look, it's Nate R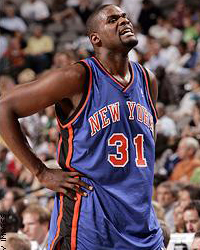 obinson and Renaldo Balkman. And Brian Scalabrine and Gerald Green. Meanwhile, Jerome James is still out there, a miracle of Mother Teresa proportions. The matchup between him and Scalabreezy is epic with a capital E. This might be ESPN Classic material.
–Scalabrine plays the worst defense ever on Jerome James on one possession (I disagree–James actually played the worst offense ever on Scalabrine; the offense was actually so bad that Scalabrine didn't know how to react, he was so stunned)—Scalabrine basically headbutts him in the stomach while James hits a baseline J—then comes back the other way and buries a three. Um, nevermind.
–According to jumbotron, Nate Robinson's stage name would be "49 Cent." Robinson hits a three, which—in his mind, at least—gives him a thousand-watt green light. He then misses jumpers on two straight possessions and Isiah yanks him for Q. Your neighborhood pun alert: Now, if only Lil' Nate could shoot 49 (per)cent from three.
—Bassy checks back in. Do yo chain hang low?
–Russ: "Delonte West puts the 'ill' in ill-advised." Ill-advisories aside, Gomes grabs the loose ball and Bassy ends up at the line.
–Hey! Patrick Ewing wanders in with 4:30 or so left in the half, and immediately upstages anything going on out on the court. He gets a standing O, which is funny seeing that the last time he was at the Garden in uniform he was booed and heckled relentlessly. Gotta love New York fans. I guess a few years of Eddy Curry and Jerome James gives you a sense of perspective, though. He and his family go to sit down in a row just behind the Knicks basket before getting moved to the sideline next to Spike Lee—which cues standing O, part 2. In other words (literally), Patrick Ewing enters the Garden, basically does a victory lap that takes everybody's attention away from the game and sits down next to his cell phone, Spike Lee.
–Towards the very end of the half, Balkman feeds Crawford for a layup, then speeds back to block a Pierce layup attempt with 3.6 seconds on the clock. An obvious goaltend (the replays confirm it), the refs call it a clean block, Pierce complains (rightly) and gets T'ed up. Good job, fellas. Lovin' them whistles. Pierce isn't that rattled, though—he comes down and sinks a J over Lee at the buzzer.
Halftime stats. Knicks up 56-53. 40 combined free throws. Szczerbiak leads the C's with 14, Crawford leads the Knicks with a baker's dozen (in 12 minutes). And Balkman has a stat in EVERY statistical category on the scoresheet save one—offensive boards.
Second Half

–Q starts the third, despite having three fouls, and 17 seconds later he has four.

–In an unrelated note, the Nets over-60 dance team must do every routine to "Stacy's Mom."
—It doesn't really look like Marbury wants to shoot anymore. He definitely passes on looks that he wouldn't have thought twice about a couple years ago. Honestly, it's hard to tell whether this is a sign of maturity or immaturity. Because he seems to be more of a liability when he won't shoot. Estoy de acuerdo.
–Q sits for six minutes or so, checks back in, and picks up his fifth 39 seconds later. He also gets a tech for good measure—throwing the headband is a no-no, Q. Back to the bench. Celtics up 10.
–Nate Robinson tries to shoot a floater over Kendrick Perkins with predictable results. This inspires me to come up with a business idea—"STOP SHOOTIN'" shirts, in the mode of the ever-popular "STOP SNITCHIN'" shirts. I think they'd sell. In a whole lot of cities. Feel free to bootleg at will, just be sure to send me one.
–The Celtics open up a 20 point cushion sofa behind Gomes, Wally World, Bassy and Pierce. During the early third quarter massacre, the Knicks have no hustle guys on the floor. Here's the thing: LEE OR BALKMAN HAS TO BE ON THE FLOOR AT ANY GIVEN TIME. You cannot have five guys on the floor at the same time that all love to shoot the ball and have a penchant for lackadaisical play. It's mind-boggling.
Russ astutely notes: They have Renaldo Balkman and David Lee, who are virtually identical players. Hard-nosed energy guys who track down every loose ball, get back on defense, convert offensive rebounds into points—basically do everything a coach should want. So why isn't at least one of them on the court at all times? Would it really hurt Quentin Richardson or Channing Frye to come off the bench? It's not like either of them are setting the world on fire. For that matter, why not bench Eddy Curry? A starting frontcourt of Q, Frye and Lee would fit a lot better into the whole "uptempo offense" thing.
—The Knicks whittle the bulge down to 10 behind the vaunted "Move the ball and watch Jamal Crawford end up shooting it every time while David Lee scraps" offense. Russ looks at the other side of things: And just as quickly, the Celtics go cold. They put in Scalabreezy, and the Knicks quickly counter with their own white guy. Celtics lead by 10 at the end of 3. They also have 88 points, which means maybe the Knicks should consider playing defense at some point.
–The Knicks start the fourth with four guards—Francis, Marbury, Robinson and Crawford—and David Lee. This is what I'm talkin' about. If you're gonna go uptempo, go uptempo! Who needs big guys?
–And a funny thing happens on the way to the blowout—it works! Crawford is unconscious, Nate is semiconscious, and only Paul Pierce is actually playing for the Celtics. Which leads me to wonder how many of his teammates he wants to kill on a nightly basis. Jake and I agree on Delonte West, and are somewhat undecided on the rest. (I figure he occasionally gets frustrated with both young PGs, so .5 for each of them. Add Gerald Green in there, too.) But the over/under is 3. (Indeed.)
–Aaaaand, with 2:15 left and the Knicks within 6, Isiah chooses to argue a call, getting two techs and essentially putting the game out of reach. Pierce wets them both, pushing his overall line to 31 points, nine boards and four assists. There's a brief debate on whether Isiah's departure will offset the two free points he gave the Celtics, and the consensus is that it's too late for Herb to make a difference.
–With 57 seconds left on the clock, and Q on the bench with six fouls, Jake turns to me and says "It's only a three-possession game." Hilarious. He needs to go on the road with Dane Cook. (The "it's a three-possession game tour" features me, Cook, David Spade talking to a model, and Hubie Brown. Marinate on that.)
–But it's all over, B. The three-hour marathon ends at 122-118, Celtics. Pierce finishes with 39, nine and four, shooting 22 free throws in the process. The teams combine to go to the line a mind-numbing 113 times (four Knicks foul out—Q, Nate, Francis and Lee. Szczerbiak and Rondo foul out for the C's—Rondo in an ultra-efficient 17 minutes. Ryan Gomes has a terrific night as well, but I'm sure Jake covered that part. (After the game, I asked Gomes what the hell happened to the Knick defense on this one specific play: Pierce got doubled on the baseline about 12 feet from the rim and Gomes didn't really slip to the rim—he kinda just lightly snuck into the lane unnoticed before receiving a pass from Pierce. If I remember correctly, 3—count 'em, 3!—Knicks all had their heads and backs turned. Needless to say, Underwear Gomes finished with 22 and 14. And, as he noted, he's more than happy to fly under the radar.)

–Analytical point: The Knicks have Marbury, Crawford and Francis. None of them, for obvious reasons, can carry Paul Pierce's jock. And it's not really about talent with Pierce. It's about basketball IQ. He is a SMART basketball player, and I guess after only really watching him when the Nets used to beat on Boston in the playoffs, I finally see how he can carry a team. His ability to carry this young team down the stretch was impressive, whereas the Knicks were all really baffled as to who should shoot the ball. Marbury didn't want to and Francis wasn't playing down the stretch, so Crawford was the de-facto gunner. Sad.

–Analytical point: If he's not going to play in the fourth quarter, the Knicks need to trade Steve Francis. Marbury is too maligned and Crawford is too one-dimensional to have any sort of value, but Francis could help a team given the right opportunity. The Knicks should bite some of the salary bullet, get a draft pick or two and open up the rotation to others if this lineup is really what Zeke wants.

—-Analytical point: Doc Rivers needs to trim the rotation a bit. Tony Allen and Gerald Green are still…well, Green. Give them time to develop. More time for Powe. Delonte West needs to be regulated. He seems like the kind of guy that you really want out there, but only sometimes.

–As the Celtics close it out, we have the prototypical funny MSG drunk unfairly having a go at Marbury, the whipping boy. "MARBURY, YOU SUCK!" he screams. What's funny about this is that there is plenty of responsible parties ahead of Steph. Zeke basically blew any chance of a comeback by getting ejected during crucial moments; He doesn't play Steve Francis late in the games; Frye is soft like cotton; Nate Robinson's shot-selection was terrible; Curry faded after a few first quarter moments. Yet there Steph is, only at fault for not shooting enough, and he's the whipping boy for the drunks. "I'M TIRED OF LOSING, I WANNA FUCKING WIN. THESE SEATS ARE EXPENSIVE." Homie, your squad was riding a two game winning streak.
Postgame:
–As the buzzer sounds, all of two Knicks go over to pay their respects to Patrick—Malik Rose (DNP-CD) and Steve Francis. Sure, he spends a bunch of time in the tunnel afterwards (with Herb Williams, Kenny Smith, Doc Rivers and John Starks, in an impromptu 1994 Finals reunion), but it's the thought that counts. Jake and I hit the Celtics lockerroom first, and by the time we go down the Knicks end 15 minutes later, the lockerroom door is LOCKED. That's a first for me in 10 years of covering the Knicks. After such a long night, however, I can't say it bothers me. At all.
–I walk into the Celtic locker room, and Ryan Gomes eagerly mouths the word BAAAAAAALLLLLLLLLLLLLLLLIIIIIIIIIIIIIIINNNNNNNNNNGGGGG.

–It appears that Brian Scalabrine may be gracing slamonline very soon with his presence. Can't say much more about this.

–I explain Powe his new nickname and he responds, "Yeah, I ain't trippin."

–As we leave, I tell Russ that we're going for Pulitzer, but will probably have to settle for the first annual Airington, which is the Slamonline award for voluminous, occasionally redundant, excellence.