"Winning a championship is hard. If it were easy, more people would do it." – Shane Battier
Earlier this week, Shane Battier helped unveil the first-ever Pizza Hut All-American experience—a paid position that will take the ultimate college sports fan to multiple NCAA championship games during the 2016-17 athletics season, from basketball, to football, to archery. This fan will work as a correspondent for Pizza Hut, and get a glimpse and feel for just how special a championship game is.
Shane knows exactly how unique those experiences are. He played in two national championship games in his four years at Duke, winning one and losing the other. In 1999, his Blue Devils travelled to St. Petersburg, FL, for the Final Four, eventually falling in the finale to the Connecticut Huskies, 77-74. When given the opportunity to avenge the loss at the Metrodome in 2001, the then-senior Battier took full advantage, scoring 18 points, grabbing 11 rebounds and dishing out 6 assists as Duke beat Arizona 82-72. Shane was named the Most Outstanding Player.
He described the ambiance of those experiences with a sense of nostalgia: "As soon as you get off the plane in those cities, you feel an electricity. There's so much hope and optimism, because every team that goes to a championship situation realizes, Hey we got a shot to reach our goal that we started off with on the first day of training camp…So there's an optimism, enthusiasm, and just an unbelievable amount of electricity in the air that everyone shares."
"There's nothing like a championship atmosphere," he emphasized.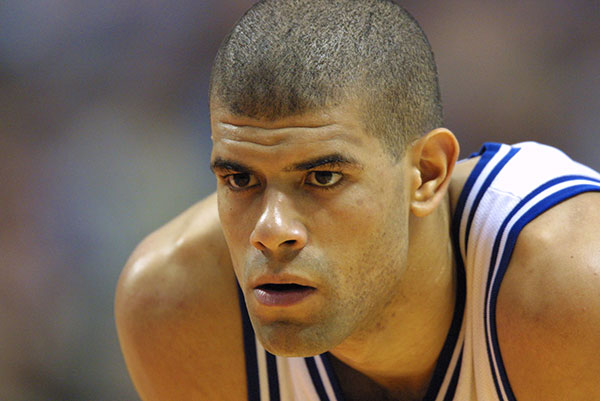 I asked Shane whether there was any specific lasting memory from his two NCAA championship games that personified this seemingly indescribable atmosphere. He told me about this long tunnel at the Metrodome that leads from the locker room to the floor. In this dark and obscure passageway, the sounds of the stadium are muted. You just trek forward through the abyss, following the traces of light.
"It's really unnerving for a second," Battier stated, "You forget where you are." And then all of a sudden, you're in front of 40,000 people. One moment it's silence in a murky never-ending tunnel. The next it's sheer chaos, with more flashing beams than your eyes can process. It's something that cannot possibly be comprehended without facing it.
Shane is of a rare breed. The versatile small forward has had the championship experience not only at the collegiate level, but also at the professional. During his 13-year NBA career, he appeared in three Finals and won two rings with the Miami Heat.
At this time, I argue that we—as fans of the game—need the wisdom of the three-time champ.
At a time when all hope seems lost, when superpower teams are taking shape in the NBA and the NCAA, when fans seem content to pencil in a Cavaliers/Warriors re-match in the Finals, and when 69 percent of the NBA GMs who voted on the question "Who will win the 2017 title?" picked Golden State, Shane Battier reminds us that there is far more to winning a championship at both levels than just accumulating the most talent. Far more.
And while that may seem obvious to many, there has perhaps never been a time when it needs to be heard more than right now. With basketball season approaching, this is when we need that reassurance, that encouragement, that emblem of faith.
And who better to deliver that message than Shane Battier, who has been touted the epitome of the role player. A guy who took a plethora of charges. Who scraped on defense. Who hustled for loose-balls. A guy who didn't play a single minute in Game 7 of the 2013 Eastern Conference finals, but who dropped 18 points on 6 huge three-pointers in Game 7 of the Finals, just a few weeks later. A guy who has found success at every level.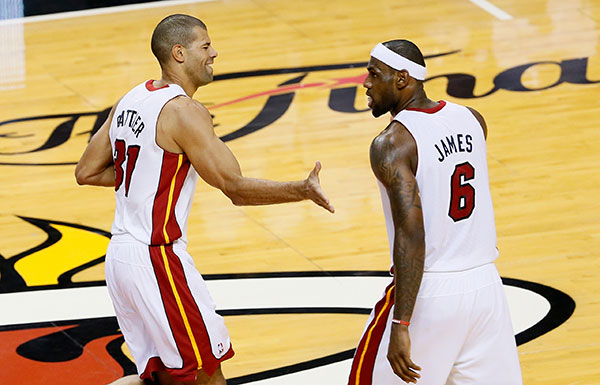 So what does it take?
"Well it starts with the purity of heart and the purity of soul," Battier said. "Do you really care about your teammates more than you do your own personal success, which is very difficult to do. If you really care about the team, and you're willing to do whatever the team needs you to do, and you have a solid core of those guys, [then] everyone else falls in line. The development of habits, daily habits, of thinking positive when things go poorly, staying the course, working through adversity. There's not a team that's won a championship that hasn't had that mindset and those skills."
Battier doesn't deny that you need talent. Of course, you can't get to the championship and eventually take home a trophy or ring without some skill. But leave it to Battier, a player who wasn't always the most talented but always had the most heart and always seemed to triumph, to elucidate what else is required.
"You also have to have an amazing amount of luck, you have to avoid the injury bug. And you have to have a type of shared sacrifice. Our Miami Heat teams, we had great talent, but everyone on that team sacrificed money, years, shots, opportunity to be a part of that team. And so everyone was in the same boat. And no one could point fingers and say, I'm sacrificing and you're not. Everyone's sacrificing. From LeBron, all the way on down. That's the common theme: you have to sacrifice for the good of the team. And be willing to do what it takes, whatever that may be, to make the team better."
Perhaps the most illuminating aspect of Battier's championship formula was this: "To have the discipline and literally bring it every single day. And just get a little bit better every single day is what makes a champion."
Every single day. To have the discipline every single day. To not take one day off. That's what it takes.
So this is your reminder. This is your refresher as we enter a new slate, a blank canvas, a calendar of opportunities.
Feeling the electricity when the plane touches down, having that absorbing unforgettable tunnel experience, winning a championship.
It's not easy.
Go to blog.pizzahut.com for further information about the All-American position.