Atlanta Hawks forward Paul Millsap comes in at a respectable No. 29 on the #SLAMTop50 players list for this NBA season. If there's a more stand-up guy who can consistently knock down big buckets, we don't know him.
But for all the 18 and 8 nights he has, Millsap just isn't that sexy to mainstream fans. He's never had crazy outbursts on IG. He doesn't have wacky on-court mannerisms. He rocks the calmest goatee in the game.
In 20 years, when your kids are talking about the NBA's best players of the past few decades, Millsap's name may not come up. It won't be his fault, of course; it'll be a flawed system's. The flashy guys get the glory.
But players as gifted as Paul Millsap should not suffer the same fate as Netflix passwords and old girlfriends' phone numbers.
The same goes for another forward, Shareef Abdur-Rahim, who quietly displayed an incredibly underrated (but unbelievably steady) game in the early '00s for those same Hawks, and three other teams.
A high school phenom back at Atlanta-area Wheeler HS, Shareef was named Georgia's Mr. Basketball in '94 and '95. The do-everything Abdur-Rahim went on to the University of California and didn't miss a beat. The first freshman to ever be named Pac-10 Player of the Year, Shareef averaged over 21 points and 8 rebounds a game.
Though Abdur-Rahim's lone collegiate season ended with a disappointing first-round loss in the NCAA Tourney, he went on to have a stellar NBA career that spanned 13 years, leaving a permanent mark on those closest to him.
Like Todd Bozeman. How could he forget Reef? The two are intertwined in Cal basketball lore. The star on Coach Bozeman's last Golden Bears squad in '96, Abdur-Rahim doesn't hesitate to admit Bozeman was the main reason he chose to attend Cal over legendary ACC hoops institutions like Georgia Tech and North Carolina.
Bozeman reciprocates the praise. "The presence that he had on the court and the focus stood out to me," says Bozeman, who was an assistant at Cal from 1990-92 before becoming the head coach in '93. "It was almost like he was the only kid out there."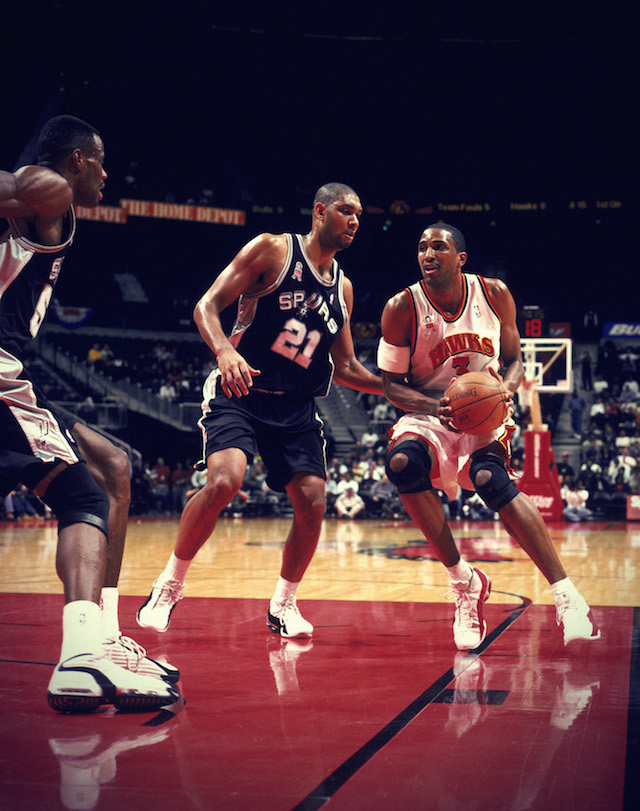 Twenty-plus years later, their relationship is still solid. Coach recalled a moment not too long ago when Benji, a 30 for 30 special on Ben Wilson, the Chicago hoops icon who was tragically murdered in 1984, aired on ESPN. "I texted Reef," he remembers. "I was sitting there watching—I had never seen [Wilson] play. I said, 'Man, he looks like you, Reef!' He said, 'Coach, I'm sitting here with my son watching this right now.' When you watch that thing, that's Reef! I'm telling you. That's what he looked like. The straight-up running, graceful and could really score."
Reef, a devout Muslim, was always focused. Instead of getting sidetracked with things off the court, he kept his head down and his field-goal percentage up (a Pac-10 fifth-best 51.8 percent).
"Reef would work and work and work," says Bozeman. "He would just put that time in. One of the stories that epitomizes that work—it probably has something to do with his religion, too—was when we were playing a game against USC or Washington. It was in the middle of Ramadan. He wouldn't drink water. He wouldn't do nothin'. Every timeout, I'd go, 'Reef, you good?' He'd say, 'I'm good, Boze, I'm good.' His mom was sitting behind the bench and she kept saying, 'Tell Reef it's OK if he drinks water.' I said, 'Reef, your mom said you could drink water.' He said, 'I'm good, Boze, I'm good.' He must have had 30 and 15 [that game]. It was inspirational."
A smooth, hard-working forward for the Grizzlies, Hawks, Blazers and Kings, the 6-9, 225-pound Abdur-Rahim made the All-Rookie Team in '97 and made his lone All-Star appearance in '02. You know how Draymond Green goes 100 percent every night in the paint, the perimeter and at all points in between? That was Shareef way before Dray was out of diapers.
"I definitely don't think he gets the recognition he deserves," admits Bozeman, head coach at Morgan State University since 2006. "He had serious numbers. You can compare his numbers to a lot of people and theirs don't stack up."
We can't say unequivocally what the reason is that more people don't know about Abdur-Rahim's 50-point game in '01, or that his 15,028 career points are more than Alonzo Mourning's and Kevin Johnson's. But it likely has something to do with the fact he was drafted alongside Class of '96 studs like Allen Iverson, Steve Nash and Kobe Bryant. Abdur-Rahim, Antoine Walker and Jermaine O'Neal were certified talents, no doubt, but for myriad reasons, they remain largely in the shadows to this day, at least compared to their cohorts.
https://youtu.be/bIkmDijyp4U
"In some ways," Shareef says now, "you try to keep up with those guys and the success that those guys had. I've always believed that really good players are either competing against themselves, pushing themselves to different limits, or they're competing against really good players. That collection of guys is who I battled. I wanted to keep up with them or surpass them."
Unfortunately for Abdur-Rahim, he only tasted the Playoffs twice, both toward the end of his career when he played with Sacramento.
"I'm at peace with my career, the time I had playing basketball," says Shareef, who for the first seven seasons of his career averaged a Millsap-esque 20, 8 and 3. "If anything, I would have liked to have played on some better teams, teams that were further along. Had that happened, then maybe that wouldn't be the sentiment."
But just when you think the level-headed Abdur-Rahim will finally let off some steam, he adds, "but I'm thankful for the opportunity I had to play at the level I did. I was an All-Star. I played with some really good people. I played with some really good coaches. I cherish all of that."
Damn, almost forgot who we were talking to for a second.
"I don't know if young people understand the hard work and the focus and the determination [it takes to succeed]," Bozeman says. "KG has it. Shareef didn't have the outward demonstration [of Kevin Garnett], but he was just like that."
Abdur-Rahim, a father of two, has been so busy post-retirement that he simply hasn't had the time to worry much about legacies. After hanging it up in '08 with Sacramento, Shareef almost immediately stepped into the role of Kings assistant coach. A shock to no one, the heady Reef ("education is a priority to me," he says) shot up the Kings' hierarchy, becoming the assistant general manager and then the director of player personnel.
"It kind of just happened," Reef says. "The people that were running the Kings when I retired, they asked me to stay on to coach some younger players. I did that for a while and that kind of evolved into me joining the front office. It was all a good experience. I was around some good people—[GM] Geoff Petrie, [vice president] Wayne Cooper, [assistant coach] Pete Carril. I was around a lot of smart basketball people."
After some personnel changes and conflicting views on the direction of the team, Abdur-Rahim parted ways from the organization two years ago. "There are a lot of new people there with the ownership and management," Abdur-Rahim says of the current state of the franchise. "A lot of time when that happens, you don't have the same connections. But I pull for them and I want the Kings to do well."
Again, no time to harp on the negative—Reef was recently named the NBA's Associate VP of Basketball Operations. "One thing about sports is that it gives you an appetite for achievement," he says. "It allows me to still have goals, still learn and still achieve."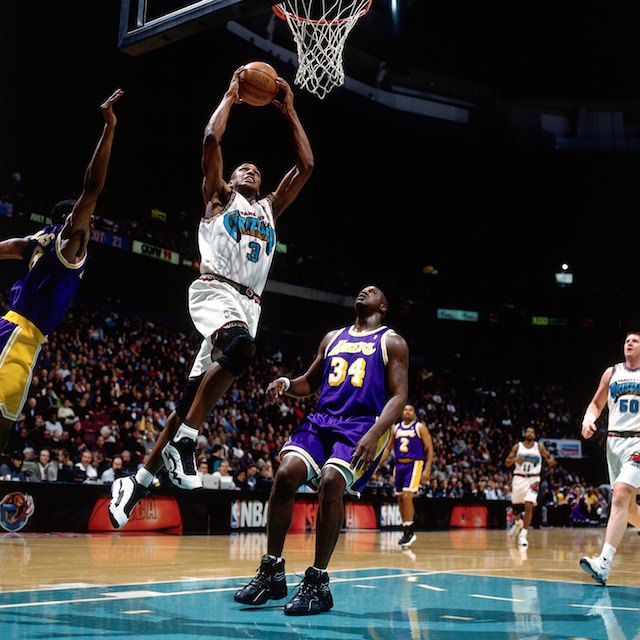 Folks in Atlanta, where Abdur-Rahim played for three seasons, have known about the man's business acumen for some time now. For years, locals passed a building in East Point with the name "Reef House" out front. With little fanfare, the organization quietly helped at-risk teenagers with their homework and life-building skills. Abdur-Rahim and his team's mission remains set on bettering the prospects for Atlanta's youth, only now it's evolved into an overall enrichment program called Future Foundation.
"I'm a product of people spending time with me," Reef says. "It just makes sense to do the same. I feel very fortunate to have achieved the things that I have achieved. I had a platform to be able to [return the favor]. I'm thankful—in my neighborhood we've been able to establish the Future Foundation and different programs to try to help young people and be a resource for them to reach their goals."
Adds Bozeman, "None of this surprises me. He's always had that focus."
By the time Coach hangs up the phone, he's exhausted every glowing word in the English language to describe Shareef. But we totally get it—Bozeman wants to remind the world that Shareef Abdur-Rahim was one helluva basketball player.
Three minutes after the call, though, Bozeman is calling back. As fate would have it, in all the discussion about a player the basketball world has seemingly pushed to the back of its memory, Coach himself forgets something. "I just want to say that he was the consummate student-athlete and pro," he adds.
Honestly, the second call was so quick that we didn't even bother putting on the recorder. Didn't need to. We wouldn't dare forget.
Neither should you.
—
Photos via Getty Images