Shea Serrano is a New York Times best-seller, a San Antonio Spurs die-hard, a faithful Twitter user, a former middle school teacher, and head of the FOH army. But above all, he is a basketball fanatic. To prove it, he penned a hilarious book dedicated to the game called Basketball (and Other Things): A Collection of Questions Asked, Answered, Illustrated.
Serrano's book contains beautiful illustrations from artist Arturo Torres and 33 interesting chapters ranging from "Who's the Greatest Dunker in NBA History?" to "What Attributes Make for the Best Basketball Villain?" The book also includes a foreword from one of Serrano's favorite players, Hall of Famer Reggie Miller.
With the 2017-2018 season fairly new, SLAM caught up with Serrano to talk about his new book, his beloved Spurs, and get his thoughts on players throughout the NBA.
SLAM: What really caught your attention while you researched for Basketball (and Other Things)?
Shea Serrano: I learned a billion things, but the one thing that I'll never forget is that Kobe Bryant scored more points against the Spurs in the playoffs than any other player ever in history. And I'll always remember that because watching the playoffs—when the Lakers and Spurs were going back and forth—it 100 percent felt like that was the case. Not that it was actually true, but it was like, Oh, shit, I'll never forget this.
SLAM: In one chapter you sorted out each of Kobe's averages per season and determined if he was the best player in the League that year. Have you gotten any slander from Kobe loyalists?
SS: Not anything serious—it's mostly jokey things. I think it's because when you read the chapter, it does a pretty good job explaining why he was never the best player in the League—or maybe one year he was in 2009. But other than that, it's really hard to argue he was the best player in the League.
SLAM: You also wrote about how Reggie Miller drew you to basketball at first. At what point did Tim Duncan eclipse Reggie as your all-time favorite?
SS: Probably by, like, the 2003 season when he became the best player in the world, because we never had that on the Spurs ever. We never had the guy that everybody was afraid of. That was when it really started and I loved it.
SLAM: You mentioned that you had planned to write a book about basketball after you wrote The Rap Year Book. What was the thought process like writing BAOT? How were you able to decide what you wanted in this book?
SS: I wanted to do a cool book about basketball that I hadn't seen yet. The way we decided what was going to be in there was I made a spreadsheet and it had the "X" number of chapters that were super researched and gave a big picture of the NBA's history. I wanted to have "X" number of chapters about specific players, and "X" number of chapters about other things.
Along with that, I had a list of 50 questions that I wanted to answer. I was just grabbing them and plugging them in where I thought they needed to go. Then I was arranging it so that it felt like it had the correct pace and correct tone. And there you go, that's how we made the book.
SLAM: When you drafted the book, was it really long and you had to cut it down? Or was it the other way around?
SS: Yeah, it was like fucking five hundred pages or something beforehand. When they give you the specs of the book—before you start writing and after you sign the contract—it was 240 pages. So after I laid down all the chapters, I realized, OK, I need to cut down a lot of shit here. What's the stuff that's the least important to me? Then just work backwards like that.
SLAM: What do you want an average joe to come away with after reading BAOT?
SS: Come away with whatever you want [laughs]. You know, books mean different things to different people all the time. All I wanted to do was write a book that celebrated the NBA. Even the stuff about Kobe where I'm like poking him in the eye, it's all very reverential and we're acknowledging he's one of the greatest of all time and I'm terrified of him. But also he's kind of a nerd. I just wanted to people read it and go, Oh, this guy really appreciates the NBA, he loves the NBA. But as far as individual things, take from it what you will.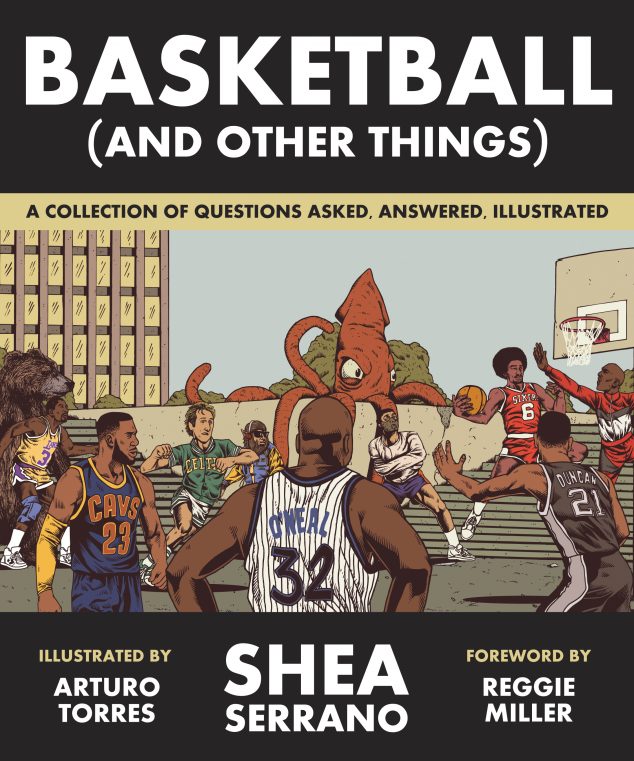 SLAM: Did you think it was mathematically impossible to catch and shoot with four tenths of a second left in a game like Derek Fisher did against the Spurs in the 2004 playoffs?
SS: No, the only reason I didn't think that was because they tell you that 100 times before. As long as there's four tenths of a second, you can get a shot off. If anything, I was mad at the shot clock people in San Antonio. Like, just let that shit run out when Duncan's shot goes in.
If you watched the Alonzo Mourning buzzer beater that he hit in Charlotte in the 1993 playoffs, he makes it with a good 8/10 of a second left, and the clock just keeps on running. Ball goes all the way through the net, bounces around, and the clock just runs and runs until it's out. They should have done that in San Antonio.
SLAM: Did you feel like Game 6 of the 2002 Western Conference Finals between the Lakers and Kings was rigged?
SS: I didn't realize it was rigged until people started saying it. I'm never that insightful or smart. I just thought, Oh, that sucks, they lost. They should have won. You know, I just didn't think that was something that could have happened. That was just beyond comprehension for me, there's no way the NBA's ever rigged. I still don't think it was rigged. It was just a shitty game. Sometimes you have shitty games.
SLAM: In the book you find ways to poke fun at Rick Fox whenever you get the chance. What's your beef with him?
SS: I don't like Rick Fox because he's all the things I'm not: Tall, very handsome, great teeth, successful in basketball and acting. Like, he's just a guy you look at and you hate.
SLAM: By comparison, do you relate more to someone like Patrick Beverley? An underdog-type that wants to destroy everything in his path?
SS: That's exactly what this is. I love Patrick Beverley because he's that kind of person. Those are always my favorite types of players.
SLAM: Who are you jumping into a foxhole with? Matt Barnes or Stephen Jackson?
SS: Give me Stephen Jackson. If only because he was the first guy behind the stands with Ron Artest [during the Malice at the Palace]. He's that kind of person. That's who I want to be with.
SLAM: How much do you hate Karl Malone?
SS: San Antonio and Utah was a very heated rivalry in the '90s and Karl Malone is just kind of a dick. He hammered David Robinson, I think [Malone] broke [Robinson's] thumb. He knocked him out of a game, elbowed  him in the back of the head. He was just a bad guy, so it was cool to find out that he was a bad person as well. Then you can just hate him all the way around.
SLAM: What about John Stockton? Do you hate him?
SS: No, I like John Stockton because he wasn't supposed to be the player he became. He was always thought of as just too small or too slow. I can relate to that. Also, he was fucking clutch, he hit every big shot you needed to get hit. When you think of all the big shots in Jazz history, it was always John Stockton doing it. It was never ever Karl Malone. You remember Karl Malone getting the ball stolen from him, you remember Karl Malone missing the two free throws after Scottie Pippen told him that, The Mailman doesn't deliver on Sundays. You remember Malone fucking up. John Stockton, you remember Game 6 against Houston when he hit the game winner. You remember him almost winning Game 6 for Utah against the Bulls. If Karl Malone doesn't fuck that up, they win that championship.
SLAM: From the 1990s eras of Charles Barkley, Clyde Drexler, and all those other superstars, who do you think got screwed the most legacy-wise by Michael Jordan?
SS: Charles Barkley, he was the one who would have benefitted the most if he won a championship. He would have been a legendary figure if he had gotten a ring. He would have been up there as top-15 all-time.
SLAM: Who do you think is the best rookie out of this past draft class, and why?
SS: Right now, I'm going Lonzo. I think he will win Rookie of the Year. I'm not sure he's the best, though. I think maybe Dennis Smith Jr  might be the best secretly. But I'm pretty sure Lonzo's going to win, mostly because of how much attention he gets and how famous he is. As long as he's not playing Patrick Beverley every night, he should be okay.
SLAM: Do you think LaVar is detrimental to Lonzo's career?
SS: I don't know. That's a tricky question because I definitely don't think he's a top-3 pick without the dad around barking at everybody. I don't know if we'll get to a point where it's a LaVar thing first, now that he's in the pros. It made sense to me that dad was doing that in college or leading up to college in high school. It makes sense because you're the man of the house, but once your kid is full grown in the NBA, I don't know if that starts to hurt him or not. It's all very interesting.
SLAM: What is your favorite SLAM cover?
SS: My favorite SLAM cover is the Tim Duncan, Iceman thing they did in 2000 [SLAM 47—Ed.]. Of course, I like the one from 2014 when Kawhi was on the cover celebrating the title.
SLAM: Would you have been pissed if SLAM put LaMarcus Aldridge on there?
SS: [Laughs] Nooo, I'm pro-LaMarcus this season. I did the thing last season where I shitted on him all year and it didn't work out that way, so I'm going the opposite way.
—
Related: What If Nick Anderson Made One Of Those Free Throws? An Excerpt From Shea Serrano's Basketball (and Other Things)
–
Sam Yip is a contributor to SLAM. Follow him on Twitter @samyip_.
Illustrations by Arturo Torres